14 million methamphetamine pills seized in massive Chiang Rai drug haul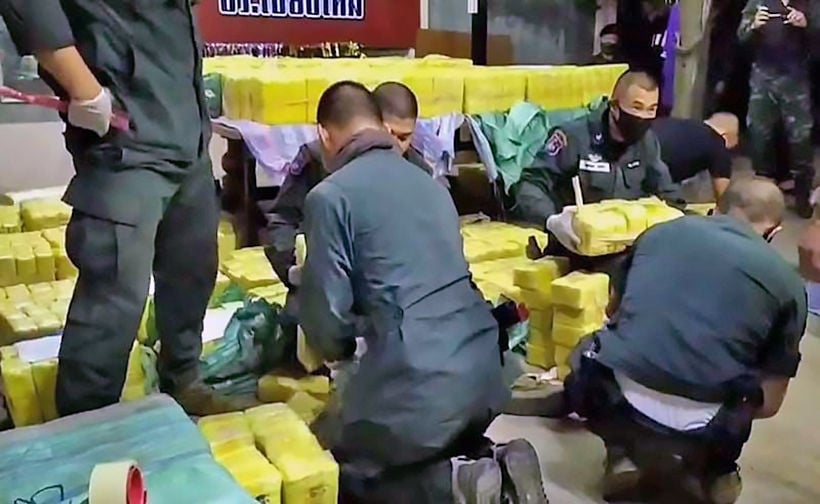 Police in Chiang Mai have arrested 2 men and a woman in the province's Fang district when they found 14 million methamphetamine pills, aka. "yaba", in one of their 2 vehicles. Officers got a tip on Friday that drugs would be smuggled into the district and set up road checkpoints, according to the deputy national police spokesman.
At around 12:30am, officers spotted a suspicious pickup truck on the Fang bypass road. They followed the vehicle to a hotel in tambon San Sai. Officers checked with the hotel operator who told them that a woman had parked the pickup at the hotel and checked in. They went to her room to question her.
The woman, Phitsamon Samaknakhon, told them she drove the pickup, following another along the route. 2 men, Suthat Nonthong and Yodrak Klangna, boarded the vehicle and were staying in other rooms at the same hotel.
Officers found the 2 men inside their rooms and took all 3 suspects back to the pickup truck. When they opened the rear door of the pickup, they found 77 sacks containing 14 million speed pills inside. The trio were arrested and charged with possession of illicit drugs with intent to sell. They were taken to the Fang police station for questioning and pressing charges.
SOURCE: Bangkok Post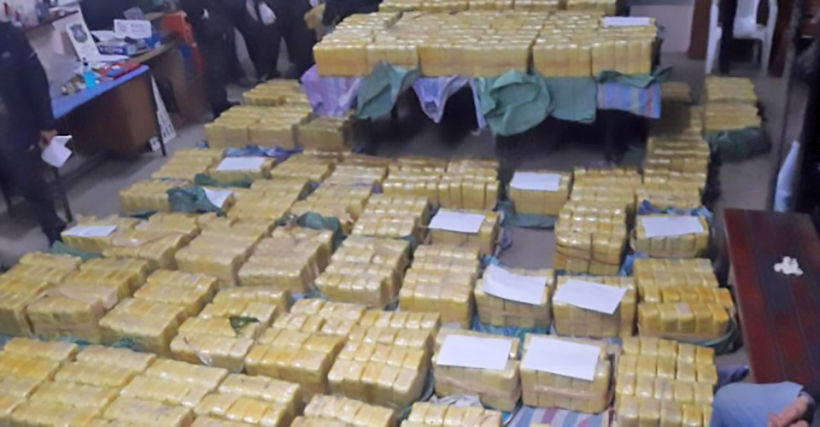 Keep in contact with The Thaiger by following our
Facebook page
.
6 Pakistani nationals arrested for convenience store scam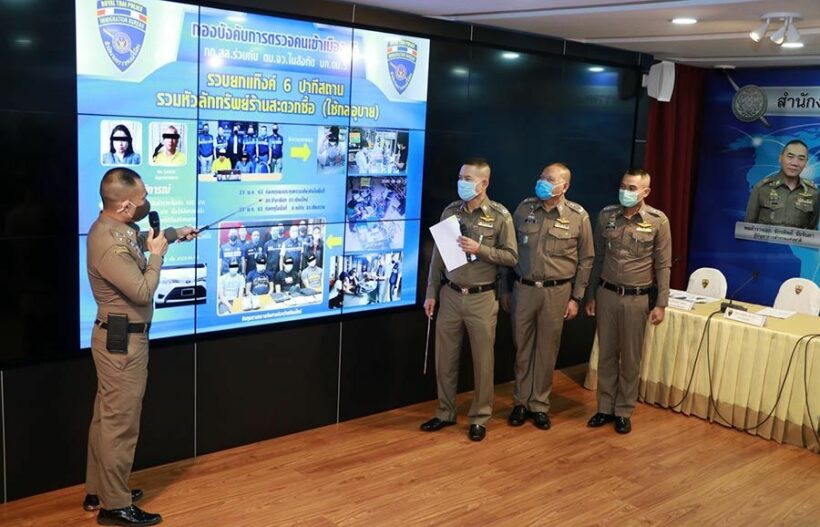 Police in Chiang Rai have arrested 6 Pakistani nationals charged with scamming convenience stores around northern Thailand. Thai Residents reports that the men would hand over a 1,000 baht note to pay for an item in a convenience store and receive change. They would then claim they didn't want the item after all and ask for their money back. The gang deliberately targeted stores where very little English was spoken, using communication difficulties to their advantage. In many cases, the confused store employee would hand the 1,000 baht note back, forgetting the men had already been given change.
After a convenience store employee filed a report, police launched an investigation, which initially led to the arrest of 2 of the gang members at a checkpoint in the Mae Chan district of Chiang Rai province. The two have been named as 38 year old Shakeela, who would play the role of "buyer" in the scam, while 31 year old Muhammed acted as lookout and getaway driver. Both are now in custody at Mae Chan police station.
Police were able to use the GPS data from the vehicle used by the gang to establish where they had been, discovering that they had committed similar offences in the northern provinces of Lamphun, Chiang Mai and Phitsanulok earlier this month, and that there were others involved. 4 arrest warrants were subsequently issued by the Chiang Mai Court, with the remaining suspects discovered in a vehicle that was stopped at a drugs checkpoint while travelling from Chiang Mai to Bangkok.
They have been named as 20 year old Mudasser, 35 year old Hussain, 29 year old Anwar and 29 year old Imran. All 4 are in custody at Chiang Mai police station, awaiting prosecution.
SOURCE: Thai Residents
Keep in contact with The Thaiger by following our
Facebook page
.
Teacher sends questionnaire to students asking for their phone passwords and social media accounts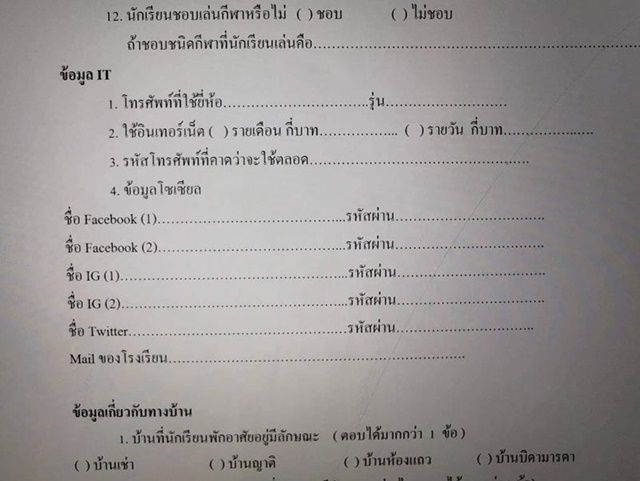 …and the school has since been forced to apologise.
A teacher in Chiang Rai asked students to hand over passwords to their social media accounts and phones. But many have criticised the teacher saying it overstepped privacy boundaries. The school has since apologised and imposed stricter rules.
The teacher gave students a questionnaire, asking them to fill out information about multiple social media accounts, their phone password, internet expenses and the phone brands and models. It's unclear why the teacher wanted the information. A photo of the inquiry form was shared on social media and many people online agreed the move violated students' privacy, big time!
The Chiang Rai Municipality 6 School wrote a letter apologising for the teachers actions, saying it was inappropriate and breached privacy guidelines. From now on, the school is requiring all inquiries regarding personal information to be vetted by school administrators first.
"We will order every employee of the school to ask permission from the executives if they are doing any questionnaire that involves personal information."
SOURCE: Coconuts Bangkok
Keep in contact with The Thaiger by following our
Facebook page
.
Justice minister targets drug money laundering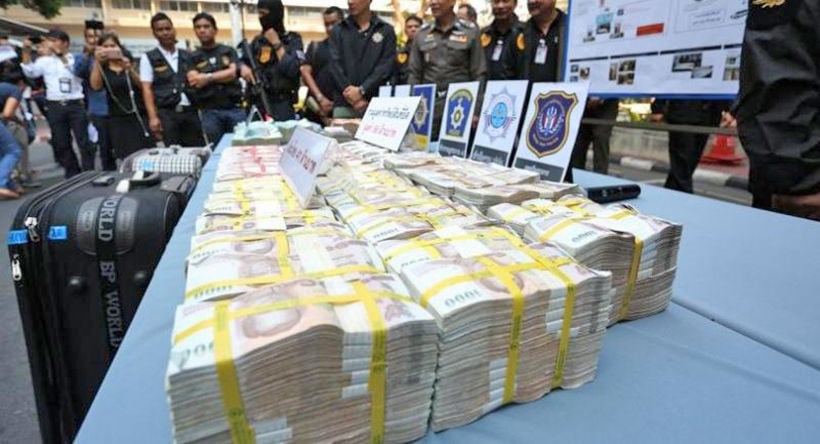 With the government struggling to find revenue streams for its economic stimulus plans to rebuild an economy battered by Covid-19, Thailand's justice minister thinks he has an idea to help. He wants authorities to target businesses that launder drug money from the Golden Triangle and has set a target of 1.5 billion baht by August.
The minister says anti-drug forces, both civilian and military, have arrested 125 drug suspects and seized millions of speed pills and manufacturing equipment in northern Thailand. Officials are also expected to freeze around 50 million baht worth of assets related to the arrested traffickers. He says the Golden Triangle, bordering Chiang Rai and northern provinces, is a huge source of drugs and a haven for traffickers. Traffickers launder money there then send it back to drug syndicates in other countries.
The money laundering involves the purchase of precious metal bullion, gold ornaments and construction materials as well as online gambling, which facilitates daily money transfers.
"Officials will look for suspicious businesses that have grown disproportionately in the past few years. The Revenue Department will also support the investigation."
The justice minister believes intensified action should result in the seizure of at least 1.5 billion baht by August, compared with 700 million baht seized from drug traffickers last year. Just last week, assets valued at 42 million baht were frozen by Chiang Rai police.
Drug syndicates smuggle drugs into Thailand across the border from Myanmar, Cambodia or Laos, then distribute them to Bangkok and other major cities. The Thai and Burmese governments have independently stepped up their anti-narcotics efforts in the Golden Triangle region, mostly with little real effect, other than a parade of weekly photo opportunities with large drug seizures – in truth, a tiny proportion of the drugs that leak through their patrols.
Authorities say the number of drug seizures has risen 1000% in just the past 2 years, a stark indication of the growth in industrial-scale production in the Golden Triangle.
Thailand remains a major trafficking route for opiates and synthetic drugs manufactured in Myanmar's Shan and Kachin states, the northeastern states that border China, Laos and Thailand.
SOURCE: Chiang Rai Times
Keep in contact with The Thaiger by following our
Facebook page
.