Officials hand out face masks whilst southern Thailand, Malaysia, Singapore choke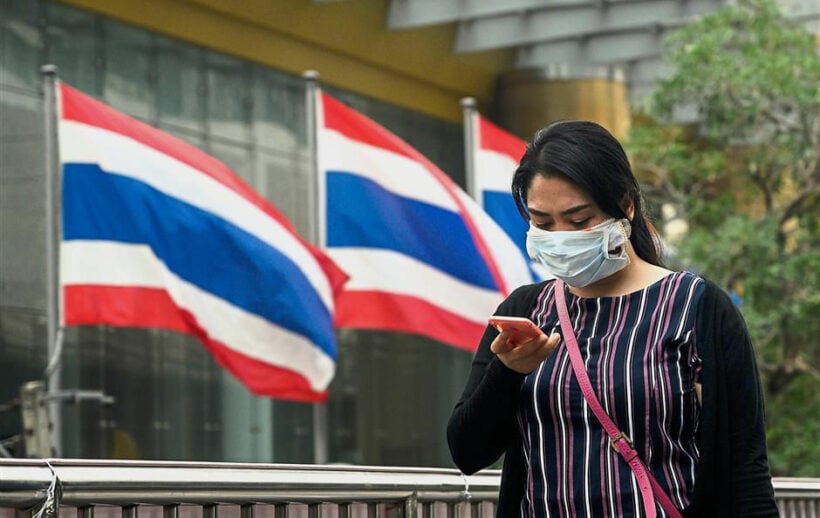 The annual haze from intentionally lit forest fires in Indonesia is making life unpleasant in parts of Thailand's South, with fine-dust readings (PM2.5 microns) in Songkhla and Satun at hazardous levels, over 50 microgrammes per cubic metre of air. The problem is also choking sections of Malaysia and Singapore.
In Hat Yai, Songkhla, officials are handing out face masks to residents and tourists.
The Region 16 Environmental Office in Songkhla province on Friday reported the level of PM2.5 at 54 mg per cubic metre, which exceeded the safe threshold, set set by the World Health Organisation, of 50 mg. Satun was also above 50, but other provinces remained in the safe zone. The situation changes daily as the winds and weather change. With the south-westerly monsoon sweeping winds in from the Indian ocean, smoke from the Indonesian fires are now polluting Singapore and Malaysia as well.
The Region 16 office in Songkhla is advising people in Hat Yai to wear proper masks for outdoor activities, and immediately consult doctors if they have breathing problems.
(The flimsy paper face masks bought from pharmacies for a few baht do NOTHING to protect the wearers)
Meanwhile, hundreds held a mass prayer for rain in a smoke-filled Indonesian city Pekanbaru residents on Sumatra yesterday, desperately hoping that downpours will extinguish forest fires and wash away toxic haze covering wide swathes of the country that has forced mass school closures.
Illegal fires to clear land for farming are raging on Indonesia's Sumatra and Borneo islands with firefighters battling round the clock through charred forests, and water-bombing helicopters deployed to douse the flames.
Dense smoke has blanketed Pekanbaru, a provincial capital on Sumatra, leaving the sky dark even at midday and residents fearing for their health.
Around 1,000 Pekanbaru residents – many dressed in white Muslim robes with rudimentary face masks – held a prayer Friday in an open field as a thick, acrid fog drifted around them.
"I'm praying so that the rain will come immediately and this smog will be gone soon," said retired 57-year-old civil servant Rahmad, who goes by one name.
"It's been really bad for the past month — I can't breathe if I don't wear a mask. Some of my neighbours have gotten really sick," he told AFP.
Friday is a holy day in Indonesia, the world's biggest Muslim-majority country, where forest fires are an annual problem but have been worsened this year by particularly dry weather.
Fatimah El-Kareem, a 26 year old mother, fled Pekanbaru with her baby over health fears.
"I was so worried. My child is only one year old and still so vulnerable," she told AFP by telephone from hometown in another part of Sumatra.
"The smog isn't only suffocating, but it smells terrible… Every morning it was just getting worse and worse – you couldn't get any fresh air," she added.
International concern has been mounting about the long-term impact of such blazes, as rainforests play a vital role in protecting the planet against global warming.
The governor of smog-hit Central Kalimantan on Borneo island – which Indonesia shares with Malaysia and Brunei – said yesterday that nearly 3,900 schools would be closed temporarily to protect students, with more than 9,000 shuttered in Sumatra.
Officials across the border in Malaysia said dozens of schools would be closed on Friday in the region surrounding its haze-hit capital Kuala Lumpur.
Frictions spiked after Malaysian Environment Minister Yeo Bee Yin this week accused her Indonesian counterpart of being "in denial", after Jakarta insisted fires in Malaysia had caused the smog there.
On Friday, Indonesia said it had sealed off dozens of plantations where smog-belching fires are blazing, and warned that owners, including Malaysia and Singapore-based firms, could face criminal charges if the investigation turns up evidence of illegal burning.
Jakarta is struggling to tame the blazes as many burn underground in carbon-rich peat, which has been cleared across vast areas of the country for plantations.
"I hope farmers and companies stop starting these fires," Rahmad said in Pekanbaru. "It's a man-made disaster."
SOURCE: Agence France-Presse
Keep in contact with Thaiger by following our Facebook page.
Never miss out on future posts by following Thaiger.


Find more SE Asian News courtesy of Thaiger.

Broke? Find employment in Southeast Asia with JobCute Thailand. Rich? Invest in real estate across Asia with FazWaz Property Group. Even book medical procedures worldwide with MyMediTravel, all powered by DB Ventures.

Read more headlines, reports & breaking news in South Thailand. Or catch up on your Thailand news.

Bangkok fiddles whilst Chiang Mai burns – who's behind the annual smoke season?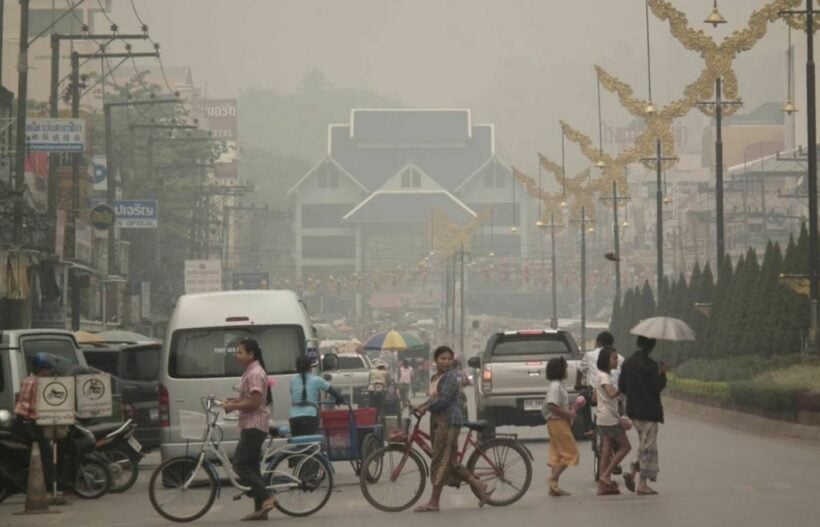 OPINION
In the December 2020 outbreak of Covid in the seafood markets along the coast of Samut Sakhon Burmese migrant workers, many of them entering Thailand illegally, bore the brunt of the blame. The Thai media reported widely that it was the fault of the illegal migrants. But the source of the migrants, trafficking gangs working for larger corporations to bring cheap labour into the country, was little reported.
Similarly, the farmers in Thailand's far north are weathering much of the blame for the burning of bio-waste, crop preparation and pre-harvesting of sugar cane, and the clouds of smoke and smog it causes. Again, there has been little focus on the multi-national corporations and conglomerates who put the famers under incredible pressure to provide quick and cheap crops, and grow food to feed livestock before they are slaughtered for their other products.
Charoen Pokphand is Thailand's largest and most prominent agriculture business.
In the CP document "Maize Factsheet 2021" it says…
"…since the severe haze crisis in 2015, joins society in all sectors to solve the problems that arise, and also realises the importance of social and environmental responsibility."
Maize remains the largest component of animal feed. It is mixed into food for chickens, pigs, ducks, cows and even fish. Wheat and soy are also part of the mixture for the livestock menu, again grown almost entirely in Thailand's north for local livestock consumption.
"Maize Factsheet 2021" also lists the CP policy "not to encourage planting in mountainous areas or conserved forest areas".
The document say all the right things, in the usual corporate gobbledegook, but the proof is in the pudding and that proof floats across the skies of northern and northeastern Thailand every day during the annual crop-burning season, roughly from January to April each year. Inconveniently, the season fits in with the lighter north-easterly airflow, the reversal of the wet season monsoon, which blows the smoke and air pollution south into central Thailand, Bangkok, and sometimes even further south.
The previously lush, green mountainous regions of northern Thailand turn into a choking hell from the maize, sugar and rice plantation burn-offs. Despite CP's carefully curated words, the problems in the north becomes worse each year.
Today (Sunday, March 21) Chiang Mai ranks the world's 4th worst air pollution in the world, a ranking it often tops this time of the year. The rankings are put together, in real time, by AirVisual.com.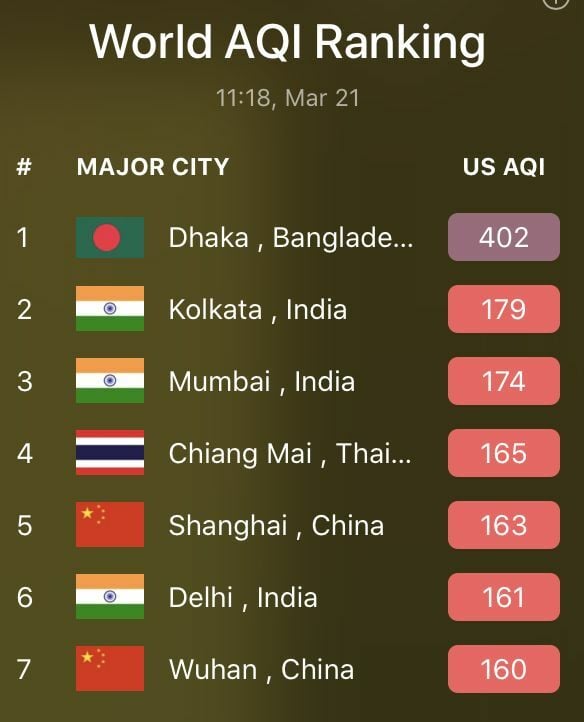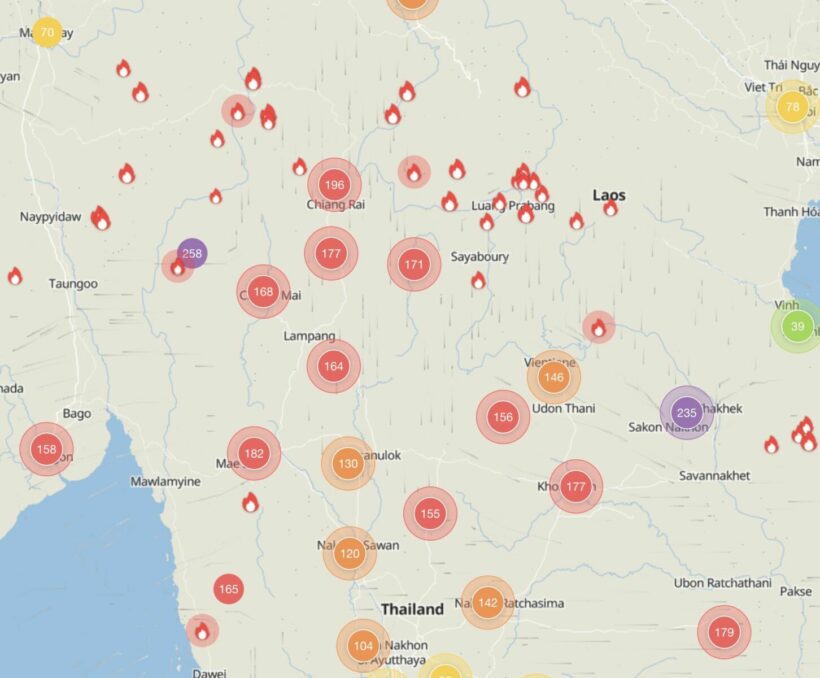 The ASEAN Agricultural Commodity Outlook report in 2016 reported that maize (corn) plantation areas in Thailand increased by 77,880 hectares between 2008 and 2015. But even the 4.6 million tonnes of corn produced in 2015 still only provided 90% of the nation's demands – there was none left over to export. The demands for livestock feed have increased yearly since then with a resulting increase in air pollution. And severe cases of respiratory disease.
Last week it was reported that over 250,000 people are suffering from respiratory and related diseases in Thailand's north. Suwanchai Wattanayingcharoenchai, director-general of the Department of Health, was quoted in Bangkok Post saying that the medical issues are due to excessive PM2.5 dust particles in the atmosphere as a result of local wildfires and burn offs that have produced heavy smog in the region.
He says that the seasonal smog, often blanketing populated areas like Chiang Mai, has "greatly affected people with respiratory diseases, with young children and the elderly being the most vulnerable". Ailments like asthma, eye infections and coronary artery disease have been attributed to the increase in pollution which has seen over a quarter of a million people undergoing medical treatment at hospitals and clinics. And that's only since the beginning of 2021. Most of those suffering from respiratory problems fall into the age group between 45-54 years old. Read more HERE.
A recent Greenpeace report attributes 14,000 deaths last year in Thailand to air pollution. Dr Rungsrit Kanjanavanit, a cardiologist at Chiang Mai University, told Bangkok Post he wasn't surprised.
"PM2.5 is more related to adverse health effects because it's so small that it can enter the bloodstream, similar to smoking,… every 22μg/m³ of PM2.5 is equivalent to everyone, including newborns and the elderly, smoking one cigarette."
A 2013 study indicated that, for every 10μg/m³ increase in PM2.5 particulate, there is a 6% increase in total mortality in overall population and 1.03 years of shortened life-span.
Watch our story about the annual smoke and smog problem in Thailand's north…
Last week The Thaiger broadcast the daily Thailand News Today from Chiang Mai and Jett, the presenter, noted that the looming and sacred mountain of Doi Suthep, with its hilltop temple in easy view from much of the city centre, had vanished and unseen much of the recent weeks.
Northern farmers have a long tradition of burning their agricultural waste, but the worsening smog and haze has grown progressively worse in the last 2 decades, in concert with rising corn prices and pressure on smaller farmers to switch to the agri-business crop. It was an easy sell for the farmers, as corn could quick cash as it could be harvested in just four months, ready for another planting.
These farmers sell their corn through contract farming arrangements or directly to the Charoen Pokphand group.
CP not only guaranteed the purchase price, but also subsidised some of their start-up costs, which would be deducted from the harvested crop profits. Corn crops also produce stubble, husk and other bio-waste, which weighs at least as much as the corn it produces. All that needs to be disposed. And that means burning because the smaller farmers have no means to mechanically reduce and process the waste into re-useable, recyclable product.
In 2016 the Singapore Armed Forces sent 2 specially equipped helicopters to help fight the fires in Thailand's north. Charoen Pokphand, also behind the growing of corn in Vietnam, Laos and northern Myanmar – was singled out by Singapore reporters. The conglomerate denied responsibility for the haze at that time but responded to the international criticism by cancelling farming contracts in Mae Chaem, to the west of Chiang Mai city near the Myanmar border, a notorious "hot spot" for crop fires in the province.
Farmers who were getting paid 16 baht per kilogram for the corn five years ago now lament that they only receive 12 baht per kilogram.
But, although it is clear that Charoen Pokphand have at least contributed to the annual smoke and air pollution problems, there are plenty more fires being lit just over the borders, in Myanmar and Laos. In both cases the governments have done little more than pay lip service to any attempts by the Thai government to tackle the regional problem.
In the meantime Bangkok fiddles whilst Chiang Mai burns. The northern capital, with enough problems relating to the lack of tourists, is now having photos of its worsening smog problem broadcast around the world – hardly the sort of advertisement it needs right now.
The NASA/Firms fire maps, in virtually real time, show that Thailand's north, and the farming zones directly across its borders, are the most active in the world.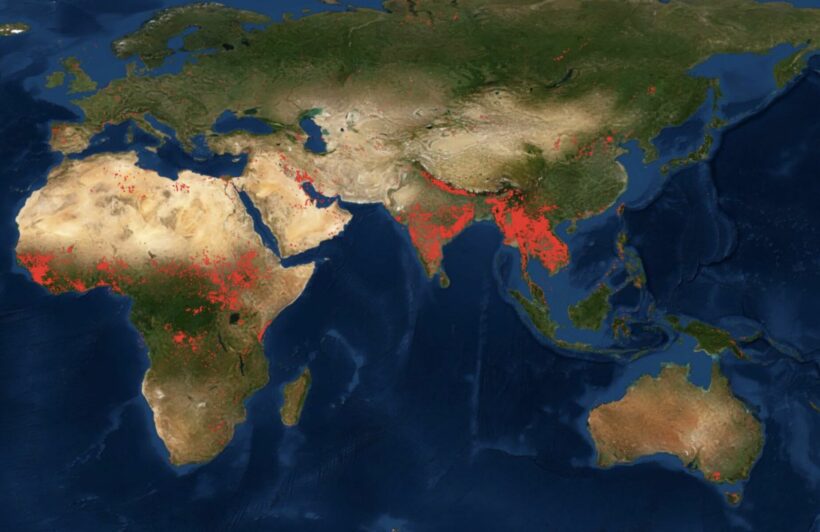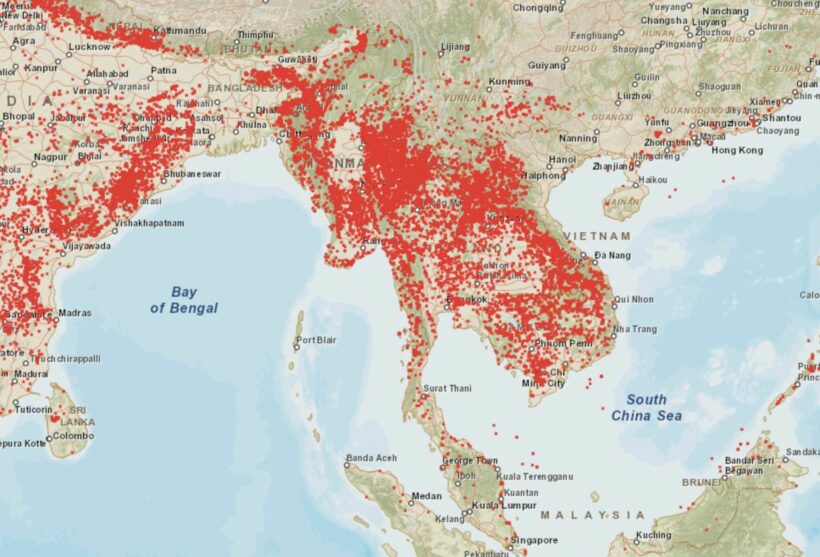 Keep in contact with Thaiger by following our Facebook page.
Never miss out on future posts by following Thaiger.
Chiang Mai 3rd most polluted city in world in yesterday's air quality ratings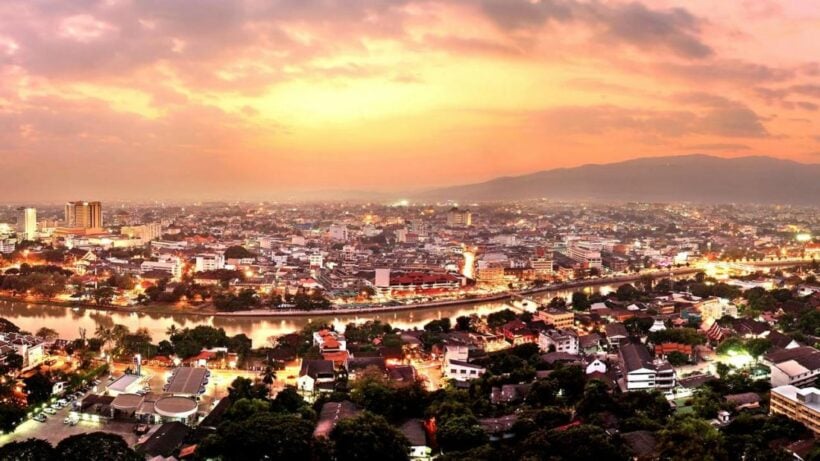 Chiang Mai ranked as the 3rd most polluted city in the world yesterday, according to AirVisual, following Lahor in Pakistan and New Delhi in India. The northern Thai city's was recorded to have an average PM2.5 dust level higher than 200.
All 4 air quality monitoring stations in the municipal area reported the PM as exceeding the safe level, with the deputy chief of an air pollution command citing some 928 hotspots detected across the nation's 17 northern provinces.
In Tak province, its PM2.5 and PM10 ratings exceeded the safe level for 4 consecutive days, affecting people's health and road visibility. Mae Sot district yesterday saw the PM 2.5 and PM10 measured at 114 and 171 µg/m3 with people being advised to avoid all outdoor activities and stay away from areas with high air pollution.
The governor of Tak says the province has initiated measures to prevent forest fires and to prohibit the burning of old crops for 2 months starting from March 1. Those who are caught burning or carrying hunting equipment will be charged by forest patrol officers.
The Department of Health Director-General says tropical storms in the northern part of Thailand would help reduce the PM2.5 in Bangkok, the Central Plains, the East and the lower North over the next few days. But some areas in the north, northeast and central plains may see more pollution due to burning in the country and smoke from neighbouring countries.
The Director advised people to protect themselves by wearing a face mask when going outside and follow air pollution news on the official website of the Department of Pollution Control.
According to IQAir, Chiang Mai's air quality index is at 176, with the PM2.5 measured at 103.9 µg/m³, sitting at unhealthy levels.
Meanwhile, the PM2.5 air pollution was behind approximately 160,000 deaths in the world's 5 most populous cities in 2020, according to a Greenpeace Southeast Asia analysis of IQAir data from a live Cost Estimator.
SOURCE: Bangkok Post
Keep in contact with Thaiger by following our Facebook page.
Never miss out on future posts by following Thaiger.
Driver says thick smog led to 3-vehicle pileup in Chon Buri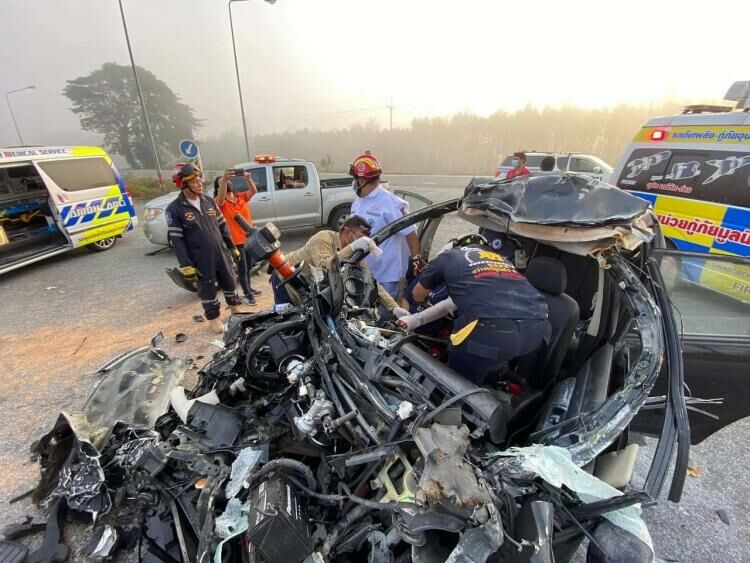 A driver in a serious 3-vehicle pileup in Chon Buri blames the thick smog for the accident, saying it limited visibility. Two people were injured in the accident, including a 30 year old man who was stuck inside his sedan and rescuers used the "jaws of life" hydraulic tool to remove him from the vehicle.
Another 39 year old man was found lying on the road and his 150cc motorcycle was nearly. Police say he had minor injuries. A 31 year old trailer truck driver told police that the haze from the air pollution made it hard to see.
"I was about to make a U-turn and I was quite positive that there were no vehicles behind me but it was difficult to see due to the low visibility in the air."
A car driving at a high speed crashed into the truck as the driver was preparing to make a U-turn. The motorcyclist then crashed into the car.
Chon Buri's air quality has reached "unhealthy" levels over the past week with the amount of the ultra-fine dust pollutant PM2.5 exceeding limits classified as safe, according to IQAir.
SOURCE: Pattaya News
Keep in contact with Thaiger by following our Facebook page.
Never miss out on future posts by following Thaiger.