World financial markets take stock of record losses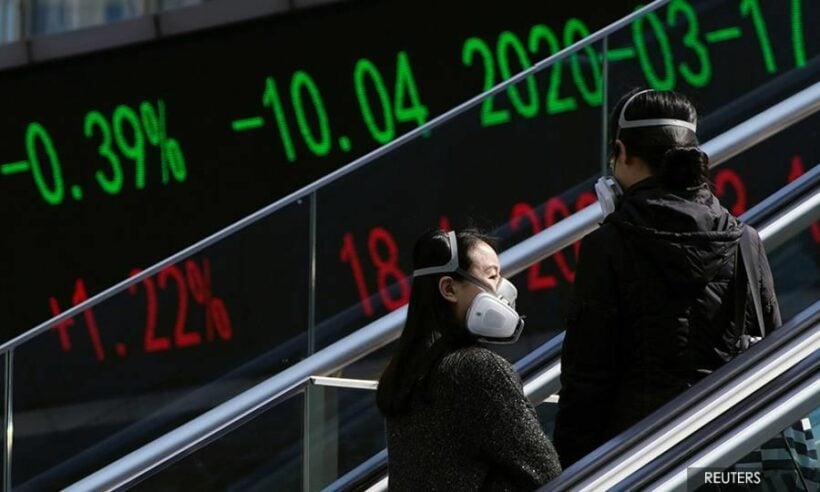 Global stock and oil markets plunged around the world yesterday (Wednesday) as enormous sums of stimulus, thrown at fragile economies, failed to offset concerns that the worsening Covid-19 coronavirus pandemic will tip the global economy into recession.
The Dow Jones Industrial Average was hit by more brutal losses to finish below the 20,000-point level for the first time since 2017. During yesterday afternoon (US time), the Dow Jones index fell so much that it erased all of the gains accumulated under US President Trump's administration, although it closed slightly above that key level. The FTSE100 has just been chugging along for the past few days (below).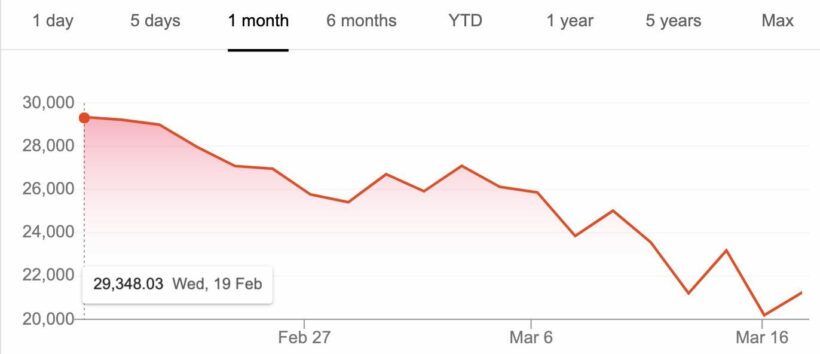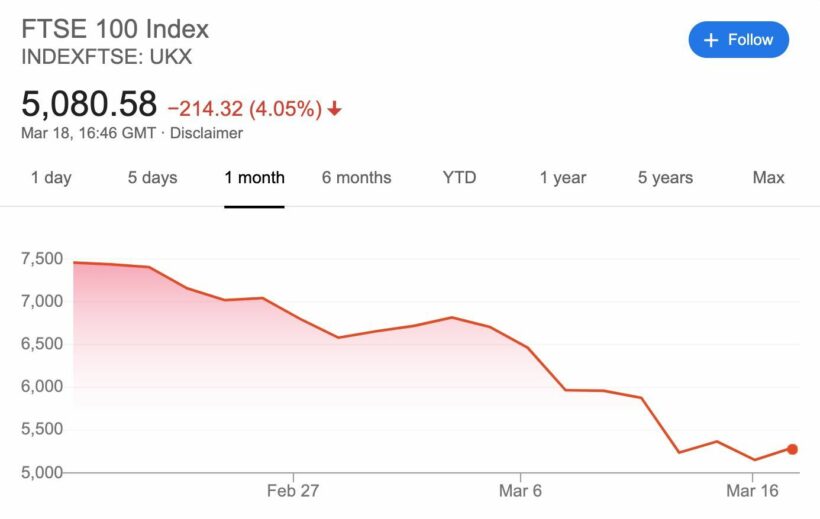 In European, both Paris and Frankfurt markets slumped more than 5%, while London slumped 4%, following Asian markets earlier trading.
World oil prices continued to spiral lower with New York's WTI crude plunging 24% to US$20.37 per barrel, its lowest in nearly 20 years.
Officials in Washington have been preparing a US$1.3 trillion stimulus package that will include deferrals on tax payments and loans for small businesses that are being decimated by the economic shutdown. They're also mulling immediate cash payments of US$1,000 to all Americans. The US Department of Housing and Urban Development says they will provide relief to renters and homeowners by suspending all foreclosures and evictions until at least the end of April.
JPMorgan Chase have today speculated that US activity will shrink at least 14% in Q2, while Europe's output would plunge 22%.
The moves by governments echo the US central bank interest rate cuts and pledges to make cash available to prevent a sudden collapse of financial markets.
The US$ has risen across the board, including against the Japanese yen which is usually seen as a safe haven investment in times of economic turbulence.
Sterling hit its lowest level against the US$ since 1985.
Some other currency comparisons today…




SOURCE: AFP
Keep in contact with The Thaiger by following our
Facebook page
.


Do you need help with your business? Are you searching for a new job? Or an employer looking to hire? Try JobCute today.

The post-Covid-19 era: Radical changes in Bangkok's property market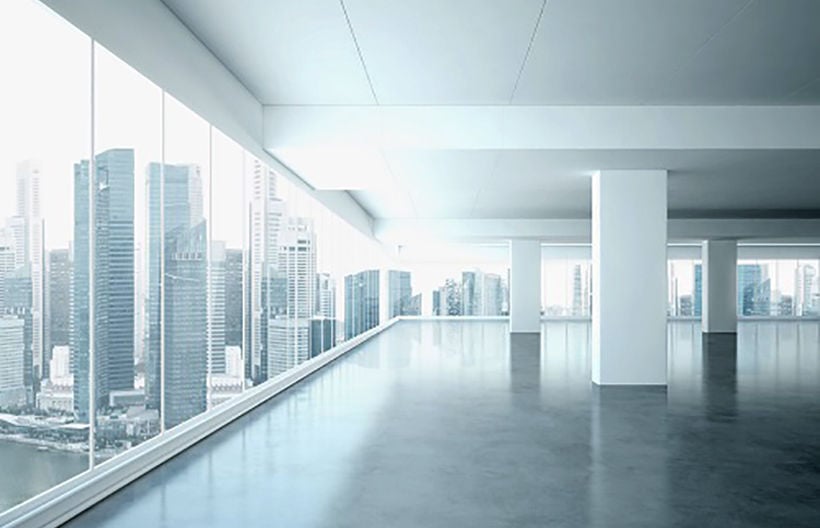 Property consultants CBRE have come up with their own evaluation of the current Bangkok office market, already getting pounded by regional trends and a high baht, now suffering another challenge – the Covid-19 coronavirus outbreak. They report that this situation will "create another split in our historical timeline – pre and post Covid-19" in Thailand.
"At present, people are talking about how a 100 year event like the Covid-19 global outbreak will affect Bangkok property," says CBRE property consultants.
"For many years now, companies have been exploring remote work or work-from-home strategies to either minimise costs or cope with the changes of Millennial behaviour during the pre-Covid-19 period. At this time, almost every company, even those who are underprepared, is being forced to undertake this new way of working without a choice," according to Ms. Roongrat Veeraparkkaroon, Head of Advisory & Transaction Services, CBRE Thailand.
Companies are experimenting a work-from-home policy and perceive an opportunity that it could work when applied to certain business functions and set the right balance between empowering and monitoring teams. This could mean that the future workplace will have a combination of agile workplaces which could be a permanent office as well as work-from-home, and co-working space.
The outbreak is acting as a catalyst that will give a company a clear view whether its remote working policy, which it has been considering, works. Once businesses realise what platform or infrastructure they are missing to support remote work, tech services companies will be one of the first beneficiaries after the storm has passed.
"Many organisations will be looking for satellite offices and cloud-based platforms as a Business Continuity Plan to ensure their businesses will not go dark if their headquarters could not be accessed. Co-working space will be one of the best choices in this case as the company can rent space on demand only when needed. However, in the post-Covid-19 world, co-working space operators will need solid measures to satisfy users that their space are safe and well-prepared."
CBRE found that while some hotels in Bangkok have decided to shut down during the lockdown period as occupancy rates were in a single-digit level, some organisations have been renting meeting or conference rooms within hotels for weeks to be their backup meeting space when needed.
"Agile workplace has been a hot topic in the pre-Covid-19 world, where collaboration and engagement are encouraged. Initially, agile workplace might sound like a high-risk option for companies at this time; however, as the name suggests, agile workplace or Activity Based Work areas can be easily reconfigured to support social distancing strategies and split teams within offices. Paperless office makes this transition even more seamless."
In a bigger picture, CBRE Research witnesses many office developments in Bangkok will be delayed as construction activities are halted or postponed as developers take a more defensive stance to assess the situation on a daily basis.
It is also possible that development plans will be revised to make projects more appealing in the Post-Covid-19 era with better property management system, air filtration (as PM2.5 still lingers in the Bangkok skyline) or a well-thought-out BCP to support the tenants.
"Agile and adaptive will be key words in the post-Covid-19 office market, not only to increase efficiency of a workplace but to prepare a business for any unforeseen changes that could occur in the future."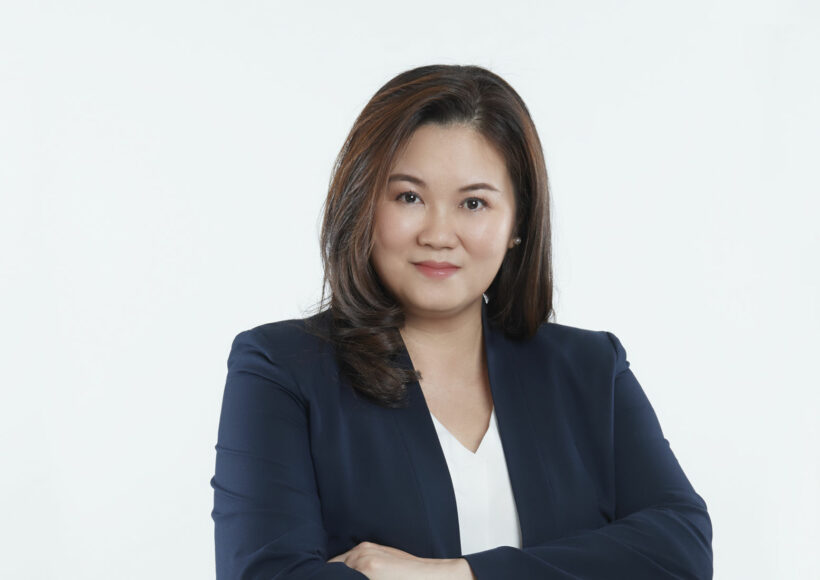 PHOTO: Ms. Roongrat Veeraparkkaroon, Head of Advisory & Transaction Services, CBRE Thailand – CBRE
Keep in contact with The Thaiger by following our
Facebook page
.
Thailand's food delivery services are booming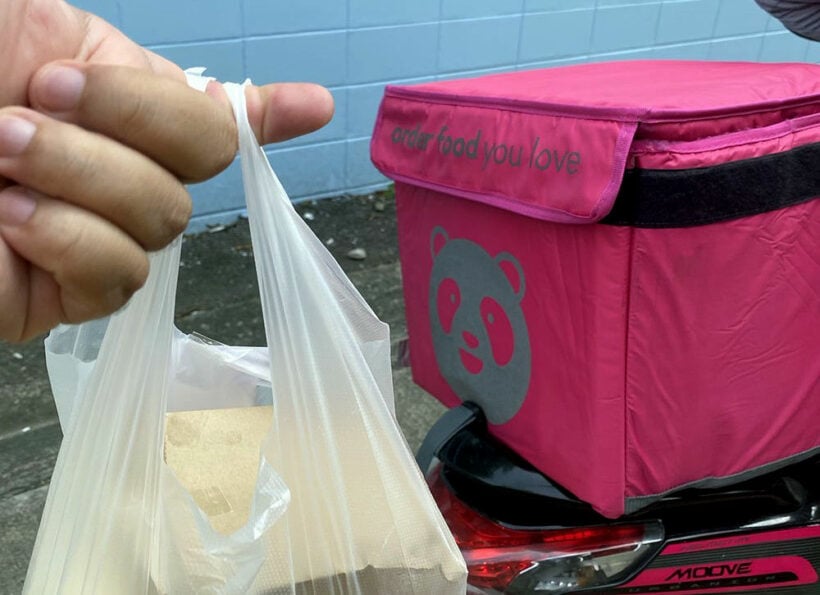 Whilst most businesses have been turned upside down by the disruptions caused by the Thai government's reaction to Covid-19, along with enforced closures, at least one business is booming at this crazy time. With restaurants closed to sit-down customers, the delivery services are providing a valuable service getting food to customers stranded at home whilst applying social distancing for the safety of their drivers and hungry customers.
Food delivery services are among the few local businesses that will not only survive but thrive throughout the outbreak in Thailand. Last year Kasikorn Bank Research reported that Thailand's food delivery business in 2019 was worth 33-35 billion baht, up 14% from the previous year. You can bet it's growing even faster now, some reporting rises of up to 100% in the past few months.
A ban came into affect on March 26 preventing people going out and sitting down for meals at restaurants. But restaurants have been able to provide take-away services and many either have their own delivery services or use the network of delivery apps like Food Panda or Grab Food to provide ordering and delivery services.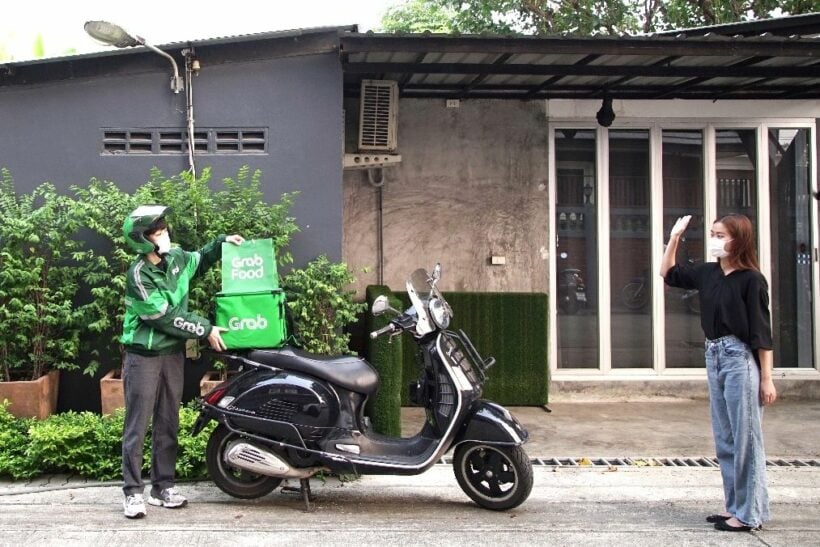 A 43 year old Grab Food driver says that he's been doing up to 15 deliveries over a 2 hour period. He's been doing deliveries for about a year. He noted that the demand for deliveries has surged during the recent disruption. He works mostly around Bangkok's Pattanakarn area.
"Of course, I'm scared of catching Covid-19, but I have to make a living, so there is no choice left for me. I just wash my hands many times a day and try not to get too close to other people," he told Bangkok Post.
35 year old Jakkrit Kamwan also works for GrabFood…
"The number of orders has doubled since the government invoked the emergency decree. I don't think I am at high risk of contracting it because I don't touch or talk to people when running orders."
Last week GrabFood introduced the "contactless delivery" to ensure the hygiene and health of customers during the Covid-19 crisis. Tarin Thaniyavarn of Grab Thailand says, "Grab has been closely monitoring the Covid-19 situation and is prepared to execute any necessary measures to promote safety standards for everyone involved."
GrabFood and its restaurant providers use these safety guidelines…
Drivers will be wearing face masks as they follow customers' directions via an in-app chat as to where to deliver their order.
Safety guidelines in food preparation and packaging.
Customers are advised to make payments via GrabPay to reduce the transmission risk.
29 year old Pongsatorn Chuaychart, who works for LINE MAN, said its no-contact policy helps to encourage customers who might be reluctant to use a food delivery service for fear of being infected.
"Even more, it make those carrying out the deliveries feel protected. But I'm also taking my own precautions. I plan to keep delivering as long as orders keep coming in. People still have to eat."
Others industries that are thriving though this really difficult time are the medical industry, medical supplies, hygiene sanitary services and supplies, life and health insurance policies, food packages and digital technology. People are also spending a lot of time online searching for accurate news and information.
SOURCE: Bangkok Post
Keep in contact with The Thaiger by following our
Facebook page
.
BOT responds to temporary breakdowns for online payments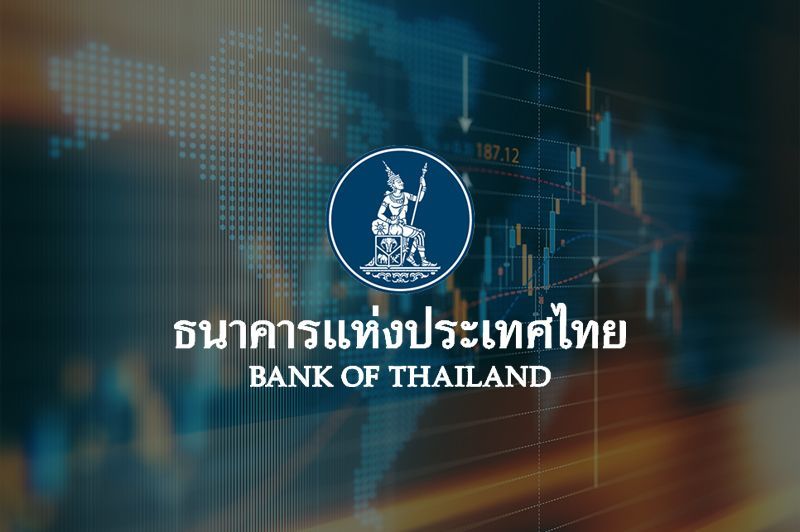 The new online payment systems, put in place to provide payments related to government stimulus packages, have suffered from temporary breakdowns in the past few days. Today users also reported problems with the Bangkok Bank's online payment system and ATMs machines going offline.
More users are also reporting problems with the governments' website providing financial support for informal workers during the outbreak.
Siritida Panomwon na Ayudhya, the Bank of Thailand assistant governor of payment systems policy and financial technology says the BoT is closely monitoring the situation in order to solve any problems as soon as possible.
"The server has been crashing and temporary break downs of the website (www.เราไม่ทิ้งกัน.com) in the past few days."
"The BoT has asked banks and other financial institutions to monitor any glitches on their online transaction systems and solve them quickly. The institutions have been urged to ensure that the problems are solved within 24 hours."
SOURCE: The Nation
Keep in contact with The Thaiger by following our
Facebook page
.