WHO praises Thailand's coronavirus measures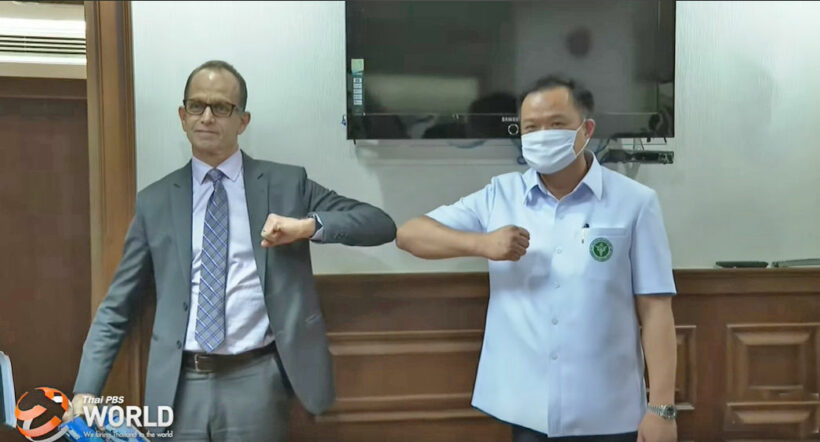 Do not adjust your monitor, that's what actually happened yesterday in Bangkok. The World Health Organisation (WHO) has praised Thailand's efforts to stem the spread of the Covid-19 coronavirus outbreak sweeping the world, and for being the first country outside of China to identify and report the virus.
The WHO's Dr Daniel Kertesz made the comments while meeting with Public Health Minister Anutin Charnvirakul for discussions on the global coronavirus situation. Anutin told the media that Kertesz also praised Thailand's promotion of social distancing as a means of preventing the accelerating spread of the the disease.
Kertesz says the WHO recommends four preventive measures, including frequent hand washing with soap or sanitiser, avoidance of touching the face to prevent the virus accessing the body's "soft entrances" (eyes, nose and mouth), social distancing and covering the mouth and nose with the sleeve or a tissue when sneezing or coughing.
Dr Supaporn Watchaprueksadee, deputy chief of Thailand's Centre for Emerging Infectious Diseases, confirmed the first Covid-19 case in Thailand, a female Chinese tourist from Wuhan who was infected on January 9, two days before China announced the outbreak of the coronavirus in the city.
Supaporn and her team studied the DNA of the virus, obtained from a nasal swab, and found it matched a strain of coronavirus usually found in a species of bat.
The Thaiger – Whilst the Thai Health Minister basks in the warm glow of the WHO praise, Thailand has registered another 89 cases today (Saturday). And Phuket island is reeling following disclosures of 5 Covid-19 cases on the island which were denied for weeks before.
SOURCE: Thai PBS World
Keep in contact with The Thaiger by following our
Facebook page
.
Coronavirus UPDATE – first deaths in New Zealand, Sri Lanka. Singapore cancels citizen's passport.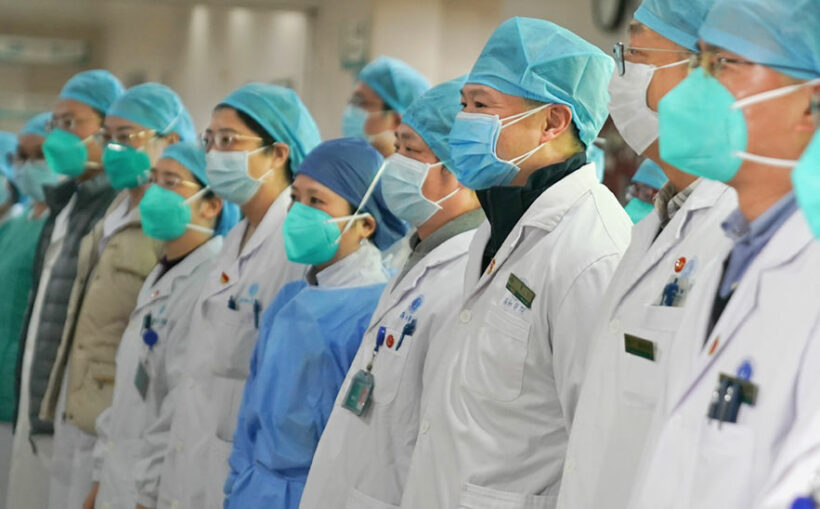 Covid-19 cases around the world have now reached 723,732. A week ago (March 23) there was 378,000 cases in the world.
There have been exactly 34,000 deaths recorded globally (as of 2.30pm Monday Thai time) with over 151,000 people recovered. The USA leads the world count with 142,735 cases followed by Italy with 97,689 cases and 10,799 deaths.
Here are the most recent developments from around Asia related to the Covid-19 coronavirus situation in the region…
Singapore cancels citizen's passport
Singapore, which has imposed tough measures to slow the spread of the virus, including six months in jail for people who intentionally stand close to others, cancelled the passport of a citizen who breached his mandatory quarantine period.
The 53 year old man had been ordered to stay home for 14 days after returning to Singapore from neighbouring Indonesia, a rule he then broke by making a return trip over the border.
Singapore reported its third COVID-19 death yesterday.
Australian domestic violence cases soar
Australia announced a nearly 100 million US$ (3.27 billion baht) boost in funding to tackle domestic violence, after support services reported a spike in virus-related family abuse.
Australian PM Scott Morrison says there has been a 75% surge in Google searches for help during the current nationwide shutdown of non-essential services to curb the spread of the disease.
Associations around the world that help victims of domestic violence fear a massive increase in cases as the stress caused by social isolation exacerbates tensions.
China reports slightly fewer imported cases
China reported 45 new infections yesterday, all but one of them imported. That compares with 54 cases Saturday, all of which were imported. After taking strict and harsh measures to bring the virus under control domestically, China is now doing the same to prevent imported infections.
China announced last week it would drastically reduce the number of international flights into the country and banned foreigners from entering beginning last Saturday.
New Zealand and Sri Lanka report first deaths
New Zealand has announced its first coronavirus death: a woman in her 70s with an undisclosed chronic underlying condition. There are currently 589 confirmed cases in New Zealand, with 75 new infections reported over the past 24 hours.
Sri Lanka also recorded its first death late Saturday.
Philippines reports 343 new cases
The Philippine health ministry has added 343 new coronavirus cases – the country's largest daily increase in infections, and 3 additional deaths.
That raised the total number of known infections in the country to 1,418, while the death toll has reached 71. Seven more patients have recovered, however, bringing the total number of recoveries to 42.
Indonesia may soon quarantine almost 30 million people
The move proposed for the capital and surrounding areas is to curb the spread of the coronavirus.
Indonesian President Joko Widodo called for "more decisive steps" to restrict people's movement at a cabinet meeting on Monday, saying firm actions are "needed to break the chain of distribution of coronavirus." The President didn't spell out what additional curbs were required with the capital already being placed under an emergency status and schools, cinemas and entertainment spots closed for about two weeks.
SOURCE: Thai PBS World | AFP
Keep in contact with The Thaiger by following our
Facebook page
.
Senior health official says dire infection forecasts "very unlikely"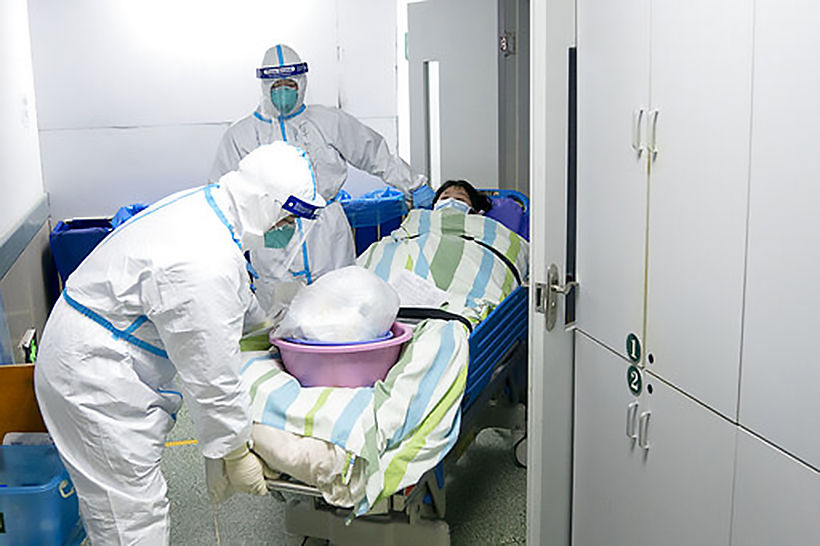 Doctors from various departments, ministries and universities are making grim predictions about the Covid-19 coronavirus infection rate in Thailand, some saying that by mid-April cases in Thailand will reach 350,000, with about 7,000 fatalities.
Responding to some of the most dire forecasts, a senior doctor at the Ministry of Public Health's Disease Control Department is dismissing these scenarios as "very unlikely."
DCD deputy director-general Dr Thanarak Phlipat said in a Facebook post today that he's received many enquiries about whether forecasts of an "exponential rise in the number of infections and fatalities" are reasonable.
He responded by saying they are "very unlikely."
With a little over two weeks to go before April 15, Thanarak says predictions of 7,000 fatalities for Thailand in the case of no lockdowns, and 485 if a lockdown is imposed, are "inflated."
Thailand's death toll, as of yesterday, stood at just 7 out of the 1,388 confirmed virus infections nationwide.
Thanarak wrote that he doesn't know what assumptions were used in those forecasts and doubted the forecasters' expertise in epidemiology and biological statistics.
"Most importantly, I don't know what their motive is for releasing those figures."
He explained that the Public Health Ministry has epidemiologists to develop forecasts, which are updated periodically, based on the latest data. These predictions are used in formulating plans for dealing with the pandemic.
Thanarak believes the worst case scenario up to April 15 would be 25,000 infections if no antivirus measures are taken at all, and if there are no more cluster infections, like "boxing match cluster" and those from entertainment venues.
He says with the imposition of social distancing measures, which are currently being observed by only about 50% of the Thai population, the number of infections is predicted to reach 17,600, but this could be cut to 7,700 if 80% of the population were to follow the measures.
Thanarak stressed that these figures were worked out on the basis of the best data available used to guide official government policy, and were not invented to cause public confusion. He advised that any predictions about the pandemic must be based on undistorted, verifiable facts.
SOURCE: Thai PBS World
Keep in contact with The Thaiger by following our
Facebook page
.
2020 fiscal budget emergency fund running dry – Budget Bureau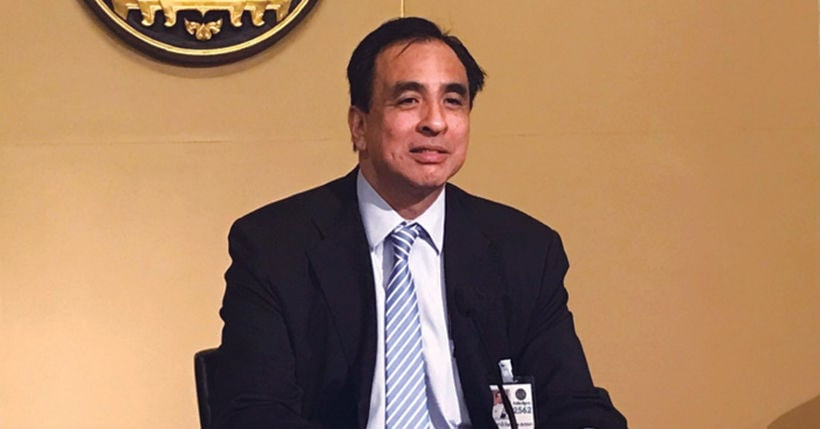 "The emergency fund of 96 billion baht from the fiscal 2020 budget has been nearly used up," according to Dechapiwat na Songkhla, the director of Thailand's Budget Bureau.
Dechapiwat explains that the budget includes…
18 billion baht to help people who are affected by Covid-19 and drought,
45 billion baht for cash handouts, and…
2 billion baht as compensation of interest for the Government Housing Bank.
"The Bureau will report the matter to the Cabinet on Tuesday (tomorrow) and if the government does not make a decision soon, we might not have enough funds for additional measures to cope with Covid-19 and the drought problem as well."
"The Bureau will propose 2 approaches to solve this problem.
The first approach is to have the Ministry of Finance issue an emergency loan decree. However, this approach will need to consider whether it complies with the constitution, as Section 140 stipulates the emergency loan decree only allowed for expenditures approved in the budget spending list. And the Constitution's Section 172 stipulates that loans for emergencies can be immediately approved. This approach may take some time, as we will need the Constitutional Court's ruling first."
The second approach is to have the Cabinet issue the Budget Transfer Act to transfer unused budget from government agencies that have leftover budget or no immediate projects to use it in the next few months for an emergency fund. This approach can be done faster and has no legal obstacles.
"However, it is up to the Cabinet to consider which approach to use to fix the problem."
SOURCE: The Nation
Keep in contact with The Thaiger by following our
Facebook page
.