Thailand tries to seal land borders to prevent migrants bringing virus into country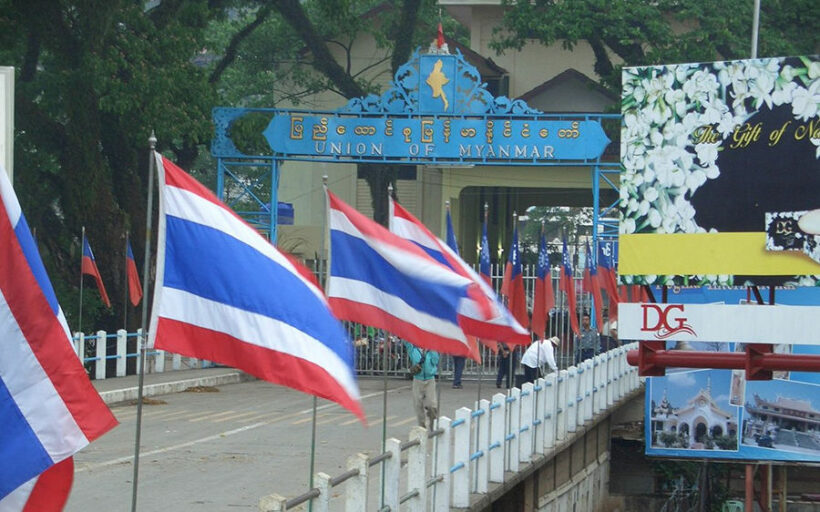 Officials have ordered all provinces bordering Myanmar to increase patrols and surveillance, in an attempt to stop illegal migrants crossing over the leaky borders into Thailand. Myanmar is currently experiencing a spike in Covid-19 infections, leading to concern here that illegal Burmese migrants entering the Kingdom without health checks or quarantine may spread the virus.
Security has been stepped up at all land borders in an effort to prevent undocumented migrants from entering Thailand, with 23 Cambodian nationals detained in Chachoengsao province, east of Bangkok, yesterday, after being smuggled into the country. There have been increasing reports of such arrests, with migrants telling officials of fees paid to illegal agencies to facilitate their crossing.
A report in Thai PBS World says the communicable diseases committee in the northern province of Tak has ordered the closure of 2 official crossings between Thailand and Myanmar, in addition to sealing off 36 natural ones. Mobile Covid testing units have also been sent to the province to screen Thai people living near the border, as well as those arriving from Myanmar. Earlier this week, a doctor in a government hospital made a plea for medical supplies to treat Covid-19 patients from the neighbouring country.
In the southern province of Ranong, officials have increased marine patrols, to intercept boats that may be carrying Burmese migrants. Officials are also asking residents in border areas to be vigilant and report any strangers to village chiefs.
SOURCE: Thai PBS World
📱 Download our app on Android or iOS for instant updates on your mobile
📧 Subscribe to our daily email newsletter
👍 Like/Follow us on Facebook
🔔 Subscribe to or Join our YouTube channel for daily video updates
Asymptomatic Covid patients may be allowed to self-isolate at home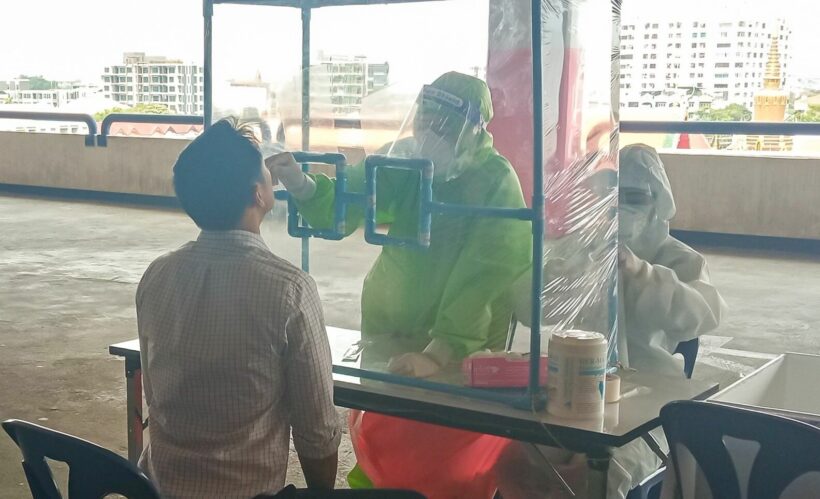 Thailand's Health Ministry says asymptomatic Covid-19 patients may be allowed to recover at home, in order to ensure hospital beds can be kept for seriously ill patients. The ministry says it's preparing a "recover at home" plan, but insists it is not being implemented for the time being as there are currently enough beds available. Just over a week ago, health officials confirmed there was no plan to change its mandatory hospitalisation policy for anyone testing positive for the virus.
The Bangkok Post reports that should the plan be put into operation, strict criteria will still apply. Hospitals can only recommend asymptomatic patients recover at home and they must remain in self-isolation for a full month. Apart from being asymptomatic, patients must be under the age of 40 and have no underlying conditions, such as chronic obstructive pulmonary disease, kidney disease, coronary artery disease, stroke, or any other condition that may put them at risk. Patients will be required to consent to self-isolation at home and, in the event they live in a condo or other shared building, permission must also be obtained from the building supervisor.
Concerns are growing about the high demand for hospital beds as Covid-19 infections rise across the country. However, the Health Ministry says there are still enough beds available at this time. Somsak Akksilp from the Department of Medical Services says the real challenge is the long wait for beds rather than an actual shortage.
"We're making preparations for the home isolation programme but it is not yet implemented. We have a total of 9,317 beds, an increase from 6,000-7,000 beds. About 3,000 beds are still available."
He adds that, with more serious cases expected this week, hospitals have been ordered to reserve beds in intensive care units. Officials are also increasing the number of Covid-19 patient transport vehicles in the country to 100, acknowledging that the limited number has also contributed to long waits over the last week.
SOURCE: Bangkok Post
📱 Download our app on Android or iOS for instant updates on your mobile
📧 Subscribe to our daily email newsletter
👍 Like/Follow us on Facebook
🔔 Subscribe to or Join our YouTube channel for daily video updates
Current list of restrictions for provinces around Thailand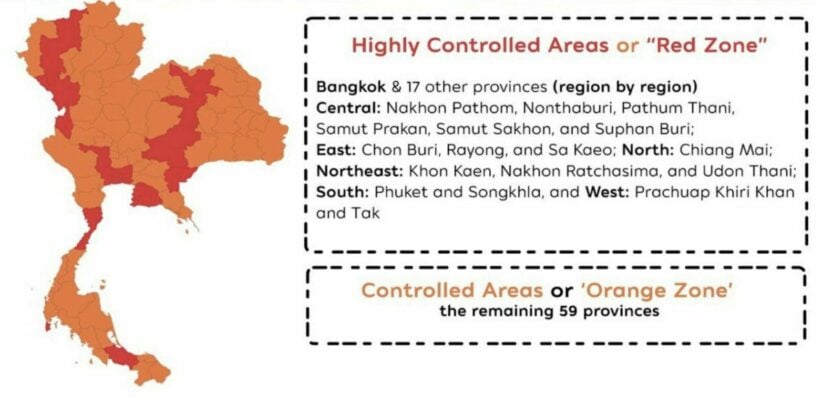 The situation continues to be quite fluid. But if you need to travel at this time, here are the latest restrictions in the red and orange zone provinces. If you planning on travelling, you need to get acquainted with the latest restrictions in your destination province, and you should check if you need additional travel documents.
The could change at any time, so if you are going to be doing any travelling (the government are advising against it), you should get your paperwork ready in advance.
Provincial governors are also being given latitude by the central government to upscale any of the restrictions to meet local situations.
The infographic was compiled by the NBT.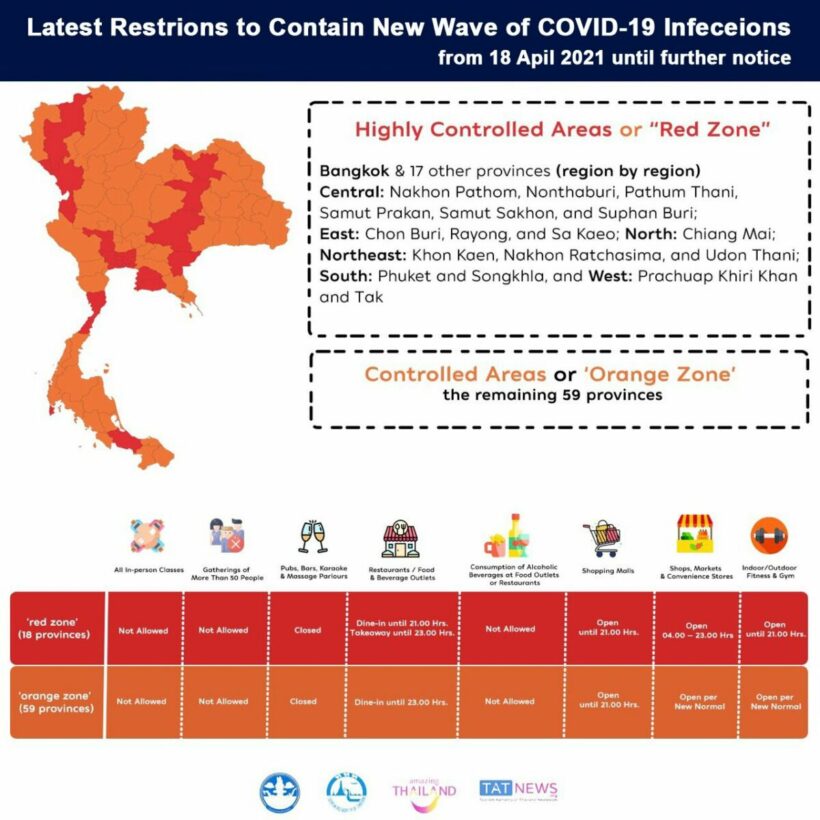 📱 Download our app on Android or iOS for instant updates on your mobile
📧 Subscribe to our daily email newsletter
👍 Like/Follow us on Facebook
🔔 Subscribe to or Join our YouTube channel for daily video updates
No room at the inn – Bangkok hospitals turning away people seeking Covid tests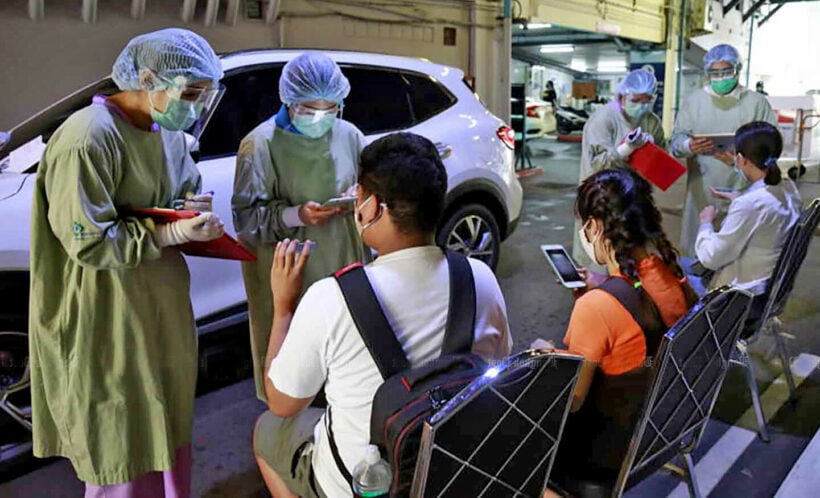 Today's drop in newly reported infections by the CCSA has dampened Thai's desire for a Covid test in and around Bangkok. Now, many hospitals around the city are restricting the numbers of patients tested. And if you want to be tested, Thai or foreigner, you better be ready to pay for it.
Thai Enquirer is reporting that at least 3 private hospitals are not accepting new Covid patients, including BNH Hospital, Praram 9 Hospital and Paolo Hospital in Phaholyotin. But even the latter, who had received a new batch of test kits, said they will take walk-ins but only from 0800 – 1700. The cost at Paolo Hospital is 4,500 baht.
According to Thai Enquirer, the city's public hospitals are also limiting the number of new Covid tests. Thammasat University Hospital and King Chulalongkorn Memorial Hospital are doing tests but only on who they consider 'at-risk' communities, and only 100 tests per day. Taksin Hospital, on the west side of the Chao Phraya, is providing free Covid testing but, again, only people they consider 'at-risk' patients. None of them are providing the popular drive-through services. For the majority of the hospitals charging, costs for the tests are between 4,000 – 6,000 baht, depending on the patients and their perceived risk levels.
293 new infections were detected in Bangkok over the past 24 reporting period. 210 more cases were reported from provinces directly adjacent to Bangkok. Around the country there were 1,390 new cases reported this morning, down on yesterday and Saturday's numbers but still well in excess of the numbers being reported in Thailand's first and second waves.
📱 Download our app on Android or iOS for instant updates on your mobile
📧 Subscribe to our daily email newsletter
👍 Like/Follow us on Facebook
🔔 Subscribe to or Join our YouTube channel for daily video updates