Thai Airways crew restrain Chinese passenger who deliberately coughed at them: VIDEO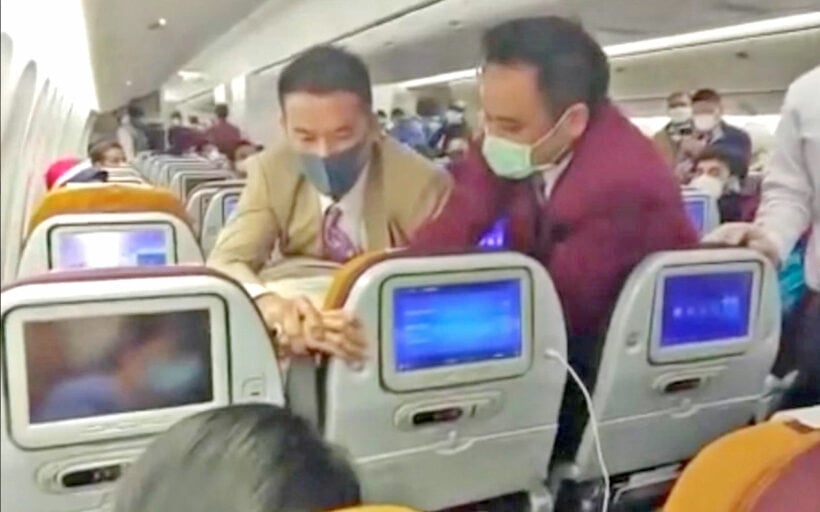 A shocking Facebook video claims to show the moment Thai Airways cabin crew tackle a passenger who deliberately coughed at them. The unverified footage is said to have been taken on a Thai Airways flight in Shanghai on Friday, and was shared online by YouTube user Fugu M.
Reportedly, the plane had already landed at Shanghai's Pudong International Airport, but passengers were forced to remain aboard for seven hours as a result of tighter Covid-19 coronavirusscreening procedures at the airport, which created a backlog.
Some passengers became irate at the delay, and one female passenger showed her anger by deliberately coughing on staff to get them to open the doors.
"One Chinese woman went stir crazy on a Thai Airways flight and deliberately coughed on a female flight attendant to try to pressure staff to open the doors and let her out."
"[A] Senior male flight attendant was having none of it, warned her, then a scuffle ensued. He was going to put her in cuffs, but eventually chose not to."
Footage shows the woman being restrained by a steward, while other crew, who can be seen wearing face masks, come to his assistance.
"Stay down! Stay down, please!"
Thailand's Channel 7 spoke to Thai Airways, who confirmed the incident occurred on March 6 on flight TG664 from Bangkok to Shanghai.
A spokesperson said the plane landed safely at the airport but was notified by ground staff that all passengers and staff would be required to undergo intensive screening procedures and that, due to a backlog, it would be seven hours before they could leave the flight.
Facebook page
.
China enters suppression phase in battle against Coronavirus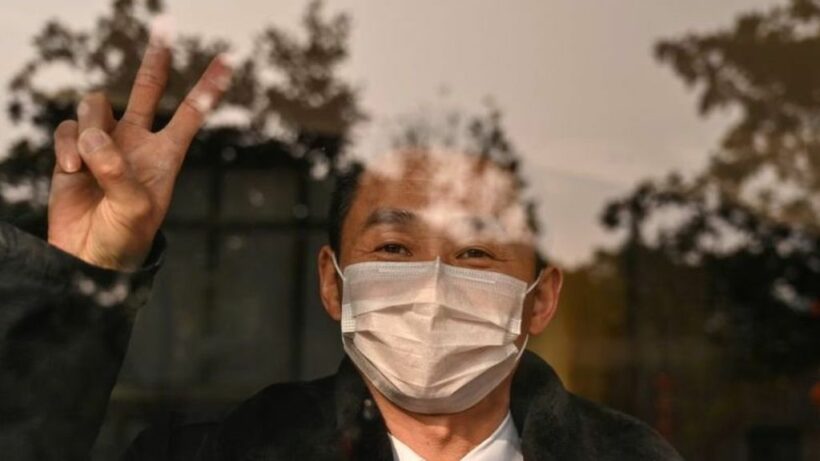 There are now so few coronavirus cases in China that some days authorities don't have any new cases to report. China has gone from reporting thousands of cases a day back in February to reporting a handful each day now. Recently new cases are slightly higher, but almost all of them are imported cases from travellers recently returning from abroad.
China claims to have driven coronavirus transmission down to nearly zero and while some question's among international academics about case reporting methods used in China still abound, the general consensus is that China has suppressed transmission to manageable levels.
Many restrictions from the health crisis are still in place, however. Isolation facilities are still open for patients with even the slightest of symptoms. Quarantine centres are housing suspected patients and contacts of confirmed patients. Testing labs are still running. And monitoring systems are still on high alert for new cases.
"We are very aware that there could still be a second wave in China. That is possible," says Kylie Ainslie, a research associate at the MRC Center for Global Infectious Disease Analysis at Imperial College London.
"However, we haven't seen that occurring yet."
Ainslie and her colleagues have been looking at how China is emerging from one of the largest lockdowns in human history. They've been analyzing GPS tracking data of human movement to monitor how social restrictions are being eased or tightened in any given area.
"Areas, where the outbreak was less, had movement restrictions removed sooner. But that didn't mean completely. It meant first they started major factories and started letting those people who work there go back to work so that they could restart their industries."
Movement restrictions, basically orders for people to stay home, are still in place for some areas, and some people are still considered to be high risk. Most factories in Wuhan, which was the epicentre of the outbreak, for instance, have not yet cranked up their production lines.
"One of the things that China is doing is while it is relaxing social distancing measures, it's not removing them entirely. And it's not removing them haphazardly. For instance, schools in much of the country remain closed."
In several provinces where reported cases are down to zero, or close to zero for some period of time, case numbers have rebounded. But those upticks have primarily been driven by travellers arriving from Europe.
Ben Cowling, an epidemiologist at the University of Hong Kong , says these "imported" cases are much easier to contain and don't pose as much of a threat of wider transmission.
"There's less opportunity for infections to get into the general community from those travellers because they are being monitored so carefully. Anyone arriving in China must go into 14 days of quarantine where officials can keep a close eye on their health. So if they do turn out to be infected, which is a small minority, then they're isolated. Their contacts are traced and put into quarantine. And that's going to slow down any leakage into the general community."
Cowling says public health officials in China and elsewhere have two sets of tools to contain its outbreak – social distancing and case management. Social distancing makes it harder for the virus to find new people to infect. Case management tracks down cases and potential cases individually and then isolates them and the virus. China has enacted both measures with great efficacy.
"With a lot of testing capacity, they were able to bring down the numbers of infections quickly," Cowling says. "I think more quickly than we will find case numbers decline in New York or northern Italy or Spain or France. And that's because in China, the lockdown was a more extreme version of a lockdown. It was a total lockdown."
It is estimated that 950 million people were ordered to stay in their homes and were forbidden from travelling, one of the largest social experiments of its kind in history.
"In addition to the lockdown, there was also heavy use of testing, isolation and quarantine. So all of those measures are like really, really trying very hard to get the numbers down."
China is now in a "suppression" phase of the epidemic. To make sure that another major outbreak doesn't occur, China is experimenting to see how much it can ease off the highly restrictive social distancing while keeping its testing and quarantine practice high.
"We're going to see within a month or two whether it's possible to get back to relatively normal social mixing and just be able to rely on testing, tracking, isolating, quarantine to keep the virus at an extremely low level in China."
SOURCE: Jason Beaubien NPR
Keep in contact with The Thaiger by following our
Facebook page
.
Coronavirus UPDATE – first deaths in New Zealand, Sri Lanka. Singapore cancels citizen's passport.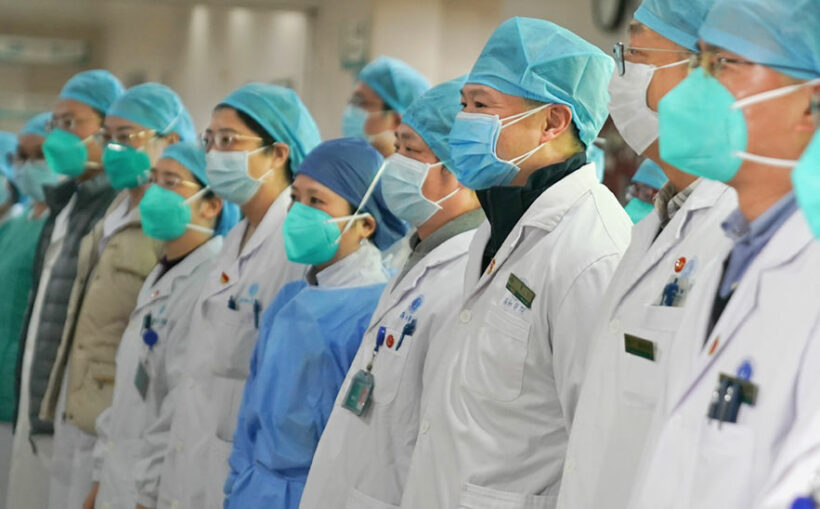 Covid-19 cases around the world have now reached 723,732. A week ago (March 23) there was 378,000 cases in the world.
There have been exactly 34,000 deaths recorded globally (as of 2.30pm Monday Thai time) with over 151,000 people recovered. The USA leads the world count with 142,735 cases followed by Italy with 97,689 cases and 10,799 deaths.
Here are the most recent developments from around Asia related to the Covid-19 coronavirus situation in the region…
Singapore cancels citizen's passport
Singapore, which has imposed tough measures to slow the spread of the virus, including six months in jail for people who intentionally stand close to others, cancelled the passport of a citizen who breached his mandatory quarantine period.
The 53 year old man had been ordered to stay home for 14 days after returning to Singapore from neighbouring Indonesia, a rule he then broke by making a return trip over the border.
Singapore reported its third COVID-19 death yesterday.
Australian domestic violence cases soar
Australia announced a nearly 100 million US$ (3.27 billion baht) boost in funding to tackle domestic violence, after support services reported a spike in virus-related family abuse.
Australian PM Scott Morrison says there has been a 75% surge in Google searches for help during the current nationwide shutdown of non-essential services to curb the spread of the disease.
Associations around the world that help victims of domestic violence fear a massive increase in cases as the stress caused by social isolation exacerbates tensions.
China reports slightly fewer imported cases
China reported 45 new infections yesterday, all but one of them imported. That compares with 54 cases Saturday, all of which were imported. After taking strict and harsh measures to bring the virus under control domestically, China is now doing the same to prevent imported infections.
China announced last week it would drastically reduce the number of international flights into the country and banned foreigners from entering beginning last Saturday.
New Zealand and Sri Lanka report first deaths
New Zealand has announced its first coronavirus death: a woman in her 70s with an undisclosed chronic underlying condition. There are currently 589 confirmed cases in New Zealand, with 75 new infections reported over the past 24 hours.
Sri Lanka also recorded its first death late Saturday.
Philippines reports 343 new cases
The Philippine health ministry has added 343 new coronavirus cases – the country's largest daily increase in infections, and 3 additional deaths.
That raised the total number of known infections in the country to 1,418, while the death toll has reached 71. Seven more patients have recovered, however, bringing the total number of recoveries to 42.
Indonesia may soon quarantine almost 30 million people
The move proposed for the capital and surrounding areas is to curb the spread of the coronavirus.
Indonesian President Joko Widodo called for "more decisive steps" to restrict people's movement at a cabinet meeting on Monday, saying firm actions are "needed to break the chain of distribution of coronavirus." The President didn't spell out what additional curbs were required with the capital already being placed under an emergency status and schools, cinemas and entertainment spots closed for about two weeks.
SOURCE: Thai PBS World | AFP
Keep in contact with The Thaiger by following our
Facebook page
.
Things to know about the Covid-19 Coronavirus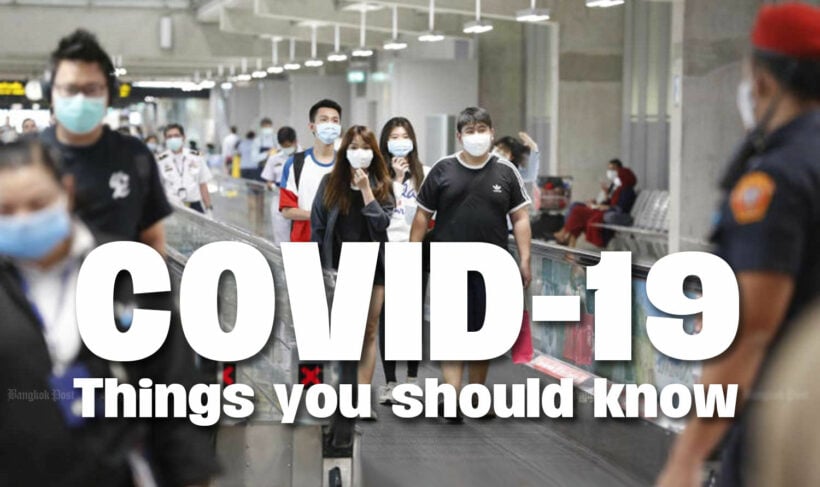 Coronavirus has spread to 176 countries or territories around the world and claimed more than 31,000 lives, as of Sunday, March 29. More than 665,000 people around the world have now been infected, including more than 141,000 who have fully recovered at this stage.
The US has recorded nearly 20,000 new cases in the last 24 hours plus 515 new deaths. Italy had announced a total of 10,023 people dying, 889 in the past 24 hours. The numbers in many parts of the world are now starting to spike at alarming rates and there are limited things you can do as precautions against catching the virus at this stage. The best advice is stay away from other people and be vigilant about your hygiene – it's your only sure-fire way to remain uninfected
• Stay at home means STAY AT HOME. There are plenty of eager food delivery services available.
• Develop routines, exercise and ensure that you are getting proper nutrition, including fruit and vegetable every day (frozen or canned is OK).
• Maintain excellent personal hygiene including washing your hands thoroughly, especially after touching items and surfaces.
• If you encounter people outside your home, maintain a strict 1.5 – 2 metres of social distancing. Hugs can wait.
• Keep a close eye on the news, especially here in Thailand where the restrictions are changing daily.
The Thaiger has all the latest news on the Covid-19 coronavirus HERE updated hourly and posted 7 days a week.
What is coronavirus disease 2019 (Covid-19)?
Coronavirus disease 2019 (Covid-19) is a respiratory illness that can spread from person to person. The virus that causes Covid-19 is a novel coronavirus that was first identified during an investigation into an outbreak in Wuhan, China sometime in December 2019. Patients were reporting with acute pneumonia-type symptoms which was eventually isolated as a new virus, a novel coronavirus.
How did Covid-19 start?
The virus that causes Covid-19 most probably emerged from a natural animal source around the Chinese city of Wuhan. Scientists currently believe the most likely animal carriers were either local bats or civets (cat-like mammals), but the virus made the leap to humans and started spreading from person to person. Covid-19 WASN'T developed in a laboratory in China – scientists around the world have debunked this early conspiracy theory as scientifically highly implausible, if not impossible.
From that point it was our modern lifestyle that accelerated and allowed the spread of the virus. The human instinct to gather in groups and the opportunity for cheap, safe air travel, has been the perfect mix for spreading a virus. The fast spread of Covid-19 was people jetting around the world, quickly infecting others in planes and airports, and in the countries and destinations they landed.
How do I protect myself?
The two best things you can do right now is avoid contact with other people (social distancing, stay at least 2 metres away) and regular and thorough hand washing, preferably with soap and water, or use an alcohol-based hand sanitiser that contains at least 60% alcohol if soap and water are not available.
Covid-19 can spreads when an infected person coughs or sneezes small droplets from their nose or mouth, packed with the virus, into the air. If you're in the vicinity you can breath in these tiny droplets or they can land on a surface that you touch later. Then you can touch your eyes, nose or mouth and you become infected too.
Cough and sneeze into tissues (then throw them in the rubbish), and don't touch your face with unwashed hands. Obviously, avoid close contact with infected people, or people who are at risk of infection, like people who have been travelling recently, to help limit the spread of the virus.
What are the coronavirus symptoms?
Coronavirus infects the lungs. The symptoms usually start with a fever followed by a dry cough, which can lead to breathing difficulties.
This would be a new, continuous cough and means coughing a lot for more than an hour, or having three or more coughing episodes in 24 hours. If you usually have a cough, it may be worse than usual. Some patients can develop pneumonia in one or both lungs, suffer multi-organ failure or even die.
It can takes five days, on average, to start showing symptoms, but some people have developed symptoms sooner, and much later, than this. The World Health Organisation says the incubation period lasts up to 14 days (which is why people are asked to quarantine themselves for 14 days if they believe they may have come in contact with Covid-19).
Some ENT – ear, nose and throat – specialists report rising reports of 'anosmia' (loss of smell) as a symptomatic side-effect.
But the evidence for this is only anecdotal and other viruses, like the common cold, could often lead to lost senses of smell or taste.
People will be most infectious when they have obvious symptoms, but it is likely that people can spread the virus even before they are sick or showing any symptoms.
How deadly is coronavirus?
The proportion of infected people dying from the disease appears to be relatively low (between 1 – 2%), but the current figures are still unreliable. Some countries, like the US and South Korea, have had very low death rates (less than 1%), whilst other countries, like Italy, have had death rates over 10% at this stage. But as different countries have different testing protocols, the statistics can be quite skewed at the moment.
People from babies to the elderly are becoming infected although the danger is mostly for people who are older or have underlying medical conditions, including heart disease, high blood pressure, smokers, asthma sufferers, lung conditions or diabetes.
A recent World Health Organisation research paper including data from 56,000 patients suggests:
6% become critically ill – lung failure, septic shock, organ failure and risk of death
14% develop severe symptoms – difficulty breathing and shortness of breath
80% develop mild symptoms – fever and cough and some may have pneumonia
Data from China also suggests that men appear to be at slightly higher risk of dying from the virus than women. Treatment of critically ill patients relies on keeping the patient's body functioning, including breathing respirators, until their immune system can fight off the virus.
What should I do if I think I have coronavirus?
If you have mild symptoms, such as a new or continuous cough, or a high temperature or fever, self-isolate at home and inform your family and friends (and don't ask them to rush over to your house!!).
Don't go to hospital unless your symptoms get worse. At this stage hospitals and clinics should be kept free for patients with bad symptoms and critically ill patients. But keep you friends and family informed of your situation – just because you're 'isolated' at home doesn't mean you're shut off from the rest of the world.
If you have come into contact with somebody who may be infected, you may be told to isolate yourself, or you can decide that you will self-isolate.
Spend a few moments on the internet finding contact numbers of your local nearby hospitals and check the locations so, if you need to go to hospital, you will have the information to get there.
How fast is Covid-19 spreading?
Tens of thousands of new cases are being reported worldwide every day now. But it is widely understood by health professionals that most people are unaware that they may be carriers either because symptoms haven't started showing or because they had a very mild case. But in both situations, the 'carriers' are still highly infectious.
The 'hotzones' are changing from day to day, week to week. Initially it was around Wuhan city and the Hubei province in China, then is spread to other populated areas around central China, and beyond. Then cases started popping up in South Korea and smatterings of isolated outbreaks in other parts of the world.
The biggest change was when the virus started infecting Italians, around the northern areas of the country, then spreading to other parts of Europe. Germany, France and Spain also have a large amount of new infections now.
The USA has gone from less than 1,000 cases on March 14, to more than 100,000 cases today. This is mostly due to an accelerated roll out of testing in the US.
Now there are growing numbers of cases in south east Asian countries too.
But this week's hotzones could become next months 'contained' areas. China, the original epicentre of new infections, is now closing its borders to keep foreigners out as it has slowed the rate of new infections to 10s per day, rather than the 1000s per day in the early phases (January, early February 2020).
Is there a vaccine?
No. There is currently no vaccine to protect against Covid-19. Scientists around the world are racing to develop a vaccine and some early testing has started, but it will take up to a year or more before a reliable, safe vaccine is rolled out around the world.
The best way to prevent infection is to take everyday preventive actions, like avoiding close contact with people who are sick or at risk, applying social distancing and maintaining a high level of personal hygiene and general health.
Keep in contact with The Thaiger by following our
Facebook page
.