UPDATE: Pushback from local associations over the Thai government's "Phuket Model"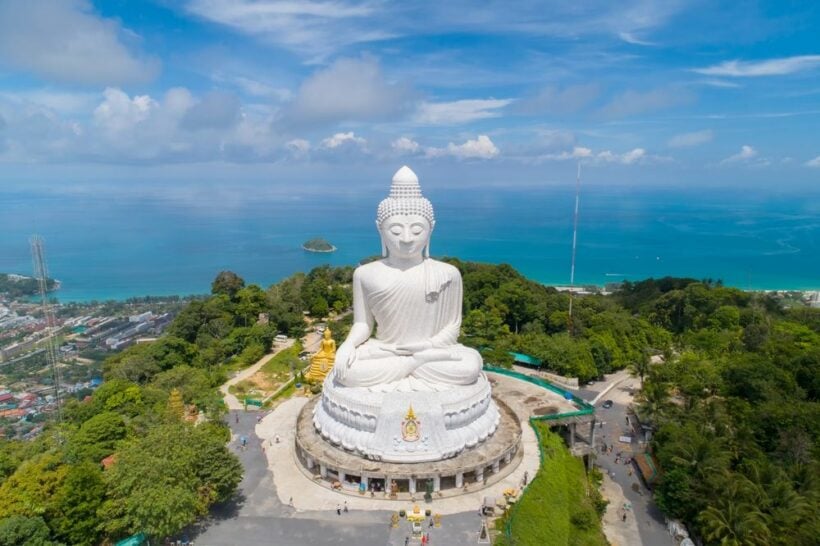 UPDATE: Amidst the "plans" and "models" being proposed by the government to re-open Thailand to some form of general tourism (nothing confirmed yet), there's also been some pushback from operators in some of the hardest hit areas.
The government had proposed the Phuket Model as a way of kicking off tourism from early October. But the model involves a mandatory 14 day quarantine, another 7 days on the island and then tourists able to travel beyond. The limited flights, 14 day quarantine, expensive "registered" hotels and testing regime were seen to be impediments to possible success.
(New information) Under the proposal for the trial, the Thailand Longstay Company, a private company where the Tourism Authority of Thailand has a 30% stake, would provide assistance with visa applications and purchase of insurance for tourists (likely only Thai insurance companies). The tourists would be required to undergo a Covid-19 test 48 hours before their departure for Phuket and they would be tested again when they arrive.
Officials have estimated that 100,000 tourists could take advantage of the "model". It was then extrapolated that the "Phuket Model" would be rolled out to other parts of the country, principally Koh Samui, Pattaya and 3 other destinations, also badly effected by the lack of tourists,
But the government admits it is facing a few hurdles – 1 from the healthcare providers who are concerned about ramping up their facilities to cope with the testing and possible increase in cases, and secondly from the local tourist associations who say the idea is flawed to begin with.
Tourism and Sports Minister Phiphat Ratchakitprakarn says that… "Phuket would be a pilot area where foreign tourists are allowed to travel."
But Sarayuth Mallum, the President of the Phuket Tourist Association, says they've developed their own model for the reintroduction of tourism into the island. They've proposed the 4Ts – Target (targeted low-risk countries), Testing (screening and testing when tourists arrive), Tracing (a mobile app to track tourists in real time) and Treatment (adequate health system conduct testing and and treat possible Covid-19 patients). Notably the 4Ts plan doesn't involve a mandatory 14 day quarantine.
But noted that reopening Phuket "did not mean just opening the airport and letting any foreign tourists in".
"We will allow only foreigners who used to stay in Phuket and now want to come back and those keen on staying for a long time. We intend to accept only a small group, not everyone," he said in the Bangkok Post.
He disagreed with the Tourist Minister's "Phuket Model", saying that Phuket must "protect and serve local people first".
The Mayor of Patong Chalermlak Kebsap shared the general concerns and said that places like Patong have been suffering but that there was a lot of concerns about the proposed model.
"Most of the people here are not very confident in the government's measures. We are not sure if they will be strictly implemented but we must be open. People are having a tough time. Businesses have shut doors. We do not want a lot of money; we just want to get by and be healthy."
She also voiced the concerns of many smaller hotels and guest houses that admitted they would be unable to participate in the program, and only the bigger hotels owned by powerful families would benefit.
The local Chamber of Commerce has also voiced its concerns saying that the locals want to implement their 4T program and disagreed with the Tourism Minister's proposal. He believed that the first group of foreigners arriving from October should be the ones with plans to stay for a long time – foreign students, medical tourists, people with families or existing businesses.
The GM of a leading hotel group confided with The Thaiger that some sort of re-opening plan was "urgent" but that the government's plan would not work and would only benefit a few hotels whilst adding a lot of inconvenience for the rest of the island as 'quarantined' tourists would be allowed to roam in a 1 kilometre radius from their registered hotel.
"Who is going to track these people? What happens to all the hotel staff, residents and other tourists that also work or wander into these 1 kilometre zones? The plan hasn't been thought through."
Under the current government plan proposal, foreign tourists travelling to Phuket would have to obtain permission to travel to and enter Thailand from their country's Thai embassy with all the associated paperwork, applications and waiting times. They wouldn't be able to simply purchase a flight online and jump on a plane.
They would have to test negative 48 or 72 hours before they travel (both times have been published in the media)and have a health insurance premium valued at least US$100,000. Then they have to find a direct flight to Phuket – at this stage there are none on offer excepting a plan from Thai Airways to re-introduce 2 flights a month from 6 destinations starting late November. The national airline is still in the middle of a generational restructure and ongoing bankruptcy proceedings.
Koh Samui, also desperate for tourists to reboot its flagging economy, has its own set of problems. Businesses, from restaurants to hotels, car rental businesses to tour operators, bars, massage services and retail shops, all report an almost 99% drop in business since the start of the year. Many hotels have not only shut their doors but shut down for ever.
But the remaining operators, desperately hanging on, say they don't want to be left behind with all the focus on the Phuket Model.
Many of the island's operators also bemoan the ongoing monopoly of Bangkok Airways and its strangle-hold on the air traffic into Samui, saying that international carriers should be allowed easy access to fly directly into Samui, rather than via Bangkok. They also demand Bangkok Airways stop price-gouging customers and leveraging its monopoly for profit.
At some stage all the players – the CCSA, tourism operators, hospitality representatives and associations – will have to meet and finalise a plan to co-ordinate the re-opening of general tourism into Thailand. But, with a month to go before the planned kick-off of the Phuket Model, there would be critical doubts whether decisions can be made, and then implemented, in time.
Even with these plans and limited importing of tourists, the numbers will only amount to 100s of thousands and not the millions that were once vital contributors to Thailand's economy.
Keep in contact with Thaiger by following our Facebook page.
Never miss out on future posts by following Thaiger.
Pattaya police warn restaurants not to act like bars, and bars not to pretend they're restaurants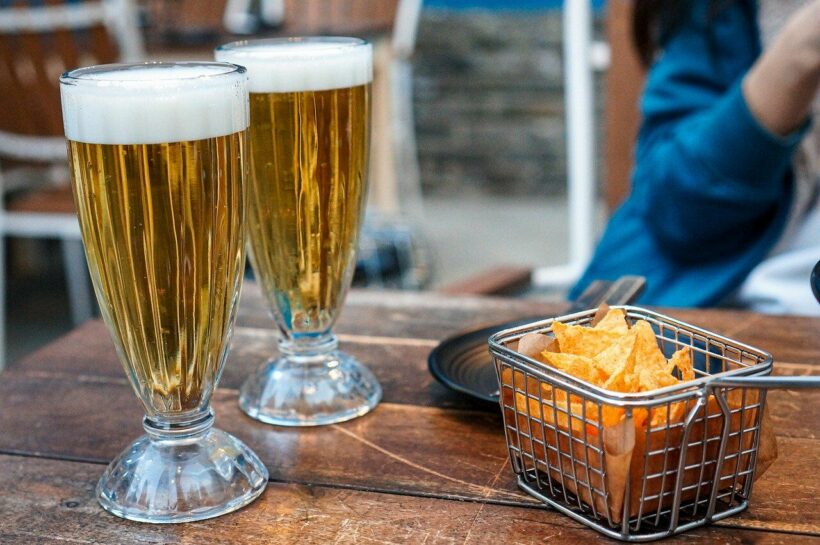 Following the closure of entertainment venues in 41 provinces for 2 weeks (starting Friday night at midnight), Pattaya police have warned that bars acting as restaurants and restaurants acting as bars would be punished. Police have been patrolling heavily, according to The Pattaya News, to check in on venues and remind them of the penalties and fines for breaking shut-down rules. Just selling fries or chips isn't going to cut it, according to police.
The current outbreak of Covid-19 throughout Thailand has been disproportionately spread by patrons of nightclubs and bars, including many pubs in Chon Buri and Bangkok. While the CCSA has called for a 2 week closure, the Chon Buri edict is currently open-dated, expected to be in effect until conditions improve. Patrolling police stressed that, while restaurants are allowed to stay open and sell alcohol, abusing that exception will be punished.
In previous entertainment venue shutdowns during the pandemic, many businesses took advantage of the restaurant loophole. As there's no exact wording in the law saying people have to order food and not only drinks, many restaurants served drinks and allowed dancing and socialising without any social distancing.
Some bars were even seen hastily adding a quick food menu of easy snacks in an attempt to skirt the rules and operate as a restaurant serving alcohol. But this time Pattaya police warn that restaurants using these sneaky tricks won't be tolerated. Even businesses with multi licenses will need to take measures to make it clear they are not operating like a bar as police will have the discretion to make judgement calls on venues.
The 2 week closure of entertainment venues went into effect on Friday at midnight and banquet halls, movie theatres, saunas and soapies are all closed. Restaurants are allowed to stay open, but with a 10 pm curfew on dine-in services. Takeaway food is allowed after 10 pm until 5 in the morning. Officials hope this latest shutdown on entertainment venues will slow the outbreak enough to avoid the dreaded full lockdowns, travel restrictions, and domestic quarantines.
This weekend saw the start of the annual mass migration of Thais back to their homes for the annual Songkran. Although the government have banned water splashing activities, the exodus from the Capital and movement around the country of millions of people has authorities nervous about the potential of Songkran to spread Covid out to the provinces.
SOURCE: The Pattaya News
Keep in contact with Thaiger by following our Facebook page.
Never miss out on future posts by following Thaiger.
Cambodia threatens jail for Covid-19 quarantine violations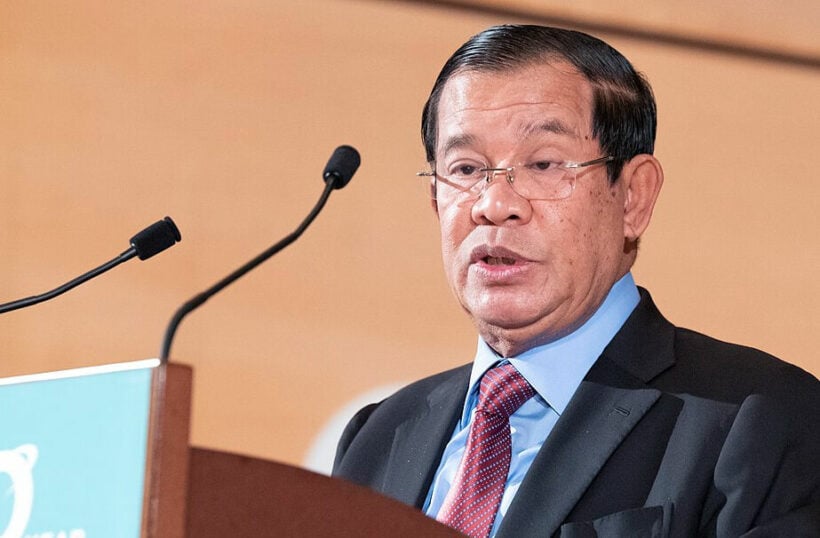 In the face of expanding Covid-19 infections in Cambodia, Prime Minister Hun Sen has warned that violators of quarantine may face prison sentences, and government workers could be fired if they don't get vaccines. More than 1,000 new Coronavirus cases were diagnosed in the last 2 days along, nearly 25% of the total cases since the pandemic began. The government has forbidden out-of-province travel and implemented evening curfews in the main city of Phnom Penh. They even shut down all the tourist attractions including the world-famous Angkor Wat temple complex.
Face masks are already mandatory now in Phnom Penh, with fines up to US $250 for anyone caught violating the order. But PM Hun Sen, himself having had a close brush with Covid-19 months ago, has imposed a 2-week quarantine and has made it clear that punishment for any rule-breakers will be harsh and swift. The government has already enacted a strict bill to curb the spread of Covid-19 in Cambodia, with prison terms of up to 20 years for serious violators. In an address broadcast on state-run television, he promised a "quick trial'.
"People who break Covid measures must be sentenced, I accept being called a dictator, but I will also be admired for protecting my people's lives."
Cambodia began Covid-19 vaccination in February, with a million citizens already receiving at least their first of two injections. In a country of 16 million, that 6% is a healthy start for their vaccination programme. The Prime Minister also declared vaccination mandatory for all state officials and members of the military. He asserted that their job was on the line if they failed to comply.
Cambodia had done well with low Covid-19 infection numbers during the pandemic, but in February, the virus tore through the Chinese ex-pat community, with the outbreak causing a surge in infections proliferating across the country. The situation is worsening now, as hospitals in Phnom Penh are running out of beds and the government is converting large halls and local schools into medical centres for mildly afflicted patients.
SOURCE: Bangkok Post
Keep in contact with Thaiger by following our Facebook page.
Never miss out on future posts by following Thaiger.
Nightlife continues to play a major role in Thailand's Covid-19 third wave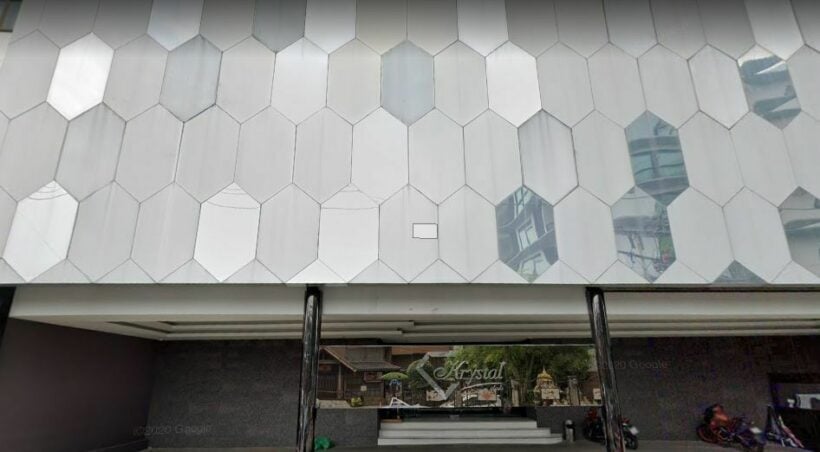 The current surge in Covid-19 infections now looks to be spread in large part by Thailand's colourful nightlife, with more than 500 people contracting the more contagious UK variant (B117) of the Coronavirus. The government responded by closing all bars and entertainment venues in 41 provinces, but it may be too late to prevent a third wave of the pandemic. Many people now are critical, pointing to the first and second wave as harbingers of how the party nightlife can so easily transmit Covid-19.
At the beginning of the pandemic, partiers in Bangkok's Thong Lor area began testing positive for Covid-19 last March. The Public Health Ministry instructed everyone to follow safety measures to prevent a big outbreak. The area is well known to be a hotspot for Bangkok's wealthy elite and powerful with its multitude of high-end luxury clubs and bars. Although the first major cluster was at a Muay Thai boxing stadium, it was the gatherings around Bangkok's nightlife that exacerbated the spread.
After infections started spreading, all nightlife was closed until July when Thailand overall had gained some control and contained the Coronavirus more successfully than most countries. In fact, it would be months before any new infections were diagnosed in the area.
While it's commonly known that the next wave of Covid-19 in Thailand started in Burmese migrant worker camps centred around the Samut Sakhon seafood markets, even the second round of infections was proliferated by people enjoying the nightlife around Thailand and gambles dens in Con Buri.
There was also the case of a woman in the North who went to several bars before knowing that she had contracted the virus in January, and, when the details of her bar-hopping were released, many customers of a bar she attended in Chiang Mai had already contracted Covid-19 as well.
Meanwhile, in Bangkok, Techin "DJ Matoom" Ploypetch held a lavish all-night party in a luxury hotel in January. Facing criminal charges for violating Covid-19 restrictions, he has recovered from the virus himself but the party became a spreader event. None of these nightlife outbreaks stopped people from pouring back into the club scene as soon as it reopened in February.
Now Thailand is facing a massive shutdown with the threat of a third wave of Covid-19 inescapable. One major factor in the rapidly spreading infections is trendy evening entertainment venues around Bangkok, Phuket, and Pattaya among other areas. A 35-year-old man who contracted Covid-19 reported he had been partying in Thong Lor the month before. Testing clubgoers from bars and entertainment venues in the area revealed an outbreak of Covid-19 infections.
Krystal Club Thonglor25 gained attention as powerful politicians and the wealthy elite that frequent the club so often it's nicknamed "Government House 2". 1/3 of Thailand's cabinet ministers are currently self-isolating and it was rumoured that the Transport Minister had gotten C0vid-19 from visiting the infamous Krystal Club, though rumours were later dispelled.
But growing anger has emerged towards the upscale party-going set, with the hashtag #thonglorpub trending across social media since Wednesday, and many people complaining as the country closes down entertainment venues for the next two weeks and maybe facing further lockdown procedures.
The bar and club scene is a hotspot for Covid clusters since social distancing and mask-wearing are rarely enforced, in poorly ventilated rooms with throngs of tightly packed people. A list has emerged of high society hot spots where anyone in attendance in the past few weeks is being requested to get Covid-19 tests right away after customers at each has tested positive for covid.
Krystal Club Thonglor25
Bar Bar Bar,
Ekamai Beer House,
Emerald Thonglor13
Dirty Bar
Bottoms up Thonglor
AINU Hokkaido lzakaya & Bar
the Cassette Music Bar Ekamai
63 Music House Ekamai
SOURCE: Thai PBS World
Keep in contact with Thaiger by following our Facebook page.
Never miss out on future posts by following Thaiger.