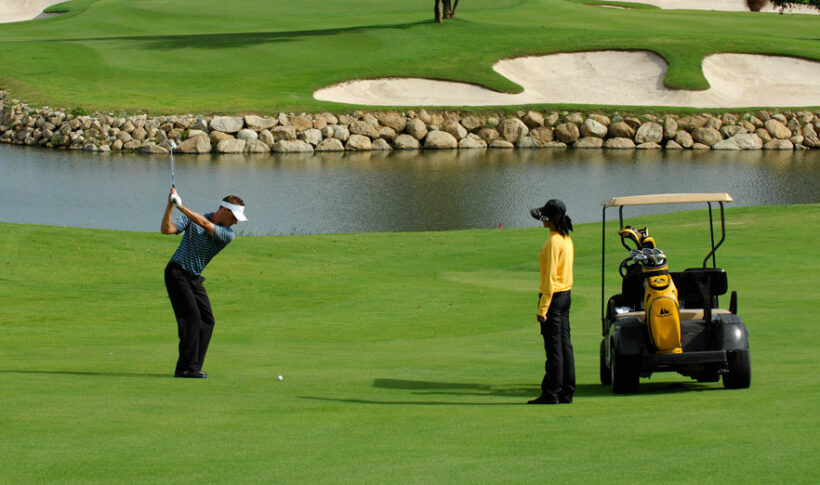 Quarantine, whilst wandering around a golf course, maintaining social distancing of course. That's the latest STV proposal tabled for consideration by the CCSA to expand the current Special Tourist Visa and quarantine restrictions for golf tourists who may visit Thailand and do their quarantine in a secure golf course, whilst enjoying a few rounds at the same time.
The proposal goes to the CCSA at next Wednesday's weekly meeting. The meetings are chaired by the Thai PM. A proposal to reduce the current mandated 14 day quarantine to 10 days will also be under discussion. There have no applications for Thailand's much-discussed STV since the start of November.
The Ministry of Public Health and the Ministry of Tourism and Sports have put the proposal forward to welcome foreign golfers from low-risk countries to visit Thailand. It could even be a less restrictive quarantine opportunity for non-golfers who would be able to get some fresh air each day instead of being locked up in a hotel room. Following their quarantine, travellers on a Special Toris Visa – the STV – would then be able to travel around Thailand wherever they want for stays up to 90 days, extendable twice.
The Minister said there were around 30 golf courses around Thailand offering around 5,000 rooms that could be suitable as 'Golf' ASQ facilities.
The proposal has been introduced after a high demand from foreign golfers, particularly from South Korea, Japan, China, and Taiwan, expressing their desire to visit Thailand and to practice their swings with the chance to travel further after completing the 14 day quarantine.
Many of Thailand's golf courses also have accommodation attached which would be registered under Thailand's ASQ or ALSQ program. The alternative state quarantine facilities have to meet strict criteria to maintain the security of their STV or other guests and partner with a nearby hospital to provide the Covid-19 testing and any other health care.
"The South Korean ambassador had paid me a visit last week and asked me why not introduce golf courses in the country as an alternative facility for state quarantine since there were more than 1,000 young golfers from South Korea traveling to Thailand every year for at least 3 months to practice for competitions."
SOURCE: The Pattaya News