Phuket, Bangkok and Chiang Mai hard hit over 'palpable' tourism drop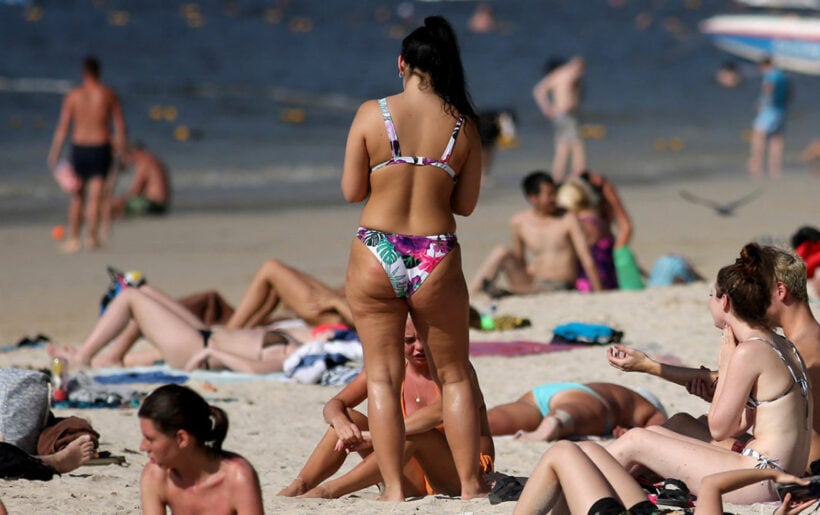 The 2019-nCoV coronavirus, the official name for the Wuhan or Novel Corononavirus, is resulting in dozens of high-season flights to Thai southern beach resorts being cancelled. The virus is already deemed an international public health emergency by the World Health Organisation.
"While Patong survived and thrived after SARS, the tsunami and a few army coups, this virus is stripping our hotels and the beach resort of tourists in a way we've never seen before. Whether it's an over-reaction or real, the Chinese are almost gone and plenty of other tourists from around the world are cancelling. We are planning for the effects of this downturn to last for up to a year and we will see many smaller resorts go out of business."
The quote from a well-known four-star resort GM, who asked not to be identified, is a stark reality for the seaside city resort badly hit by both real cancellations of flights onto the island, and an initial reaction from tourists who are simply cancelling or postponing their holidays to Phuket.
Surveying the scene on Phuket's Patong Beach this week, The Nation was able to count tourists, "mainly from Europe and Russia, South Korea and Japan, sunbathing, swimming and tossing around frisbees". There are also Chinese tourists still to be found on Phuket as well, many booking cruises around the Andaman Sea. Some of the Chinese spoken to during the week say they have been here since before the virus situation started to bite, other say they are extending their holidays whilst the situation evolves for fellow Chinese stuck in mainland China.
Whilst Phuket is far from deserted, let's not over-dramatise the situation, the amount of tourists moving around the island, and anecdotal evidence from hoteliers and tourism operators, suggests that the island is seeing a large drop in the numbers it would have expected at this time of the year.
Bill Barnett from c9hotelworks.com, a leading regional hotel consultancy, checked the numbers.
"Looking at data from Wednesday, January 29, international passenger arrivals at Phuket airport dropped 32.95% compared to the same date in 2019. For the previous day, Tuesday the 28th, the shortfall was 29.80%."
The Thaiger, visiting Phuket International Airport yesterday (Saturday) can report that the usually bustling terminal was palpably quiet with flimsy paper face masks adorning the faces of many arriving or departing passengers.
"Taking a broader look at Bangkok's numbers for Suvarnabhumi Airport on January 29, overseas arrivals declined by 14.92%. Don Mueang, which is more regional focused, stepped back a whopping 32.63%."
"Statistically, the hardest hit Thai airport is Chiang Mai, which experienced 48.89% loss of international arrivals on Wednesday (year-on-year) and is indicative of the destination's reliance on inbound Chinese."
Bill Barnett also noted that the past few weeks should have been the busiest time of the year for Chinese arrivals in Phuket.
"It's important to know the year-on-year comparison actually does not tell the full story. In 2019 Chinese New Year was in February so last year's numbers when compared to 2020 are not apple to apple given the annual holiday turbocharger occurred in January this year. Hence the CNY impact in January in the data above, if we consider the absence of the holiday boost, is even more profound than the percentages shown here."
SOURCES: The Nation | c9hotelworks

Keep in contact with Thaiger by following our Facebook page.
Never miss out on future posts by following Thaiger.
Covid UPDATE: Daily infection number drops slightly on Tuesday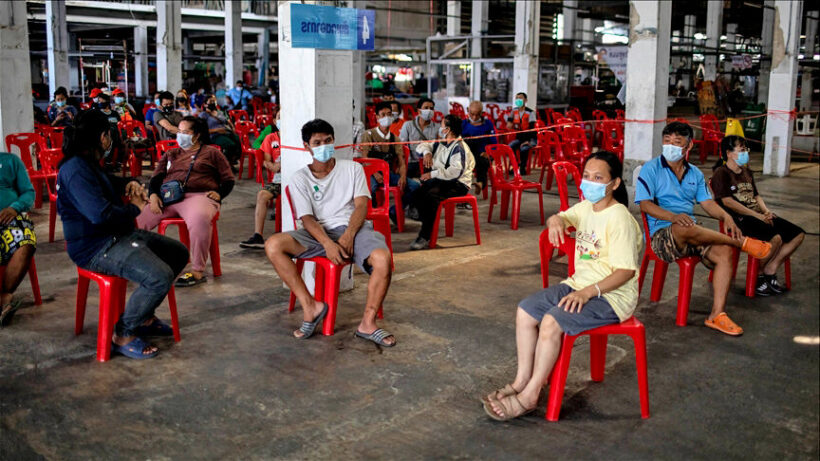 965 people have been detected as infected with Covid-19 in the past 24 hours. The daily total is the first drop in daily numbers for 13 days. 28,288 people have fully recovered. The total deaths remains at 97 people since the start of the pandemic in Thailand. 6,190 people remain under hospital care or are being monitored.
654 of today's cases are local community infections.
Out of today's infections, the CCSA announced that most were in the northern city of Chiang Mai (251) which has been hit particularly hard, followed by Bangkok (194), Chonburi (97), Prachuap Khiri Khan (73), Nakhon Ratchasima (67), Samut Prakan (49), Samut Sakhon (34), Rayong (25) and Pathum Thani (21). 8 new infections were officially reported in Phuket by the CCSA.
Regarding vaccinations, 578,532 people have now been vaccinated. Yesterday, 6,424 people received their first injection, 2,056 received their second Covid vaccine.
There's now a total of 34,575 people who have now been infected with the coronavirus in Thailand.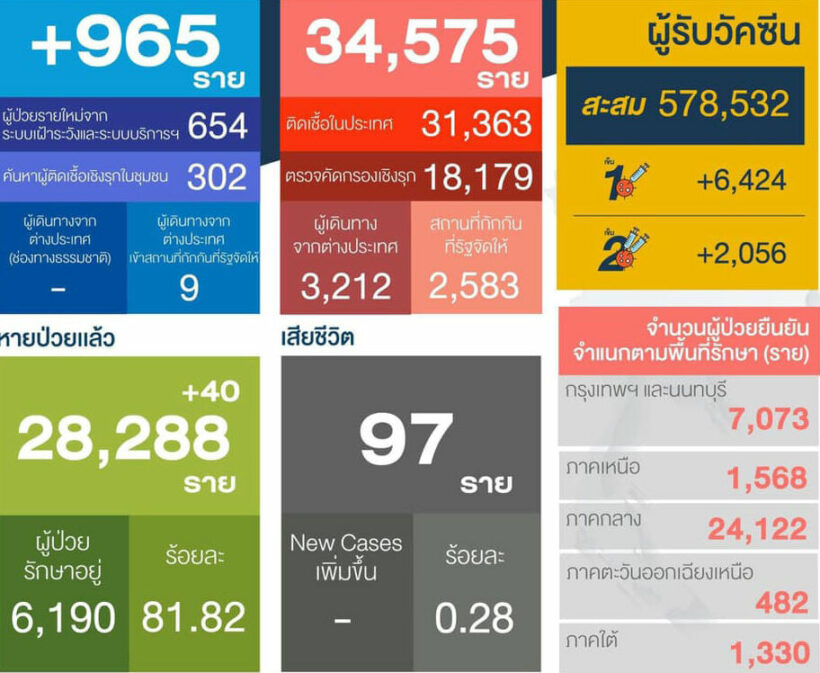 Keep in contact with Thaiger by following our Facebook page.
Never miss out on future posts by following Thaiger.
WHO says pandemic reaching critical levels in South Asia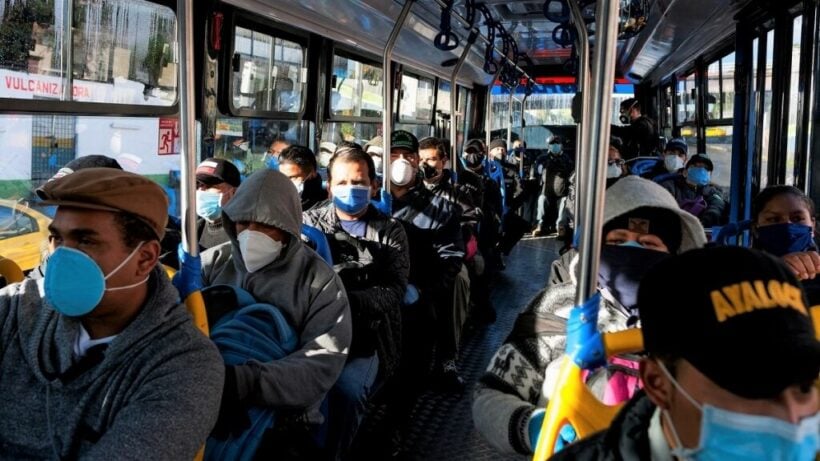 Despite vaccines being rolled out, the WHO is warning that the Covid-19 pandemic has reached a "critical level" in South Asia as infections keep rising. The virus has already taken 2.9 million lives, infecting 136 million worldwide and the WHO's technical lead on Covid-19, Maria Van Kerkhove, says the "trajectory of this pandemic is growing…exponentially."
"This is not the situation we want to be in 16 months into a pandemic when we have proven control measures. We are at a critical point of the pandemic right now."
The US is still the country with the most amount of infections, but India has recently taken the number 2 spot over Brazil, reporting 168,000 new cases in 1 day. India's total amount of infections is now at 13.5 million, edging Brazil's 13.48 million into the number 3 spot.
But a race among nations for Covid infections is not what the WHO – or anyone for that matter – is wanting. 28 year old Rohit, a waiter in Mumbai, seems to say that the race won't end if people continue to not listen to safety protocols.
"The solution is for everyone to stay home for two months and end this (pandemic) once and for all. But the public doesn't listen. Nobody follows the rules in the restaurant… If we tell customers to wear masks, they are rude and disrespectful to us."
Ignoring the social – distancing rules has experts up in arms as they warn that huge, mass gatherings are what we all thought they were: a super spreader event for Covid-19.
But the Indian government appears desperate to avoid a repeat of last year's nationwide March shutdown which saw some of the world's toughest measures causing misery all around. Thus, the balance between managing a country's overall health and financial situation is a tedious one.
Bangladesh has chosen health, for now, as it is shuttering both international and domestic airports from tomorrow. Its population of 160 million people, will be sealed off from the rest of the world.
And, in Thailand, a 3rd wave has hit, making plans for a full reopening by October, seem to be in vain. Social distancing and mass gatherings are, again, to blame, as entertainment venues sparked the recent spread. As normally tourism-heavy destinations, like the Andaman island of Phuket, are rapidly inoculating its residents to prepare for a July reopening, the new wave has dampened hopes of reviving the economy.
For now, the efforts to contain the Covid pandemic have been futile worldwide, but history has a habit of repeating itself, especially when safety protocols fall on deaf ears.
SOURCE: Thai PBS World
Keep in contact with Thaiger by following our Facebook page.
Never miss out on future posts by following Thaiger.
Off to a field hospital? Here's what to pack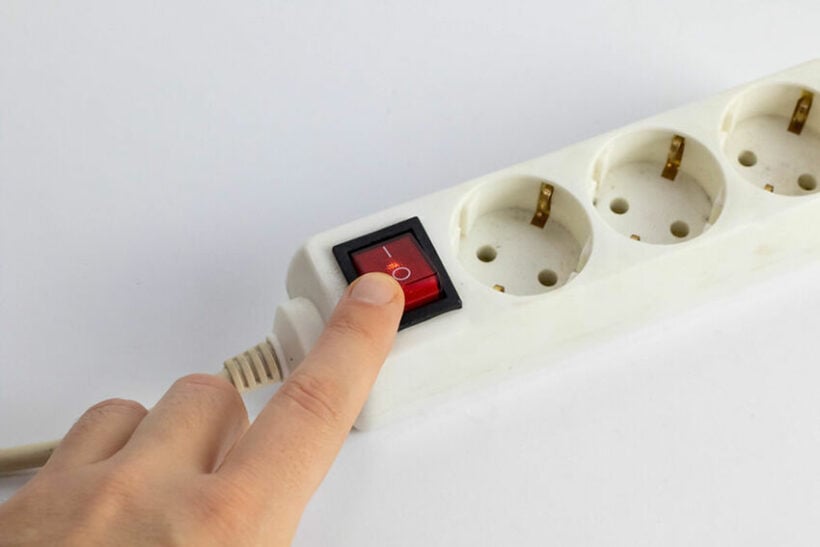 A Thai netizen has posted a useful list of "must pack" items for anyone being admitted to a field hospital for Covid-19 treatment. As concerns rise that the rapid rise in infections may lead to a shortage of hospital beds, officials are planning a number of field hospitals, some of which have already opened. A total of 10 field hospitals are planned for Bangkok, while a field hospital in Phuket, closed after discharging its last patient in May 2020, is now set to re-open.
With all that in mind, Nation Thailand reports that Facebook user Ratchasee Jitasa recommends 12 items patients should stick in their bag if being admitted to a field hospital. To be fair, most of these items would come in pretty useful in a regular hospital too:
1. Power strip
2. Personal items, such as toothbrush, toothpaste, shampoo, soap, towel, and hairdryer
3. Power bank
4. Wet wipes
5. Items to help relieve loneliness (??)
6. Pillow, blanket, and mattress
7. Eye mask
8. Food supplements, such as Vitamin C
9. Thermos bottle
10. Snacks
11. A set of clothes for when you're discharged
12. A 14-day supply of underwear
Ratchasee also has some words of comfort for those worried about the whole field hospital "experience".
"Staying at the field hospital is not as scary as everyone thinks, but some facilities may not meet the people's demands."
Thailand has a policy of mandatory hospitalisation for anyone who tests positive for Covid-19, even if asymptomatic or with only mild symptoms. Officials say they have no plans to change this, despite concerns about hospital bed shortages, insisting the policy enables them to control the spread of the virus more effectively than relying on people to self-isolate.
SOURCE: Nation Thailand
Keep in contact with Thaiger by following our Facebook page.
Never miss out on future posts by following Thaiger.