No foreigners at Wat Pho, Bangkok temple says Thais only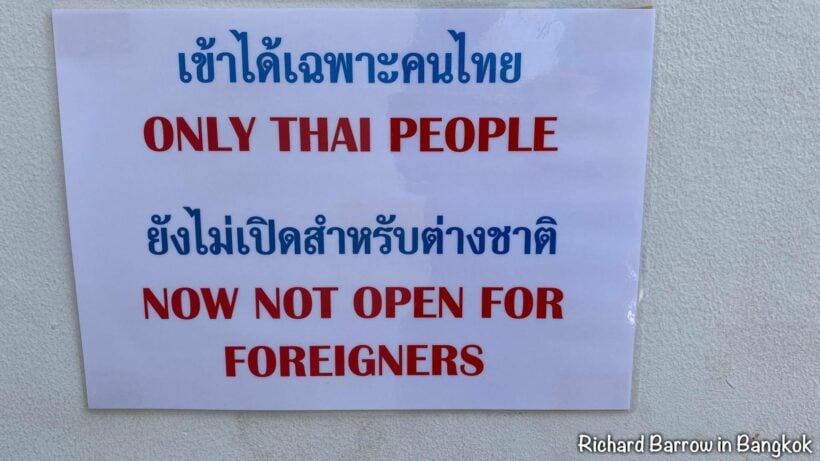 The Wat Pho (Temple of the Reclining Buddha) is open, but only if you're Thai. Foreigners are not allowed in, even if you've been living in Thailand for years. The famous Bangkok temple re-opened last week but are keeping foreigners over fears of the coronavirus.
A sign with red letters, all capitalised "ONLY THAI PEOPLE … NOW NOT OPEN FOR FOREIGNERS" is posted at the entrance. Expat blogger Richard Barrow posted photos of the signs on Facebook after visiting the temple and being denied entrance.
"I told them in Thai that I'm not a tourist, but wanted to pay respect to the Buddha. They just replied to me, no tourists allowed."
Wat Pho is in the process of restoring the Reclining Buddha as well as some of the temple's paintings. The temple is restricting access for the "safety of tourists", Wat Pho posted on its Facebook page. The temple will reopen to the general public on July 1. Another spokesperson says the coronavirus is the reason the temple is banning foreigners.
"It's because most Covid-19 cases were found in foreigners," a temple representative told Coconuts Bangkok, confirming that they are only are only allowing Thais to visit at the moment.
There's limited reports on the number of coronavirus cases in foreigner in comparison to Thais, but incoming international travel has been restricted since the end of March. Back in March, out of the 1,524 coronavirus cases reported at the time, 1297 were Thai and 227 were from foreigners coming into Thailand. In recent weeks the only new cases have been repatriating Thais, returning from overseas.
A spokesperson from the tourism ministry told Khaosod that temples can decide to allow foreigners or not, but said tourist destinations should wait before letting foreigners in.
Other recent cases of xenophobia have reared their head with foreigners reporting restaurants refusing them entry, bus companies (Transport Company has an official 'policy' to refuse foreigners based on the 'emergency decree… no such passage exists in the decree) denying foreign passengers, random tourist attractions, hair salons and massage services getting in on the act as well.
Thailand's Public Health Minister also made his feelings well known with a public outburst against 'dirty farang' at a health ministry PR outing at Siam BTS station in early March when foreigners declined the free handouts of the ubiquitous cheap blue medical masks.
SOURCES: Khaosod | Coconuts Bangkok| Bangkok Post
Keep in contact with The Thaiger by following our Facebook page.
Never miss out on future posts by following The Thaiger.
Thailand News Today | Bangkok protest fallout, northern fire bans | March 1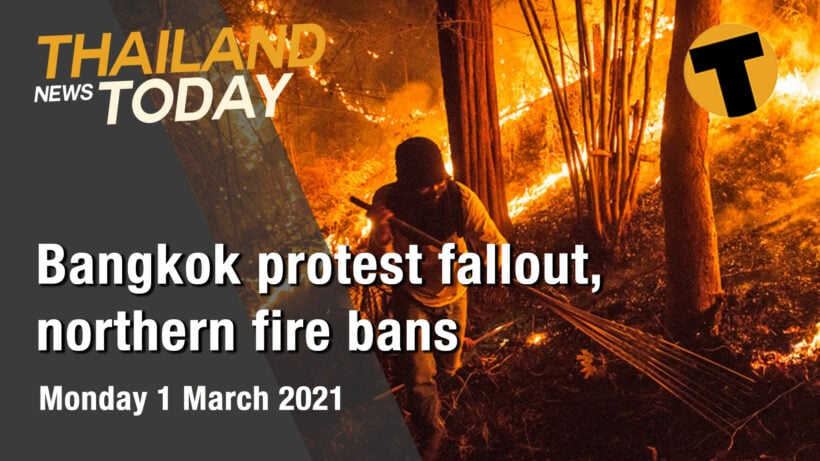 Coming up today… the fallout from yesterday's latest protest violence in Bangkok, the first vaccine in Thailand who got it, and a major drug haul along the Mekong.
But first we'll start up north where Lampang Province is joining other northern provinces todday by putting a total fire ban in place from today, March 1, until the end of April. Chiang Mai also started a ban on all deliberately lit fires from today and Lamphun, just south of Chiang Mai, already has one in place.
The bans are timely after a horrid weekend of air pollution in many of Thailand's provinces over the long weekend, even as far south as the tourist destination of Phuket where visibility was down to about 1 kilometre and the smell of smoke was noticeable.
Whilst up in the north… 4 Thai women were arrested at a security checkpoint in Tak's Mae Sot district after they illegally crossed the border from Myanmar into Thailand.
Illegal casinos and fancy hi-so massage parlours in Myanmar in areas near the border, have attracted wealthy Thais and Burmese. The establishments have also attracted plenty of Thais looking for well-paid work across the border.
In a major bust along the Mekong River, a notorious hotzone for drug trafficking, border patrol police seized 920 kilograms of dried, compacted cannabis from a boat along the Nakhon Pathom riverbank, bordering Laos.
Now to the weekend violence as the protests resume where they left off last year…
At least 22 people were arrested during the major Bangkok protest yesterday. It turned violent as pro-democracy activists marched toward the Thai PM's residence. It's been reported that one officer died during the rally, reportedly due to heart failure.
At least 33 people were injured… that includes 23 police officers. The clashes happened in front of 1st Infantry Regiment barracks on Vibhavadi Rangsit Road and involved around 1,500-2,000 activists from the Restart Democracy movement, part of the Free Youth group. The group has been protesting against the government and calling for reform of the country's constitution and monarchy since protests began in July of last year.
And Thailand's Covid-19 vaccine campaign started with Public Health Minister Anutin Charnvirakul who received the first of China's Sinovac vaccine yesterday. PM Prayut Chan-o-cha was initially planned to be the first to kick off Thailand's immunisation plan with the AstraZeneca vaccine, but due to problems with paperwork, the PM's injection was postponed.
Keep in contact with The Thaiger by following our Facebook page.
Never miss out on future posts by following The Thaiger.
Nearly 300 cats rescued from Bangkok home shelters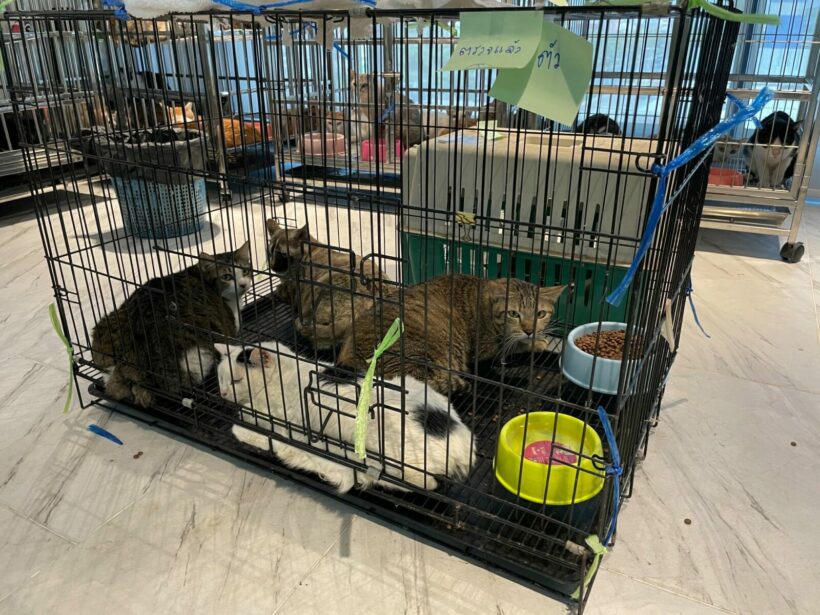 Nearly 300 cats, many in wire cages, were found in 2 recently abandoned home shelters in Bangkok. Some cats were found dead and an animal activist who rescued the cats says the homes were filthy and smelled of cat feces.
The owner of the homes was initially providing shelter for the stray cats, but due to the financial problems brought on by the coronavirus pandemic and the lack of donations, the owner could no longer afford to feed and care for the cats, according to animal activist Warattada Pattarodom. The owner did not come by for a while and a neighbour would sometimes come by to feed the cats.
"The owner did not come to this place for quite a while, many months. So you can say they were abandoned because of her unfortunate circumstance, but they were not abused."
After being rescued from the homes, the cats were taken to various veterinarian clinics for check ups. One veterinarian said he was sure the cats would recover.
"The cats got stressed because they were in an enclosure for a long time… but after last night they started to snuggle in the cage when people approached."
The cats will be sent to a shelter in Chiang Mai which is also caring for elephants. Since the pandemic, the Chiang Mai shelter started taking in cats. It now cares for nearly 1,000 cats.
Keep in contact with The Thaiger by following our Facebook page.
Never miss out on future posts by following The Thaiger.
At least 22 people arrested at Bangkok protest, officer dies of heart failure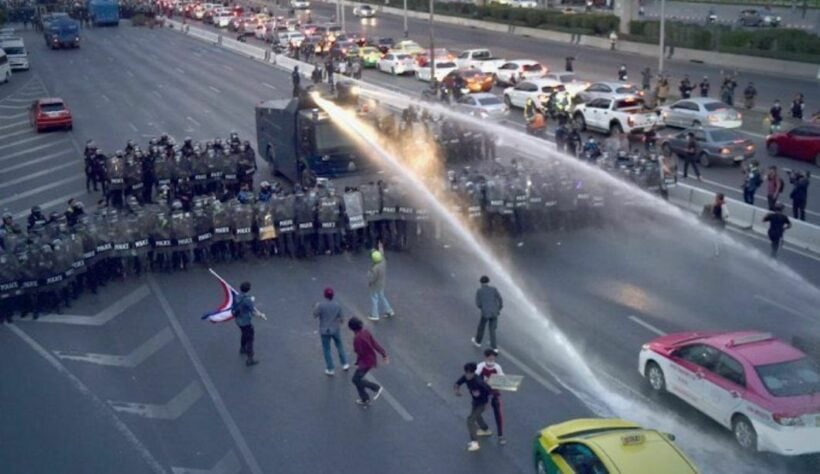 At least 22 people were arrested during the Bangkok protest yesterday, which turned violent as pro-democracy activists marched toward the prime minister's residence, according to Thai Lawyers for Human Rights. An officer died during the rally, which the human rights group says was due to heart failure.
Some protesters threw ping pong bombs and firecrackers in the violent clash with police, the group says. Police armed in riot gear fired rubber bullets and hit protesters with batons. Water cannons and tear gas were used to break up the crowds after some protesters had breached the barricade of shipping containers that had been blocking the way to the prime minister's residence at a military base on Vibhavadi Rangsit Road, according to the Bangkok Post. At least 33 people, including 23 police officers, were injured.
Out of the 22 arrested, 4 were minors who were picked up from the Din Daeng police station by their parents and will need to report to the Juvenile and Family Court this afternoon, according to the human rights group. The detained protesters face charges of fighting, blocking or harming a police officer.
Protesters from REDEM, or Restart Democracy, which is a spin off of the Free Youth group, were marching to PM Prayut Chan-o-cha's residence to call on monarchy reform and an end to Thailand's military influences in government.
เปิดบันทึกจับกุมผู้ชุมนุม #ม็อบ28กุมภา 22 ราย รวมเยาวชน 4 ราย บรรยายพฤติการณ์ อาทิ

– ผู้ชุมนุมปาระเบิดปิงปอง-ประทัดยักษ์ ส่วนจนท.มีเพียงโล่บังป้องกันตัว
– จนท.ได้รับบาดเจ็บหลายนาย เสียชีวิต 1นาย
– ผู้ชุมนุมไม่ยอมเลิก จึงจับกุม

เหตุจนท.เสียชีวิตนั้น ข่าวระบุเป็นอาการหัวใจล้มเหลว pic.twitter.com/sX3J9Jb5Ux

— TLHR / ศูนย์ทนายความเพื่อสิทธิมนุษยชน (@TLHR2014) March 1, 2021
Keep in contact with The Thaiger by following our Facebook page.
Never miss out on future posts by following The Thaiger.