Medical team from Songkhla come to Phuket to help during Covid-19 outbreak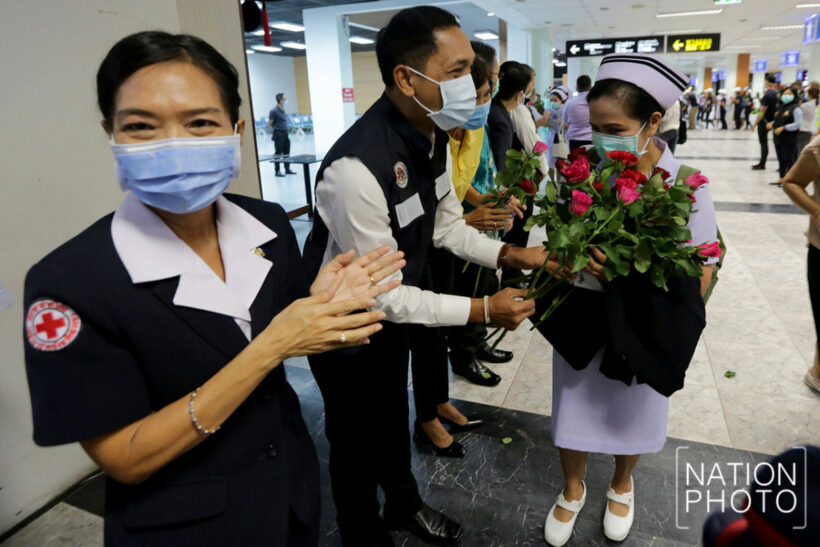 Phuket health workers have welcomed a special team of much-needed medics from southern Thailand's Songkhla Nararin Hospital. The 50 medics arrived in Phuket yesterday to assist with Covid 19 cases and testing on the island.
The team, led by the Nararin Hospital director, set up a field hospital to assist patients suffering from Covid 19. Phuket currently has the second highest number of confirmed cases in the Kingdom. The team will be in Phuket until there are no new infections (well, that in fact has been announced today with no NEW cases announced but still many awaiting test results).
Yesterday Phuket health officials reported just 3 new Covid-19 cases, substantially fewer than Tuesday's 10 cases and the continuation of a generally encouraging downward trend. Tuesday was the first time new cases reached double digits since 10 were reported on April 5. 13 cases were reported on April 3."
Phuket has seen the highest rate of cases, per capita, when compared to Bangkok and other Thai provinces.
SOURCE: The Nation Thailand
Keep in contact with The Thaiger by following our
Facebook page
.
Never miss out on future posts by
following The Thaiger
.
Ex-military doctors recalled by the Royal Thai Air Force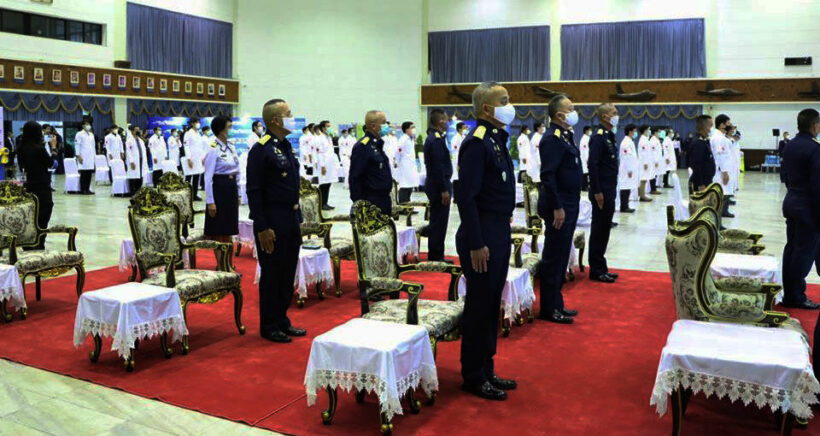 Even though Thailand's government has managed to decrease the number of daily infections, authorities still have a huge workload of looking out for patients and processing new arrivals at state quarantine facilities.
So 50 ex-military doctors have been recalled by the Royal Thai Air Force in an "essential mission" of battling Thailand's Covid-19 outbreak.
Air force chief Air Chief Marshal Maanat Wongwat says "The air force has also joined the fight, so we need to prepare our medical personnel for the situation."
He also thanked doctors in a welcoming ceremony held yesterday at Navaminda Kasatriyadhiraj Royal Air Force Academy in northern Bangkok.
"This is the first time the air force has called up its former-officers to reinforce its military personnel. Everyone has both air force blood and spirit as a doctor, we will fight the war against this virus together."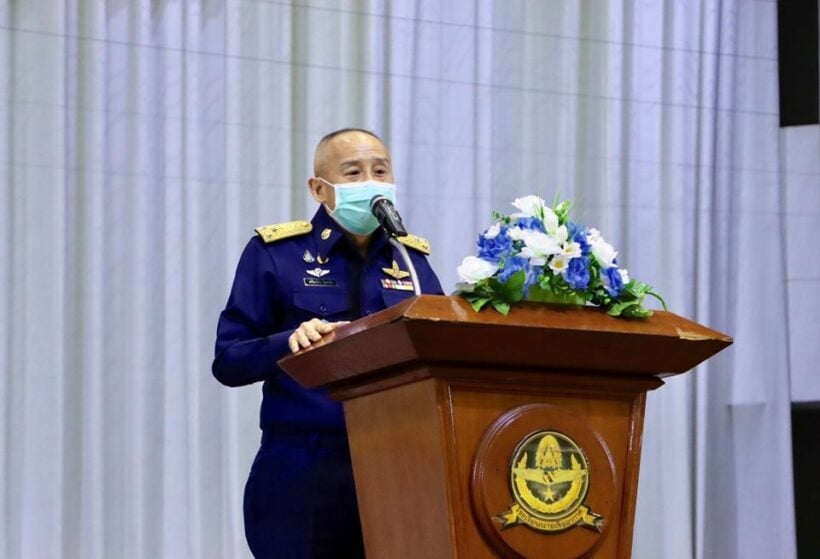 All the doctors previously served at air force-run hospitals before resigning to work for private hospitals or opening their own clinics. Most of the doctors, aged under 50, will serve the air force up to April 30 at least. The doctors will be split into two groups…
Treating patients at Bhumibol Adulyadej Hospital and Royal Thai Air Force Hospital (Sikan)
Flying Training School in Nakhon Pathom, where 75 Thais returning from Indonesia are being kept in quarantine
Each doctor will be given a daily allowance of 240 baht.
The air force is also following an urgent policy to have state agencies cut their budgets to enable the government to fund measures against the Covid-19 pandemic and cope with its impact on the economy.
"We will slash 23% of our annual budget," ACM Maanat said.
"The decrease will not seriously affect development plans, although the air force will be required to adjust some projects and outlays."
The air force will reportedly delay a 2.4 billion baht spend on a T-50 trainer jet order from South Korea, as well as the upgrade of C-130 aircraft and other construction projects valued over 3 billion baht.
Some of the Air Forces former doctors said they were happy to return to the service of their country.
"I raised no questions when the air force called me. As a soldier, I'm ready to join the mission." – Former Squadron leader Nathi Diphorm.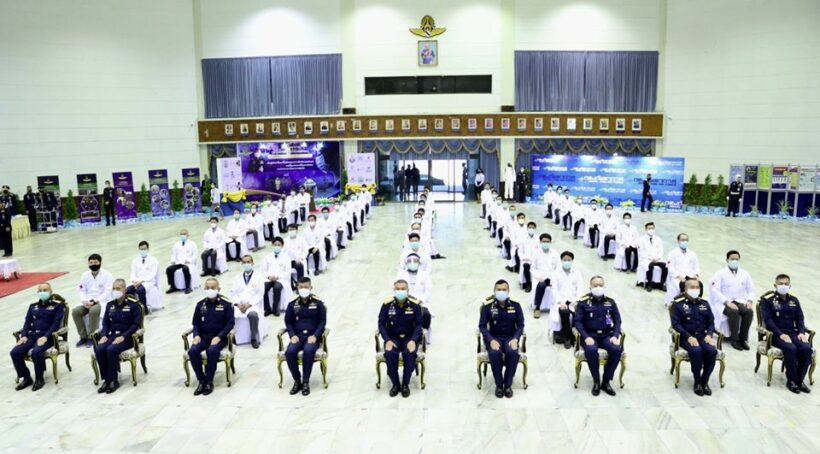 SOURCE: Bangkok Post
Keep in contact with The Thaiger by following our
Facebook page
.
Never miss out on future posts by
following The Thaiger
.
UPDATE: Thai Returnee from Indonesia commits suicide on last day of quarantine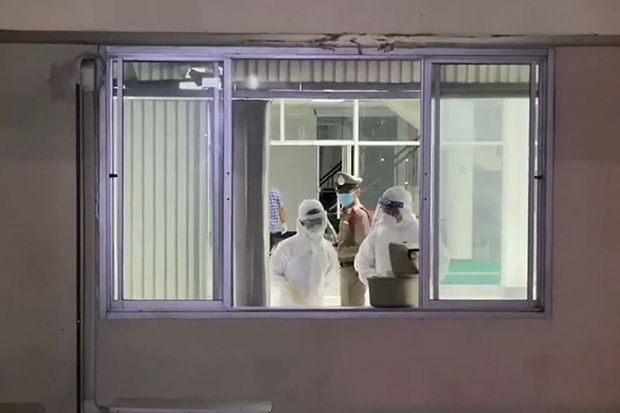 A 51 year old Muslim man from Thailand's deep south was set to be released from quarantine today but tragically jumped to his death from the 8th floor of a state hospital in Samut Prakan this morning.
Police arrived at the scene in Bang Ya Phraek around 2.30am this morning where they found the body of a man in a pool of blood on the second floor hospital terrace. Hi body was sent to the Forensic Medicine Institute for autopsy.
The man was from Narathiwat in the deep south of Thailand and was among the group of 76 Muslim men who recently returned from Indonesia, with over half testing positive for Coronavirus last week. When he returned to Thailand at Suvarnabhumi Airport he was required to spend 14 days under supervised quarantine.
Yesterday was his 13th day in quarantine. He tested negative for Covid-19 and was due to be released today but before that could happen, tragedy struck.
According to police reports, the man became irate early this morning causing his three roommates to lock him out of the room. Reports say that he began destroying property around him prompting the nurse on duty to call for security.
The guards tried to calm him down, reminding him that he would be discharged in the morning, but in his state of hysteria, he ran to the window on the 8th floor (Bangkok Post reports 5th floor however PPTC HD 36 reports 8th floor) and leapt to his death.
If you or anyone you know is in emotional distress, please contact the Samaritans of Thailand 24-hour hotline: 02 713 6791 (English), 02 713 6793 (Thai) or the Thai Mental Health Hotline at 1323 (Thai).
SOURCES: PPTV HD 36 | Chiang Mai Times | Bangkok Post
Keep in contact with The Thaiger by following our
Facebook page
.
Never miss out on future posts by
following The Thaiger
.
Thailand prepares 3,500 hotel rooms to quarantine returnees after flight ban is lifted
Thailand is anticipating an onslaught of quarantined returnees once the incoming flight ban is lifted, and the government is preparing about 3,500 private hotel rooms in Bangkok and upcountry, to house them. The ban, imposed by the Civil Aviation Authority of Thailand, is due to expire next Saturday.
Thailand's Deputy Defence Minister and Defence Permanent Secretary met with officials today to discuss preparations.
In addition to the hotel quarantine facilities, hospitals will also be prepared to accommodate those who test positive for the Covid-19 coronavirus. There will be medical personnel and guards stationed at the hotels to look after those in quarantine.
The government is urging returnees to adhere strictly to the rules during the 14 day quarantine period, and asks their families not to be overly concerned, because those in quarantine will be well looked after.
Currently, around 768 returnees are quarantined at Sattahip Naval Base, the Air Force's flying school in Nakhon Pathom province, and four hotels in Bangkok.
SOURCE: Thai PBS World
Keep in contact with The Thaiger by following our
Facebook page
.
Never miss out on future posts by
following The Thaiger
.