Beach in Chon Buri temporarily closed again due to overcrowding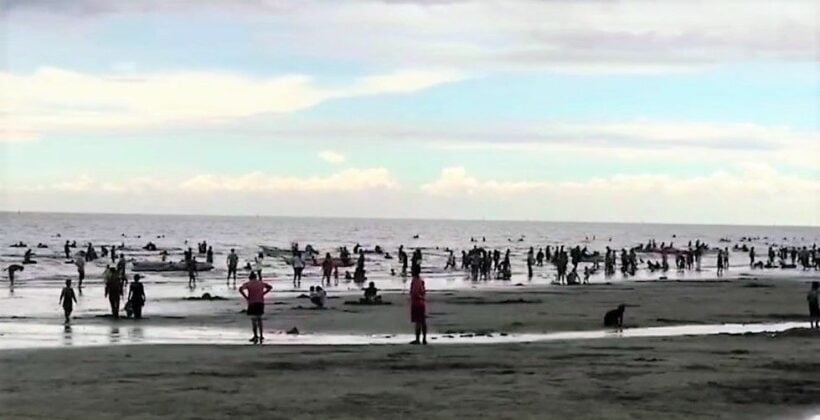 Officials in the eastern province of Chon Buri have had to temporarily close the road leading to Bangsaen beach yesterday after significant overcrowding raised safety concerns. Those still trying to get to the popular beach were left disappointed during Sunday morning and early afternoon.
As nearby car parks and other areas filled up with visiting vehicles, traffic police made the decision to shut off access to the beach in order to control numbers and ensure social distancing measures could be adhered to. The Pattaya News reports that photos of long tailbacks went viral on social media, with the weekend being the last one before schools re-open this week. It's understood that the access road to Bangsaen beach was re-opened later in the afternoon.
Much the same situation happened when the country's beaches were allowed to open again at the start of the month and Bangsaen beach was inundated with pent-up enthusiasm for heading to the beach. Officials closed down access to the beach only to re-open it again the following day.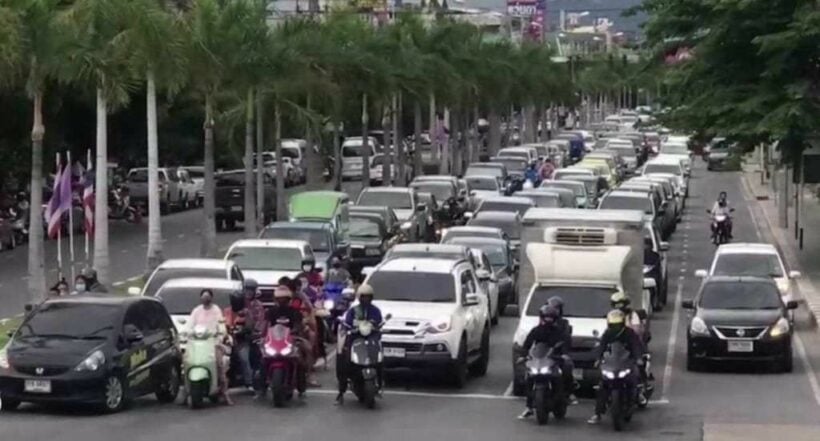 PHOTO: The Pattaya News
Police point out that the rules prohibiting alcohol and parties are still in place and being enforced, warning that those who break them risk harsh penalties under the laws put in place by the government's Centre for Covid-19 Situation Administration.
SOURCE: The Pattaya News
Keep in contact with The Thaiger by following our
Facebook page
.
Poll shows majority of Thais still worry about coronavirus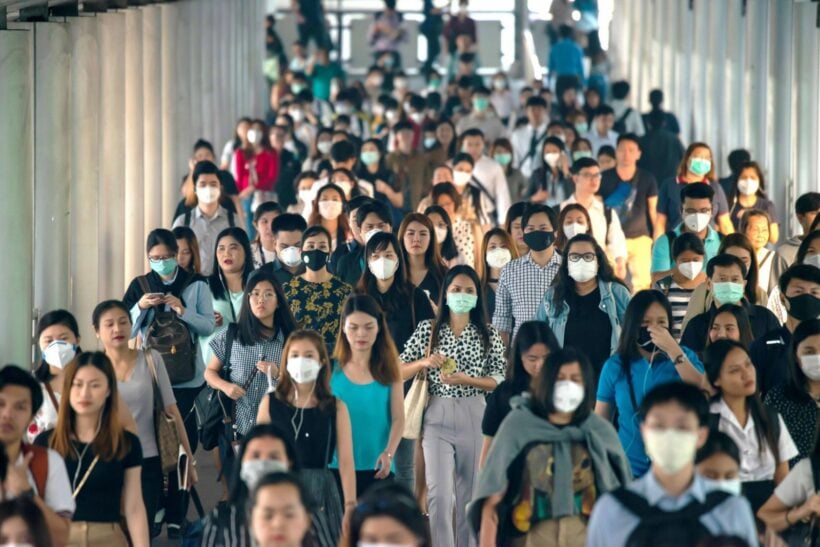 Although there have been no locally transmitted Covid-19 cases in Thailand for 41 days, a majority of locals are still worried about the spread of the virus, according to the most recent survey by Suan Dusit Rajabhat University, better know simply as the Suan Dusit Poll.
The survey was conducted between July 1-4, on 1,109 people throughout the kingdom to gather their opinions on the Covid-19 crisis, now that the government has loosened many restrictions and is allowing people to travel to their home provinces during the July 4-6 long weekend.
When asked if they still worry about the coronavirus spread now that there have been no domestic infections for over a month, 52.9% said they still worry about it but to a lesser degree; around 29.9% said they worry about it as much as before; 12.4% no longer worry about it and 4.7% said they worry more.
The highest number, 39.4%, expect the Covid-19 situation to return to normal by the end of the year; 27.9% said mid-2021; 23.9% by the end of 2021 and 8.7% said it's was hard to predict, but the situation might improve if a vaccine becomes available.
Asked what they want the government to do after the situation improves, 77.5% said it should remain strictly vigilant against the virus; 71.8% want it to introduce more remedial measures; 69.4% want the government to concentrate on creating jobs; 65.6% want it to help people who have been laid off and 57.3% said they want it to promote domestic tourism.
SOURCE: Bangkok Post
Keep in contact with The Thaiger by following our
Facebook page
.
Thai PM expresses concern over "travel bubbles"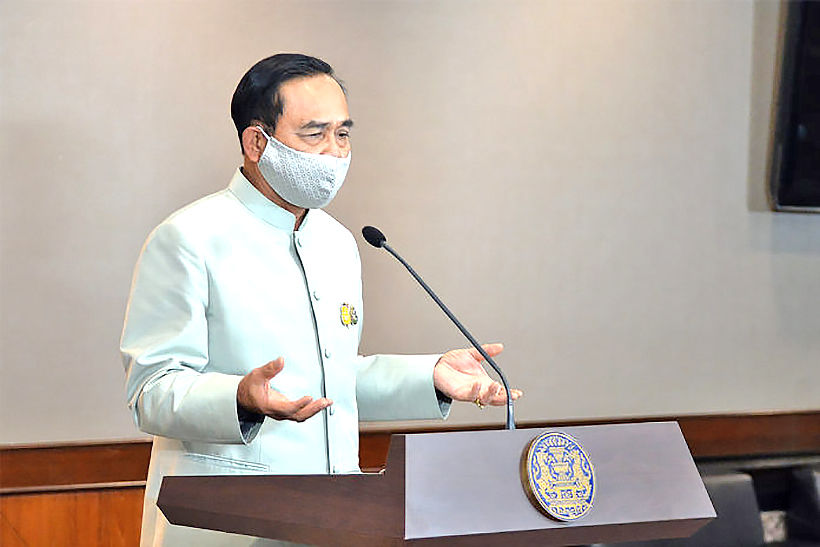 PM Prayut Chan-o-cha has expressed serious concerns about the resumption of international travel under the "travel bubble" scheme, stressing that Thailand must implement a vigorous arrivals screening protocol. The scheme is a proposed limited resumption of international travel to and from countries with a reciprocal agreement.
The Thai government has indicated it has taken a risk-averse stance with future Covid-19 legislation after largely getting the local outbreak under control in late May, early June. There hasn't been a locally transmitted case in Thailand for 40 days.
Prayut discussed the proposed scheme with the media, saying Thailand must be prepared to allow the resumption of some international travel, with the other countries involved to be carefully considered, and adding that a full agreement must be reached, to ensure compliance with public health measures at the national level.
The PM says the government is concerned about the prospects of international aviation and the country's external revenue.
During this long weekend, the Ministry of Finance expects up to 10 billion baht in cash flow from domestic economic activities. The PM says Thais are now making more domestic trips, with many hotels reporting a slow return of customers, thanks to the further easing of Covid-19 restrictions. But tourist locations, like Pattaya and Phuket, remain quiet due to their popularity with foreign visitors.
The PM stressed that all businesses "must remain strict with their precautionary measures in order to minimise the risk of a new outbreak of the virus".
SOURCE: Press Release from Thai National News Bureau
Keep in contact with The Thaiger by following our
Facebook page
.
Thailand gets quarantine "red light" from UK, "green light" from EU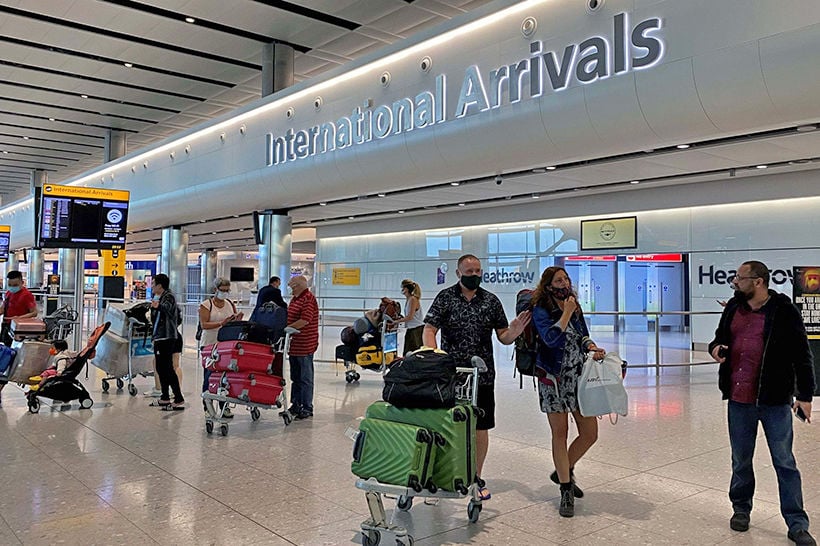 Despite reaching 41 days without a locally transmitted case of Covid-19, Thailand is still designated as a "red light" country and Thais arriving in England will still be required to self-isolate for 14 days. Updated guidelines published on the UK Government website on Friday list 59 countries and territories for which no quarantine will apply, starting July 10. Thailand, earlier included in the list, has now been deleted.
"If you have been to or stopped in a country that is not on the travel corridors exemption list you will have to self-isolate until 14 days have passed since you left that country."
Scotland, Wales and Northern Ireland will each announce their own separate rules depending on how the new regulations work in England.
Unsurprisingly, the US, Brazil and India are not on the "travel corridors exemption list," but neither is Thailand, despite earlier reports it would be, and despite its success in eliminating local transmission of the virus. The list will be subject to regular reviews.
Thailand is one of just 15 countries to which the EU has agreed to open its borders. The UK government has put Thailand on a separate list of countries deemed "safe for citizens to visit", but anyone returning from a trip to Thailand will still have to endure the 14 day quarantine.
Asian nations on the UK exemption list include Vietnam, Japan, Taiwan, South Korea and Hong Kong, who have all brought Covid-19 transmission under control, though there have been some scattered outbreaks of new cases in Japan and Korea.
Under the new rules, a "traffic-light system" – red, orange and green – will be used for different countries depending on their coronavirus contagion levels.
'Orange' countries will have reciprocal arrangements in place with England, while green countries, such as New Zealand, are deemed safer than England. Orange countries include France, Italy and Spain, which are among the most popular holiday destinations for Britons.
But the US, with over a quarter of the world's infections, and Greece, another popular travel destination, will be designated with a red light, requiring 14 days of self-isolation.
SOURCES: Bangkok Post | Thai Examiner
Keep in contact with The Thaiger by following our
Facebook page
.