Bangkok closures – the details and the panic buying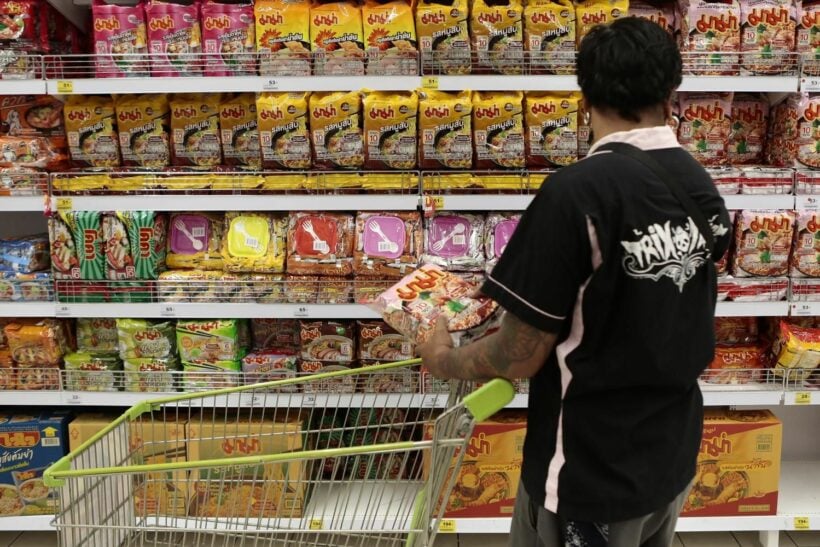 After today's announcement from the BMA that the closures around the city would be ramped up, supermarkets started filling up as the shelves started becoming increasingly empty. The additions to the closure list is the latest efforts to curb the spread of Covid-19 around the Thai capital.
Bangkokians have started to stock up on essential goods after the Bangkok Metropolitan Administration announced the closure of many retail businesses. Included are bowling alleys, public swimming pools and golf courses, starting Sunday.
Pubs and bars, cinemas and massage parlours in Bangkok were closed earlier this week.
Today the Bangkok centre for disease control announced an additional 89 new cases in Thailand, taking the total to 411 cases.
Now all department stores and shopping centres will also be closed, except for their supermarkets and pharmacies. Food-shops and restaurants will be allowed to remain open BUT serve only home delivery orders. Grocery stores, supermarkets and convenience stores will stay open, but in-store eateries will be closed.
Markets, with the exception of fresh foods sections, must also close down.
The measures have been rolled out to at least April 12.The official order listed the following establishments…
Spa, health and massage parlours
Weight loss clinics
Skating and roller blade rings
Beauty salons
Bowling alleys
Theme parks
Golf courses & driving rangesPublic swimming pools
Tattoo parlours
Nurseries
Cock-fight rings
Conference facilities
Exhibition halls
Amulet trading grounds
Markets (excluding markets that offer fresh food, vegetables and food stalls)
All shopping malls (excluding the supermarket section)
All public and private educational institutions
The Bangkok governor is also seeking cooperation from private companies to allow their employees to work at home, and from state agencies to arrange staggered working schedules.
After invoking Section 35 of the Infectious Disease Act, Bangkok's governor Aswin Kwanmuag appealed to residents to "stay calm and refrain from stockpiling food, assuring that all food shops, and restaurants which offer take-home or delivery of cooked food, traditional fresh markets and supermarkets will remain operational".
But his well-intentioned assurances didn't help as car park spots started filling up at the city's supermarkets.
SOURCE: Thai PBS World
Keep in contact with The Thaiger by following our
Facebook page
.
Red hazardous waste bins spring up in Bangkok for used masks, tissue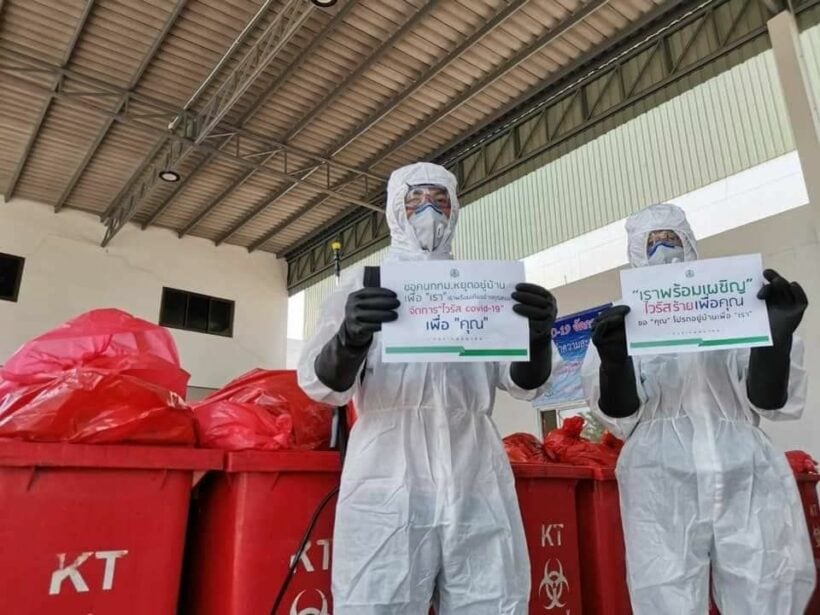 Used face masks and tissue paper are now classified as hazardous waste during this Covid-19 coronavirus outbreak, at least in Bangkok. The city's governor Aswin Kwanmuang is urging people to dispose of used face masks properly, using the new red bins which are designated for hazardous waste.
"Used face masks must be put in a plastic bag fastened with a string or rubber band before putting them in red bins to help prevent the spread of Covid-19. This also includes facial tissue used to wipe noses or bodily fluids."
Aswin advises separating waste into different bags if there are no red bins in your area.
"If possible, put a label or sign on bags containing hazardous waste so that garbage workers can dispose them of properly. Hazardous waste in Bangkok will be separated and disposed of in incinerators at specialised facilities in Nong Khaem and On Nut districts."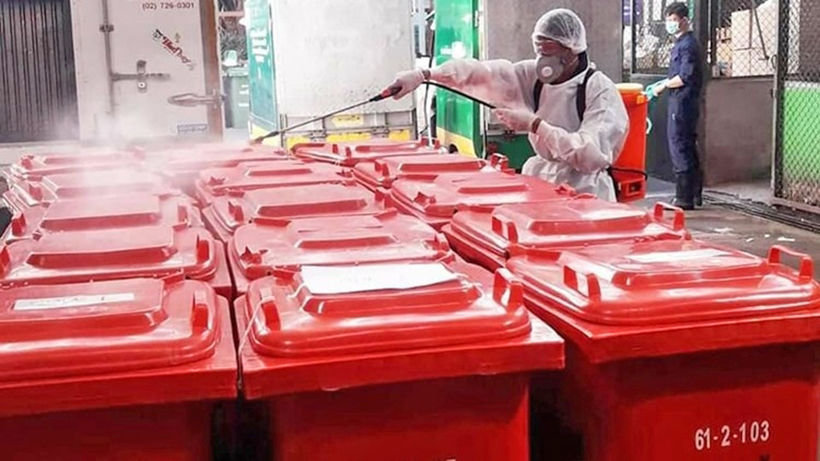 Aswin emphasised that the Bangkok Metropolitan Administration has provided the red bins for at various locations throughout Bangkok, including district offices, public health offices, hospitals, city hall, and public parks.
It remains to be seen whether other urban areas will follow Bankok's example.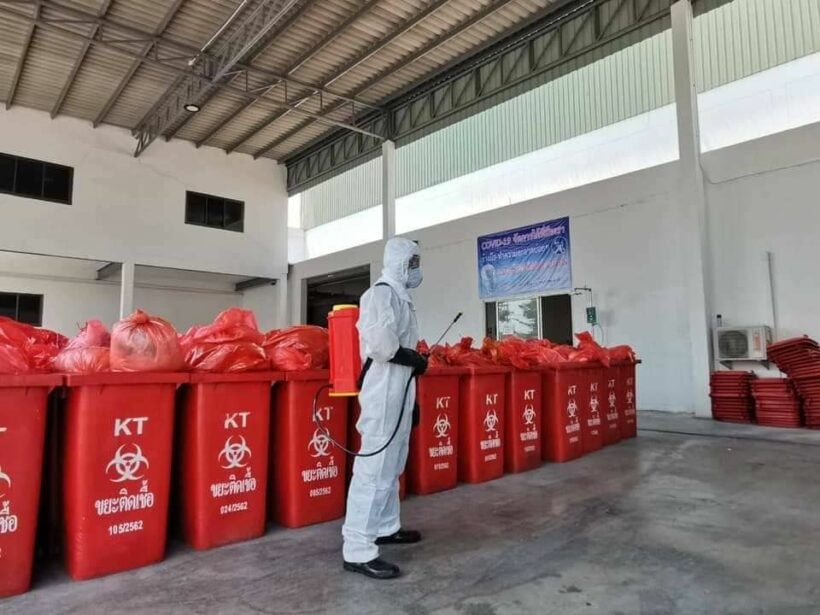 SOURCE: The Nation
Keep in contact with The Thaiger by following our
Facebook page
.
With coronavirus cases rising, a Bangkok hospital puts out the call for more masks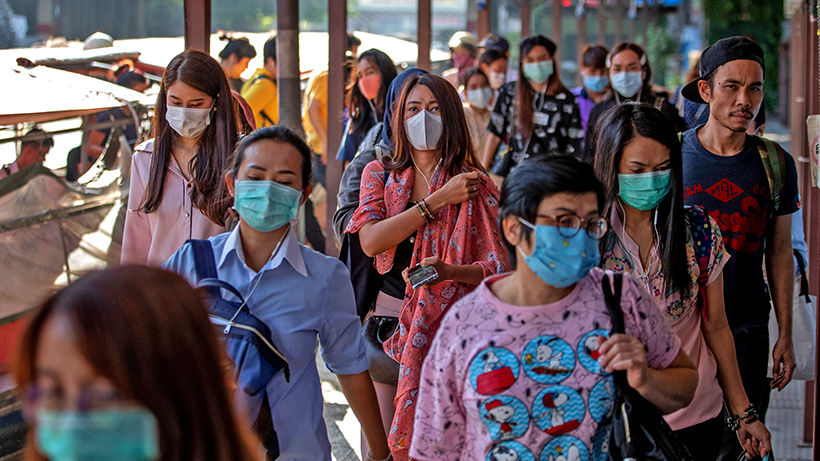 Chulalongkorn Hospital in Bangkok is running out of N95 facemasks for it personnel, and the director Suttipong Wacharasindhud has made a public plea for more. At a time when Covid-19 coronavirus cases are rising daily, he says the hospital has enough masks to last only another two weeks.
"Due to the shortage of masks over the past three months, the hospital has been trying to find them from all possible sources, but it still doesn't have enough."
All wards and units have been told to strictly comply with the hospital's instructions on mask use. The news comes after recent reports that some people are hoarding the masks, and even allegedly shipping large consignments overseas.
Police have arrested an alleged fraudster for scamming people into placing orders for masks and sanitising gel that were never delivered. 27 year old Thirawuth Suksawat was arrested in Ratchaburi's Ban Pong district on Friday for selling masks online, then not delivering. He was already wanted on an arrest warrant from last year in connection with other fraud cases.
Police received complaints that the suspect sold the products via Facebook Marketplace and used other people's photos to hide his identity. Buyers transferred money into his account but the masks were never delivered.
Police say the suspect swindled people out of more than 200,000 baht and has been handed over to Thung Song police.
Source: Chiang Rai Times | Bangkok Post
Keep in contact with The Thaiger by following our
Facebook page
.
Hundreds of Thai hotels seek aid to protect employees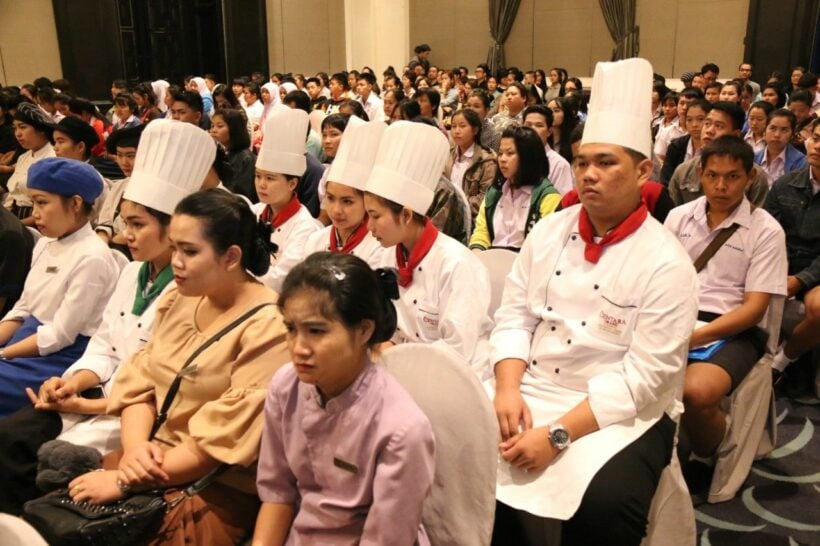 Will the Thai Social Security Office compensate hundreds of hotels pursuing emergency assistance? Hotels are doing it hard as tourism has come to a virtual halt inside Thailand and hotels are either closing or scaling back their operations substantially.
Yesterday, The Thai Hotel Associations sent a letter to the Thai Chamber of Commerce notifying them that hundreds of hotels are seeking emergency assistance from the government, to protect employees during the temporary closure of Thai hotels due to the spread of the Covid-19 virus.
However, according to 'Section 75′ of the Labour Protection Act, hotels operators must cover 75% of employees' salaries when shutting down their businesses. But at times like this, when occupation rates have tanked, most hotel operators are running out of cash and can't make those payments to employees. Hence the THA is requesting for more measures to support employees and hotel operators
Chairman of the chamber Kalin Sarasin, says…
"The THA asked the government to open a registry for hotels that have to temporarily stop operations because of the 'force Majeure' under Section 79-1 of the Social Security Act. If the government authorises this measure, the office can pay 50% of salaries to employees for 180 days."
"This is an urgent issue for the chamber. We'll submit the request to the centre for the resolution of emergencies, aiming to settle it soon, because as up to a hundred hotels have suspended their businesses."
"Operators in some provinces will not have this problem, as there is a clear official order to close hotels in the area, meaning employees automatically have protection under Section 79-1."
Tourism and Sports Minister Phiphat Ratchakitprakarn says that, "he asked the THA to submit the letter to both the Tourism and Sports and Labour Ministries directly on Monday for further discussion."
Hundreds of hotels around Thailand have already closed their doors.
SOURCE: Bangkok Post
Keep in contact with The Thaiger by following our
Facebook page
.