Are businesses applying the Thai government hygiene standards?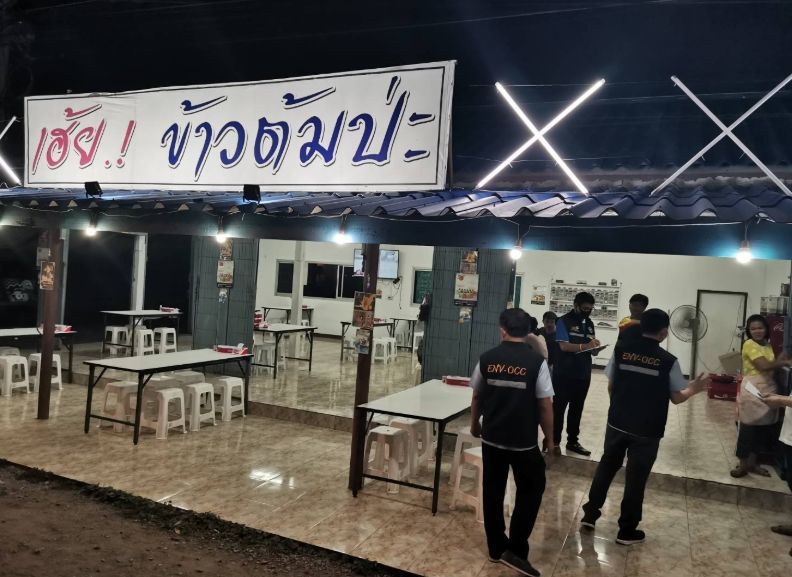 According to the Centre for Covid-19 Situation Administration (CCSA), small, local restaurants are the biggest offenders when it comes to ignoring government hygiene measures to control the reduce any return of the virus. The surveys were done to provide the government with
CCSA spokesperson Dr Taweesin Visanuyothin says that 9,383 businesses from all sectors nationwide had been checked by public health officials and local volunteers whether they have enforced social distancing measures, cleanliness and if they were wearing face masks. While 96% (9,032) preventive measures were in line with government standards, the remaining 4% (351 businesses), was found to be under government standards.
The businesses including…
• 3,156 local Thai restaurants checked, 6.7% (214) were found to be violating the rules.
• 573 retail outlets in department stores, only 1.7% (10) were ignoring the rules.
• 2,680 businesses in markets and retail stores, 1.5 % (41) were not complying with prevention measures.
• 1,943 salons, 3.1 % (61) were ignoring hygiene measures.
Of 254 large or international restaurants, 4.7% (12) failed to apply the measures.
SOURCE: The Nation
Keep in contact with The Thaiger by following our Facebook page.
Never miss out on future posts by following The Thaiger.
Chonburi reports 0 cases of Covid today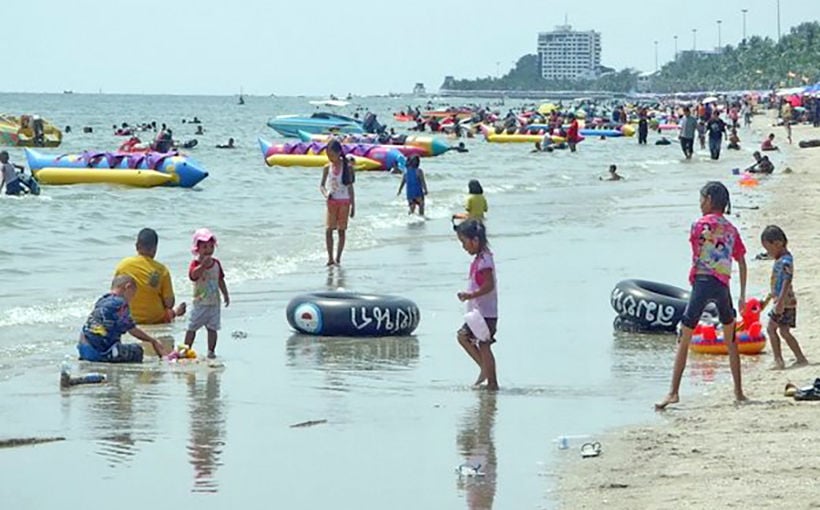 Chonburi province is reporting 0 new cases of Covid-19, marking 3 out of 4 days with 0 new cases. Despite the good news, The Chonburi Department of Public Health is warning residents to stay vigilant.
A migrant worker tested positive for the virus yesterday but all close contacts, 93 people, to the person have tested negative and went into quarantine. The Provincial Employment Office in Mueang Chonburi also closed out of precaution.
The Chonburi Department of Public Health says they will test 35 more who live around the same camp as the migrant worker, but those people are not considered close contacts. Banglamung and Pattaya has not had any cases of Covid for the past 7 days. Officials have said many times that the closure measures and provincial travel restrictions, that have left thousands out of work, will be lifted as soon as it is safe to do so, but it looks like any reviews of the measures will take place at the end of this month.
Currently, Chonburi province is categorised as a "highly controlled" area which essentially deems all travel to be stopped. Those who do wish to travel, to or from the area, must have written permission by a district official in order to enter or leave.
Such strict measures have left many formal workers desperate as hotels have asked many times for the government to issue a forced lockdown which would help these workers collect social security to aid their lost salaries. But those requests have so far been denied as the government says they are mulling other ways in which to help.
In the meantime, hotels have taken their restaurants to the streets by offering food stalls and delivery with most of the owners saying they are trying to support their remaining staff. Chinese businessmen handed out food packages last night in a goodwill gesture to help those in need.
SOURCE: The Pattaya News
Keep in contact with The Thaiger by following our Facebook page.
Never miss out on future posts by following The Thaiger.
CCSA Update: 309 new Covid-19 infections in Thailand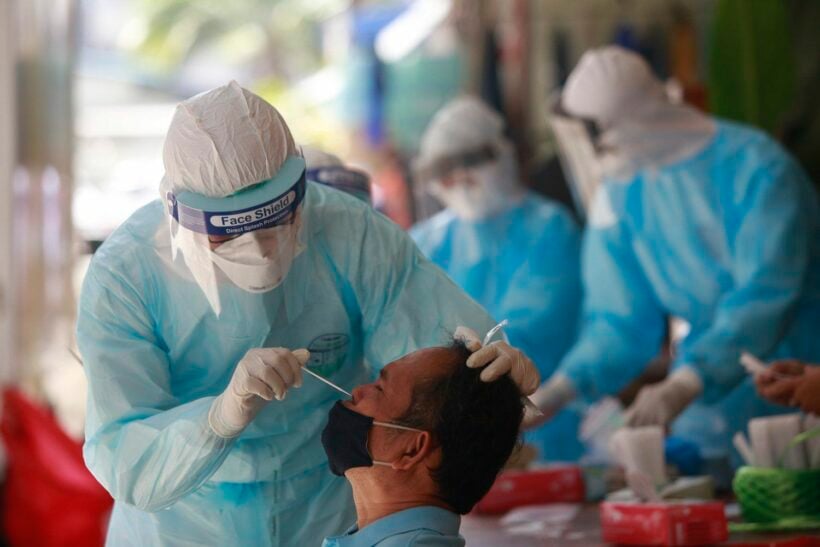 The CCSA's daily briefing today started with an update about a NBT news presenter who has attended the daily briefings at the CCSA studio and testing positive for Covid-19. The CCSA spokesman then announced that all people working in the CCSA studio, including himself, are defined as a "low risk" group for infections.
The CCSA spokesman says he, together with all those involved with any risk, will take a swab test this afternoon and will report the test results to the public later on. The infected NBT newscaster has been sent to the hospital already.
Today, 309 new Covid-19 cases were announced from the last 24 hours. The majority of the infections were detected from active case testing, accounting for 217 cases. Most of them were migrant workers. 80 were local transmission, while 12 cases were detected in state quarantine.
According to the CCSA spokesman, key measures to be rolled out next week will be the acceleration on proactive testing in Samut Sakhon and the outer western areas of Bangkok where the infection rate is still high. Numbers and reports from the active findings are expected to be complete by the end of next week will serve as key factors for a review of the current restrictions in place.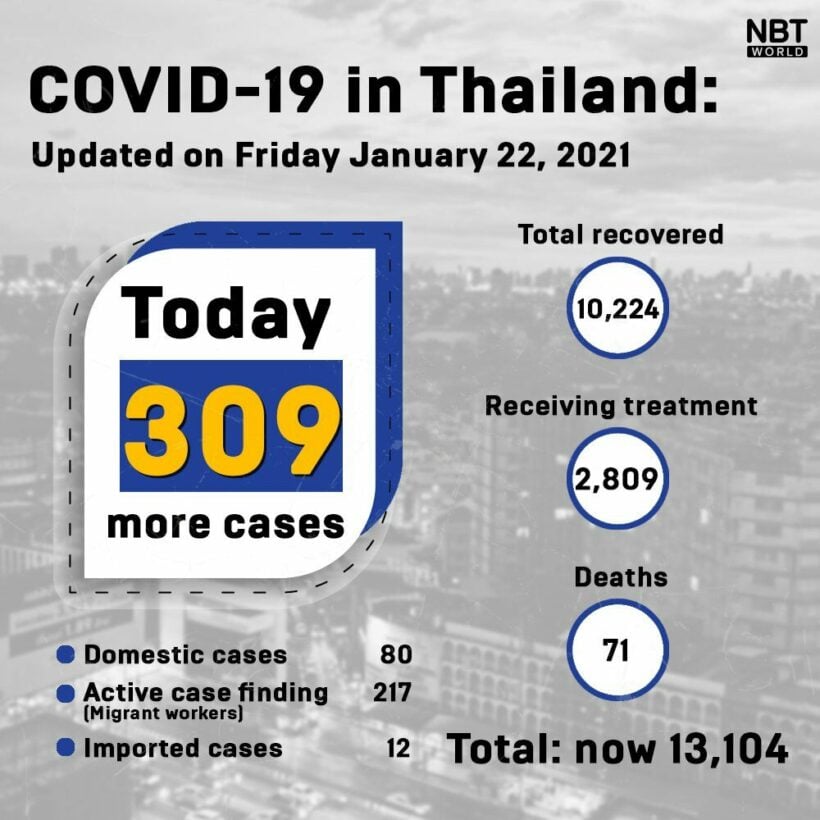 SOURCE: CCSA Daily Briefing
Keep in contact with The Thaiger by following our Facebook page.
Never miss out on future posts by following The Thaiger.
Thai tourism operators want to offer vaccination-inclusive packages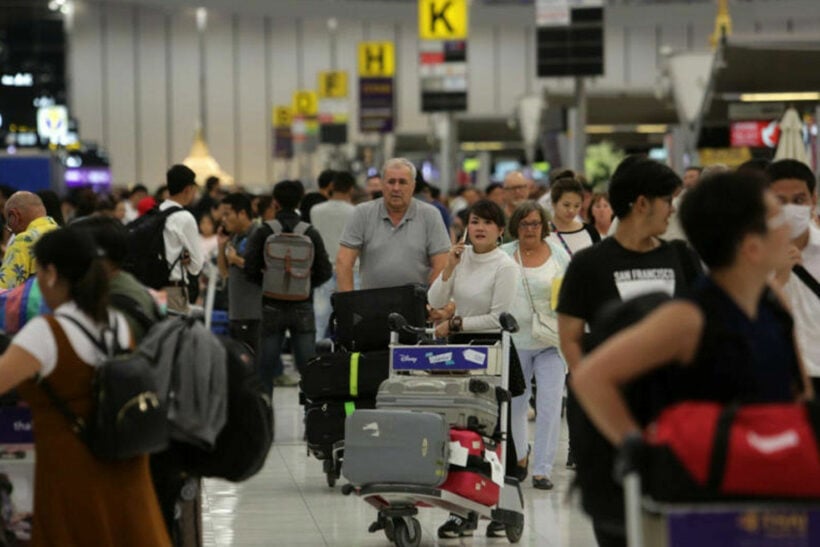 Vaccination seems to be the great new hope of most of Thailand's businesses battered by Covid-19, especially the tourism industry. Thai tour operators are now floating the idea of "vaccination tour packages" to attract inbound travellers after the first inoculations are distributed in February.
Sort of an STV with vaccination included.
The tourism plan is expected to potentially benefit those inbound tour operators, hotels and destinations that have been massively affected by Covid-19 restrictions.
The Tourism Council of Thailand president Chamnan Srisawat explains… "The one month tour packages are expected to cost 150,000 baht, including a 14 day quarantine in an alternative state quarantine or alternative local quarantine facility, and include a vaccination cost."
The idea is, of course, still in the early stages and needs more discussions because there are still uncertainties of travel rules with vaccine certificates. The 'idea' also, again, targets the high end of the travel market that even the current STV has been unable to attract.
Chotechuang Soorangura, the NS Travel and Tour associate MD, speaking to the Bangkok Post, said… "Thailand is not considered a Covid vaccine hub as the country cannot produce a mass supply attracting a large volume of tourists. Most people would rather get inoculated in their own country before going abroad as they want to avoid being exposed to the virus while travelling."
He also suggests that the country should instead promote itself as a "wellness destination and medical tourism hub" (a suggestion that has been made many, many times before).
SOURCE: Bangkok Post
Keep in contact with The Thaiger by following our Facebook page.
Never miss out on future posts by following The Thaiger.