Hospitalised British backpacker to fly home on Christmas Day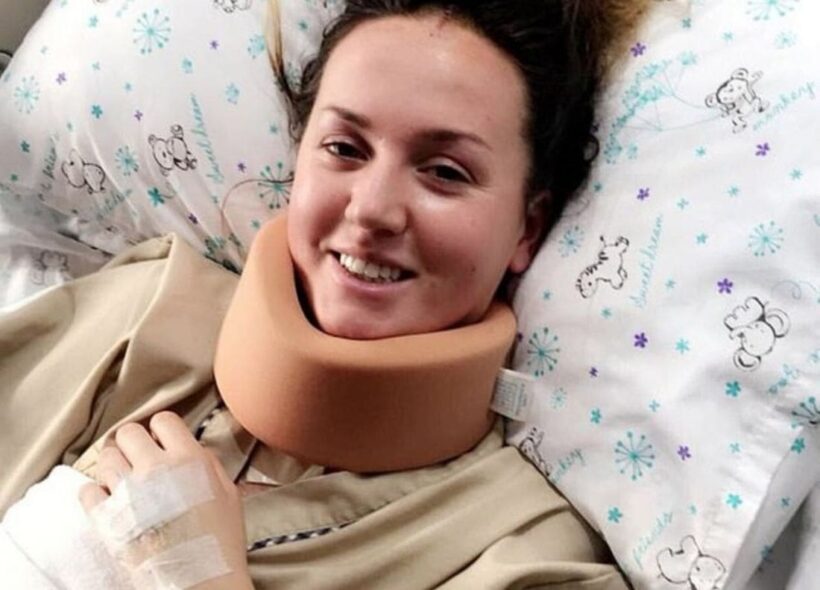 by Miranda Aldersley – Mail Online
The British backpacker who broke her neck jumping into a pool in Thailand is to fly home on Christmas Day after well-wishers raised £65,000 (2.678 million baht) towards her treatment and travel.
24 year old Sophie Wilson from Leicestershire, damaged two vertebrae diving into the shallow end of her hotel pool on December 1. Her accident prompting a worldwide fundraising effort to help pay her hospital bills and fly her home.
Read the original Thaiger report HERE.
She broke her neck in two places and is unable to use her legs after diving into a pool Shortly before midnight on December 25, Sophie will be boarded onto a plane on a stretcher with three Thai medics and her parents to make the 13-hour flight from Chiang Mai to Heathrow.
There, an ambulance will meet the plane on the tarmac and she will be taken to Queens Medical Centre in Nottingham where she will be assessed for further treatment.
Her mother Jane says: "We're all looking forward to getting back now and settling down to some kind of normality. It won't be normal life for a while and she won't be going home straight away but we've got the flight arranged now, at least."
Sophie has said the situation is heartbreaking and she had previously led a very active life style
The funds were raised on the family's GoFundMe page, which will help cover the hospital costs, as well as the price of the flights for the family, and the three medical staff, who will have to be flown back to Thailand.
"The hospital is letting us leave without paying because we have to come home to get access to the money that's been raised.
"It's looking like the total cost will be about £91,000, including £37,500 on flights to come home and send the three medics back again.
"We've been waiting for the British Embassy to get us visas for the three medics to enter the UK, which seemed to take quite a while.
Sophie is still unable to walk and Jane said her daughter was 'having ups and downs' as she dealt with the impact of the injury on her life.
Sophie had been just one week into a six-month backpacking tour of Asia when she misjudged the depth of a swimming pool. She underwent 10 hours of surgery to try to correct the damage and in recent days has been undergoing physiotherapy to ensure she is fit enough to fly.
Sophie's insurers, Insure and Go, would not cover the cost to fly her home with the medical care she needs.
SOURCE: The Mail Online

Want more from the Thaiger family?
📱 Download our app on Android or iOS for instant updates on your mobile
📧 Subscribe to our daily email newsletter
👍 Like/Follow us on Facebook
🔔 Subscribe to or Join our YouTube channel for daily video updates
Foreign Ministry cautions Thais about vaccine travel to the US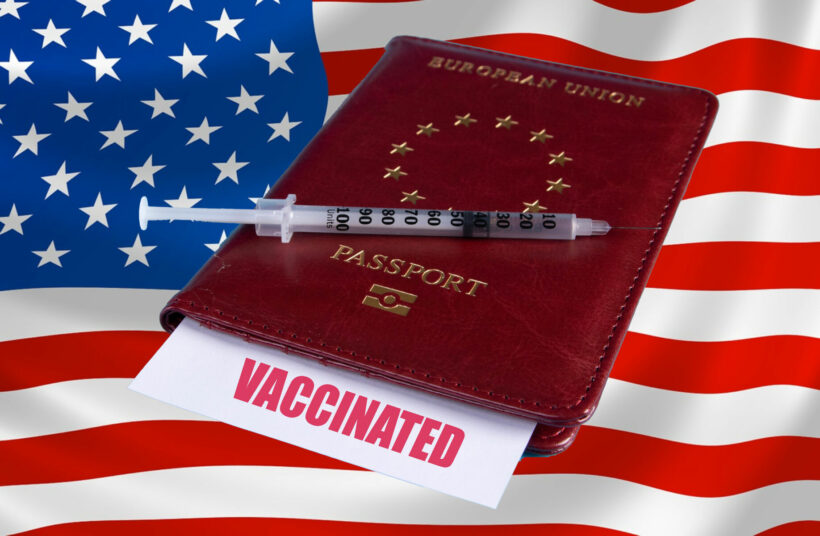 While Covid-19 tourism may sound like an oxymoron, people travelling abroad in order to get vaccinated is a growing trend. But now Thailand's Foreign Ministry is urging Thai people planning to travel to the United States to get a free Covid-19 vaccine to be cautious and do their homework. They stressed that rules vary from state to state, and not all states do give free vaccines to everyone, so travellers should confirm details before paying for such vaccine tourism packages.
They also warned that the situation is constantly changing and that Thai travellers should be check and recheck vaccine regulations in whatever state they plan to visit. The procedures vary from state to state but generally anyone over the age of 16 who lives in the US or has legally entered the country can be vaccinated for free. Some places may give a free vaccine to tourist just by showing their passport with legal stamps inside, but some states have additional criteria such as employment or permanent residents in the state.
Vaccine tourism may have a limited window of opportunity. While tour companies in Thailand are luring travellers with tour packages that include free Covid-19 vaccines by taking them to states that only require a temporary visa to get vaccinated, many states oppose vaccine tourism and are working to ban the practice. Alabama's health department and Florida's governor both recently declared that only permanent residents will be given vaccines in their states.
With Thailand's weak vaccine roll out and limited choice of vaccine brands, and with a much more brutal third wave of Covid-19 throughout the country, people are getting desperate to procure an effective vaccine. Many are turning to private hospitals to pay for vaccines from Pfizer, Johnson & Johnson and more, but those jabs won't be available for months with the government's slow approval process. So those who can afford it are eyeing international vaccine travel or even moving abroad to get jabs.
Tour packages to Californian cities like Los Angeles, San Francisco, and Monterey for 7 nights that include room, breakfast, and the Johnson & Johnson vaccine have been advertised to groups of 8 or more for 76,000 baht per person, or up to 175,000 baht per person for private two-person trips. Prices for these vaccine travel packages do not include airfare.
With the shifting rules and standards, Thailand's Foreign Ministry is cautioning people that they may not get vaccinated on their vaccine travel or could possibly be denied entry by US immigration if the backlash against vaccine tourism continues to grow. Travellers are suggested to contact the Consular Affairs Department at 02-572-8442 or use the Thai Consular mobile app before booking their trip. They should also make contact with US agencies:
Thai Embassy in Washington DC at +1 202-684-8493
Thai Consulate in Los Angeles at +1 323-962-9574
Thai Consulate in Chicago at +1 312-664-3129
Thai Consulate in New York at +1 212-754-1770, ext 304, 311 and 313
SOURCE: Bangkok Post
Want more from the Thaiger family?
📱 Download our app on Android or iOS for instant updates on your mobile
📧 Subscribe to our daily email newsletter
👍 Like/Follow us on Facebook
🔔 Subscribe to or Join our YouTube channel for daily video updates
A guide to being respectful when visiting a Buddhist temple in Thailand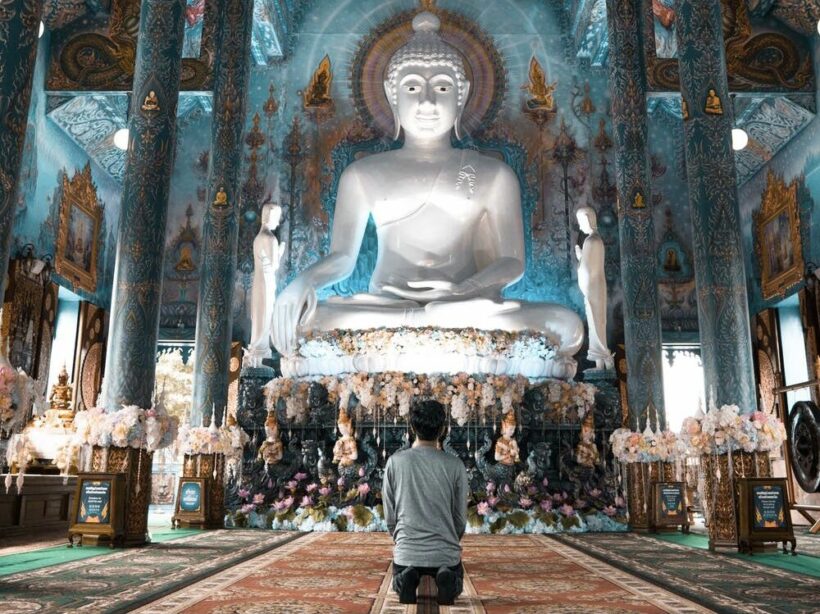 Not all tourists do their research before going to a temple. Some take photos with Buddha statues in a way that is disrespectful to some Thais. Some don't dress appropriately. Before Covid-19, a security guard at the popular Wat Arun in Bangkok would blow a whistle at many tourists, telling them to cover their shoulders and knees.
Here's a guide to on how to be respectful when visiting a temple in Thailand. These are merely suggestions and there are variations. A good guide is to watch what the locals are doing. The dos and dont's are not black and white, but a helpful guide to general customs and expectations.
Dress appropriately
Thailand is hot, with Bangkok being regarded as one of the hottest cities in the world. And humid. Visitors to the country may have trouble getting used to the heat, opting to wear short shorts and shirts. But, in order to take part and experience the some 34,000 open temples or wats in the country, a certain attire is required in order to keep the sanctity of the Buddhist culture. And, it's not just your clothing that needs to be adjusted; your behaviour, too, needs to be kept in check to keep from offending the culture and people.
For women, skirts or long pants that go past your knees are in order. Covering your shoulders as well is a requirement. Clothing that is too tight, such as leggings, are not allowed. See‐through clothes like and sleeveless tops are also not allowed as they reveal too much skin. Men have the same requirements as women, but are expected to wear long pants and shirts with sleeves.
Some temples are stricter than others, like Wat Phra Kaew, but the recommendations of keeping covered are acceptable at all temples in Thailand. But don't worry if you come to Thailand and forget to pack conservative clothing, as it is very hot here and most Thais understand you may not be acclimated. To show their understanding and tolerance, many larger temples have clothing on hand that you can wear for a small fee.
Before entering the temple, it is important to take off your shoes at the door. Your hat and sunglasses should also be removed out of respect. But don't worry about taking off your socks as they are acceptable to wear in the temples. Don't step or stand on the door threshold going inside where the statues are held. As clothing is important to consider when visiting a temple, it is also important to adhere to behavioural guidelines.
Be quiet, turn your phone to 'silent'
Such behaviours include staying quiet as the temple is a sacred place where people go to pray and observe Buddhist rituals. Being a "chatty Cathy" will be frowned upon, so save your musings for after you step outside of the temple. Don't forget to turn your phone on silent as well and ask before taking pictures or look for the rules posted on a sign inside or outside the temple. If you must snap a photo, do not get too close to the Buddha statue. Taking selfies, however, could be considered disrespectful.
Don't point
As with Thai cultural norms in general, it is important not to point at anything with your fingers or feet, especially at a monk or Buddha statue. People, too, don't point at each other or even objects and instead use their right hand, with the palm facing upwards to indicate something. You may wonder why Thais place so much importance on behaviours, and that is because the feet are considered the lowest and dirtiest part of the body. So, when talking or sitting by a monk, you must never sit higher than him. Women should kneel with their toes pointing behind them, while men should sit with their legs crossed.
As interactions with monks are usually quite delightful, it is important for women to not leave the monk in a worse place than before. For, as a woman, you are not allowed to touch monks. If you do, the monk will have to go through a lengthy cleansing ritual to purify himself. If you must hand a monk something, put the object down with your right hand and let the monk pick it up. Women are not allowed to sit next to a monk and in some areas of the temples, they are not allowed to enter.
Pay respect to Buddha statues
The temple itself hosts a variety of Buddhists from around the world and it is important to be respectful in the temples. Don't touch or climb on Buddha statues as it is considered very disrespectful. If you are a foreigner wanting to pay respect to the Buddha, bowing to the statue or monk is acceptable. But remember to keep your head below the level of Buddha statues, monks or nuns, or even images out of respect.
If you want to merge with local Thais in paying respect to Buddha, it is customary to wai 3 times (pronounced like 'why'). A wai is how Thais greet each other, say thank you, and pay respect. It involves placing your palms together in a praying motion while bowing your head slightly.
To wai like a Thai, watch THIS.
When monks or nuns enter the room, stand up and wait for them to finish before sitting again. When ready to leave, don't raise yourself higher than the Buddha statue and try not to turn your back to it. One suggestion is to back away from the statue instead. If there are pillars or statues in the middle of the room, walk around sacred objects in only a clockwise manner.
Be aware of 'off-limit' areas
There are certain areas in which tourists or visitors are allowed to enter. These areas are called prayer halls, or viharn in Thai. The viharn is where you can pray or see images of Buddha. It is important to not trespass into the monk‐only areas known as bots. But sometimes, it is hard to distinguish which areas are forbidden to visitors. Fortunately, a few hints can be found to direct visitors to the appropriate areas where to congregate.
Most bots, or primary areas for monks, contain a Buddha statue and are surrounded by 8 sema, or decorative stones in a rectangular shape surrounding a prayer hall. So, if you see a statue, look around and see if other visitors are gathering in the same place before you enter. Other signs that you may be in the right spot, include signs in English and donation boxes.
Give donations if you'd like
Upon seeing donation boxes, visitors may want to give money, but it is okay if you don't. Other ways to support the monks and temples include buying trinkets at the temple. Be careful, however, bringing small Buddha statues out of the country as it is technically illegal. But, as long as the statues are not rare or antique, you may skip being reprimanded.
As with all visits to foreign countries, it is important to experience and appreciate the host country's cultural traditions and practices. In Thailand, as long as you show respect and the willingness to adapt to the culture, Thai people are known for being very tolerant and understanding. Showing respect to them by doing a bit of research before entering such sacred sites as temples is always a good idea.
Want more from the Thaiger family?
📱 Download our app on Android or iOS for instant updates on your mobile
📧 Subscribe to our daily email newsletter
👍 Like/Follow us on Facebook
🔔 Subscribe to or Join our YouTube channel for daily video updates
Banyan Tree Krabi – Bringing Thailand's luxury brand to Krabi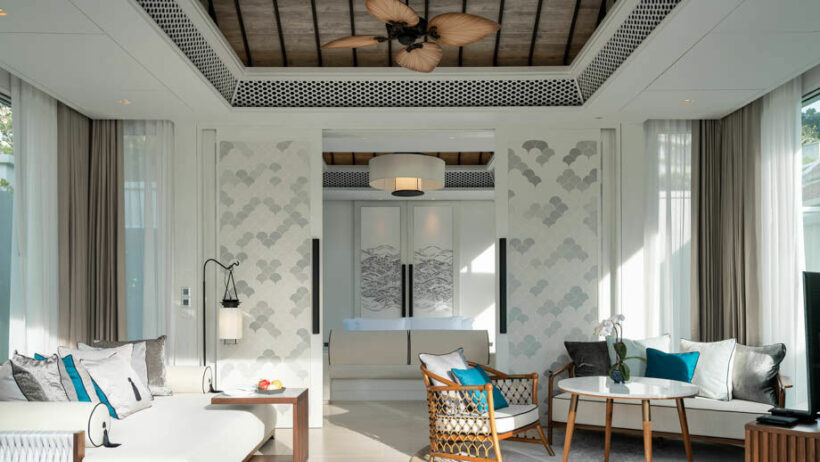 Krabi is a fabulous place to stay and home to some of Thailand's most beautiful views and landscapes. Some of Thailand's best known brands have already built resorts in the area but there was one of Thailand's key hospitality brands missing… the iconic luxury brand of Banyan Tree.
But here it is, after just over two years of painstaking and meticulous work, a new Banyan Tree resort emerges from the mud of the Tub Kaek coastline. This sanctuary of Banyan Tree luxury, featuring the brand's 'new look', peers out across the magical Phang Nga Bay, its islands and sunsets.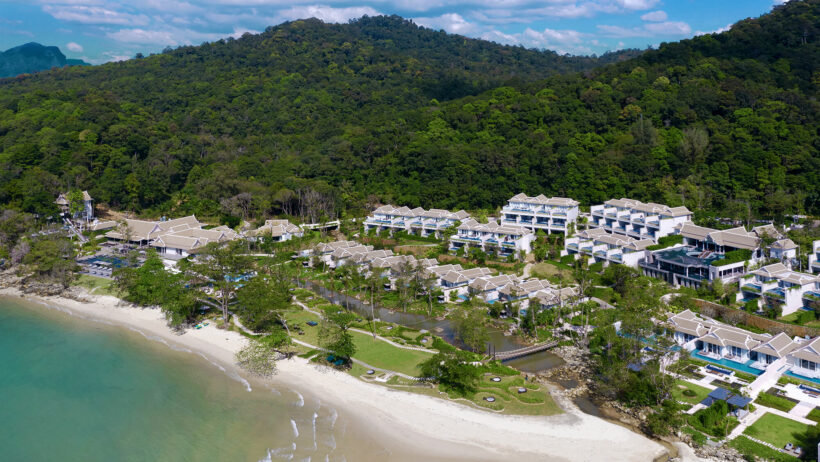 The Thaiger was invited on a special weekend get-away along with other travel writers and influencers from Bangkok. We were flown courtesy of Thai VietJet from Suvarnabhumi Airport in Bangkok to Krabi International Airport. The airport is undergoing a mega upgrade right now and Thai VietJet are currently scheduling 2 direct flights per day to and from Krabi (as of March 2021).
The Banyan Tree brand started in Phuket in 1984 as the feature property in the new Laguna development. Every resort key was a pool villa, leaning on traditional Thai architectural cues, natural timber finishes and rich tones.
The newer Banyan Tree resort's 'look' has now evolved into a lighter pallet of whites and natural timber tones, set off with a turquoise accent in the silk cushions. The rooms remain airy, beautifully appointed and, yes, each with a private infinity salt water pool. And, here in Krabi, every villa also has a view. Still with plenty of 'Thainess' but a 21st century rendition that won't date.
There are eight suite and villa types – altogether 72 keys. The starting point is the Deluxe Pool Suite at 99 square metres with a sumptuous king-size bed. You have a private terrace, plunge pool and a bathroom the size of some of Bangkok apartments.
At the other end of the scale is a 7 bedroom Presidential Villa with access right onto the beach. It's actually three separate villas but can be combined into a single land of luxury, canals, pools and terraces – a total of 1,335 square metres.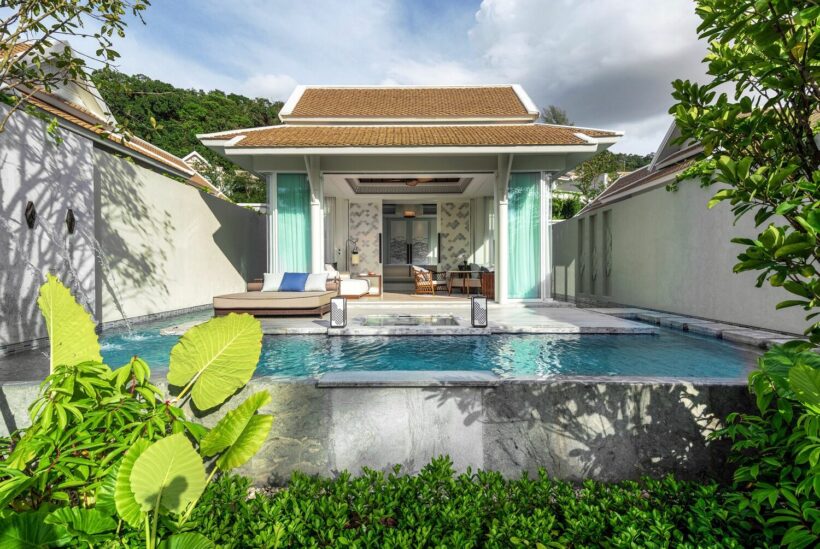 I'd like to gush for a moment about the beds. Considering that you're going to spend a third of your stay in a bed, it better be comfortable, right? The beds at Banyan Tree Krabi were astonishingly comfortable – the linen, the pillows, the duvet covers – pure luxury. They looked so good I felt almost embarrassed to crumple all that white linen by getting in between the sheets. But I did. Two of the best nights sleeps I've had in a long time. (Note to self – where can I buy these mattresses and sheets?!)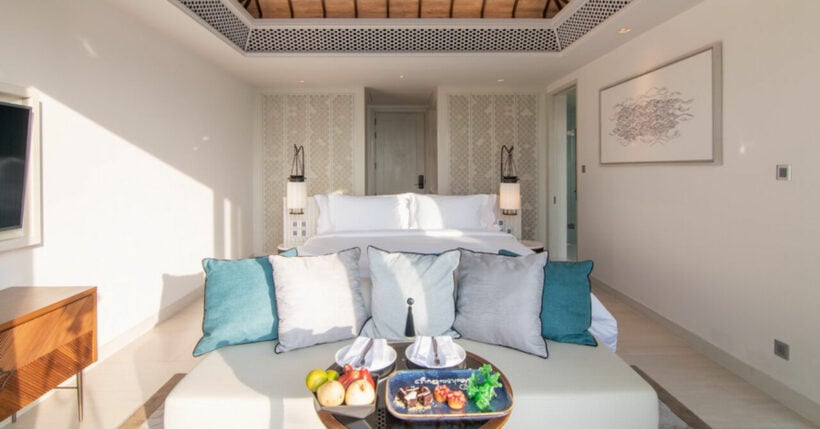 The resort fronts Phang Nga Bay, facing west so you're in the perfect location to enjoy the sun sinking into the mystical islands that dot the famous bay. Behind the resort is dense rainforest rising up as part of Krabi's hilly landscape. The resort is sandwiched between the two but has packed all the Banyan Tree cues in between as the land sweeps down to the rocky Tub Kaen beach.
A feature of Banyan Tree resorts is their marriage with nature and the use of water, everywhere. From each room's bath and private pool, to the waterways and streams that traverse the property, you can't walk far without being reminded about the importance of water to the brand. There's also an adult 'water park' for adults, 'The Rainforest'. Banyan Tree describe it as "a holistic and innovative wellness experience designed to heal and soothe". I'd describe it as an onslaught of H2O to your senses and your entire body – hot, cold, freezing, steam, sprays, gushes, bubbles, mists and waterfalls – all in the one facility.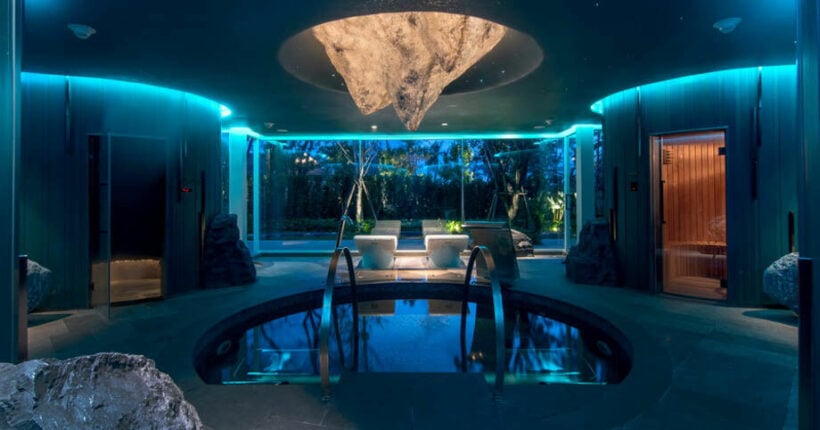 And there's also a supervised Kids Club, both indoor and outdoor, with its own mini waterpark, whilst you sneak off for your well-deserved spa treatment.
A lot can be said for the resort's appointments, functional but hidden away. But it's the staff that truly define your Banyan Tree experience. You'll be hard-pressed to find a more balanced and well-trained staff anywhere in Thailand. This is what really sets the Banyan Tree brand apart. The staff are always around, but not in your face. Polite, but not ingratiating, attentive but never annoying.
As a truly international resort your selection of foods at the various restaurants on site are excellent. The menus draw on cues from southern Thai cuisine, including the fusion of local ingredients and suppliers. The main restaurant, The Naga Kitchen, is also where they serve the breakfast buffet each morning – extravagant and expansive. It's a classic 'Banyan Tree' interior incorporating fine Thai silks, natural surfaces and the option to sit outside overlooking the resort's main pool area.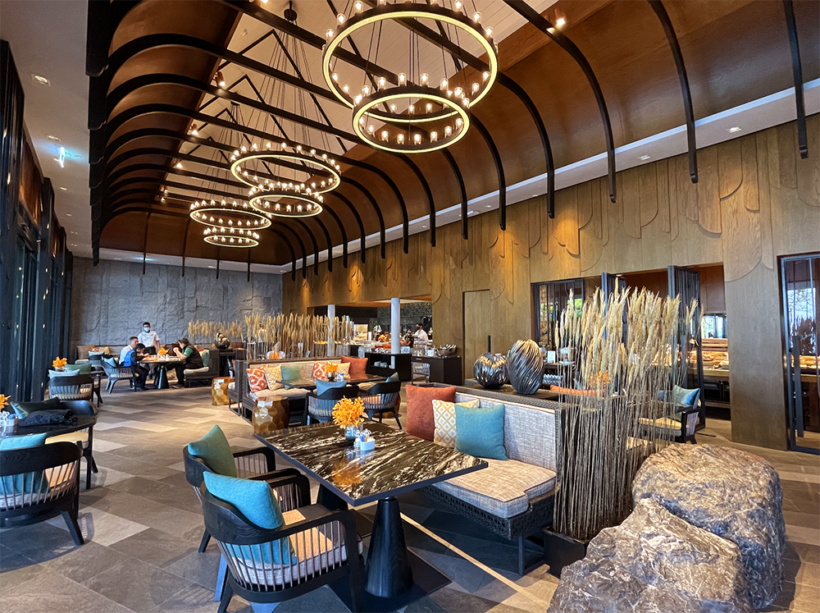 But you can also take the short cable car ride up to the Saffron Restaurant where there's also a magnificent view across the entire resort. For that alternative dining experience try the Bird Nest, where you are suspended amongst the coastal tree tops. And THAT view!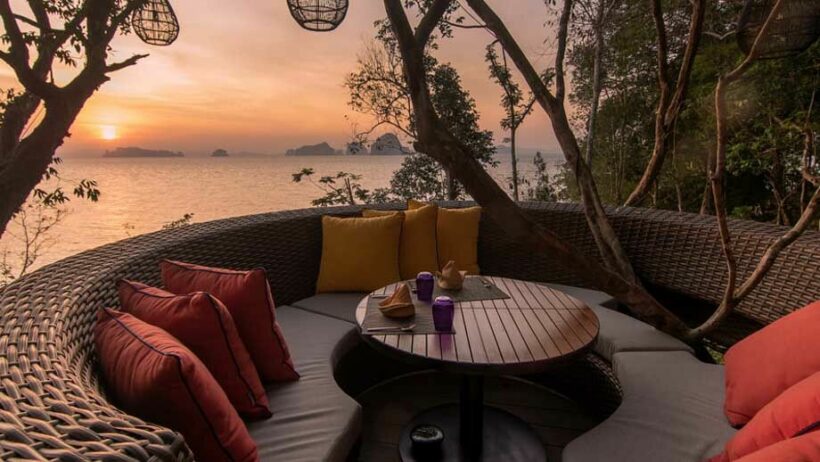 No matter how you spend your days at the resort, paddling just off the beach or on an island excursion nearby, you will certainly want to return to enjoy the sunset experience. This is where you'll get the best seat in Thailand for the daily sunset. The Tub Kaek Beach, whilst not the biggest or sandiest beach in Thailand, certainly provides a perfect photographic foreground with its rocks and flora framing the feature nightly performance.
Looking out across Phang Nga Bay, cocktail in hand, sinking into your beanbag perched on the grass verge overlooking the beach, you'll ponder, at least for a moment, why you can't just live THAT moment for the rest of your life. Let the short video take you there…
Banyan Tree Krabi proves that you can re-invent, and evolve, a great hospitality brand. Whilst the Samui Banyan Tree is waiting for the tourists to return at this time, Banyan Tree Krabi has been well supported by domestic travellers in its opening months, making the launch of the resort an outstanding success story during Thai tourism's most challenging year.
Big thanks to the outstanding team at Banyan Tree Krabi, led by the genial host and General Manager Remko Kroesen. Also to Thai VietJet for flying our group from Bangkok to Krabi, and back, and Colin from Balcony Media Group.
(There are currently 5 airlines flying into Krabi at the moment, most with multiple flights each day. That situation will change over time but you have plenty of choices from both Bangkok airports. And with the extended Krabi airport coming on line sometime in 2022, the whole airport experience will certainly continue to improve. Otherwise Krabi is an easy 3 hour drive from Phuket and there are bus services from Bangkok and other provinces almost every day, even at the moment. You can book your stay at Banyan Tree Krabi directly or search your favourite online aggregators for special deals.)
Want more from the Thaiger family?
📱 Download our app on Android or iOS for instant updates on your mobile
📧 Subscribe to our daily email newsletter
👍 Like/Follow us on Facebook
🔔 Subscribe to or Join our YouTube channel for daily video updates