Hospitalised British backpacker to fly home on Christmas Day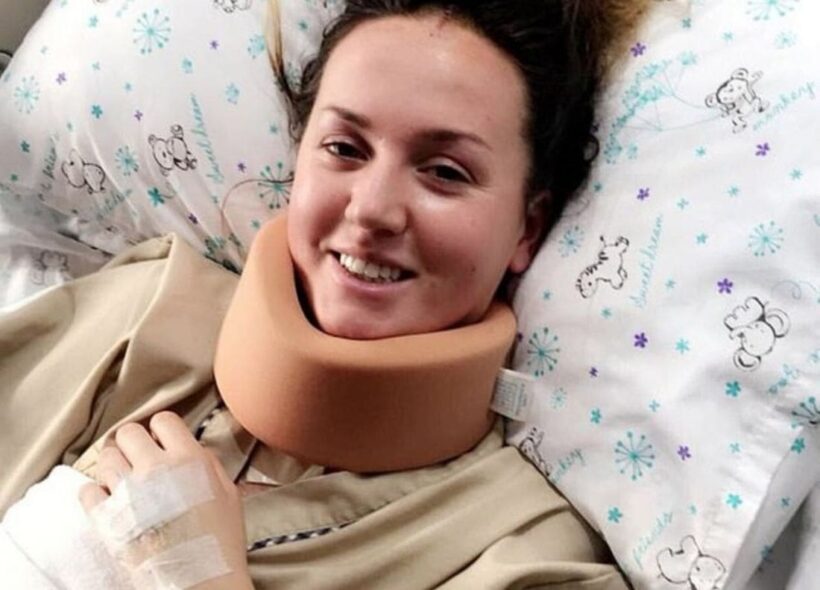 by Miranda Aldersley – Mail Online
The British backpacker who broke her neck jumping into a pool in Thailand is to fly home on Christmas Day after well-wishers raised £65,000 (2.678 million baht) towards her treatment and travel.
24 year old Sophie Wilson from Leicestershire, damaged two vertebrae diving into the shallow end of her hotel pool on December 1. Her accident prompting a worldwide fundraising effort to help pay her hospital bills and fly her home.
Read the original Thaiger report HERE.
She broke her neck in two places and is unable to use her legs after diving into a pool Shortly before midnight on December 25, Sophie will be boarded onto a plane on a stretcher with three Thai medics and her parents to make the 13-hour flight from Chiang Mai to Heathrow.
There, an ambulance will meet the plane on the tarmac and she will be taken to Queens Medical Centre in Nottingham where she will be assessed for further treatment.
Her mother Jane says: "We're all looking forward to getting back now and settling down to some kind of normality. It won't be normal life for a while and she won't be going home straight away but we've got the flight arranged now, at least."
Sophie has said the situation is heartbreaking and she had previously led a very active life style
The funds were raised on the family's GoFundMe page, which will help cover the hospital costs, as well as the price of the flights for the family, and the three medical staff, who will have to be flown back to Thailand.
"The hospital is letting us leave without paying because we have to come home to get access to the money that's been raised.
"It's looking like the total cost will be about £91,000, including £37,500 on flights to come home and send the three medics back again.
"We've been waiting for the British Embassy to get us visas for the three medics to enter the UK, which seemed to take quite a while.
Sophie is still unable to walk and Jane said her daughter was 'having ups and downs' as she dealt with the impact of the injury on her life.
Sophie had been just one week into a six-month backpacking tour of Asia when she misjudged the depth of a swimming pool. She underwent 10 hours of surgery to try to correct the damage and in recent days has been undergoing physiotherapy to ensure she is fit enough to fly.
Sophie's insurers, Insure and Go, would not cover the cost to fly her home with the medical care she needs.
SOURCE: The Mail Online

Keep in contact with The Thaiger by following our
Facebook page
.
Never miss out on future posts by
following The Thaiger
.
Rejoice Thailand. 681 tourists will arrive in November!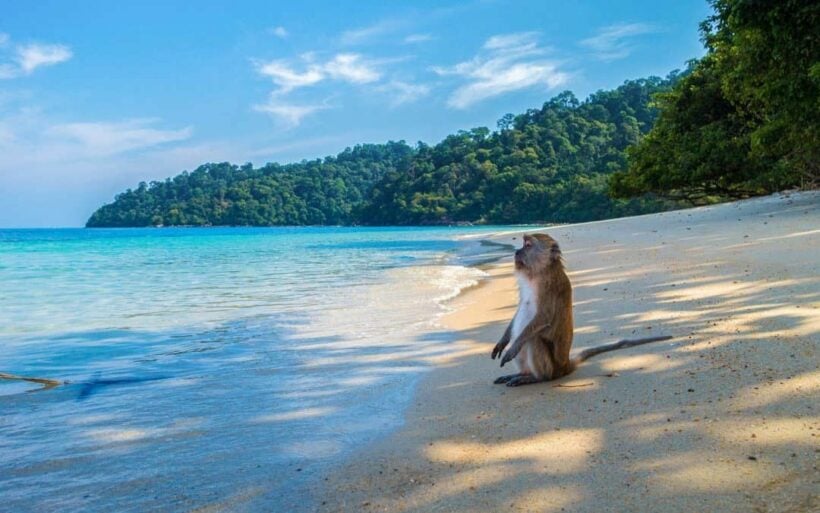 Rejoice, roll out the red carpet and sound the bells. Here they come! Thailand is about to be flooded with 681 tourists who have applied for, and received, the Special Tourist Visa. Ok, we'll admit that's the number is a bit down on last year's monthly 3.3 million tourist arrivals (average). But, twisting the numbers like only the Tourist Authority of Thailand can, that's more than DOUBLE last months' total tourist intake.
The perpetually optimistic governor of the TAT announced the 681 tourists will be visiting Thailand during this month under the much-discussed Special Tourist Visa (STV) program.
263 of those 'special' tourists had already completed the 14 day mandatory quarantine, 134 were currently in quarantine and 284 would arrive before the end of November.
The TAT governor says that the TAT, Thai Airways and hotels associations had been working on what he called the "Amazing Thailand Plus Special Package". This was a one-stop-shop service to make it easier for the tourists to get their air tickets, apply for their visa, find out about where to quarantine and book trips around the country once they finish their quarantine period.
Thailand would have normally be welcoming around 3.5 million tourists during November (according to 2019 data) but this year's 'disruption', and the Thai government's response to it, has all but closed down Thailand's international tourism industry.
Whilst the TAT are painting a rosy picture of the November arrivals, the reality is the tourists have arrived at great costs, on a bankrupt airline, to a country where most of the tourist attractions are closed, and the streets of the tourist hot spots empty.
As of today, there is no plans to make it any easier for tourists to travel to Thailand beyond the current restrictions and visa offerings. The 14 day quarantine remains in play, although there will be a meeting of the CCSA on Wednesday this week to discuss, again, reducing this quarantine time to 10 days, for arrivees from low-risk countries.
Keep in contact with The Thaiger by following our
Facebook page
.
Never miss out on future posts by
following The Thaiger
.
Long weekend, busy roads and price gouging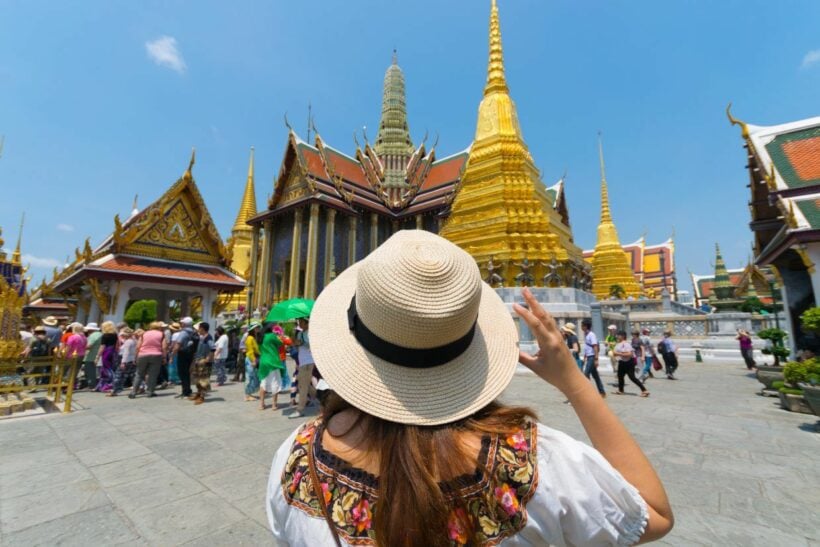 Airfare and accommodation costs have skyrocketed over this long weekend, an artificially added 2 days of holiday by the Thai government to stimulate the local travel economy. Airfares, if you didn't get the earlier 'cheapies', have risen to 2 – 3 times their 'normal' discount prices. And accommodation costs have followed suit (although the OTAs are still advertising plenty of cheap rooms around the country if you have time to search).
The Tourism Authority of Thailand is predicting 3 million Thais will travel during between November 19 – 22 with an expected 1.3 billion baht in revenue being generated for the industry.
The TAT Governor Yuthasak Supasorn is hoping the 4 day holiday will provide the same sort of revenue for the battered local tourism industry as the annual Songkran holiday (which was postponed last April amidst the 'lockdowns' in Thailand).
He noted that the revelation of a solitary case of Covid-19 in Krabi last week, an Indian expat, caused panicked hotel cancellations in the southern province. Similar responses have happened before, notably cancelations in Rayong province after an Egyptian military officer tested positive whilst staying there. The much-hyped "Phuket Model" was also shelved after local fears were expressed to Thai officials about the possibility of a second wave of cases.
A Phuket hotelier, who asked to remain un-named, said that they were hopeful of a surge in bookings but the response has been "mediocre". Some Pattaya hotels are reporting high bookings but are still well under 50% occupancy. Bangkok rooms are still mostly 50% or lower than their advertised rack rate.
But it hasn't been a long weekend for everyone. Many Thai companies, including The Thaiger, haven't given employees the Thursday and Friday off, denting the expected revenue for hotels and transport businesses.
Typical discount fares from Phuket to Bangkok, usually less than 1,000 baht each way, are now selling for 3,000 – 5,000 per seat for the long weekend.
Keep in contact with The Thaiger by following our
Facebook page
.
Never miss out on future posts by
following The Thaiger
.
Secrets in the covid era – the future of Thailand hospitality | VIDEO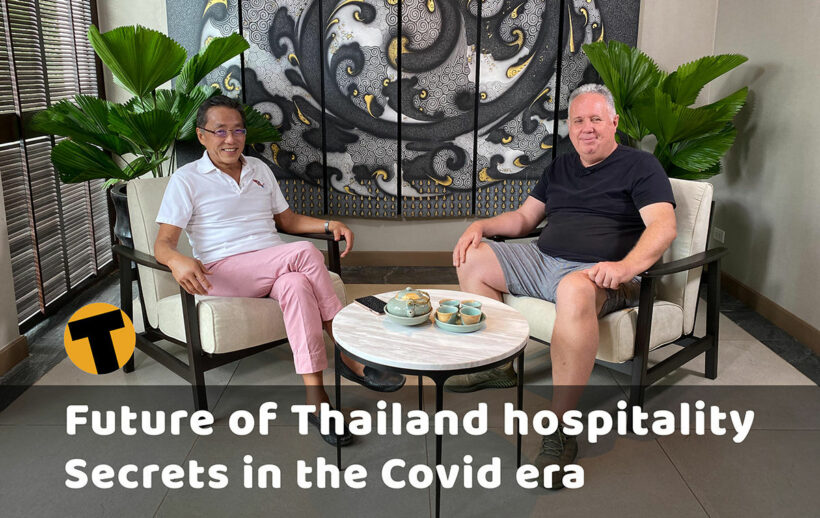 Banyan Tree founder KP Ho speaks to Bill Barnett. With a sudden lack of tourists and customers, many Thai hotels had to quickly review their business models and come up with new ways to pay their bills and retain staff. Some succeeded, many didn't. In fact some hotels have thrived in the face of a seismic change to the hospitality landscape. In the case of Banyan Tree, KP Ho recalls the sudden impact of the pandemic and the many changes to attitudes and business units that is keeping their brand alive. He speaks to Bill Barnett from c9hotelworks.com
Like and subscribe our YouTube channel too. Go on, right now 🙂 You can also LIKE our Facebook page to get even more information about getting back to Thailand, the latest in the STV, visas and border re-openings.
Keep in contact with The Thaiger by following our
Facebook page
.
Never miss out on future posts by
following The Thaiger
.