Alpine tourism ignites billion dollar resort property market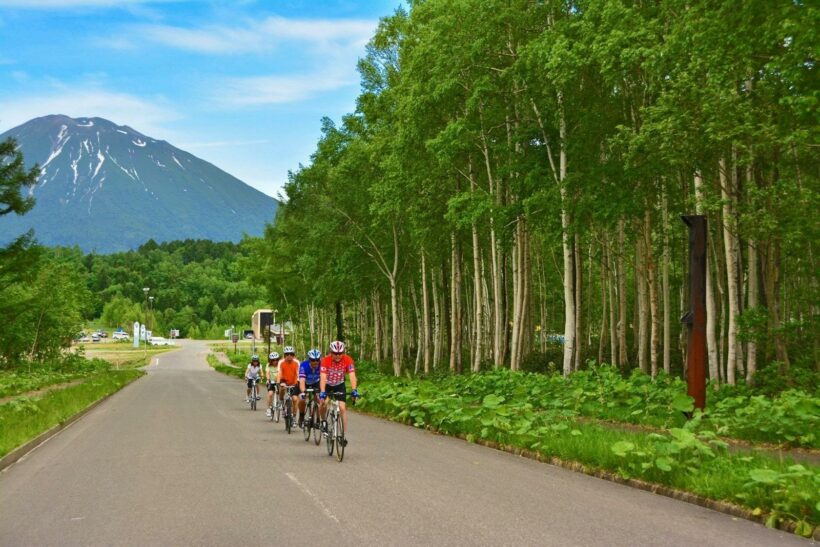 by Bill Barnett of c9hotelworks.com
Niseko visitor numbers continue to climb on the back of a sharp increase in airlift.
Tourism arrivals to Asia's leading alpine destination, Niseko, rose 17% year-on-year in 2017 and bumped up a 5-year growth spree with an impressive 16% compound annual growth rate. One clear sign of market maturation is a push to a year-round marketplace as last year 48% of tourists came during the summer season.
Last year Niseko recorded a record-high 1,676,300 visitors, with large inroads bolstered by surging regional flights. The top 5 geographic source markets are Hong Kong, Singapore, Taiwan, South Korea and Mainland China, with the latter benefitting from direct international flights from 8 cities into the gateway New Chitose Airport.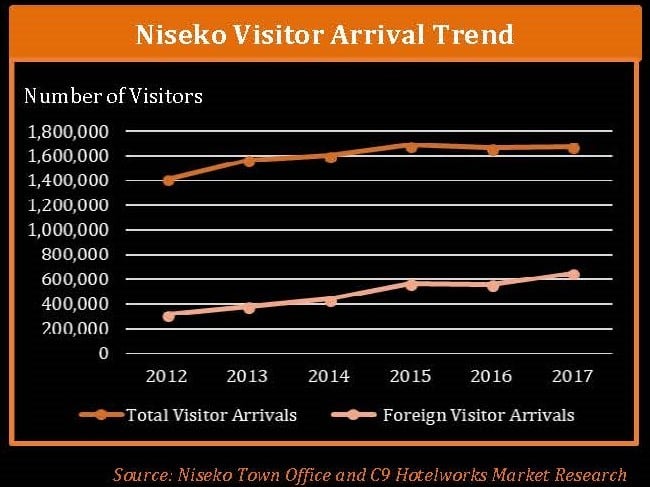 For travelers from Thailand, access to Niseko has been effectively doubled with Thai AirAsia X launching direct flights in April, joining Thai Airways who already serve the popular route. Investment by real estate players has been highlighted by Property Perfect PCL's investment into the Kiroro Resort. Featuring a Sheraton branded hotel and a second under the Tribute flag, the mixed-use resort recently launched their first condominium project Yu Kiroro.
One sector that is having a direct impact from tourism is the property sector. According to new data released by consulting group C9 Hotelworks in their Niseko Market Review, the transaction value of resort-grade real estate developments currently in the market is set to tip to USD1 billion mark over the next two months.

Speaking about the connection between hotels and property offerings C9 Hotelwork's Managing Director Bill Barnett commented, "given high land values and elevated country-wide construction costs which have been impacted by the build up to the 2020 Tokyo Olympics, it's extremely hard to underwrite sole hotel developments.
"Projects like Hong Kong's PCPD Groups' upcoming Park Hyatt Hotel and Residences has mitigated the situation by selling managed residences as part of the hospitality offering. A similar scenario is playing out at the Niseko Village integrated resort where the Malaysian-based owner YTL is planning a similar Ritz-Carlton Hotel and branded real estate combination."
With its substantial inventory of resort condominiums and homes, Niseko is very much a tourism model like alpine destinations in the West such as Whister, Vail and Aspen. Examining the recent move by the Japanese government to effectively legalize Airbnb-type rentals via the 'minpaku' legislation has been seen by the local tourism community as a positive, given a legitimate solution is now in place to effectively manage non-traditional accommodation.
To download C9 and read Hotelworks Niseko Market Review, click HERE.
Want more from the Thaiger family?
📱 Download our app on Android or iOS for instant updates on your mobile
📧 Subscribe to our daily email newsletter
👍 Like/Follow us on Facebook
🔔 Subscribe to or Join our YouTube channel for daily video updates
Increase in suicide feared in Thailand as Covid-19 grows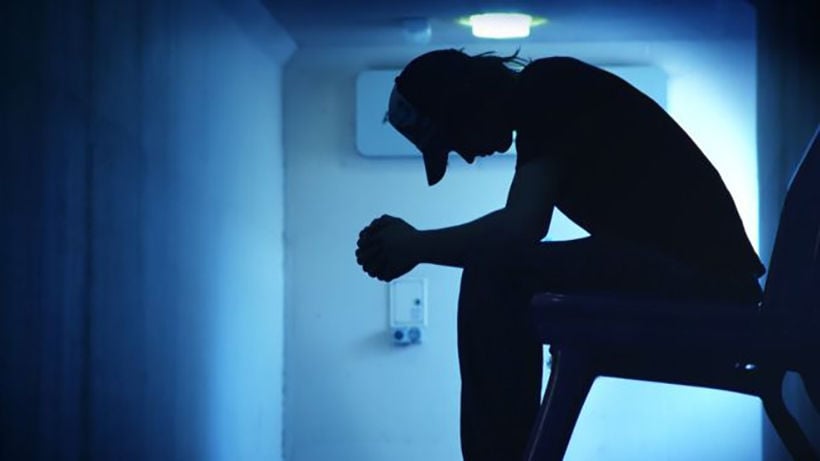 Suicides increasing may be the most unfortunate side effect of living through a pandemic. In Thailand, those living in red and dark red zones, and people afflicted with Covid-19, or with close relatives or friends affected, are the most vulnerable to suicide according to the Thai Department of Mental Health.
The increased restrictions tend to lead to depression and high stress for residence, echoing a common fear that the effect of the Covid-19 pandemic increase suicide rates and create a mental health crisis. The very intention to reduce the spread of Covid – socially distancing people from one another – produces an unintentional state-legislated consequence of the lockdowns and restrictions.
Normally, nearly 800,000 suicides are recorded around the world each year, and experts believe that attempted suicide numbers are severely underreported. A recent study predicted about 9,570 additional suicides around the world due to unemployment. Financial insecurity, unemployment, loneliness, isolation, loss of social support, and fear of infection and death all contribute to the stress of life during the pandemic.
According to The Telegraph, the suicide crisis helpline in Thailand reported their call volume doubled last year with the onset of Covid-19, with 80% of the calls being finance-related. The Samaritans have 80 volunteers working from home and recently opened a Facebook Messenger account, citing younger people's preference of messaging over phone calls.
The Thai government attempted to calm lockdown-induced financial panic by implementing 5,000 baht payments for 3 months but the rollout was slow and troubled. Last year one woman even drink rat poison outside of the Ministry of Finance to protest flow payments of financial aid. Worse, in a country full of under-the-table jobs like migrants, farmers, and sex workers, the funds were unavailable to many.
Many workers instead took loans that the unpredicted length of the pandemic has made impossible to repay. Household debt reached an all-time high last year with the population's total debt reaching a record 89% of Thailand's GDP. People are getting increasingly desperate and hopeless with government assistance programs failing to compensate for the struggles that much of Thailand is facing now.
International studies into the issue showed that in many countries, in the early phases of the pandemic and lockdowns, suicide rates actually decreased or remained even as people were hyper-focused on the immediate challenges of daily life. But with Covid-19 dragging on in Thailand, suicide rates tend to creep up, as feelings of long-term hopelessness and economic despair set in.
With Thailand's tourism-weighted economy and the disproportionate strength of Covid-19's third-wave, the economic effect has been severe. According to The Telegraph, 1.45 million jobs in the tourism sector were lost last year and another 1 million losses are predicted this year. The sudden near-complete drop in tourism income is similar to the 1997 Asian financial crisis, a time which saw suicide rates in Thailand jump 20 to 30%, according to some government figures.
Thailand had escaped the worst of the Covid-19 pandemic last year, almost unscathed economically (barring its loss of tourism income), but the third wave beginning in early April dashed all hopes of a mental and economic recovery anytime soon.
Covid-19 is now spreading much faster and wider than ever before in Thailand, and only 1% of the people have been vaccinated. 80% of death by Covid-19 in Thailand took place just in the last 30 days, pushing feelings of despair in the struggling nation.
If you or anyone you know is in emotional distress, please contact the Samaritans of Thailand 24-hour hotline: 02 713 6791 (English), 02 713 6793 (Thai) or the Thai Mental Health Hotline at 1323 (Thai).
SOURCE: The Telegraph
Want more from the Thaiger family?
📱 Download our app on Android or iOS for instant updates on your mobile
📧 Subscribe to our daily email newsletter
👍 Like/Follow us on Facebook
🔔 Subscribe to or Join our YouTube channel for daily video updates
Top 5 classes to take in Thailand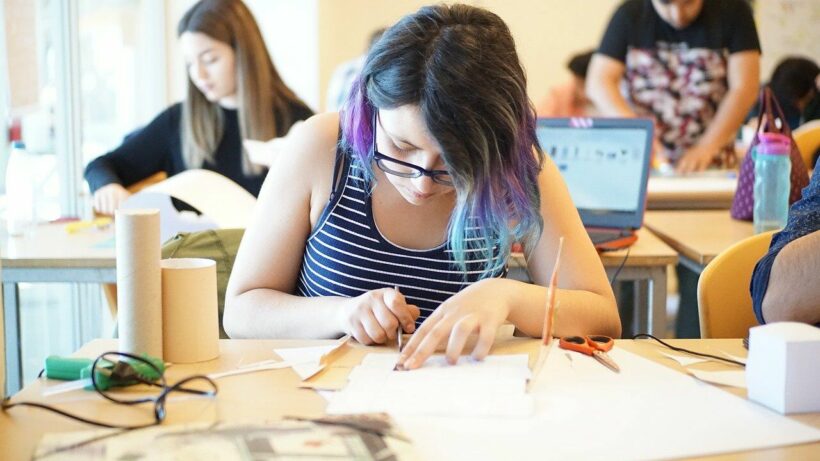 Looking for great classes to take in Thailand for 2021? Then you've come to the right place!
Thailand is one of the most popular tourist and expat destinations in the world, and it's easy to see why. It is known for its beautiful beaches, gleaming temples, delectable cuisine, and natural beauty. It boasts stunning beaches, gleaming temples, delicious food, and natural beauty. The country, undoubtedly, is the go-to place for everyone who wants to enjoy a tropical holiday or have a relaxing lifestyle. Travelling or living in Thailand is also an excellent opportunity to learn new skills and get a closer look at the country's culture. In fact, the country is teeming with classes you can take to get a taste of the real Thailand or to simply acquire a new skill.
Besides learning more about Thailand, many people also take classes for the sole purpose of obtaining a Non-Immigrant O Visa (ED) or Education Visa. This type of visa allows them to stay in the country long term, but they need to study or participate in the training of some kind. However, with so many courses and schools to choose from, it can be difficult to pick the best one. That's why we've compiled a list of the top 5 best classes you can take in Thailand.
5 Best Classes to Take In Thailand
Whether you want to be productive during your stay in Thailand or you simply want to take classes to obtain an ED visa, let's take a look at our pick of the top five classes to take in Thailand.
1. Duke Language School – Learn the Thai Language
The first class on our list is Thai language class because there's no better way to understand Thai people and their culture than learning the language. If you're determined to improve your Thai language skills, make sure you learn from the best. Based on our research, Duke Language School is one of the top Thai language schools. Even during this Covid-19 pandemic, their classes often sold out!
Located in Bangkok, Duke makes learning Thai fun, interesting, and engaging. The teachers are highly trained and will teach you in an enjoyable and interactive way, so you'll never get bored in class. Their learning process is broken down into 9 modules, which depend on your level of Thai. Each module lasts 4 weeks.
Instead of adopting the typical 90 minutes, once-a-week format, this language school has a different timetable. With Duke Language School, you'll learn Thai 5 days a week, from Monday to Friday, for 3 hours per day in the morning or afternoon. Alternatively, you can also choose to have night and weekend classes, with slightly different timetables, but still as extensive. If you need a more flexible schedule, you can also enroll in their private lessons.
Duke Language School offers Education Visa packages. By enrolling in their 8-month or 14-month program, you will obtain Education Visa.
Pricing:
INTENSIVE GROUP LESSONS – ฿8,000 per course (60 hours of class).
PRIVATE LESSONS – ฿600 per hour (2 hours per session), with no minimum booking.
Address: 10/63, Trendy Building, 3rd floor, Sukhumvit Soi 13, Wattana, Bangkok 10110. 5 minutes walk from Nana BTS station.
Contact Info: info@dukelanguage.com / +66 2-168-7274 / +66 8-2444-1595
Website: dukelanguage.com
2. Tiger Muay Thai and MMA – Learn Martial Arts
Muay Thai, also known as Thai Boxing, is Thailand's national sport and cultural martial art. It is the most famous form of boxing in the Land of Smiles.
There are numerous gyms and schools around Thailand offering Muay Thai. However, one of the most famous is Tiger Muay Thai & Mixed Martial Arts. In this Muay Thai school, you can learn how to transform your body into a lethal weapon as a way to protect yourself and to box in the ring. You will be taught numerous techniques to utilize your arms, legs, shins, elbows, and knees as a way to box. Most certainly, you will train and fight with some of the most experienced Muay Thai Trainers.
The Muay Thai training in Tiger Muay Thai & Mixed Martial Arts is divided into 3 levels: Beginners, Intermediate, and Advanced. In addition to Muay Thai Training, you can also combine the classes with Mixed Martial Arts (MMA) Training to further hone your skills. If you prefer to have private lessons, then you can consider their 1-on-1 Muay Thai Privates.
If you're looking for Muay Thai and ED visa packages, Tiger Muay Thai & Mixed Martial Arts offers courses for 6 months and 12 months. Each option includes the ED visa and immigration extension fees.
Pricing:
MUAY THAI TRAINING – ฿3,900 (1 week), ฿12,500 (1 Month), ฿32,500 (3 months).
1-ON-1 MUAY THAI PRIVATES – ฿700 (1 session), ฿6,500 (10 sessions).
Address: 7/35 Moo 5, Soi Ta-iad, Ao Chalong, Muang, Phuket 83130.
Contact Info: info@tigermuaythai.com / +66 (0)76 367 071
Website: www.tigermuaythai.com
3. Hua Hin Thai Cooking Academy – Learn How to Cook Thai Dishes
Thai cooking classes have become a staple for those visiting Thailand. Various culinary schools can be found all around the country, and Hua Hin Thai Cooking Academy is among the best. They tailor their menus and styles to cater to all dietary needs. Therefore, vegans, vegetarians, and picky eaters can all take part and have fun here.
The professional, English-speaking Thai chef in Hua Hin Thai Cooking Academy will teach you authentic Thai cooking in enjoyable and easy-to-follow ways. First, the chef will demonstrate how to make each dish. Then, you will have the opportunity to duplicate the dish with their help. Each class usually includes 5 – 10 dishes. The best thing is, you have the freedom to pick the dishes you want to learn. After each class, you can enjoy what you cook and get a taste of authentic Thai food.
Hua Hin Thai Cooking Academy offers half-day and full-day classes. They also provide a 90-day student visa cooking program. This program allows you to complete the 4 weeks, 6 weeks, and 7 weeks Advanced Cooking Course.
Pricing:
REGULAR COOKING CLASS – ฿1,300 (half-day class) and ฿2,200 (full-day class).
1-ON-1 PRIVATE CLASS – ฿2,650 per 4 hour class for 1st student, ฿1,550 for each additional student.
Address: 210/4 Phetkasem Road, Soi 82, Hua Hin 77110.
Contact Info: Ron@HuaHinThaiCookingAcademy.com / +66 86 004 0839 (domestic calls) / +66 860-040-839 (international calls)
Website: huahinthaicookingacademy.com
4. rumPUREE Dance Studio – Learn Thai Dance
Want to dance like a Thai? Learn how at rumPUREE Dance Studio. Established in 2006, rumPUREE means "City of Dances," which comes from "Rum" (Thai word for "dances") and "Puree" (Sanskrit word for "city"). At this dance studio, you can learn all about Thai dance while improving your posture and balance. You may even be able to reduce stress by learning the dances.
There are several levels of dances in rumPUREE Dance Studio, starting from introduction to advanced level. There is also an "All Level" class, which is open to everyone with or without previous dance experience. With the all-level class, the dance instructor will adjust the lesson to fit the participants.
In addition to Thai dances, rumPUREE Dance Studio also offer classes for numerous world dances. You can choose to take part in pole dancing, belly dancing, Tango, Hip Hop, and even Bollywood dances.
Pricing:
FIRST TIMER – ฿400 per 1 hour and ฿600 per 1.5 hours.
PAY PER VISIT – ฿650 per 1 hour and ฿900 per 1.5 hours.
1 WEEK – ฿1,500 for 1 hour.
1.5 MONTHS – ฿3,000 for 6 hours.
3 MONTHS – starting from ฿5,000 for 10 hours.
Address:
ASOK – 2nd Fl, Jasmine City Bldg., Sukhumvit 23 Alley, Khlong Toei, Watthana, Bangkok 10110. BTS Asok (Exit 6), MRT Sukhumvit.
SAMYAN – Samyan Mitrtown 3rd floor, 944 Rama IV Rd, Wang Mai, Pathumwan,
Bangkok 10330.
Contact Info: +66 92-204-9677 (ASOK) / +66 92-204-9655 (SAMYAN)
Website: www.rumpuree.com
5. The Thai Massage School of Chiang Mai (TMC) – Learn Thai Massage
Although sometimes painful, Traditional Thai Massage can induce comfort and does wonders for your nervous system. Therefore, taking Thai Massage classes is an excellent opportunity while you're staying in Thailand.
The Thai Massage School of Chiang Mai, also known as TMC, is a very well-known Thai massage school in Thailand. Founded in 2001, this Thai massage school offers a wide range of Thai Traditional Massage classes. They also have a teacher training program.
The courses at TMC Thailand ranges from short courses (30 hours) up to comprehensive courses (150 hours). If you prefer to take part in shorter classes, you can choose to learn chair massage, foot reflexology, table massage, and more. Each course in this Thai massage school is taught by high-quality teachers.
Pricing:
SHORT COURSES (LEVEL 1-2-3) – ฿8,500 (30 hours – 5 days).
COMPREHENSIVE COURSES (COMBINATION OF LEVEL 1-2-3 COURSES) – ฿25,500 (9 hours – 15 days).
THAI FOOT REFLEXOLOGY – ฿6,900 (12 hours – 2 days).
THAI TABLE MASSAGE – ฿7,500 (12 hours – 2 days).
BASIC THAI MASSAGE – ฿7,500 (18 hours – 3 days).
Address: 203/6 MAE JO ROAD (Across Ruam Choke Market), Moo 6, T.Faham, Chiang Mai 50000.
Contact Info: +66 53-854330 – +66 53-854331 (domestic calls) / +66 53-854330 – +66 53-854331 (international calls) / info@tmcschool.com.
Website: www.tmcschool.com
We hope that this list of top classes you can take in Thailand motivates you to challenge yourself to learn new skills!
Want more from the Thaiger family?
📱 Download our app on Android or iOS for instant updates on your mobile
📧 Subscribe to our daily email newsletter
👍 Like/Follow us on Facebook
🔔 Subscribe to or Join our YouTube channel for daily video updates
Thaiger app sending you too many notifications? Quick fix here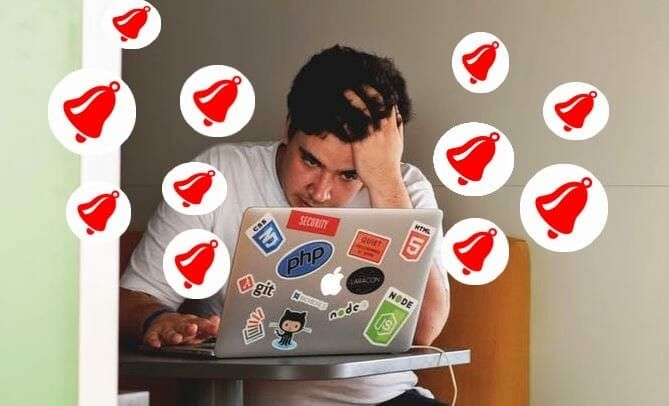 We all hate it when our phone buzzes and the endorphins start firing, only for the excitement to be crushed as you realise it's just a notification for an article about Tuk Tuk drivers having a fight somewhere off the Sukhumvit Road! Too many notifications can be really frustrating, which is why The Thaiger App lets you specify exactly what notifications you want to receive and what ones you don't. All you need to do is find the Settings button in the bottom-right of the screen, click that, and set up your notifications – all done in less than 5 seconds.
Only want notifications for the latest Covid-19 updates? Toggle all others off and leave Coronavirus (Covid-19) on.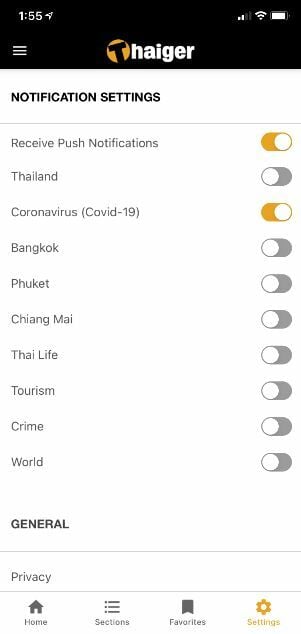 Don't want to receive any notifications from The Thaiger App? Easy, just toggle the Recieve Push Notifications option off, and you won't get any.
A Work in Progress
The Thaiger App very much remains a work in progress as we fix issues and improve features, so please bear with us and do let us know if you ever encounter any problems. Some, we're aware of and currently in the process of fixing, such as the Android issue where some headlines link to the wrong article – this is almost fixed.
We'll always welcome your feedback, whether something's broken and not working as expected, or it's something you think we should include that we don't currently have. Just remember though, our sole intention for the app is to deliver the news to your mobile phone in a cleaner, more convenient way. We're not quite ready to implement any groundbreaking tech enhancements just yet!
To send your feedback, stay on the Settings page and scroll down a little, there you'll see an option that says Send feedback on the app, click and it'll open an email window (assuming you have email on your phone). Here you can tell us what you think.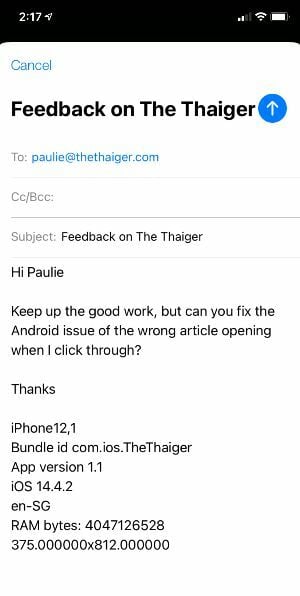 We hope you found this article helpful and we really appreciate your support and your patience! If you haven't downloaded our mobile app yet, you'll find the links below for iOS and Android.
Want more from the Thaiger family?
📱 Download our app on Android or iOS for instant updates on your mobile
📧 Subscribe to our daily email newsletter
👍 Like/Follow us on Facebook
🔔 Subscribe to or Join our YouTube channel for daily video updates