How will 'Chindia' change Phuket's tourism future?'
What exactly is this Chindia?  In a nutshell it's a flash drive marketplace with 1/3 of the world's population – China and India.
For a great number of Phuket hoteliers, the first half of 2018 saw marketplace velocity, where RevPAR's rose on surging demand, and the most often heard comment was the ignominious 'same same'. Though room rate growth was not there, volume ruled the day.
Next came, what is referred to on the Mainland as the 'boat sinking' and suddenly the monsoon gloom thrust the blazing sun into a dark room, way out back. Chinese numbers sunk, airlift declined and online chatter in China denounced not only Phuket but cast a broader shadow on Brand Thailand.
The traditional concept that the mojo of Thai teflon would result in only a slight momentary blip turned out to be erroneous. While the fallout from the incident has lessened, there remains a strongly demonstrated downward shift in Mainland Chinese tourists to both Phuket and Thailand.
What is clear is that there can be no separation in negative sentiment between Phuket and the larger Thai brand. Essentially both get a collective emoji award with an 'un-smiley' face.
Another negative has been the depreciation of the Mainland Chinese currency, the yuan. While most of the damage has been done over the past 4 years, this year has seen further erosion, as the Thai baht has remained strong.
Hoteliers staring into the looking glass of the fast approaching 2019 are increasingly being fixated by the magnetic attraction of Chindia. What exactly is this Chindia?  In a nutshell it's a flash drive marketplace with 1/3 of the world's population – China and India.
What's most attractive is door-to-door average flying time to major gateways in both countries of 4 to 5 and a half hours. Over the years I have been asked the question "what is the secret of Phuket's success?" A great deal of it actually has to do with geography.
Geography has a lot to do with accidental tourism. One can look back to 1967 and the ensuring decade when Thai Airways was instrumental in opening up broad access to Bali which was a connector from Bangkok, and fitting into the Sydney to London route as key access points. In those days, the constraints of long-haul flights made the refueling stop necessary but fast forward to the present and the emergence of single body dominated low-cost airlines fits like a glove into the Phuket Chindia equation. Yes history buffs, Thailand's flag carrier was a key enabler of early stage Bali hotel growth.
There is little doubt that Indian tourism holds great promise for Phuket. Geography helps, as does the depth of the islands tourism sector to cater to marque events like Indian weddings. Looking into the numbers is enlightening, as there are two significant events on the island which are both valued in excess of US$10 million in spend.
Leading the change has been India's GoAir who launched direct flights between Phuket and New Delhi as well as Mumbai in October. Next month Bengaluru will be added. Will other Indian carriers such a IndiGo or Jet Airways follow, or will AirAsia join the fray? It's clearly only a matter of time.
Just last week, I was talking about STR hotel performance data on Phuket in October, and the fact is year-on-year performance remains 'constrained' or in straight talk -broad business is down. Inside the numbers some hotels have held traction but in the big picture, the loss  is evident event to the blindsided types out there.
The China situation has been hurtful. And though it's comforting to see Russian travelers at Phuket International Airport lugging pink and blue plastic buckets of mangos around, the reality is the island's tourism market is a year-round proposition and relying on snowbirds alone won't cut it.
We live in an industry that flirts with the thin line between love and hate. The Chinese came, they were loved, then hated and now truly missed. With India, the play is cautious optimism, but the mounting importance of a solid Chindia strategy is the most prolific question facing island hotels now and in the coming year.


Looking to jettison some items before jetsetting away or chartering a yacht? Look no further than Thaiger Classifieds where you can find and post items, work, property and more for free. Be sure to check out YonderTours for things to do in Thailand and tours across the country.

Read more headlines, reports & breaking news in Phuket. Or catch up on your Thailand news.
"Racial profiling and xenophobic" – a rant against Dual Pricing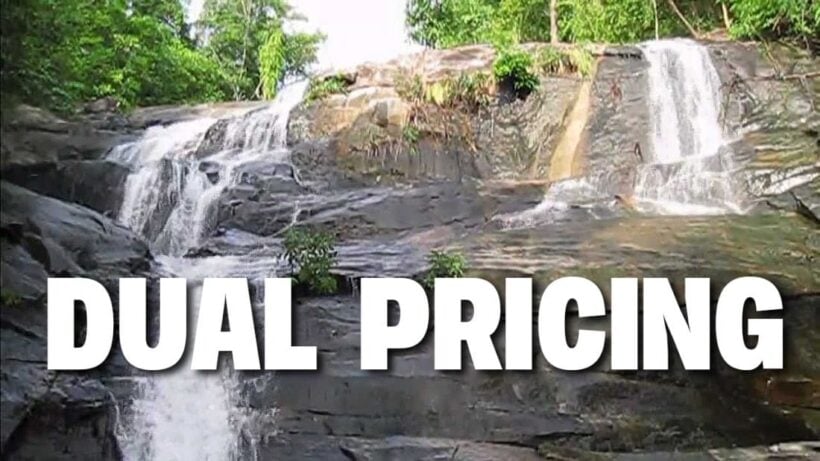 The rules are applied in a lumpy fashion at various tourist hot spots around the country as well as some national parks. Sometimes it's applied, sometimes, not, sometimes there are signs, sometime they make it up as they go, sometimes they will allow local expats in for the Thai price.
There are dual-pricing apologists who say 'Hey, it's cheap anyway, so pay up and shut up'. Whilst dual-pricing whiners say it's unfair, racist and shows a lack of grace towards tourists and foreigners.
Here's the story from 'Despondant Foreigner'. You can have your say on the post at our Facebook page…
"I would like to share my story with you that happened to me this morning. I visited Promlok waterfall in Nakhon Si Thammaratt with my Thai wife, child and wife's family. Upon arrival two soldiers approached our car and my wife began talking to them. They explained to her that as today is Songkran all Thai's get to go to the waterfalls free of charge but I had to pay. Then a woman dressed in yellow approached the car who confirmed what the soldiers said and told my wife that this is a new law. Well we were all disgusted and proceeded to drive back down to the bottom of the waterfall where we could all swim for free.
I am absolutely disgusted by this. Yet another example of Thailand's racial profiling and xenophobia towards foreigners. The fact that I am married and have children here doesn't make a difference. Because I have white skin I must pay the fee whilst all Thais go in free."
SOURCE: ThaiVisa
Fox News fake news, Phuket gets a bullet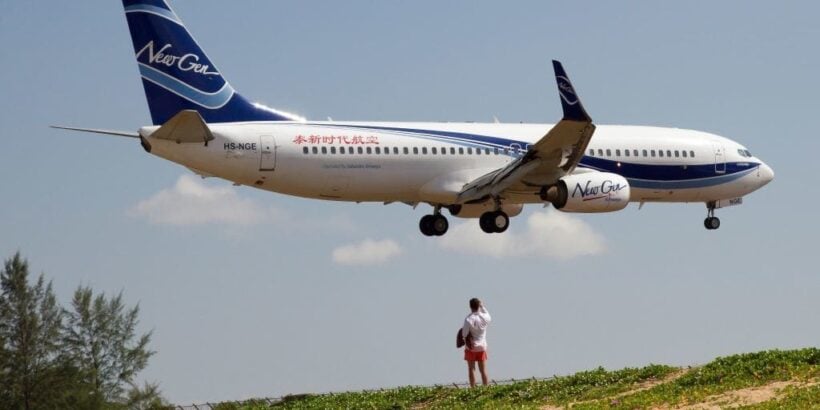 by Bill Barnett, C9Hotelworks.com
As Phuket moves slowly into low season, a story published in the international media by the US-based Fox News about how tourists could face the death penalty over taking photos at the island's airport is a highly flaw piece of sensationalist fake news.
Clearly there is no likelihood that the Thai authorities will apply a legal maximum penalty under the Air Navigation Act for tourists posing for selfies as airplanes land. More likely would be a  charge of trespassing and a fine.
Clicking into Google this morning the story is now running with the New York Post, MSN and other news outlets abroad.
What is distressing is to see how news providers sensationalize Thailand and Phuket with little regard as to the consequences of the economic impact of such a story.
For most readers, what they will remember when reading such a piece is only the headline about Phuket, Mai Khao Beach and the death penalty.
What a sorry state of affairs mainstream news has become.
To read the Fox News article clock HERE.
Is Thanathorn the new Thaksin? Will the 'establishment' tolerate his new political vision?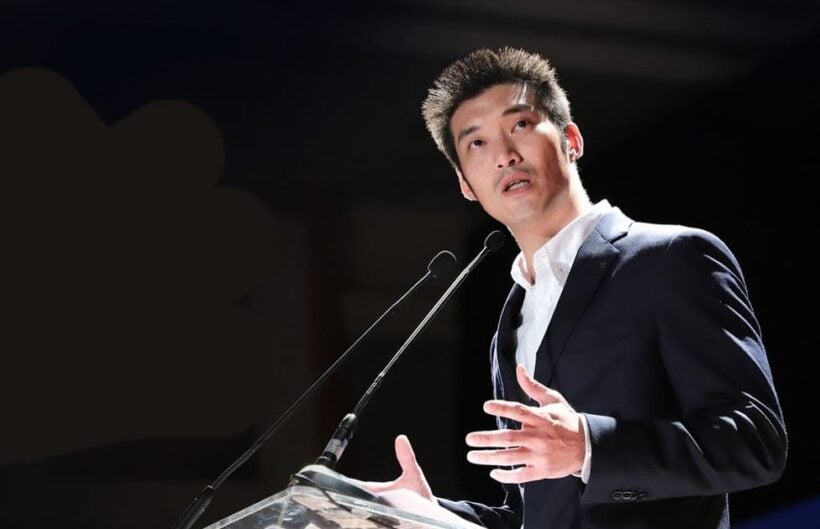 Is Future Forward Party leader Thanathorn Juangroongruangkit a popular fad or does he, and his party, have the staying power to make him a sustainable threat to the entrenched Thai political elite?
Many analysts are comparing Thanathorn to Thaksin in his early days. They say there are clear similarities. First off, Thanathorn is facing the kind of legal trouble that Thaksin faced when Thailand's political crisis started to brew.
After becoming Thailand's PM, Thaksin faced a share transfer scandal in which he moved his company shares to poor servants, allegedly to avoid stock market restrictions imposed on people owning big lots of stocks. Now, 40 year old Thanathorn is facing a legal controversy over his previous ownership of media shares, which could still doom his election candidacy.
The allegations are yet to be considered by the Election Commission.
Thaksin, in spite of repeated denials, was always alleged to have controversial political ambitions. Thanathorn, meanwhile, is seen in an increasingly similar situation. The list of complaints is growing, many to do with his perceived unorthodox ideology that contrasts with the conservative political 'Thainess' that includes non-negotiable support for the Army and Monarchy.
Thanathorn has been criticised for something he said about the Khana Ratsadon Party, which played an instrumental role in changing Thailand's system from absolute monarchy to constitutional monarchy in 1932. The secretary-general of Thanathorn's party has also been forced to deny making highly-controversial comments about Thailand's political culture.
Future Forward did very well on March 24, surpassing pundits' predictions for the new party. Analysts say the success is due to three main factors — Thanathorn's youthful image that attracted the majority of first-time voters, the dissolution of the Thai Raksa Chart Party that shifted a lot of votes to Future Forward, and the new party's fresh ideology and perspectives.
He, and the party, attracted a lot of newer voters along with a core of disaffected voters who are looking for change.
But Thanathorn's looming legal trouble is described as a potential banana skin. It concerns a large number of shares he had in a media company, which were transferred to his mother so that he could qualify as an election candidate.
One apparently-private document, which he is relying on, showed he transferred the V-Luck Media Company shares on January 8, before he applied for election candidacy. Another document, which his accusers are relying on, apparently showed the transfer was brought to the authorities' attention after he became an election candidate.
Controversy continues to build around the young billionaire and chances are it will grow.
SOURCES: Thai PBS | The Thaiger