Hospitalised British backpacker to fly home on Christmas Day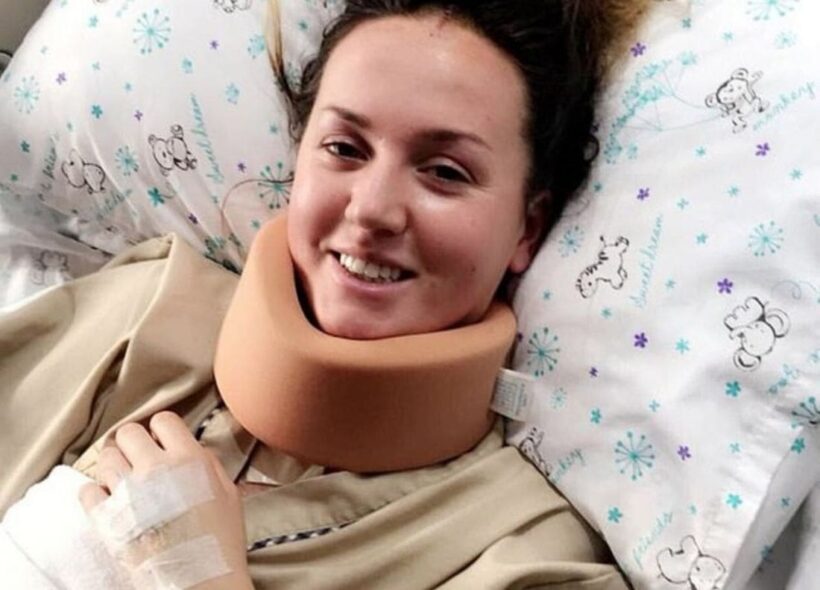 by Miranda Aldersley – Mail Online
The British backpacker who broke her neck jumping into a pool in Thailand is to fly home on Christmas Day after well-wishers raised £65,000 (2.678 million baht) towards her treatment and travel.
24 year old Sophie Wilson from Leicestershire, damaged two vertebrae diving into the shallow end of her hotel pool on December 1. Her accident prompting a worldwide fundraising effort to help pay her hospital bills and fly her home.
Read the original Thaiger report HERE.
She broke her neck in two places and is unable to use her legs after diving into a pool Shortly before midnight on December 25, Sophie will be boarded onto a plane on a stretcher with three Thai medics and her parents to make the 13-hour flight from Chiang Mai to Heathrow.
There, an ambulance will meet the plane on the tarmac and she will be taken to Queens Medical Centre in Nottingham where she will be assessed for further treatment.
Her mother Jane says: "We're all looking forward to getting back now and settling down to some kind of normality. It won't be normal life for a while and she won't be going home straight away but we've got the flight arranged now, at least."
Sophie has said the situation is heartbreaking and she had previously led a very active life style
The funds were raised on the family's GoFundMe page, which will help cover the hospital costs, as well as the price of the flights for the family, and the three medical staff, who will have to be flown back to Thailand.
"The hospital is letting us leave without paying because we have to come home to get access to the money that's been raised.
"It's looking like the total cost will be about £91,000, including £37,500 on flights to come home and send the three medics back again.
"We've been waiting for the British Embassy to get us visas for the three medics to enter the UK, which seemed to take quite a while.
Sophie is still unable to walk and Jane said her daughter was 'having ups and downs' as she dealt with the impact of the injury on her life.
Sophie had been just one week into a six-month backpacking tour of Asia when she misjudged the depth of a swimming pool. She underwent 10 hours of surgery to try to correct the damage and in recent days has been undergoing physiotherapy to ensure she is fit enough to fly.
Sophie's insurers, Insure and Go, would not cover the cost to fly her home with the medical care she needs.
SOURCE: The Mail Online

Keep in contact with The Thaiger by following our
Facebook page
.
Burma or Myanmar? Myanmarese or Burmese?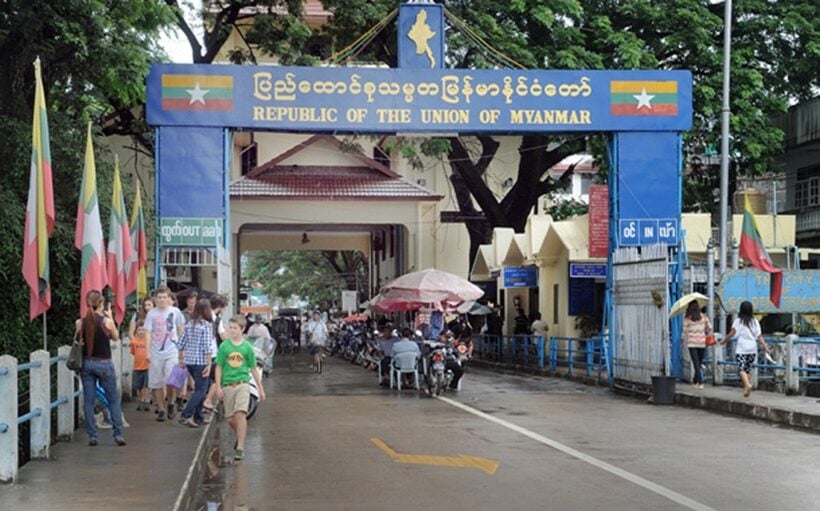 We refer to Myanmar a lot in our news because it's a bordering foreign country to Thailand and many people from Myanmar work in and around Thailand.
But is it Myanmar or Burma, and are the people that live there Myanmarese or Burmese?
As you'll read across the media there is no precise answer to the question with foreign powers still referring to the country with its two names although, officially, since 1989, the ruling party changed the country's name to Myanmar. But even in Myanmar locals continue to use both names.
"The ruling military junta changed its name from Burma to Myanmar in 1989, a year after thousands were killed in the suppression of a popular uprising. Rangoon also became Yangon."
At The Thaiger we've decided to refer to the country as 'Myanmar' and the people as 'Burmese'. Reading 'a man from Myanmar' is a lot more cumbersome than 'a Burmese man'. But for the country we're following the trend of most regional media using the official name Myanmar. Even the people living there continue to refer to themselves as Burmese.
Other publications have taken different decisions and that's fine too. Here's some information from The Culture Trip which provides a bit of background as to why our neighbouring country to the west lives on with two names and plenty of confusion.
Inside Asia Tours also has their own take on the name situation.
Keep in contact with The Thaiger by following our
Facebook page
.
Thousands of people have been travelling between provinces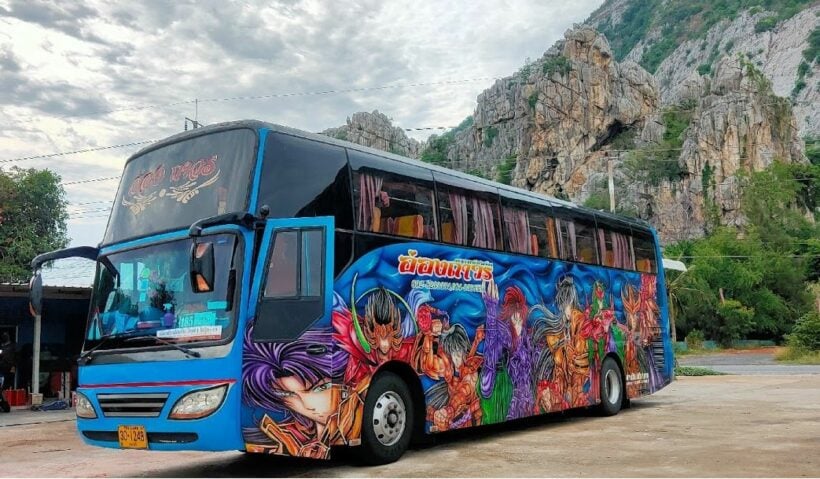 … but not quite as many as before, so far. The Director General of the Department of Land Transport says that more people have been using the inter-provincial buses services after the government recently easing Thailands' lock down situation.
He says…
"Although some long distance services are still not in operation to comply with the night time curfew, many inter-provincial routes of around 300 kilometres are open and have seen many commuters."
"The department will gradually add buses to facilitate increased use and maintain social distancing."
The department has announced that there were just under a million passengers per day using public buses running between Bangkok and nearby provinces from March 1-25, (the period before the State of Emergency).
141,240 passengers per day taking buses between the capital and other provinces,
9,128 using buses between provinces,
2,379 using buses within a province.
Reports have revealed that after the emergency was effective across the nation from March 26 to May 1, there was a decrease in the number of passengers with 472,210 passengers per day travelling from Bangkok to surrounding provinces, 4,090 from the capital to other provinces, 5,612 on inter-provincial routes and 2,156 passengers between provinces.
After the lockdown was eased on May 2 up to today, the number of passengers has increased to 508,490 per day travelling from Bangkok to surrounding provinces, 6,000 from Bangkok to other provinces, 9,020 on inter-provincial routes and 4,020 passengers between provinces.
SOURCE: Nation Thailand
Keep in contact with The Thaiger by following our
Facebook page
.
Thai Airways files for bankruptcy protection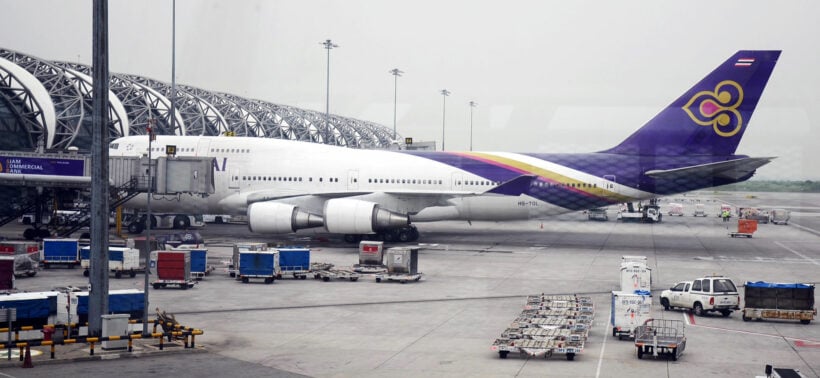 Despite Thai Airways issuing a press statement and taking to social media to deny rumours it intends to file for bankruptcy, various media reports appear to confirm the struggling carrier will file for Chapter 3/1 of the Corporate Reorganisation section of the Bankruptcy Act. This is the Thai equivalent of Chapter 11 bankruptcy in the US.
TTR Weekly reports that the government has confirmed the national carrier will initiate restructuring steps in a bankruptcy court. This will involve a restructuring petition being filed by either the airline itself, a government agency, or creditors who are owed more than 10 million baht. Once the restructuring application has been approved, it means Thai Airways is protected from creditors taking legal action to recover payment. It's understood the Thai government has been planning to tender a lifeline of over 58 billion baht in a combination of loans and direct cash to the ailing carrier.
According to a Reuters report, government spokeswoman Narumon Pinyosinwat has confirmed the plan, saying the airline is expected to file for bankruptcy tomorrow.
"The State-Enterprise Planning Office agreed in principle for the rehabilitation of Thai Airways in court. The procedure will be submitted to cabinet today (Tuesday)."
As recently as last night the airline has been denying the bankruptcy rumours, insisting a plan for reform submitted to the board was approved and would shortly be presented to Cabinet for approval.
"The plan will soon be presented to the Cabinet for further action. The Board of Directors made no resolution to file for bankruptcy as appeared in the news. Thai Airways again denies the bankruptcy rumours."
It was also forced to refute long-standing rumours that all directors of the board, both past and present, along with their family members, are entitled to free first-class tickets for life.
"Thai Airways staff are not eligible for seven free tickets per year as claimed, and the Board members do not get free first-class tickets. Airline staff have the same basic welfare rights and travel incentives as normally provided by airlines around the world."
SOURCE: TTR Weekly | Reuters
Keep in contact with The Thaiger by following our
Facebook page
.