Hospitalised British backpacker to fly home on Christmas Day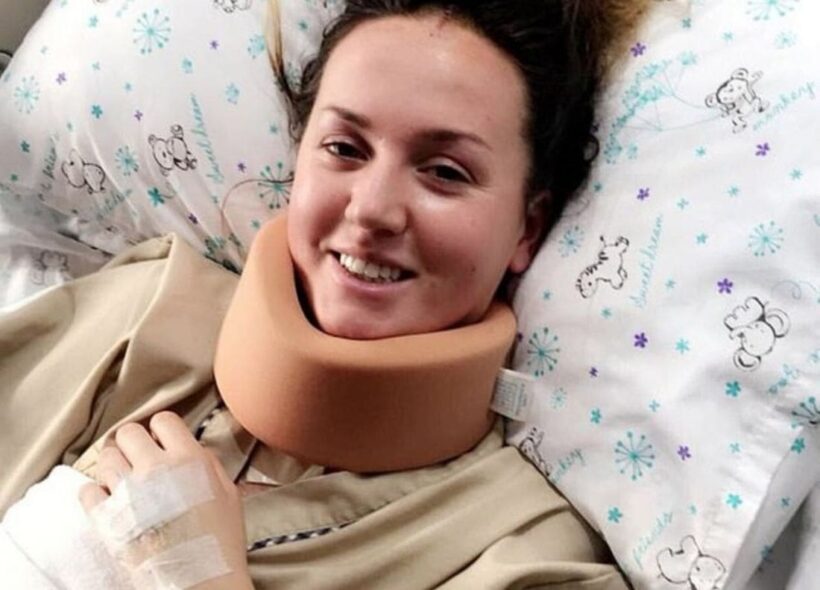 by Miranda Aldersley – Mail Online
The British backpacker who broke her neck jumping into a pool in Thailand is to fly home on Christmas Day after well-wishers raised £65,000 (2.678 million baht) towards her treatment and travel.
24 year old Sophie Wilson from Leicestershire, damaged two vertebrae diving into the shallow end of her hotel pool on December 1. Her accident prompting a worldwide fundraising effort to help pay her hospital bills and fly her home.
Read the original Thaiger report HERE.
She broke her neck in two places and is unable to use her legs after diving into a pool Shortly before midnight on December 25, Sophie will be boarded onto a plane on a stretcher with three Thai medics and her parents to make the 13-hour flight from Chiang Mai to Heathrow.
There, an ambulance will meet the plane on the tarmac and she will be taken to Queens Medical Centre in Nottingham where she will be assessed for further treatment.
Her mother Jane says: "We're all looking forward to getting back now and settling down to some kind of normality. It won't be normal life for a while and she won't be going home straight away but we've got the flight arranged now, at least."
Sophie has said the situation is heartbreaking and she had previously led a very active life style
The funds were raised on the family's GoFundMe page, which will help cover the hospital costs, as well as the price of the flights for the family, and the three medical staff, who will have to be flown back to Thailand.
"The hospital is letting us leave without paying because we have to come home to get access to the money that's been raised.
"It's looking like the total cost will be about £91,000, including £37,500 on flights to come home and send the three medics back again.
"We've been waiting for the British Embassy to get us visas for the three medics to enter the UK, which seemed to take quite a while.
Sophie is still unable to walk and Jane said her daughter was 'having ups and downs' as she dealt with the impact of the injury on her life.
Sophie had been just one week into a six-month backpacking tour of Asia when she misjudged the depth of a swimming pool. She underwent 10 hours of surgery to try to correct the damage and in recent days has been undergoing physiotherapy to ensure she is fit enough to fly.
Sophie's insurers, Insure and Go, would not cover the cost to fly her home with the medical care she needs.
SOURCE: The Mail Online

Keep in contact with The Thaiger by following our
Facebook page
.


Looking to jettison some items before jetsetting away or chartering a yacht? Look no further than Thaiger Classifieds where you can find and post items, work, property and more for free. Be sure to check out YonderTours for things to do in Thailand and tours across the country.

More than four million guests stayed in an Airbnb on August 10, 2019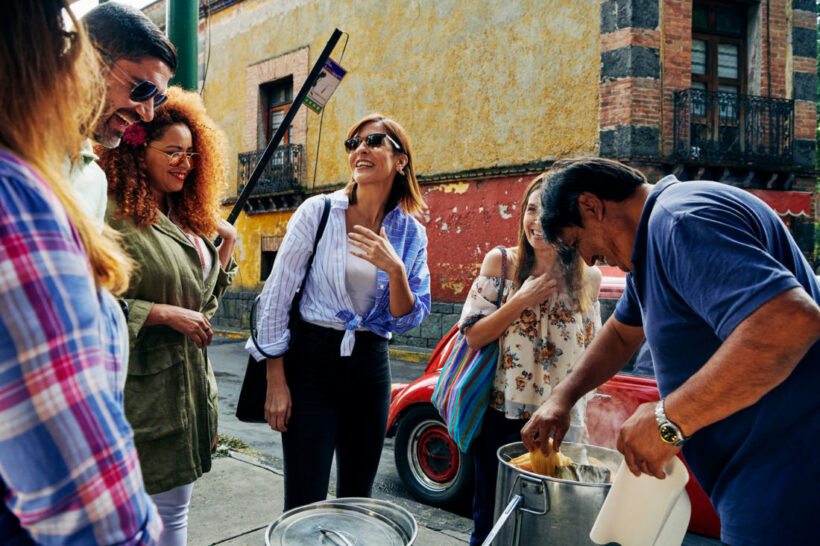 "Airbnb has created an opportunity to meet people from all around the world." – Pim, an Airbnb Host in Thailand
Exactly 11 years since Airbnb was founded, the home-sharing hospitality company and 'accommodation disrupters' celebrated its biggest night ever, with more than 4 million people spending the night in an Airbnb listing on August 10, 2019.
To date, there has been more than half a billion guest arrivals at unique homes and properties all over the world since the company was founded in August 2008.
To work towards bringing the world closer, Airbnb has created the Airbnb Connection Index, which reflects the pairings of countries and regions between hosts and guests. For example, when a guest from Thailand becomes the first to stay with a host in Iceland, a new connection is made. In return, when an Icelandic guest becomes the first to stay with a host in Thailand, another new connection is made.
In 2010, the Airbnb platform had facilitated more than 1,300 connections. By 2015, that number had increased to more than 16,500.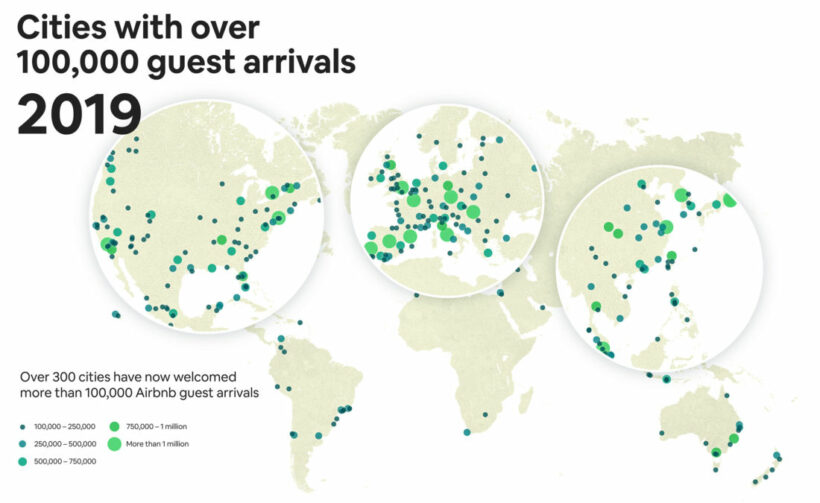 Today, approximately 26,000 connections have been made via the Airbnb platform, and by the end of 2019 more than 30,013 connections are expected to be made as the platform grows even further.
With the current presence of the Airbnb platform in 245 countries and regions, it is mathematically possible for there to be 60,025 place-to-place connections. By the year 2027, Airbnb predicts that there will be in excess of 50,000 connections.
As outlined in a recent report, much of Airbnb's fastest growth is occurring in emerging destinations, propelled by a rising demand for travel to places across Asia Pacific, Africa, and Latin America.
Pim, an Airbnb Host in Thailand, shared, "Airbnb has created an opportunity to meet people from all around the world. It makes me understand that different cultures can live together. We can be happy, we can share, we can have good memories together no matter where you come from."
Keep in contact with The Thaiger by following our
Facebook page
.
Some Mac Book Pros banned on Thai Airways flights to the EU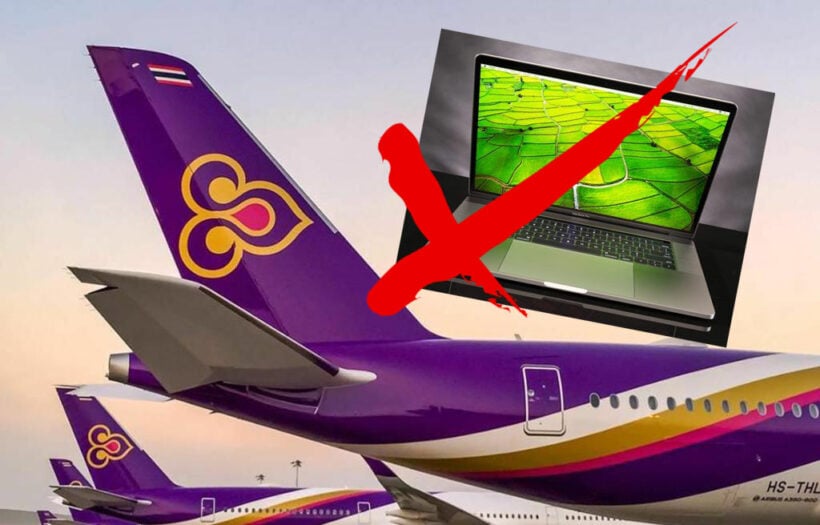 Thai Airways is telling passengers travelling on their fleet that some Apple MacBook Pro notebooks, distributed between 2015 to 2017, won't be allowed on flights to and from EU countries.
According to the Bangkok Post, the vice president of Thai Airways' aviation safety department, Flt Lt Prathana Pattanasiri, claims the flag carrier is banning MacBook Pro 15-inch notebooks purchased between September 2015 and February 2017 on their fleet.
"The notebooks won't be allowed on, either as carry-on or checked luggage."
The ban on Thai Airways follows an official announcement from the European Aviation Safety Agency to ban the Apple laptop model on all fights to and from the EU "for aircraft safety".
The 15-inch Apple MacBook Pro notebooks sold between September 2015 and February 2017 are being recalled to change the battery.
SOURCE: Bangkok Post
Keep in contact with The Thaiger by following our
Facebook page
.
Singapore aims for paper-less border arrival by 2021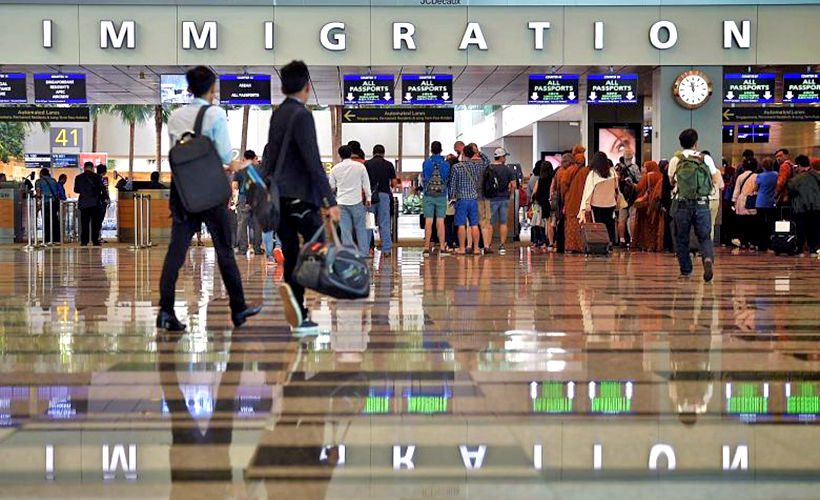 Singapore is extending its SG Arrival Card trial that will allow visitors to submit an electronic arrival card in advance to speed up processing at border checkpoints
The Immigration & Checkpoints Authority has announced the beta trial of the SG Arrival Card project last week. The trial has been ongoing since last year and will phase out the paper arrivals card for a more efficient e-arrival process. The plan is to phase out the paper arrival system by 2021 by eventually extending the electronic arrival card system to all travellers.
The announcement says foreign visitors travelling with "selected transport operators" can now submit the electronic arrival card up to 14 days ahead of their arrival in Singapore. Singapore's Today news service identified the selected transport operators that are participating in the beta trial version.
Airlines
AirAsia, Jetstar Asia, Cathay Pacific and Singapore Airlines
Bus
Transtar Travel
Ferries
BatamFast Ferries, Bintan Resort Ferries, Horizon Fast Ferry and Majestic Fast Ferry
This means that they will only need to produce their passports for immigration clearance upon arrival, as ICA's immigration system will already have the electronic arrival cards, which they submitted in advance.
The SG Arrival Card e-Service and Mobile Application is available as an e-Service at the ICA's website HERE.
It can also be downloaded as a free mobile application from Apple App Store and Google Play.
Users of the mobile application will have the option of scanning their passport biodata pages and enjoy the convenience of not needing to key in the information manually. The mobile application will also save previously submitted information for use on subsequent trips to Singapore.
SOURCE: ICA and Today
Keep in contact with The Thaiger by following our
Facebook page
.