Top International Schools in Sukhumvit – and what is unique about them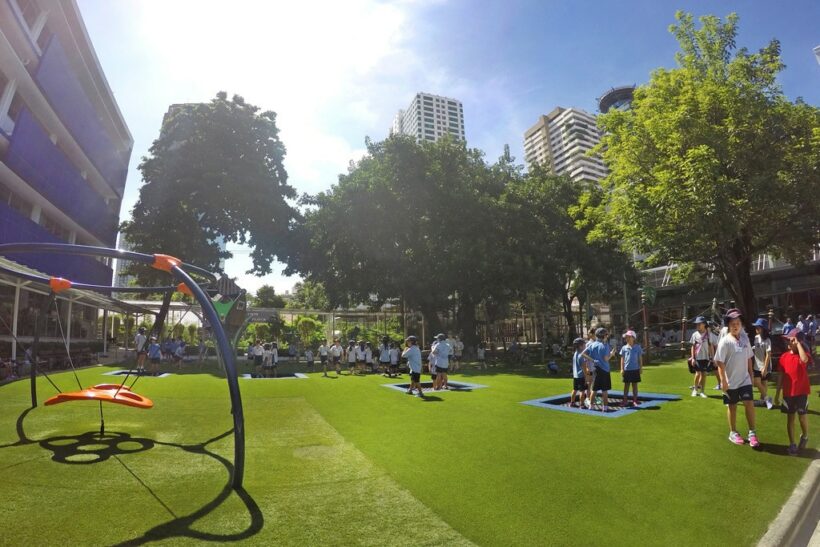 by Daniel Lummis
There are numerous challenges to be faced when living in a country with a culture very different to your own but perhaps the most difficult, for parents at any rate, is that of choosing a school in which your children will thrive and receive a first-class education.
Bangkok is home to many excellent international schools but facilities, curricula and educational philosophies may vary significantly from one establishment to the next, making selecting the right one a tough task for expatriates living in the city.
To make this task just a little easier, we are going to take a brief look at 5 of the top international schools located in the Sukhumvit area, briefly outlining what each of them has to offer.
Top Five International Schools in Sukhumvit
All of the following schools are well worthy of consideration if you are currently looking for an educational establishment that is capable of offering your child a first-class education in a safe and stimulating environment.
NIST – NIST International School is located in Sukhumvit Soi 15 and is a not-for-profit educational institution that offers all 3 globally-recognised International Baccalaureate (IB) programmes to its students. A short walk from both Nana and Asok BTS stations, the school campus is easy to reach from almost anywhere in the city and boasts well-maintained tennis courts, a generously-proportioned sports field and a swimming pool, among other facilities. NIST employs a progressive approach towards education and is a great choice for parents who would like to encourage their children to explore whenever they are given the opportunity and to take calculated risks in later life. Like many international schools in Bangkok, NIST caters to students aged from 3-19 (years 1 – 13). With many NIST graduates going on to attend some of the best universities across the globe, academic achievements are obviously a priority at this school.
ELC City School – Unlike the other schools in our top 5, ELC City School only offers educational programmes covering years 1-6 so if you decide that this is the right school for your children, you will need to look elsewhere once they have completed their elementary education. The ELC City School campus is situated in Sukhumvit Soi 49, close to Phrom Phong and Thong Lor BTS stations, and has been landscaped to provide a natural retreat in the heart of the city, where children can play, explore and relax in between lessons. Because ELC focuses on younger children, they place a greater emphasis on physical and social development than some other schools, helping children to interact with their peers and become more confident as they make their way through the first 6 years of their education. ELC also has two other campuses in Sukhumvit, catering to children from 18 months up to 5 years of age.

Bangkok Prep – Situated in Sukhumvit Soi 53, literally a stone's throw from Thong Lor BTS station, Bangkok Prep is one of the most conveniently located international schools in the whole of the city. Offering a fully accredited programme based on the National Curriculum of England, it is an excellent choice for British parents as well as parents of other nationalities who would like their children to receive a well-rounded education delivered by an experienced and highly qualified teaching body. The large, leafy campus provides a fantastic environment for students – who range from 3-19 years of age – and is much larger than it appears from the outside. With small classes, a traditional British approach to education, and modern facilities that include an indoor sports complex, outdoor swimming pool, 350-seat auditorium, well-stocked library and superbly equipped computer rooms, Bangkok Prep should definitely be on your shortlist if you are looking at international schools in the Sukhumvit area.
St Andrews – St Andrews International School, in common with the final school on our list, is located some distance away from central Sukhumvit, in Soi 107. However, the nearest BTS station (Bearing) is just a couple of hundred metres away, so it is still easy to reach for children living in other parts of Bangkok. Following the English National Curriculum, within the IB framework, St Andrews offers IGCSEs for years 10 and 11, and the IB Diploma for years 12 and 13. The well-laid out campus features plenty of green spaces, a FIFA-standard football pitch, modern science labs, a swimming pool and a 200-seat theatre. St Andrews aims to provide students with a nurturing, community environment that helps each child to reach his or her full potential. An interactive learning approach, together with a well-structured curriculum, ensures that students are given every opportunity to excel during their time at the school.

Bangkok Patana – This venerable institution was established over 50 years ago and is the oldest British international school in Thailand. Located in Sukhumvit Soi 105, it is not quite so easy to reach as some of the schools in our list but at just under 3 kilometres from Bearing BTS station, it is far from a difficult journey as far as most students living in central Sukhumvit are concerned. With 2 swimming pools, 2 sports fields, mini tennis courts and a modern sports hall at the main campus, as well as a large, multi-purpose sports complex just over the road, Bangkok Patana cannot be accused of neglect when it comes to the subject of physical education. The school also boasts an excellent record as far as academic achievements are concerned: in 2017, Bangkok Patana's IB Diploma students managed a 100% pass rate, which is significantly higher than the global average of 80%.

When making your final decision, it is important to consider not just the academic achievements of the schools you are evaluating, but their location, facilities, and the core values they promote too. The time that your child or children spend at school will leave an indelible mark on them for the rest of their life and you want to make sure that this mark is a positive one. For information on fees and available places, you should contact each school directly.
Daniel Lummis
Managing Director | High Jump Digital


Are you considering a medical procedure abroad? With Thaiger Medical you can research hospitals and doctors, choose a destination in Thailand or abroad, and book an appointment today.
Third runway for BKK Suvarnabhumi Airport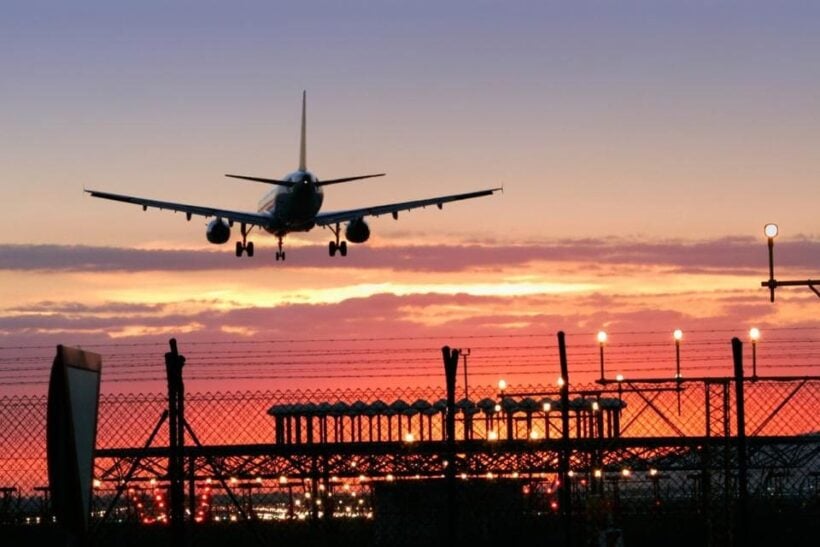 The Thai cabinet yesterday approved the construction of a third runway at Suvarnabhumi International Airport as part of the country's ambition to become the aviation hub of ASEAN.
The 21.7 billion baht project will increase the combined capacity of Suvarnabhumi international airport's runways to 94 arrivals and departures per hour from the current 64, said Lt-Gen Weerachon Sukonthapatipak, deputy government spokesman.
Suvarnabhumi Airport (aka. BKK) was opened in 2006 as Bangkok's second airport. Initially it replaced the tired Don Mueang Airport but Don Mueang was later revamped as a low-coast airport to service the growing traffic demands.
Meanwhile Suvarnabhumi Airport was, and still is, operating above its designed capacity. An earlier bid to build a third terminal has been mired in controversy and is currently shelved pending a new brief from Airports of Thailand with a new round of design bids called for in the future.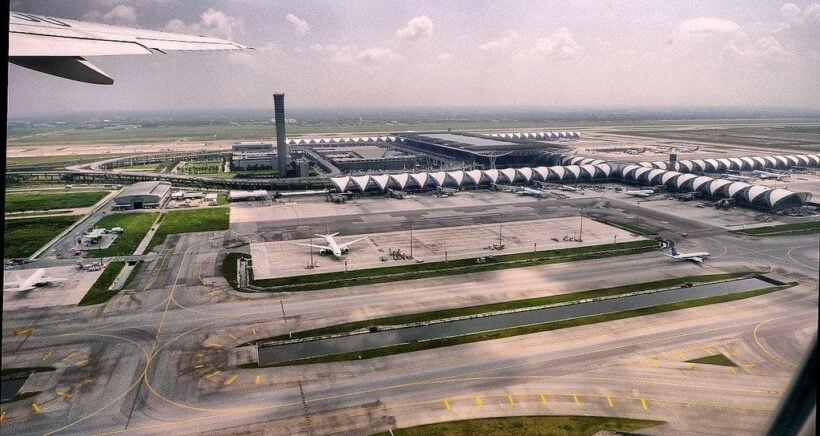 Patong's trash hero rewarded for collecting garbage in filthy canal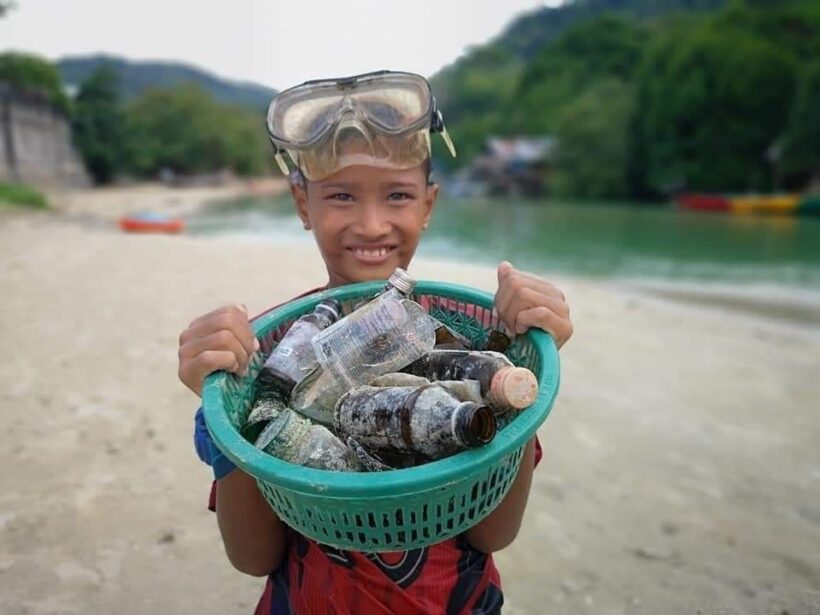 PHOTOS: Patong Police / Theeraphong Penmit / Newshawk Phuket
A Phuket boy has been rewarded after setting an excellent example for the rest of the Patong community.
8 year old Kosin Ta-ngam, who is studying at Sai Nam Yen School in Patong in Pratom Suksa Three, has been collecting garbage in the filthy Pak Bang Canal and along Patong Beach since the beginning of this year.
He lives with his grandmother and other relatives. His grandmother has been looking after Kosin since he was 10 months old.
A certificate, scholarship and life vest have been awarded to Kosin by the Patong Police Chief Col Anothai Jindamanee for displaying excellent citizen for the community as a youth volunteer and being an active part of keeping the city clean.
The Pak Bang Canal, running through the back of Patong into Patong Bay, has been a dark, dirty mess for decades. Many promises have been made to clean it up but it remains a disgraceful waterway flowing through Phuket's main tourist town.
The tiny eight year old seems to be able to achieve a lot more than the local municipality with all their money and machinery.
Kosin, you are the Thaiger hero for today and we salute you!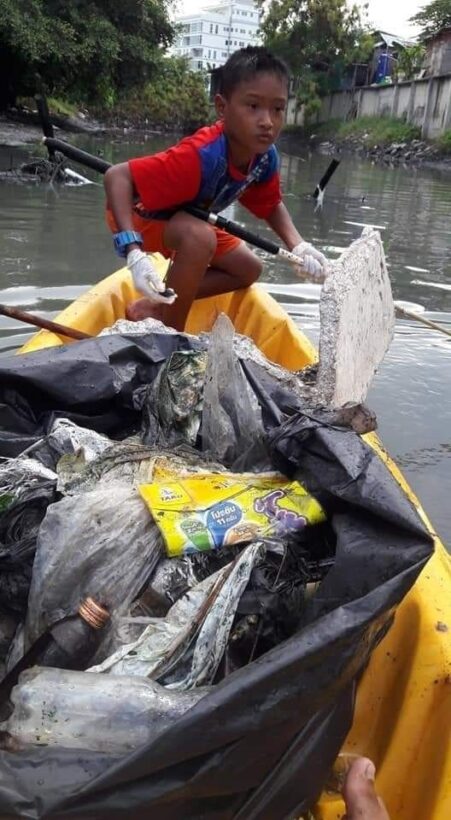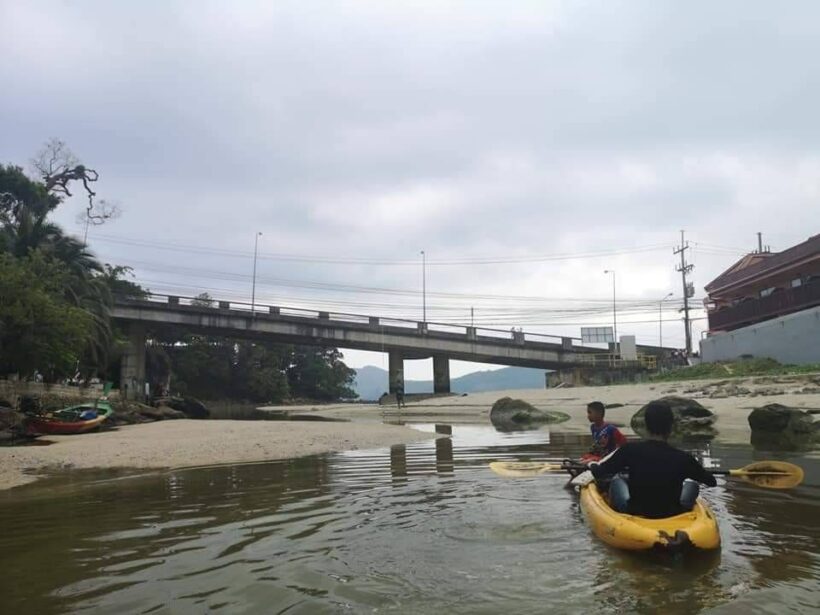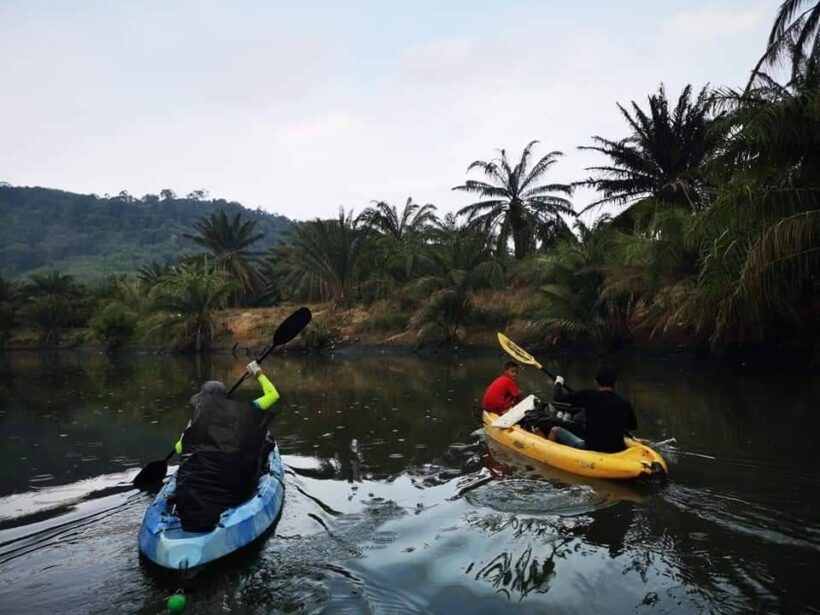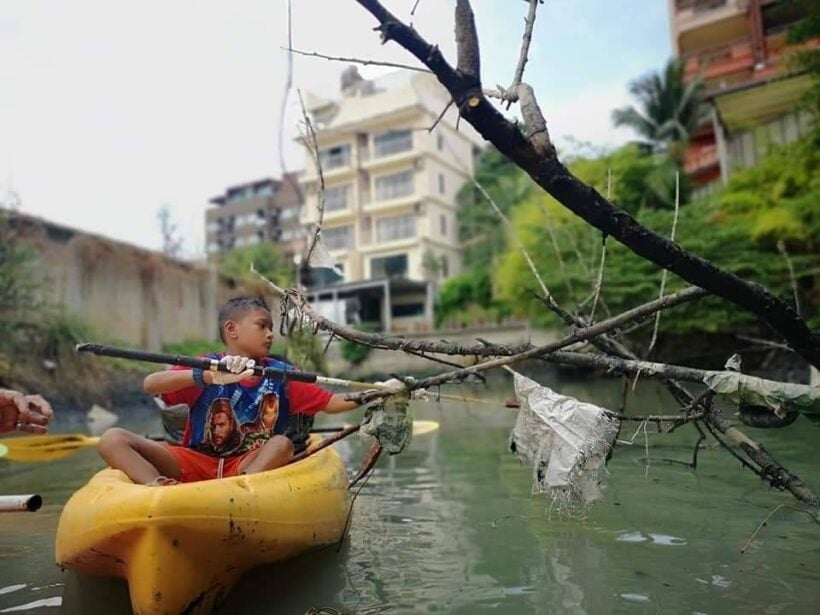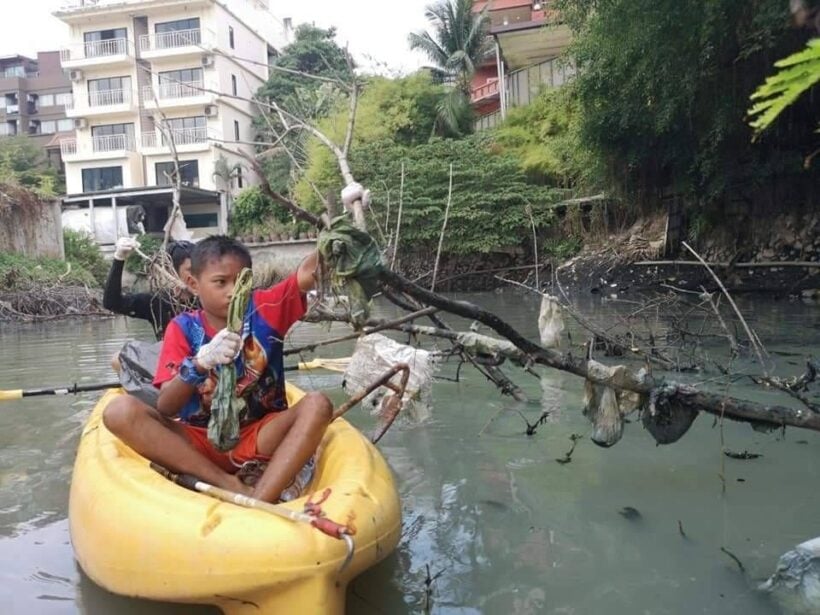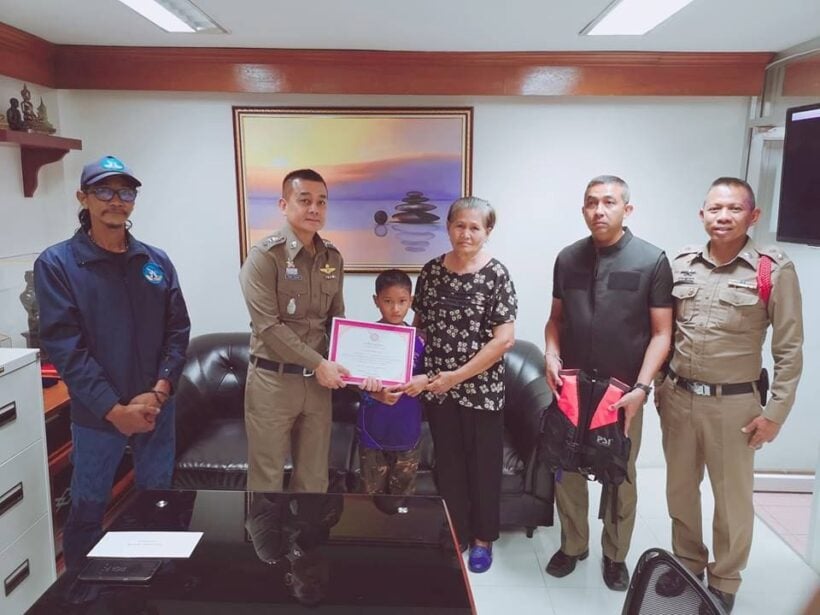 Mitsubishi testing their new regional jet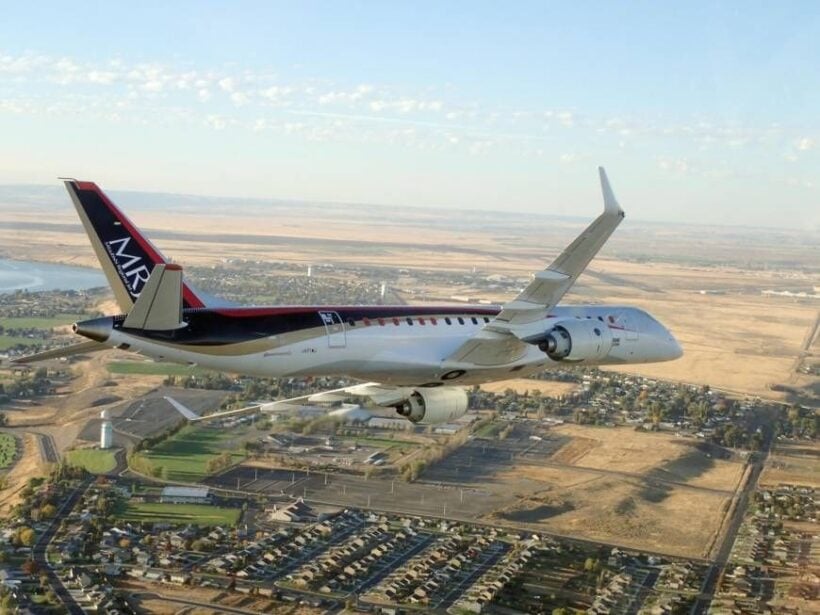 PHOTO: The Japan Times
Mitsubishi Heavy Industries' new 88-passenger Mitsubishi Regional Jet is testing the skies just as rivals Embraer and Bombardier are moving to sell off their manufacturing operations for jets with up to 160 seats to Boeing and Airbus.
At stake, particularly in the market for jets with fewer seats, is US$135 billion in sales in the two decades through 2037, according to industry group Japan Aircraft Development.
More cities in Asia and Europe are seeking to link up with each other and the Mitsubishi Regional Jet, the first airliner built in Japan since the 1960s, began certification flights last month in Moses Lake, Washington.
With fewer seats and smaller fuselages, regional jets are a different class of aircraft from larger narrow-body planes such as Boeing's 737 or Airbus's A320. The MRJ has a range of about 3,220 kilometres. The seating is 2+2 instead of 3+3 in a small Airbus or Boeing single-aisle jet.
After spending at least US$2 billion over more than a decade, the manufacturer is looking to get its jet certified and start deliveries to launch partner ANA Holdings.
Mitsubishi initially planned test flights in 2012 but blew past that deadline because of production difficulties. Now, the company, which makes ships, nuclear power plants and aerospace components, expects to have the plane ready for customers next year, a timetable that will test the company, said Mitsubishi Aircraft president Hisakazu Mizutani.
Mitsubishi Heavy is not the only Asian manufacturer betting that it can build aircraft cheaper and more efficiently. Commercial Aircraft of China (Comac) has a new regional jet in service, while Korea Aerospace Industries is studying whether to develop a 100-passenger aircraft.
"The aviation market in Asia is expected to grow further in the coming years and there will be demand for these aircraft," said analyst Lee Dong-heon at Daishin Securities in Seoul.
"The shift in the regional aviation segment we have seen over the last year or so has opened opportunities."
"The MRJ is fully capable of competing in the market."