The sky's the limit at Phuket Airpark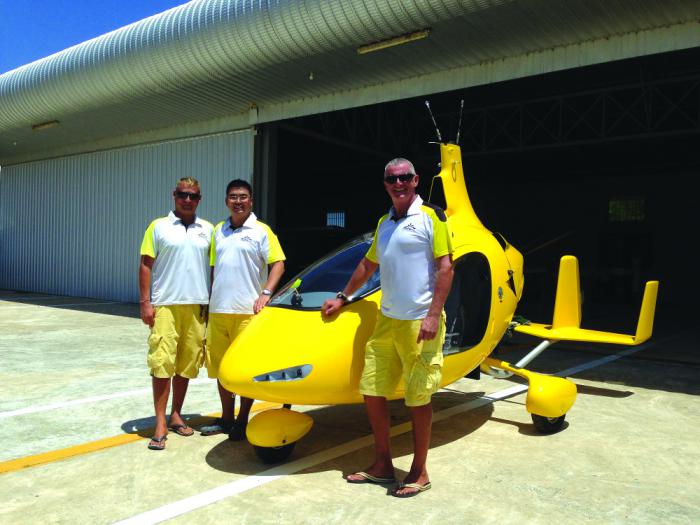 PHUKET: There has been a great deal of action recently at Phuket Airpark, Southern Thailand's only privately-run airstrip, among a diverse group of aviation enthusiasts and entrepreneurs.
The Airpark, which opened in Pa Khlok with a single ultralight six years ago, is now home to 11 light aircraft in a wide variety of designs. None are more eye-catching than the most recent addition to the fleet: Thailand's first "AutoGyro Cavalon", a tiny German-built two-seat "gyrocopter", a hybrid between a plane and a helicopter that looks like a futuristic version of the contraption made famous in the Australian film Mad Max 2.
Whirlybird
Phuket-based Danish expat and partial owner of the gyrocopter, Torben Jensen, told Up in the Air that the aircraft is one of the safest in the world – virtually impossible to stall and capable of taking off or landing over extremely short distances. If the engine fails, it simply autorotates to a safe landing.
Together with well-known building contractor Best Wanamakok of Wanamakok Civil & Environmental Consultants and another Dane, Michael Lumby, Mr Jensen and his team have gained the exclusive rights to sell AutoGyros in Thailand.
The first will serve as a demonstration model and the company plans to buy two more in coming months, thus establishing Phuket Airpark as home to AutoGyro's sole and exclusive dealership in Thailand.
The first AutoGyro arrived by container at the Airpark recently, and was quickly assembled by the enthusiastic team who swarmed about it like kids on Christmas morning.
Mr Jensen, who runs a property rental business in Nai Harn, told Up In The Air that he intends to use the aircraft to "add value" to the visits of guests staying at his resort apartments in the Nai Harn area by offering them bird's-eye views of iconic vistas such as Laem Promthep.
At about 6.5 million baht, the Cavalon is at the top end of three AutoGyro makes designed and produced by AutoGyro GmbH of Hildesheim, Germany.
The futuristic design features a single main rotor more than eight meters across powered by a 100hp, four-stroke Rotax engine, considered among the most reliable in the aviation industry. Thrust is delivered by a composite three-bladed propeller mounted behind the teardrop-shaped fuselage, also made of lightweight composite material.
The team's plan is to invite two flight instructors from Europe to teach Airpark owner Suchard "Robert" Raksangob and Phuket Airpark Safety and Flight Operations manager Pat James, who will in turn teach Torben and his team how to operate and maintain the unique aircraft safely.
Italian girl
Another new addition to the Airpark's expanding fleet is Suchard's "new girl" – an Italian 1964 SIAI-Marchetti SF-260, the aerial equivalent of those classic Italian speedboats of yesteryear. Powered by a Lycoming 200hp engine and piloted by Suchard, this was the aircraft that took us on an eye-opening half hour tour around the island during which we snapped hundreds of aerial photos to document Phuket's ongoing transformation from real jungle to concrete jungle.
For the record, Suchard was a supreme gentleman when my daughter, riding alone in the back, got air sick. [Note to self: bring plastic bags next time, if there is one.] Robert, who is half German, noted that Thais seem to experience air sickness far more often than their Caucasian counterparts.
De plane boss, de plane
Next month will see the Airpark fleet expand further when Pat and his Aero Pro Management firm take possession of a pair of two-seat Brazilian sea planes, captained by factory-trained pilots, that should be perfect for "splashing and dashing" in the waters of Phang Nga Bay.
These aircraft will be permanently based at Phuket Airpark starting next month, providing yet another exciting opportunity for the island's aerial enthusiasts. Pat and his team hope to take possession of the planes and fulfill all the regulatory requirements to have them flying by the start of the next high season.
Helicopter flight school
The old clubhouse at Phuket Airpark has been leased out to a company that will offer helicopter flight instruction using a pair of two-seat Robinson R44 light helicopters.
Pat, a former Vietnam combat helicopter pilot, will not be directly involved in the training, but will continue to oversee all safety aspects, including those brought about from having such a diverse array of aircraft operating out of the same facility.
Control issues
One of the most prominent features at the Airpark is the new flight control tower. The tower and covered canopy area below a cool place to hang out and watch all the activity while enjoying reasonably priced, ice-cold beer. With that in mind, it is fortunate that they also have added a new and comfortable wicker bathroom facility just a stone's throw away.
Big birds, little birds
The new tower was the center of activity at a special "monks blessing" ceremony of eight aircraft at the park last month. After the ceremony, the monks were treated to a special show by none other than world-famous aerobatic pilot Les Vorosmarthy.
Going up with Les by special request was a junior air traffic control officer at Phuket International Airport (HKT), one of a large contingent of AeroThai team members who turned up for the occasion. It was a good chance for the two air traffic control teams to meet and discuss methods of keeping "the big birds and the small birds" apart, as they like to put it.
Air traffic controllers at the crowded Phuket Airport monitor some 200 flights daily though that airfield alone and are also responsible for tracking flight movements across the entire southern region, so they have little time, space or inclination to deal with recreational aircraft. Airpark owner Suchard told Up in the Air that the turnout and special request to take part in the aerobatic show demonstrated the strength of the growing relationship between the two teams.
Balloon man
Another activity now available through Phuket Airpark is tethered hot air balloon flights offered by Muscovite Igor Naymilov and his team. Pat and Suchard explained that hot air balloons have a wide variety of recreational, promotional and commercial uses by hotels, shopping malls and MICE events.
When aloft, the ten-story-high balloon is a real sight to behold, capable of carrying promotional banners offering publicity in an unrivaled eye-grabbing way that will not obstruct land-based
activity like so many obnoxious caravans of slow moving "sound trucks".
Ultralights
Discussions are well underway that would see a well-established company offering a variety of ultralight aircraft services in Hua Hin expanding and setting up an of
— Somchai Huasaikul
Keep in contact with The Thaiger by following our
Facebook page
.
Out of 37 countries, Thailand has the worst pension system, says Bloomberg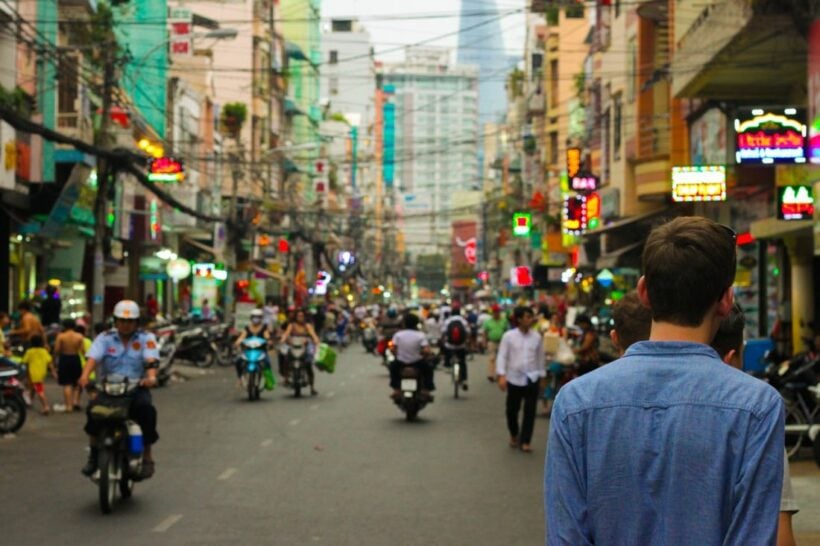 Thai Residents reports that on Sunday, Bloomberg published an article on the world's best pension systems, using information gathered from the 2019 Melbourne Mercer Global Pensions Index.
The survey looked at the pension systems of 37 countries with metrics including employee rights, savings, the number of homeowners, growth of assets, and growth of the economy. The purpose of the analysis was to determine what was needed to improve state pension systems and to gauge the level of confidence citizens had in their state pension system.
The Netherlands and Denmark were found to have the world's best state pensions, with Australia, Finland, Sweden, Norway, Singapore, New Zealand, Canada, and Chile next. Out of all 37 countries, Thailand finished last, with what the report described as an extremely ineffective and ambiguous system.
"Thailand was in the bottom slot and should introduce a minimum level of mandatory retirement savings and increase support for the poorest."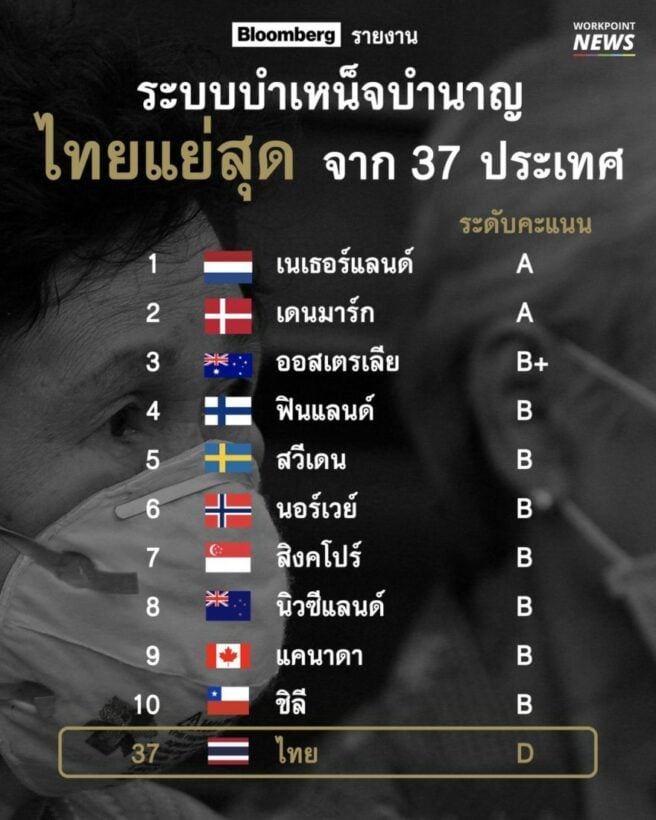 Photo: WorkpointNews
Thai Residents states that only those employed within the government system in Thailand are eligible for a pension based on salary. For most Thai citizens, pension amounts vary from 600 baht to 1,000 baht a month, depending on the recipient's age.
A report carried out by The Securities and Exchange Commission (SEC) advises Thai citizens to have at least 4 million baht saved by the time they retire, but Thai Residents reports that 60% of Thai retirees have less than 1 million baht in savings, with one in three citizens who have reached retirement age are forced to continue working in order to survive.
SOURCE: thairesidents.com
Keep in contact with The Thaiger by following our
Facebook page
.
Tax on salt content being considered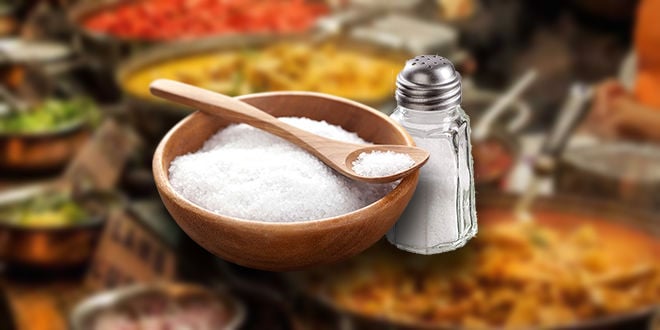 The Excise Department is considering imposing a tax on the salt content of food to encourage food producers to reduce the sodium content of snacks, instant noodles and seasoning cubes.
The director of the Office of Tax Planning said that the department is discussing a limit on the amount of sodium food can contain, in line with the standard set by the World Health Organization (WHO), which is 2,000 milligrams of salt per day.
In reality, Thai people consume an average of 1,000 milligrams per meal, making their daily intake well above WHO guidelines, according to the director.
He said any tax imposed would be at a level which would encourage food producers to reduce the sodium in their processed food without being punitive, adding that the proposal isn't intended to generate more tax revenue, but to help protect the health of consumers. Excessive sodium in the diet can lead to high blood pressure and kidney disease.
Fish sauce, soy sauce and salt would not be taxed.
SOURCE: thaipbsworld.com
Keep in contact with The Thaiger by following our
Facebook page
.
Water shortage warnings in 22 provinces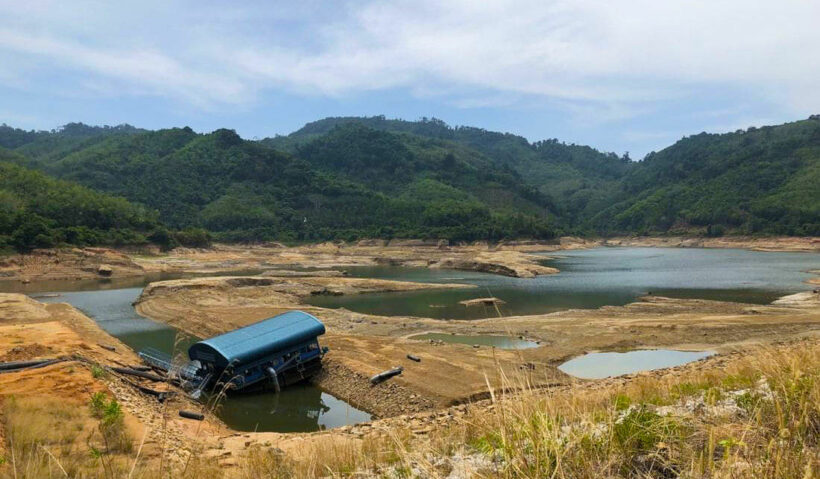 People living in 22 Thai provinces are being warned to prepare for shortages of drinking water during the upcoming dry season, due to start on November 1st.
The warning was issued by the National Water Resources Office, citing low levels in reservoirs, which are the main sources for tap water production waterworks in 22 provinces.
Areas at risk identified by the office are in northern, north-eastern, eastern and southern provinces.
Measures have been adopted by agencies charged with dealing with water shortages. including dredging water channels to allow greater volumes of water to flow into reservoirs, drilling underground wells, enlarging storage ponds and the purchase of water to supply to those in urgent need.
The Royal Irrigation Department has announced that people should use water sparingly.
There are currently about 6 billion cubic metres of usable water in reservoirs in the affected provinces, with 5 billion cubic metres reserved for consumption and ecological preservation, leaving only 1 billion cubic metres for use in agriculture.
This means farmers in the Chao Phraya river basin may not be able to grow a second crop of rice this year.
SOURCE: thaipbsworld.com
Keep in contact with The Thaiger by following our
Facebook page
.