Thavorn Hotels – Phuket's luxury beach destinations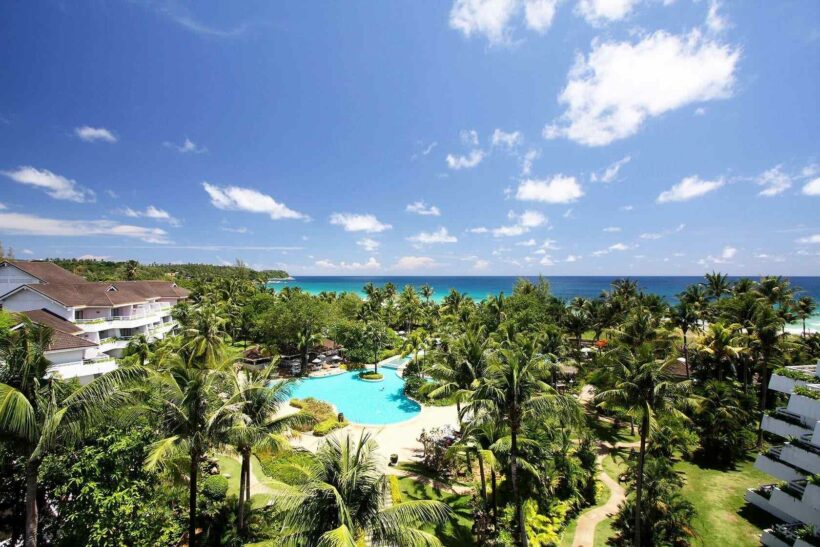 Sponsored Article
With its history tracing back to the very first full-service hotel in Phuket, Thavorn Hotels & Resorts has been a prominent family-owned hotel brand in Phuket for over 30 years. Having begun with the founder's dream in 1950 to steer Phuket into an international tourist destination, today Thavorn Hotels & Resorts features two luxury beach resorts in Phuket's best locations.
Thavorn Beach Village Resort & Spa features 185 rooms and suites and is nestled right on the secluded Nakalay beach near Kamala, Phuket. It's sister resort, Thavorn Palm Beach Resort is perfectly positioned directly opposite Karon's Beachfront and features 198 rooms and suites.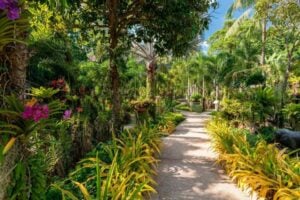 Having dedicated most of the resort grounds to natural landscaping, the resorts resemble the owner's concept of a "real" resort, with the purpose of connecting guests with nature rather than intrude upon it.
With most of the resort's grounds dedicated to natural green areas, Thavorn Hotels are renowned in Phuket for their unique resort environment of lush tropical gardens and beautiful landscapes.
Speaking with Managing Director Khun Charearn Thavornwongwongse, he says "Up to 70% of our beach resort areas is dedicated to natural areas, as opposed to building spaces. While this may not be the most optimal approach for maximization of profits, we take pride that guests staying at our resorts will truly experience a relaxing holiday and enjoy the splendor of nature in our beachfront atmospheres."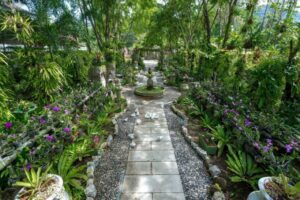 The beauty of the detailed landscapes at both Thavorn Beach Village Resort & Spa and Thavorn Palm Beach Resort was not easily achieved, with the resorts' grounds spreading over more than 35 acres and 18 acres of land respectively.
"It took more than 20 years to develop our landscapes. Landscape gardening is a time consuming task that requires both attention to detail and passion. Unlike the construction of rooms, in which a master design of each room type is developed and applied for mass construction, gardening is unique in that each and every corner is different and tells its own story. Guests staying at the resorts have loved this element which adds to the charm and character of our resorts"
In addition to the focus on the resorts' landscaping, guests will experience the element of Thai and connection to culture at Thavorn Hotels & Resorts. Khun Charearn added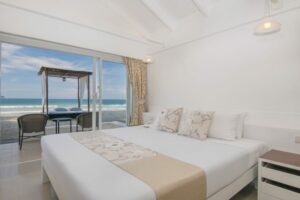 "Our endless tropical gardens showcase the exotic trees, plants, and flowers species that are unique to Thailand. The different sculptures within our landscape also manifest Thai's culture and literature".
Today, Thavorn Hotels & Resorts remains ever committed to the owner's concept and differentiates itself from thousands of other hotels in Phuket.
Thavorn Beach Village Resort & Spa
- Tanutam Thawan
How to Trust – Annie's story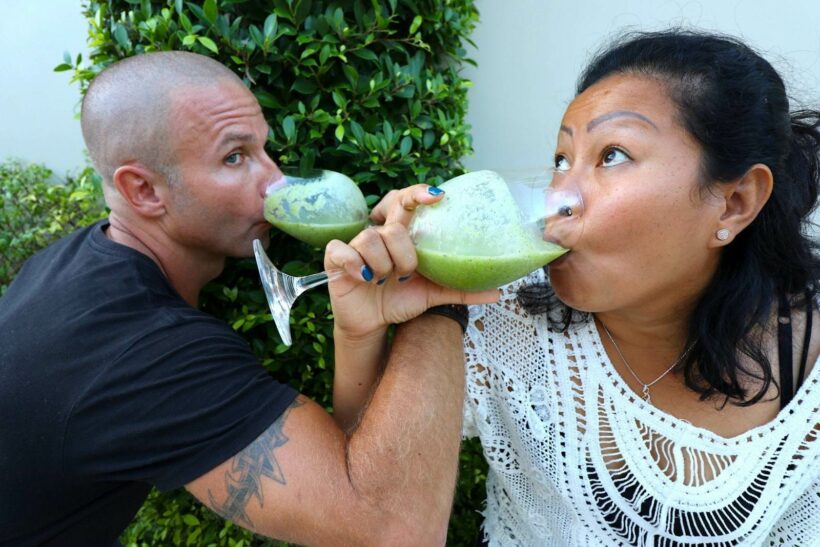 Putting yourself out there in the uncertainty, and exposing your raw vulnerability is downright scary. Who said charging after your dreams with courage and conviction was going to be EASY?
Starting your own business and making a vision become a reality requires an enormous amount of patience, persistence and perseverance. It's so easy to double down on fear and what's happened to you in the past. It's so much easier to just be a dreamer and not a DOER.
Courage is the great equaliser that doesn't hold you hostage to your past.
Annie  shared with me her 3 secrets of starting Coffee Tribe Phuket and how we can all add a little more courage and conviction into our lives:
• Why? You need to be brutally honest with yourself and ask this very important question: Why are you DOING this?  This is where honesty and self awareness will build an absolute rock solid foundation.
• Passion trumps money for chasing after success. Success isn't something you get; its something you bring. It's time we start reevaluating success and failure.
• Are You Ready? There will be an enormous amount of disappointment and an overwhelming sense that you can't trust yourself. You have to be willing for the brick walls. The brick walls are not meant to keep us out but to challenge us… "How bad do you want this?"
There is only one person who can answer this question.
Making your dreams a reality requires an enormous leap of faith. You are going to run into the brick walls and acquire a few new shiny blisters. Annie also pointed out that in the first few years of starting Coffee Tribe she had countless nights of no sleep, an incredible amount of stress and lost sight of her 'Why'. Annie ran out of fingers on her hands with all the times she wanted to quit and cash in her chips.
The dots are never going to connect and make perfect sense.
Let's look at your track record up to this point in your life. Have you been able to handle everything that has come your way? What makes you so certain that you will not be able to handle the brick walls?
Head to Coffee Tribe in Rawai to experience Annie's dream.

Three new luxury show suites open at flagship Twin Palms Residences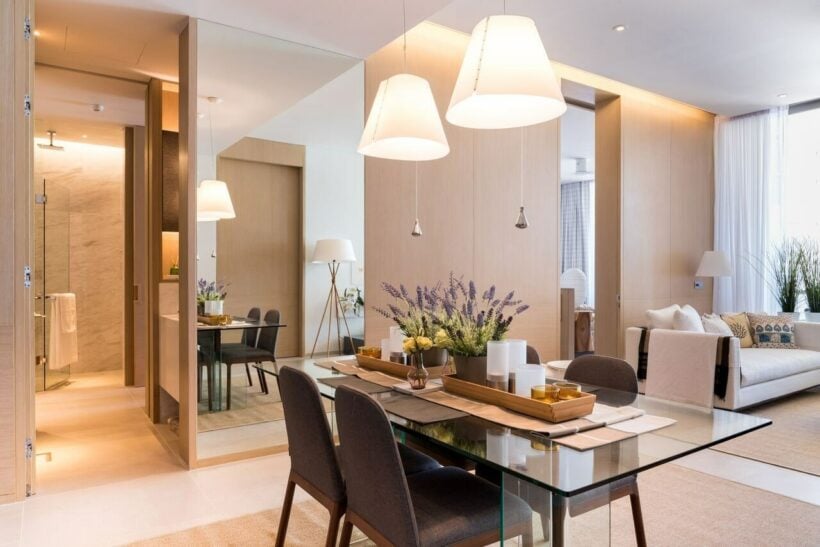 MONTAZURE ON STUNNING KAMALA BEACH
MontAzure, the upscale mixed-use residential resort community set on 454 rai (178 acres or 72 hectares) of mountainside to beachfront land in Kamala, has launched 3 new on-site beachfront show suites at the award-winning beach condominium development, Twinpalms Residences MontAzure.
Considered by real estate experts to be one of the most compelling lifestyle investment opportunities on Phuket, the development will be managed and operated by Twinpalms Group. Investors and visitors will be able to tour and experience all three of the units to really get a feel for the unique luxury island lifestyle on offer.
"Recent luxury investment trends on Phuket have seen a move away from private villas toward upscale condos, especially penthouse units with outdoor facilities. Buyers appreciate the opportunity to own these luxury properties on a freehold basis," says MontAzure Executive Director Setthaphol Boottho.
"Properties managed by reputable brands also attract savvy investors, as the condos can be rented out to international visitors and therefore generate income when owners are not using them," he added.

Andreas Savvides of Haveli Design, whose pedigree includes several landmark residential developments in Bangkok including 185 Rajadamri and The River, designed the interiors for two of the new show units at Twinpalms Residences MontAzure, one of which is a stunning penthouse with a rooftop pool and ocean view sun deck.
As the first phase of the expansive MontAzure master-planned mixed-use development, the luxury beachfront condominiums have already attracted lifestyle-driven investors looking for a combination of hotel-based yields and usage time, along with strong capital appreciation due to the rare beachfront location. Owners enjoy privacy and world-class facilities without having to employ their own staff as they would at a private villa.
The development is sensitively designed as a series of low-rise clusters orchestrated around generous communal swimming pools with intimate views of the beautifully landscaped grounds. One-bedroom units are sized from 70 to 250sqm while the two-bedroom units range from 154 to 400sqm. The developers also recently added super penthouses measuring an impressive 799sqm and offering stunning views of Phuket's idyllic sunset coast. Prices for entry-level investment units start from 15.5 Million baht.

Part of the development's beachfront zone, Twinpalms Residences MontAzure is just a short stroll along the beach from HQ Beach Lounge, which has become an island favourite for its chic, contemporary oceanfront dining and entertainment. The sea view restaurant at HQ serves delicious light fare, signature cocktails, fine wines and an eclectic music selection to match the casual surroundings. 
Right next door to HQ Beach Lounge, lifestyle aficionados can enjoy causal fine dining, world class drinks and entertainment at Café Del Mar, Phuket's hippest waterfront venue with 40 metres of beach frontage and chic tropical design. A rolling schedule of events includes weekly pool parties, international guest DJs, and tempting food and drinks promotions to attract a stylish global clientele.
Enhancing the unique choice of word-class beachfront facilities, MontAzure's anchor hotel, InterContinental Phuket Resort, will open this year to offer visitors and residents of Kamala even more options for dining and entertainment, complementing the breathtaking sea views and tropical surroundings.

"Twinpalms Residences MontAzure offers buyers a rare opportunity to own a property within an integrated beachfront resort and residential community just steps from the pristine sands at Kamala beach and within walking distance of the island's most popular beachfront venues," says Henri Young, Director of Marketing at MontAzure.
To mark the launch of the new show suites and MontAzure is offering buyers a guaranteed return on investment for 3 years on selected units, as well as free furniture packages valued up to 2 Million baht. 
For more information or to make an appointment to view the show units call +66 93 624 8800 or email [email protected]

Wai Khru – setting a bad example for the future. Thailand's demand for respect from its young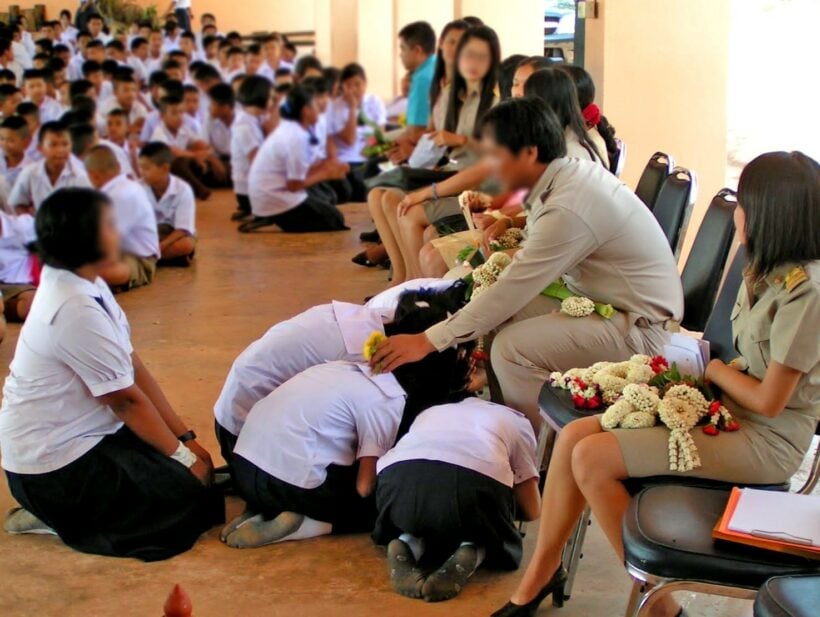 Hazing (US English), initiation ceremonies (British English), bastardisation (Australian English), ragging (South Asia), or deposition, refers to the practice of rituals, challenges, and other activities involving harassment, abuse or humiliation used as a way of initiating a person into a group including a new fraternity, sorority, team or club.
In Thailand, hazing is not only rife, it's seen as a rite of passage for young Thais as part of their cultural inculcation into the subservience they're expected to display elders or people with more money or higher positions than them. What's mistaken for 'respect' is actually a cultural party trick where children and young adults are 'trained' to be deferential from an early age.
In recent years there have a been a few high-profile deaths of army trainees, in the care of their Academy leaders, but allegedly subjected to initiations and bastardisation that is just 'par for the course' for the education of young Thais.
In a response to the recent death of Phakhapong Tanyakan at the Armed Forces Academies Preparatory School on October 17 last year, the Thai Deputy PM and Defence Minister Prawit Wongsuwan claimed that he "was not beaten to death, but just too weak to withstand tough training."
He went further saying "I was once beaten more than I could take and I fainted too. I didn't die. For this, before the school accepts kids for entry, they must give them a proper physical check-up."
When you get you get such official, public, responses from the top you can see how this hazing culture continues to thrive in the, otherwise, Land of Smiles.
We spoke to three foreign teachers in Thailand, all speaking on condition of anonymity, about the culture of hazing in their schools and the benign version of that in primary schools, 'wai khru'.
"Hazing is seen in many different types of social groups, including gangs, sports teams, schools, military units, fraternities and sororities. The initiation rites can range from relatively benign pranks and was khru, to protracted patterns of behavior that rise to the level of abuse or criminal misconduct."
For the families of hazing victims these ceremonies can be catastrophic, as in the tragic case of Phakhapong Tanyakan.
A 19-year-old armed forces cadet, previously subjected to harsh physical discipline, suddenly died a day after returning to school from a break. His parents were told he suffered from a sudden cardiac arrest but became suspicious of possible foul play after a detailed autopsy report never came. – Khaosod English
But he's not the only one. Hazing and cruel or unusual initiations are conducted every day around the Kingdom but with a growing concern about the practices, both from the young students themselves and concerned older Thais, who realise the dangers of 'persuading' youngsters to respect elders needs examination in a modern 21st century Thailand.
We spoke to a respected senior Thai businessperson, again on the condition of anonymity, who said he had seen too much hazing going on during his time at school and then whilst training in the military.
"I was a victim of this type of bullying. I was told to 'be a man' and that all Thai men have to go through this. I think it is degrading and breaks human spirits. It teaches fear of those we are meant to respect. It has to change."
It all starts when young Thais are subjected to the Wai Khru or 'Teacher Wai' where students are expected to prostrate themselves in front of their teachers in a show of respect. But a broad spectrum of foreign teachers not only feel uncomfortable with this faux-deference, some of them go out of their way to be away for that day or, sometimes, even speak out about their concern with this tradition.
"I made the mistake of speaking out about the Wai Khru in our school. I just found it demeaning for the poor students who had to rehearse all week for this totally meaningless show of respect. I didn't feel respected, I felt sick. I ended up being ostracised and had to leave that school."
Whilst many Thais continue to wonder why westerners might find all this kowtowing and prostrating could cause concern, you just need to examine the deaths in the Army preparatory schools as the end result of 'demanding' obedience and deference to elders. In western culture, I have learned, respect is something that is earned, not demanded.
"Hazing is undignified, humiliating and cruel… not my words, but the words of students who are made go through this horrible experience. It's meant to be a sign of showing respect to your seniors but it's nothing more than a shameful indulgence at the expense of the students," said a long-term foreign teacher.
"Making students crawl around on the ground acting like animals in front of their peers, does nothing for either senior or freshie students. I have stopped attending Wai Khru day as I find it terribly uncomfortable for myself and for the students. You can see the look in their eyes as they approach you and are ordered to bow before the teacher. Teachers, like everyone else, should learn how to earn the respect of their students."
A young female foreign teacher first thought that the Wai Khru was 'cute' but has changed her tune over the years.
"Wai khru was the highlight of my first year teaching in Thailand. I was, and still am, extremely humbled and deeply touched by this beautiful tradition intended to recognise a teachers' role in children's life and to give said children the opportunity to express their gratitude to their teachers.
"But throughout the years I have started to look at this event with a more critical eye and I wish it weren't as rehearsed and staged as it unfortunately is. At our school, rehearsals for Wai Kru start a week prior to the event. During this week, children are drilled incessantly until they have mastered the walk, the bow and the wai leading up to the offering of the flowers that they are eager to free their sweaty little palms of."
Wai Khru continues to be practiced in all Thai schools as a long standing tradition and show of respect for teachers.
"Although I understand and commend the wonderful intentions behind such practices, I feel that much like other sorts of drilling that these students endure, this sadly takes away from the true purpose of it all. For want of a picture perfect event, meaning is lost and a demonstration of gratitude is transformed into a dreaded labour," she said.
An investigation into the death of Army cadet Phakhapong Tanyakan, by military investigators, found no wrongdoing by the Preparatory School. The parents have consistently called for a probe into their son's death and are still pursuing legal action.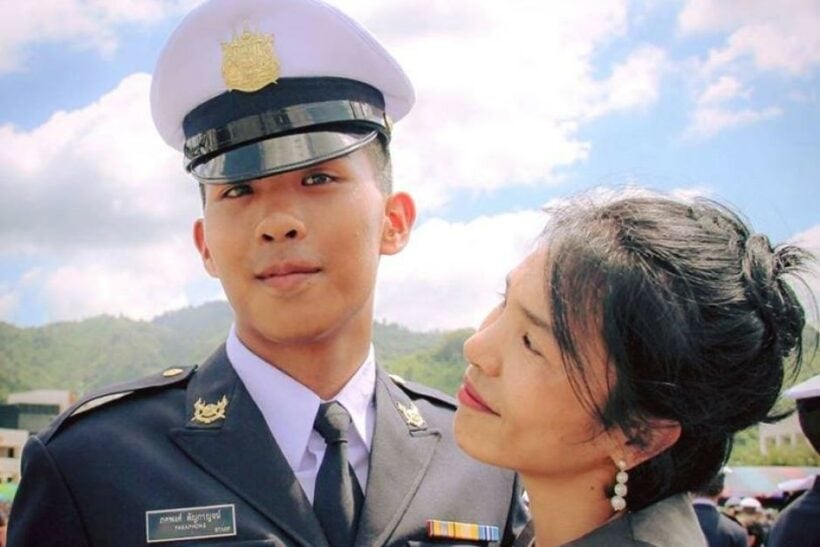 PHOTO: Army cadet Phakhapong Tanyakan, who died at the Armed Forces Academies Preparatory School on October 17 last year.