Sony's new Xperia XZ2 Premium with ultra-high sensitivity dual camera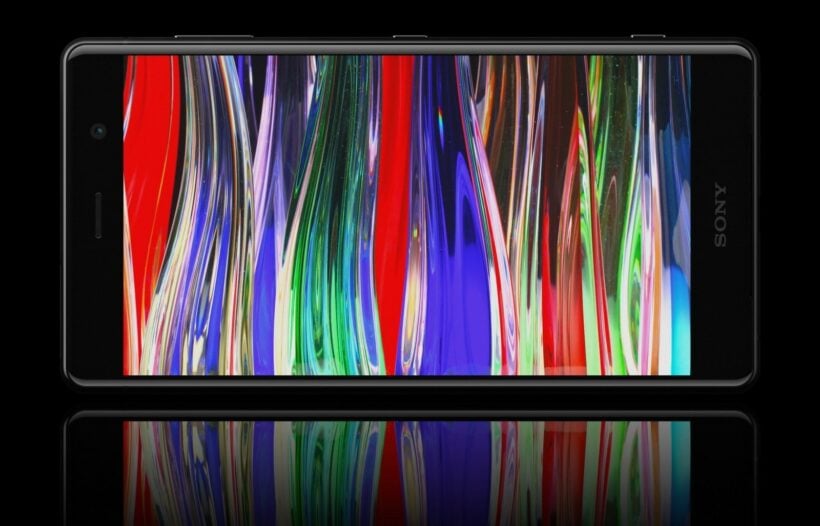 ADVERTISEMENT
Sony Thailand steps up its game with new smartphones introduced to compete offerings from some of the Chinese companies as well as Samsung and Apple. Sony have announced the new XZ2 Premium, which has one of the most remarkable cameras ever integrated into a smartphone.
The new phone boasts the world's highest ISO 12800 sensitivity for video recording in a smartphone, as well as ultra-high sensitivity of 51200 for photos, enabling ultra-low-light capture previously only seen in interchangeable lens cameras (and with a bright live view-finder). It's all thanks to the new dual sensor system in the Motion Eye™ Dual camera and AUBE™ fusion image signal processor which captures more than the human eye can see.
XZ2 Premium you can also film like the pros using its 4K HDR Movie recording and play it back in the palm of the hand on the 4K HDR display, showcasing favourite moments in crystal-clear detail and eye-popping colour and contrast. It's the only smartphone to bring true professional camera quality plus a premium entertainment experience, all powered by the ultimate in processing power with Qualcomm® Snapdragon™ 845.
Satoshi Mekata, General Manager for Mobile Sales Division, Sony Thailand says, "We have taken a bold direction with the latest technology integrated into the camera of the new XZ2 Premium, for high sensitivity performance under all conditions. Under our concept of Camera to the Extreme, we are pleased to announce this is the world's first ever smartphone to feature the new Motion Eye™ Dual camera working in harmony with AUBE™ technology, and together they ensure premium quality and crystal-clear detail".

Unprecedented camera capabilities
XZ2 Premium is the first ever smartphone to feature the new Motion Eye™ Dual camera, consisting of a black and white sensor for capturing clear contrast and the colour image sensor for accurate colouring in. Detail from both sensors is then processed by the AUBE™ fusion image signal processor in real time, enabling video recording with the highest ISO12800 sensitivity ever in a smartphone as well as ultra-sensitive performance of ISO51200 for photos. Its sensitivity with clean, noise-less images was previously only possible in interchangeable lens cameras.
With the Motion Eye™ Dual camera you can also express your artistic side – select Bokeh and see your shooting subject stand out from a defocused background. You can take timeless photos in monochrome with a smooth gradation between black and white. Its low light capability, as well as artistic effects, are available with a live view-finder for an accurate reflection of your shooting subject.
Motion Eye™ Dual camera also brings more professional features such as 4K HDR Movie recording so you can capture reality in incredible detail and true-to-life colour. You can record 960fps Super-slow-motion in HD or Full HD to make the most dramatic videos from passing moments with a state-of-the-art memory-stacked image sensor. XZ2 Premium also offers one of the best front-facing cameras on a smartphone, with its 13MP, 1/3.06" low-light sensor and display flash, you'll get outstanding selfies in any light.

Immersive viewing
Xperia XZ2 Premium has the ultimate display for a premium viewing experience with a huge spec consisting of 5.8" 4K HDR that's 11% larger and 30% brighter than our previous 4K HDR display, so you can immerse yourself in your favourite movies and content in crystal-clear detail and eye-popping colour. Thanks to this display you can enjoy your very own 4K HDR content as it's the only smartphone capable of both creating and viewing 4K HDR. Plus whether you're watching a big blockbuster or a video on YouTube, XZ2 Premium uses Sony's BRAVIA® TV technology, X-Reality™ for mobile to up-convert content to near High Dynamic Range (HDR) for more cinematic contrast, colour and clarity.
Not only can you see your movies with powerful realism, you can even feel them thanks to Sony's brand new Dynamic Vibration System. The system analyses audio data and lets you feel the action in your hands, bringing movies, games and videos to life. XZ2 Premium creates a cinema-like audio effect when you're sharing your favourite videos with your friends thanks to its powerful front facing stereo speakers. Featuring S-Force Front Surround, they're our loudest Xperia speakers ever. Plus Sony's audio expertise as always enables sound enhancing technologies for Xperia such Hi-res Audio, DSHEE HX and LDAC.
Sophisticated design
XZ2 Premium's cutting-edge technology is packed into a fluid and elegant design. It has a 3D glass surface which surrounds the exterior, creating a seamless finish that's comfortable to hold and easy to carry. With an exclusive glass and metal finish, it not only looks beautiful with a premium feel but is designed to be durable thanks to Corning® Gorilla® Glass 5 on both sides. Certified IP65/IP68, XZ2 Premium is also designed to withstand splashes and spills. It will be available in one contemporary colour finish, Chrome Black.

Ultimate Performance to the Extreme
Enjoy industry-leading performance with the Qualcomm® Snapdragon™ 845 Mobile Platform, and with X20 LTE you get immersive user experiences at lightning-fast connection speeds (up to 1.2Gbps) with the second generation Gigabit LTE solution. For additional speed and efficiency XZ2 Premium has 6GB RAM.
XZ2 Premium is built to keep you going all day with its high capacity 3540mAh battery and Xperia's useful battery features such as Smart Stamina and STAMINA mode. Plus Battery Care and Qnovo Adaptive Charging technology help the battery stay healthy to give you a longer battery lifespan. Qi charging is enabled to power up effortlessly and works with the new wireless charging dock (WCH20) and other compatible Qi chargers.
Availability
XZ2 Premium is available for pre booking from August 10-19, 2018 and it will be available in the Thai market from August 29, 2018 onwards at the price of 27,990 baht, offered in Chrome Black colour.


Find local events and browse venues in Thailand with Thaiger Events, or post your own today.

Thai economy's growth in 2018 projected at 4.5% – World Bank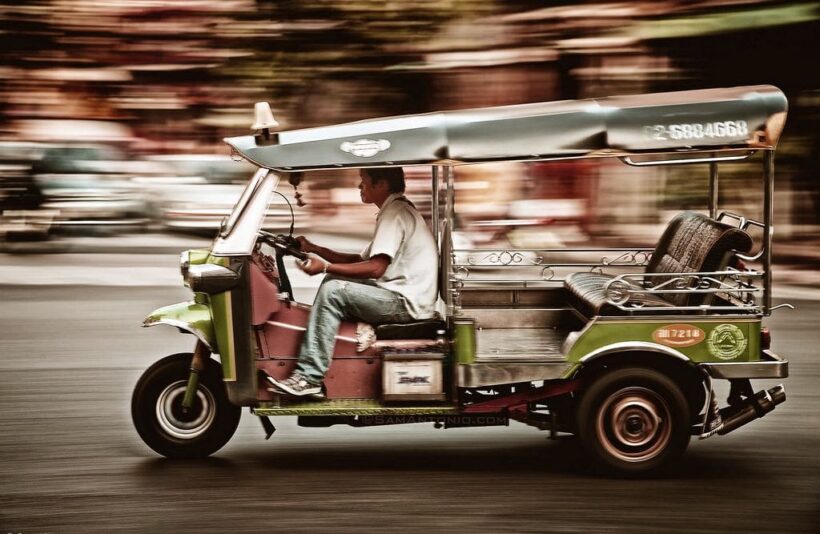 Things are looking up for more economic smiles in the Land of Smiles with more positive news coming out of the World Bank. Projections are being revised upward, again.
The World Bank says it's adjusted its projections for Thailand's economic growth upward, for the whole of 2018, to 4.5%, from the previous projection of 4.1%. The announcement comes from Kiattiphong Ariyapratchaya, a senior economist of the World Bank in Thailand.
He says the government's serious implementation of large-scale investment projects is part of the contribution to the rise in Thailand's gross domestic product (GDP) projection this year.
These mega projects as well as the Thai government's efforts to revamp the country's economy by overhauling the taxation system were seen as key factors contributing to Thailand's economic growth this year, he said.
The Thai economy was regarded by the World Bank as being very strong given the fact that it remains in good shape and with least volatility in its foreign currency exchange situation during the past Turkish economic crisis, he said.
Other countries in the same region such as Malaysia, Indonesia and the Philippines were far more seriously affected by the Turkish economic crisis, he said.
Thailand also has massive current account surplus while inflation remains at a low level, he said.
The financial sector is also viewed as having high security with public debts accounting for only 43% of the GDP and ample foreign reserves, he said.
The World Bank, however, projected that Thailand's economic growth will slow down in 2019 and 2020 when the GDP is expected to grow by only 3.9%, due to some signs of a slowdown in export, he said.
Pattaya's hotel performance rebounds as EEC drives positive market sentiment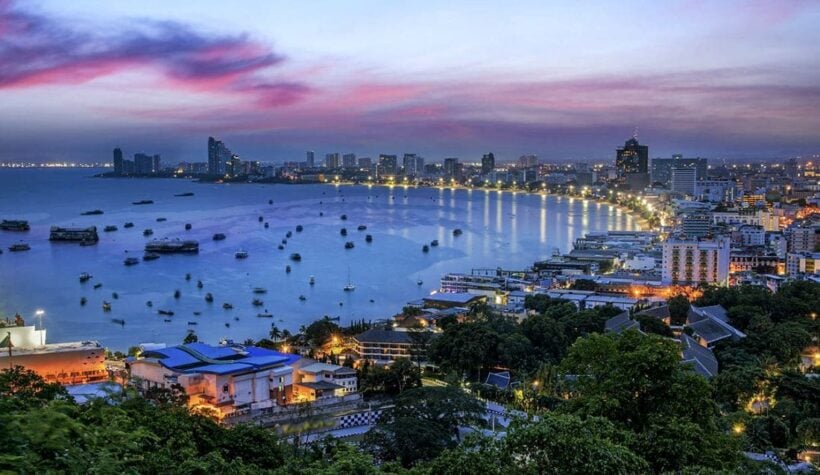 Domestic tourism growth outshines Mainland China and Russia source business
Thailand's second largest tourism market, Pattaya has pushed through the glass ceiling from the volatility hangover of the 2014 era, with its hotel sector now showing strong signs of rising stability. According to the latest available data, strong demand from the Thai domestic sector accounted for 38% of hotel guests at Chonburi province accommodation establishments.
Greater Pattaya's expanding gateway aviation hub U-Tapao International Airport has been a critical stimulator of demand, where passenger arrivals over a three-year period rose at a compound annual growth rate (CAGR) of 79% according to a new report from consulting group C9 Hotelworks.
One key infrastructure investments in the area has the Thai government finalising plans for high-speed rail links between U-Tapao and Bangkok's two airports, Suvarnabhumi and Don Mueang, which is undoubtedly a game changer for the Eastern Seaboard area. New international routes into U-Tapao grew dramatically through the past three years as airlift arrivals increased significantly with a CAGR of 59%.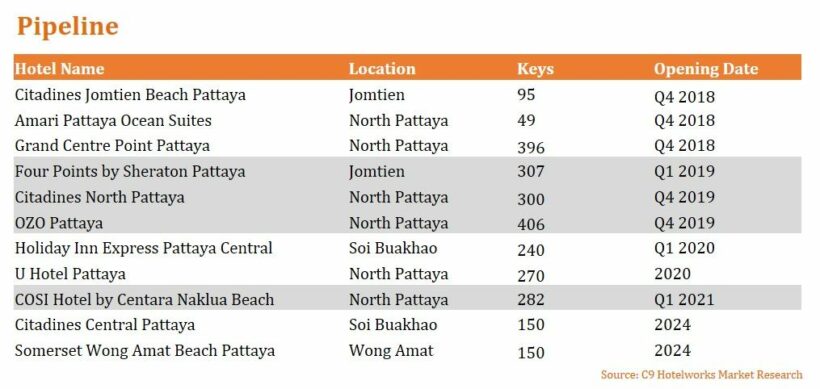 Translating airlift into hotel metrics, global data provider STR recorded an 8.7% year-on-year spike in key indicator RevPAR at the end of 2017.  By mid-2018, market-wide occupancy hit 77.9%. While the current number of accommodation establishments in Chonburi province is 1,046 with 81,607 keys, most of the growth is centered in Greater Pattaya.  C9 Hotelworks report shows 11 new hotels in the development pipeline which accounts for 2,645 additional rooms.
Speaking about the incoming supply, C9's Managing Director Bill Barnett said "there is a substantial influx of branded select service and economy hotels including Holiday Inn Express, OZO, COSI and Citadines which are targeted at not only Mainland China and India but regional Southeast Asian markets.
The impact of this new supply in the short to medium period will take time to absorb and likely create rate issues in the economy and midscale tiers, until such time as the EEC (Eastern Economic Corridor) development becomes more pronounced. Though at the same time, Chonburi province last year racked up more than 16,000,000 hotel guests at accommodation establishments and there is little doubt that Greater Pattaya is moving into a broader tourism platform."
To download and read C9 Hotelwork's Pattaya Hotel Market Update 2018 click HERE.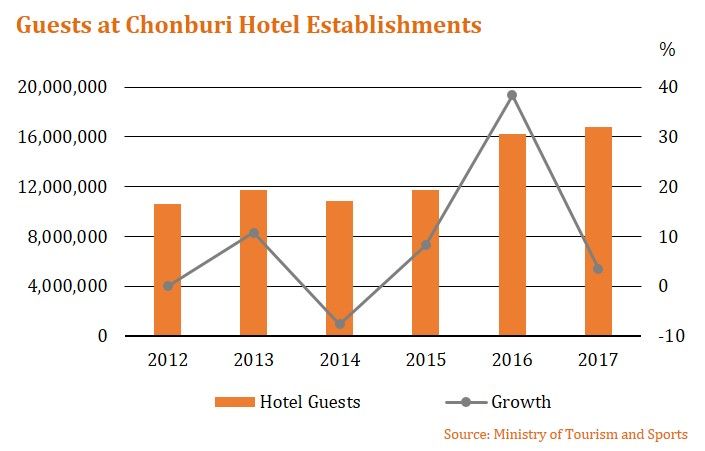 Breakfast in Rome. Dinner in Bangkok.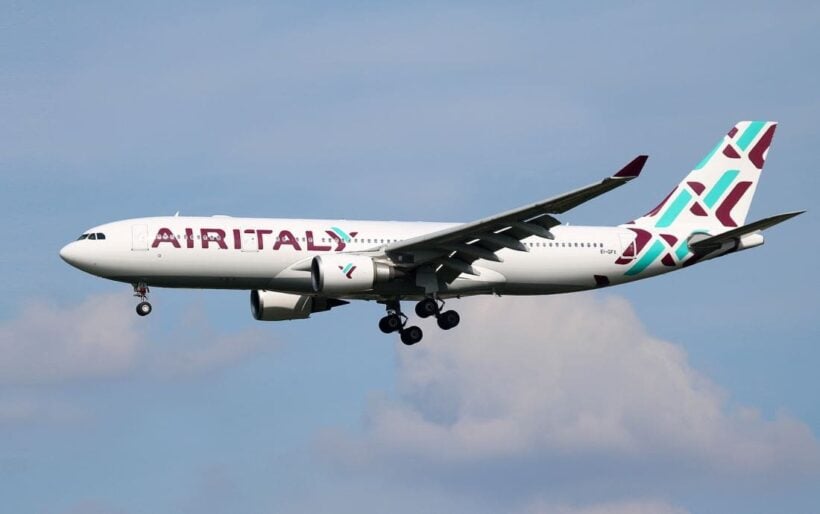 Air Italy has touched down in Bangkok for the first time as it launches four weekly services into the Big Mango. The company intends to increase services to five weekly by the end of October.
Bangkok is Air Italy's third new international route launched this summer following launches in New York and Miami. It's the airlines' first route in Asia.
The airline is based in Milan, Italy and is owned by AQA Holdings. The airline is launching its new international routes in concert with it's local destinations to connect passengers from Rome, Sicily, Naples, Calabria and Sardinia.
The airline is also hoping to add two new routes, from Milan to Delhi and Mumbai in India, with a Delhi launch set for 28 October and Mumbai 30 October.
Air Italy's Milan – Bangkok service uses an Airbus A330-200 with 24 seats in business class and 228 seats in economy.
The airline offers departures from Italy on Monday, Tuesday, Thursday, Saturday and Sunday and intends to add the fifth service on Sundays starting October 28.