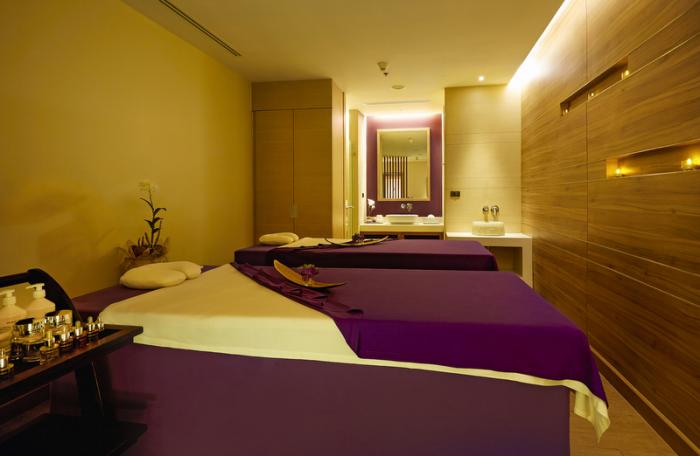 PHUKET: Stress, lack of sleep, an unbalanced diet, air pollution, smoking – most of us are affected by one or more of these on a daily basis. So let the crew at Ryn Spa, Grand Mercure Phuket Patong Resort & Villas, melt them away for you.
Every aspect of the service, from the soothing welcome drink to the lighting and decor, is designed to offer a modern, comfortable and personalized experience to clients.
"Ryn represents the gentle motion of streaming water, and is symbolic of peacefulness and purification of the mind and body," says Guest Activity Manager Pintusorn ("New") Thongtan. Their philosophy of 'Premium Organic Body Care' is centered on helping clients to achieve a healthy body and mind, challenging the common notion that spa services are just an indulgence. Most people are in a rush and want a quick fix before heading back out, but Ms New suggests that in order to achieve maximum benefit from their services, guests should utilize the recommended treatment time.
"Before commencing services, guests are required to fill out a consultation card providing their medical history, which will help the therapist to gauge what services will suit them best, or what they should avoid," Ms New says. "Our therapist will always consider your skin type or body needs and then design a service for you; even if two people choose the exact same treatment, we may use different techniques on them, depending on their particular needs."
Ryn Spa's newly designed menu offers four signature wellbeing massages. 'Only sleeping' is a sandalwood and rose sleep therapy massage that involves the use of long, slow strokes to sedate anxiety and restlessness. 'Let it flow' is a stress therapy massage that adapts the use of acupressure and stimulates the release of pleasure hormones in the body. 'Free as a bird' is a muscle therapy massage that includes gentle stretching followed by firm pressure application using weights. 'Energy recharge' is fatigue therapy that releives body aches and restores blood circulation.
Ryn Spa provides numerous other services including foot reflexology, body exfoliation, scalp massage and various facial treatments. You can also take the Ryn experience back home with you by trying out their range of oils and lotions including anti-aging, skin uplifting, moisturizing and purifying. And if you're celebrating Valentine's Day in style this year, be sure to check out their special promotion for singles or couples, applicable throughout February. The package provides a 30-minute body scrub, followed by an hour long massage, topped off with a 30-minute mini facial, and is priced at 3,500 baht per person or 6,000 baht for a couple.
For more information or to book an appointment call 076-231 999 Ext: 1969.
— Sahar Aftab Paliwala