The rise of the mixed use retail development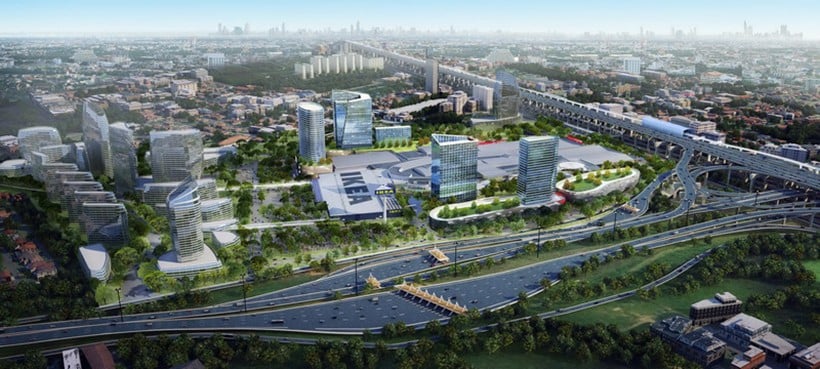 As our lifeststyles continue to change and morph along with technological and social evolution, so too our living spaces and the locations we choose to live. Behavioural changes among urbanites have led to the rise of mixed-use projects in Southeast Asian countries, according to property experts.
Christian Olofsson, shopping centre & mixed-use director of IKEA/Southeast Asia, told The Nation that the competitive environment in the retail industry precipitated the new format of incorporating non-traditional elements into a retail complex. Development of mixed-use retail properties is growing with the inclusion of residential units, entertainment revenues and healthcare facilities in a single site.
Catering to the needs of today's consumers and staying relevant is the goal of the re-think among major players, Olofsson said. The new strategy could bring higher return on investment if the developer optimises the opportunity and is able to better meet the needs of modern consumers than are single-use developers.
The concept is less risky as it comes with a greater variety of revenue sources. It can also help average out the land costs by integrating a mix of components with different types of incomes.
Given the positives, IKEA decided to develop a mixed-use project – Mega City – next to Mega Bangna, Olofsson said.
According to a report by the Council of Tall Buildings and Urban Habitat, 451 tall building are listed as under construction globally until 2025, of which a third are mixed-use projects combining hotels, residential units, offices, service apartments and retail outlets. In Southeast Asia, excluding Thailand, 16 mixed-use projects are currently under construction – eight in Malaysia, five locate in Indonesia, and one each in Singapore, Vietnam and the Philippines.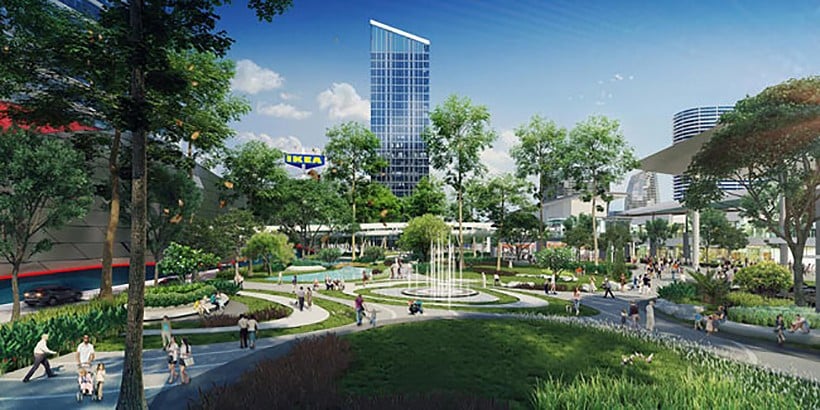 The Council on Tall Buildings and Urban Habitat is the world's leading institute on the inception, design, construction and operation of tall buildings and future cities around the globe. Founded in 1969 and headquartered at Chicago's historic Monroe Building, the council is a non-profit organisation with its Asia headquarters at Tongji University in Shanghai, a research office at Iuav University in Venice and an academic office at the Illinois Institute of Technology in Chicago. It facilitates exchanges of the latest technologies for tall buildings through publications, research, events, working groups, web platforms, and an extensive network of international representatives.
James Pitchon, head of Research and Consulting at CBRE Thailand, said it is not possible to develop a single-use project on a large site, citing the likelihood of oversupply in the local market, be it an office or residential project. Developers of large sites need a range of diversified incomes, he added.
Consumers like the convenience of having a range of facilities in one place that are easily accessible in a climate control environment. Having easy-to-reach retail outlets and a hotel in the same complex appeal to office tenants, especially for the convenience of foreign clients and visitors.
Thais are also open to the idea of staying in a condo next to where they work and play, provided it comes with privacy and exclusivity along with the convenience, Pitchon said.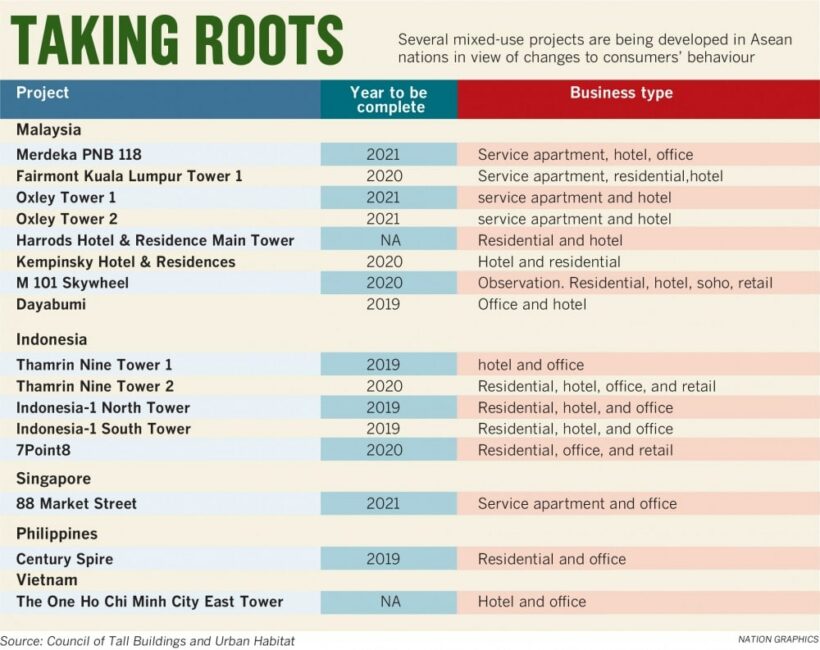 A JLL research said that the growth of mixed-use projects in ASEAN (the Association of Southeast Asian Nations) began to take off amid infrastructure development and changes to consumer behaviours in the region. The association marked its 50th anniversary last year and the region is gearing up for greater growth and investment.
Already powerhouses in the wider region, Southeast Asia's economies are projected to grow at an annual average of 5 per cent until 2020. The real estate industry stands to benefit as demographics and market size draw further investments, given the manufacturing and logistics advantages. The upgrade in ASEAN infrastructure, especially the advancement of high-speed rail networks, will attract development of mixed-use projects connected to the train stations, as is the case in Japan and Hong Kong, the research said.
Find more than 30,000 properties for sale in Thailand at property.thethaiger.com

SOURCE: The Nation

Find more property for sale and rent across Thailand at Thaiger Property, powered by FazWaz. You can even list your property for free.

Weakness in the BKK condo market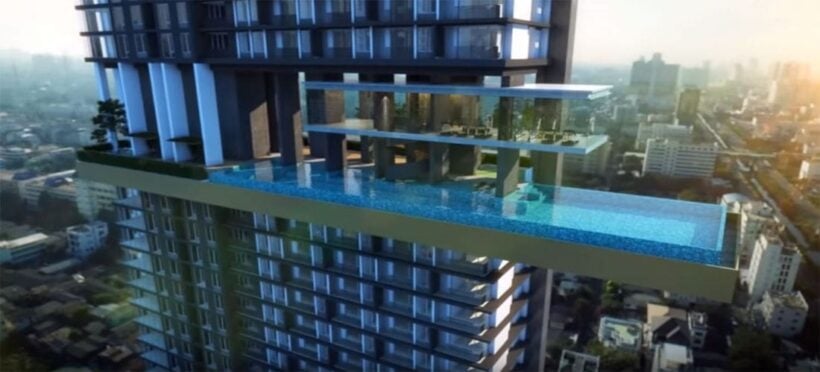 PHOTO: Nara 9 – www.nara9.net
Property consultants, Edmund Tie & Company – South East Asia – report that the new condo supply for 2019 is 'unlikely to increase' and that sales rates are disappointing in Q3.
Their report says that the take-up rate of newly launched condominium projects in Q3 in Bangkok's CBD dropped from last year's 58% to only 31%, year on year. This is even lower than the performance in Q2 which was 46%.
Developers are acknowledging that there is a weaker demand for residential units and a significant drop in overall supply.
The three highest performing condo sale segments were the 'luxury segment', followed by the 'super luxury' and 'Grade A' segments.
The average price for condos has remained flat for Q3, compared to Q2 – around 330,000 baht per square metre – but this is still a 32% increase when compared to the same quarter in 2017, according to the report.
But Edmund Tie report that the figures are just a minor 'blip' following big rises in demand and sales over the past three years. They report that the new condominium supply in the CBD during Q3 was 1,636 units, rising from 852 in Q2, 2018 – a 92% increase in new units hitting the market.
For the office sector, their report says that rents will continue to increase gradually in the final quarter of this year and into 2019, driven by limited supply.
"There will be an increased demand for office condos in Bangkok."
They say office developers remain focused on providing open-plan office space close to public transport nodes.
Thailand's creative entrepreneurs funding passions through Airbnb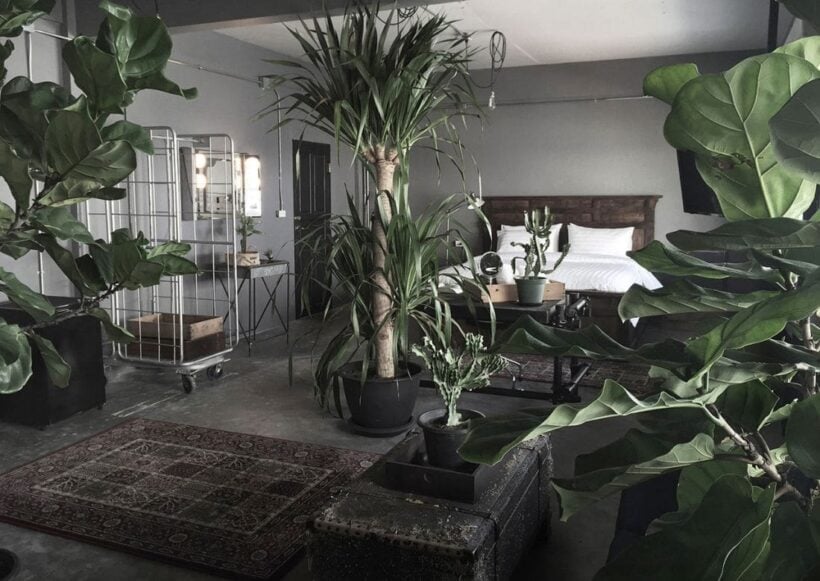 2,000 Airbnb Homes and Experiences hosts in Thailand are members of the Creative Community
25% of all creative Thai hosts are based in Bangkok. One in every five Thai Experience hosts are from the arts, music, fashion or entertainment industries.
Like tourism, which now accounts for more than 10 percent of the world's global GDP, the creative economy is thriving worldwide. In Thailand, new Airbnb data shows that there are 2,000 passionate Airbnb hosts in Thailand who work in the creative industry.
These creative entrepreneurs, many of whom live in cities and work away from home for extended periods, are embracing digital and technology platforms to help support themselves, fund their passions and showcase their creative work.
Most share their extra living space through Airbnb Homes, setting their own listing prices and keeping 97% of all revenue. In fact, 60% of all creative Home hosts globally say Airbnb has helped them afford to stay in their homes. Others share their passions and craftsmanship by hosting Airbnb Experiences, handcrafted activities for small groups of guests. They set their own listing prices and keep 80% of all revenue earned, while gradually building a following for their creative work.
"Thriving creative communities are essential to vibrant, inclusive economies such as Thailand. Airbnb is proud of the supporting role we play as a technology platform that leverages the growing interest in travel to promote local culture and creativity, while nurturing tourism that is local, authentic and sustainable," said Mich Goh, Airbnb Head of Public Policy for Southeast Asia.

Airbnb's Key Findings in Thailand
Almost a quarter of all creative Airbnb hosts in Thailand are based in Bangkok. They know the soul of Bangkok's cultural scene, and are eager to share the creative and cultural highlights of their city with guests within their very own neighbourhoods.
According to Airbnb's Healthy Travel and Healthy Destinations 2018 Report for Bangkok, 78% of all Bangkok hosts offered recommendations for cultural activities to their guests.  Half of all cultural activities recommended are located within a 20-minute walk of their listing, encouraging guests to venture beyond popular tourist areas and explore the local, authentic side of Thailand's neighbourhoods.
In addition, one in every five Airbnb Experiences in Thailand are creative-based — rooted in the arts, entertainment, fashion or music.
60% of all Airbnb Experiences hosts in Thailand are women, reflecting UNESCO's observation of the inclusivity of the creative sector toward young people, women and small businesses.
Meet Creative Airbnb Host, Ananda Chalardcharoen
An avid Airbnb user and traveler, Ananda Chalardcharoen enjoys seeking unique and attractive on Airbnb on her travels. That's why when she had the chance to be a host herself, she quickly jumped at the opportunity.
Today, Ananda is the owner of The Mustang Nero Hotel – a quirky boutique hotel tucked away in Bangkok's Sukhumvit soi 46. Housed in a renovated old commercial building, the hotel blends chic simplicity with a raw vintage aesthetic. Ananda's background in fashion design clearly inspires the hotel's zany tropical-themed interior. Each of the hotel's ten rooms is intricately decorated and named after a unique animal, from 'The Zebra Song' to 'Black Bird' and 'The Lion Sleeps Tonight'.
"The Mustang Nero Hotel is one-of-a-kind. I've put a lot of effort into the design and décor to ensure our guests have a truly unique stay, and at the same time I hope to showcase a creative side of Thailand to my guests," Ananda shares. "Airbnb is the primary online platform we use. I feel like we have grown together – Airbnb has been essential in helping The Mustang Nero Hotel reach customers and grow as a business. I would say 95% of our bookings today come through Airbnb."
Located in the heart of the city, The Mustang Nero Hotel offers guests a mini green oasis with lush foliage artfully planted throughout the hotel. Having grown up in the Phra Khanong area, Ananda loves to share local insights and knowledge with her guests. A self-curated local guidebook in Thai, English and Chinese is available for guests, and includes her tips and secrets to the neighbourhood.

A Growing Partnership Catalogue
Airbnb became the first travel platform in Thailand to sign a Memorandum of Understanding (MoU) with the Thailand Boutique Accommodation Trade Association to bring more than 50 boutique hotels across 15 provinces onto the platform this year. The partnership recognises that creative boutique entrepreneurs are playing an increasingly key role in driving the local tourism ecosystem, and aims to spotlight authentic Thai hospitality, culture and design in boutique hotels.
In June, the company launched Airbnb Experiences in Chiang Mai and the rest of Thailand alongside a panel discussion with the Thailand Community Based Tourism Institute (CBT-I), Creative Chiang Mai and Chiang Mai University. With popular experiences including Thai Traditional Yantra Tattoo and Kow Soy Noodle Making, Airbnb aims to continue supporting the creative and cultural Northern Thai capital as an ever popular global travel destination.

Top 10 Luxury Homes in Thailand (that you can buy)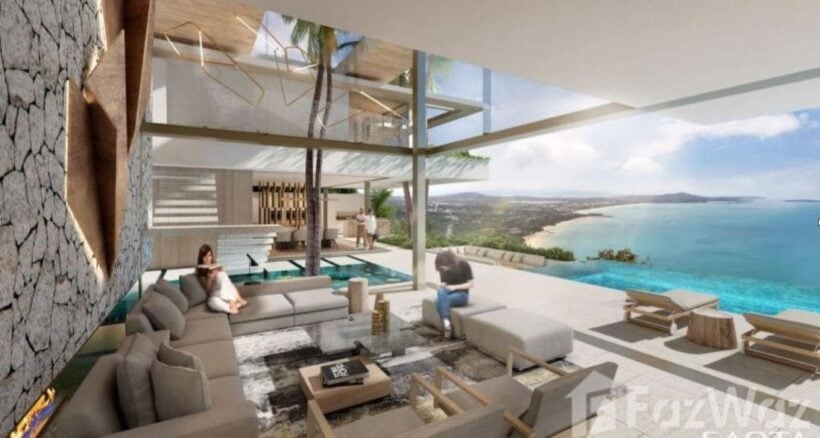 This exclusive home, to be completed in October 2019, is one of only 6 villas in The Heavens project located on Koh Samui island, in the sheltered Gulf of Thailand. While this 5 bed and 5 bath villa is in walkable distance to the famous Lad Koh Viewpoint, the views from the villa itself are even better. Chaweng beach, the city, and the neighboring island of Koh Phangan are all visible, (reachable in 20 minutes by speedboat if you want to check out the Fullmoon party or Half-moon parties), there is also an observatory and telescope onsite available for use by residents.

Living in one of Asia's biggest cities, condo life can be great, but some would rather have their own private homes in Bangkok. With homes like this, it's easy to see why. This spacious and sunny villa is located near several prestigious Thai, and international schools in quiet Asok; a neighborhood popular with tourists for its easy accessibility, shopping, restaurants, and nightlife. Big enough for friends and family to stay with 8 bedrooms and 9 bathrooms, this villa is in convenient walking distance to both the skytrain as well as the subway – but still has its own parking if you would rather drive around the city. But you might not want to leave at all, with your own private pool, gym, garden, and full kitchen.

If you've ever wanted to live in Thailand, or have a tropical island vacation, The Cape Residences is a great place to enjoy a luxurious holiday. It is set on a quiet and exclusive wooded peninsula with view of Phang Nga Bay and its famous natural skyscrapers, the limestone islands that dot the sea. The project was designed by architect Jean-Michel Gathy, who has worked for some of the region's most famous luxury hotel brands like Banyan Tree and The Mandarin. He's now lent his talents to this collection of elegant private residences that include 24 hour security, tennis courts, steam rooms, private pools, as well as access to a world class spa and restaurant.

This 5 bedroom penthouse condo in Pattaya is far from the usual expectations of condo life in Asia. With a private pool and private gym, views of the city, the sea, and mountains, it's easy to forget that you're living in a condo in this 29th floor duplex – especially with almost 1000 square meters to relax in after walking back from the beach or Pattaya's nighttime entertainment.

This home in the Palm Hills Golf Club and Residence is the perfect golf getaway for someone who wants the peace and quiet of living outside Thailand's major cities, while still being able to enjoy a world class golf course and western amenities. After finishing a round among the palm trees dotting the property and taking in panoramic views of mountain ranges surrounding the resort, there is a private pool, jacuzzi, sauna, and clubhouse available before having a relaxing meal at the onsite restaurant. Slightly less expensive than similar homes in Bangkok or Pattaya, this could be a great retirement home in Thailand, a holiday timeshare, or rental opportunity in Hua Hin.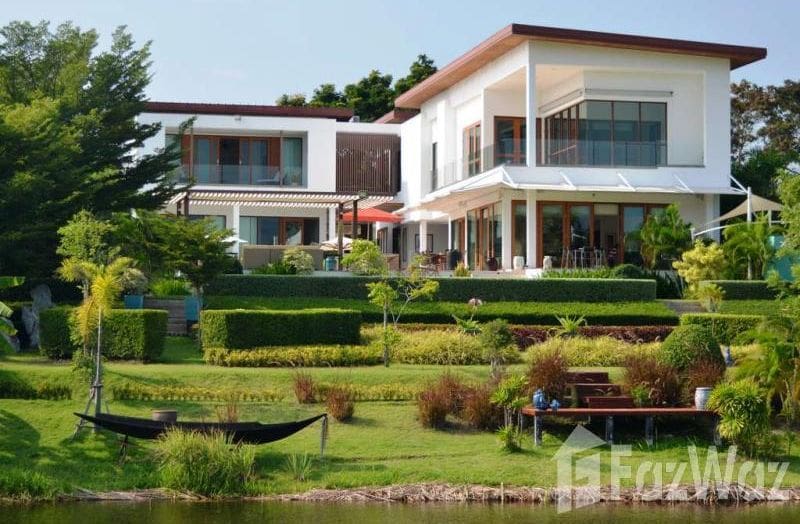 It might not be for everyone, but walking into this house in Chiang Mai, will feel like walking into your own mini Palace of Versailles. Full of bright and wide open rooms, the 2,200 square meter home is covered in hardwood floors and marble tile, with some recessed and high ceilings – making it easy to keep cool in this tropical country. The classical theme includes spiral staircases, and even some Doric and Corinthian style columns. Despite the classic look, it's not without modern conveniences like a jacuzzi.
Removed from the touristy areas and located in the quiet north eastern section of Koh Samui island, Laem Yai, this house is still just a short motorbike ride away from the busy Chaweng beach or Lamai beach. The two story, three bedroom house is one of just fourteen in the Estates Samui development. It includes two onsite restaurants serving both international and Thai food, a spa and health club, yoga pavilion, tennis (with lights for nighttime matches), golf, as well as beach and water sports. The villas feature an unobstructed panoramic view of the ocean with floor to ceiling glass, and master bedrooms include their own private pools.
Koh Samui seems to be a favorite for builders and developers, as there's no shortage of luxury vacation rentals and dream homes. This three floor, eleven bedroom villa is no exception. Bophut is quaint fishing village, but closer to Chaweng than Laem Yai. The property makes great use of the natural landscape by nestling itself into the rising mountains and giving a great view of the surrounding mountains and jungle as well as the Gulf of Thailand. When not taking in the sights, one can relax in the private pool or garden, or lounge out in the sun deck.
While Koh Samui has countless options for luxurious island getaways, Phuket is easily one of its biggest rivals. One great example of what a holiday home in Phuket has to offer is this three floor, six bedroom villa in the Ayara Surin development, which has only 21 other units. The infinity saltwater pool looks out to the Andaman Sea, and after swimming there's a jacuzzi, spa, and bar available to really enjoy your holiday. All this, and still just a walk to Surin beach.
While some Bangkok residents are relegated to living in thirty square meter apartments, there are still opportunities to enjoy spacious dream homes. In Bangkok, there are plenty of private homes if you're looking for an alternative to condos. This five bedroom house in Sukhumvit, includes a massive garden surrounded by privacy walls, its own pool, balcony and terrace, and a full western kitchen. Covered parking is included, but it's also a short ride to the subway.