Responsible property purchases – do your homework and seek a second opinion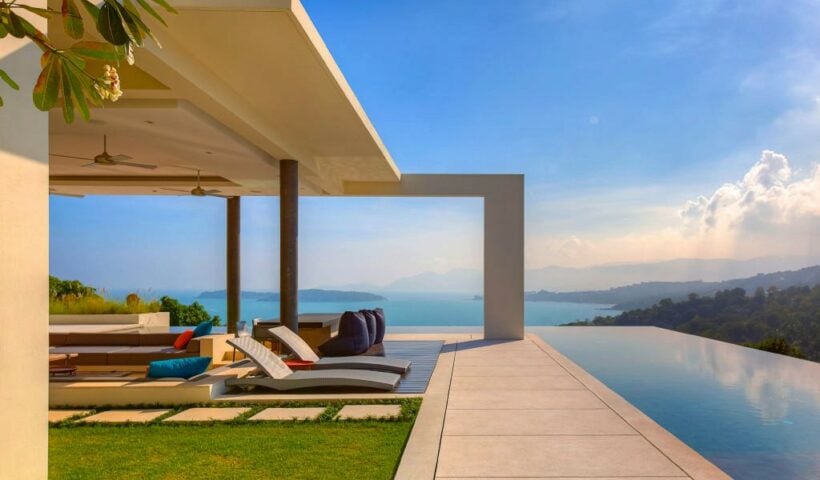 Many times prospective buyers of property in Thailand search online for legal information in regards to their purchase. They soon discover that online legal advice varies depending on the law office, lawyer or advisor providing the information.
In some cases advice is given which recommends that to secure an investment in property a Thai company should be incorporated to hold legal title, or that the investor should secure a 30 year registered leasehold (50 years for commercial property with possible extension).
Other times, an advisor recommends that a superficies or usufruct be registered against the land title in favor of the investor, or to simply secure a registered lifetime right to possess and reside on the land. Some suggest that prospective purchasers gift the purchase money to be used for the investment to their Thai wife or Thai partner – who, as Thais, may lawfully hold title to land in their own names. Still others suggest only purchasing condominium units, which may be lawfully owned and registered into the name of foreign nationals.
From the above, you can see that there are many ways to secure an investment in property in Thailand. Depending on the specific needs and circumstances of the individual buyer, one method or another may be the most suitable for any individual case.
To be sure, there are differences of opinion as to which methods may best serve a specific buyer, and it is in the best interest of every prospective purchaser of land or property in Thailand to receive, prior to their purchase, proper legal advice fully informing them of the advantages and disadvantages of each of the possible methods and vehicles of property ownership.
Factors to consider include whether the purchased property can be passed on through a last will, whether the property rights can be sold or transferred to third parties and under what circumstances may their property rights be renewed or extended.
The experience of the particular law office, lawyer or advisor selected by the buyer will play a crucial role in the quality of their advice. Always select attorneys who have experience defending contracts in courts of law and who are up to date with the ever-changing property laws and regulations of the land office.
Law offices/attorneys who are personally familiar with the land office and its policies and regulations should be consulted, as the interpretation of the laws and regulations by such a land official is valuable – any contracts for property purchase must be registered against a the land title which has to be accepted by the land officer in charge.
The Thaiger always recommends to do your homework before you sign anything, including speaking to a number of lawyers to assess their advice and costs.
The International Law Office Patong Beach wholeheartedly agrees with other advisors that proper legal advice should be sought before entering into any agreements, including reservation agreements, and before any monies are paid.
Further, while it is always important to discuss your individual situation and needs with a skilled and qualified lawyer/advisor, it is also desirable to get a second opinion as the advice you may initially receive may vary depending on the experience and knowledge of your advisor and the particular purchase structure you first chose.
A law office or advisor who can also offer tax advice on the tax liabilities of owning/renting out property or upon its later sale is an advantage to have. If your attorney is not a tax specialist, you may wish to seek additional and independent advice from a tax advisor for added protection.

This article is written by International Law Office Patong Beach Company. Since 1995, a Phuket based law firm.
EMAIL: [email protected]
PHONE: +66 76 222 1915. (Locally – 076 222 191 5)
To search through over 33,000+ properties in Thailand click HERE.
Find more property for sale and rent across Thailand at Thaiger Property, powered by FazWaz. You can even list your property for free.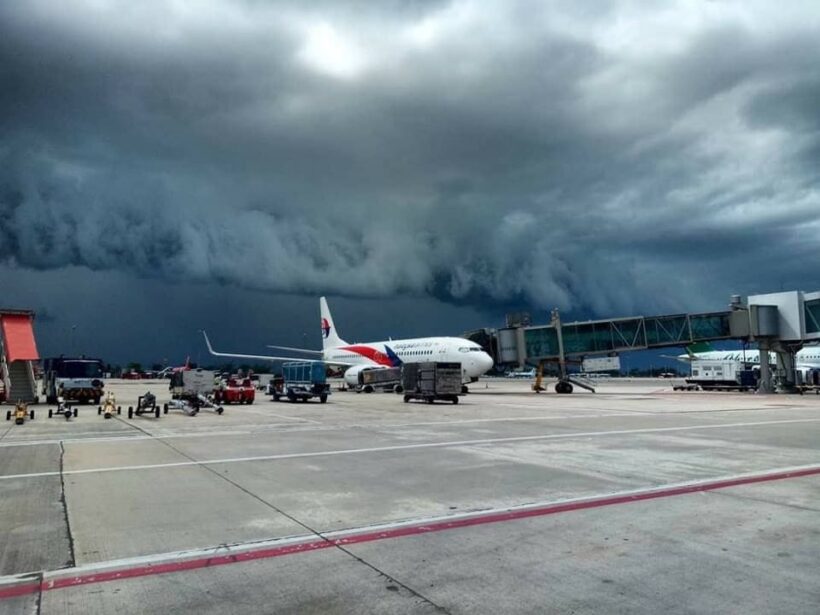 PHOTO: หญิง' โลนลี่ / ¥.OunG.¥ / เหยี่ยวข่าว ภูเก็ต

Yesterday a dramatic photo of an approaching storm front was a big hit, being shared many thousands of times. It was taken at the Phuket International Airport at 14.39, according to the time stamp. The photo was taken by members of the Newshawk news team in Phuket, news partners with The Thaiger.

But back to the actual storm front.

The frontal system is fairly rare in Phuket where tropical cells, developing quite randomly, are more the norm, dumping their rain, losing power and moving on.

This front could be seen on the radar for up to an hour before it reached the west coast. The weather front approached Phuket's west coast almost directly from the west. The official forecast was for an 80% chance of rain but nothing like this was predicted. Thanks to the radar service we could not only see it coming, we could predict almost exactly when it would hit - so could t...
Russian tourist stung by 'fire jellyfish' at Patong Beach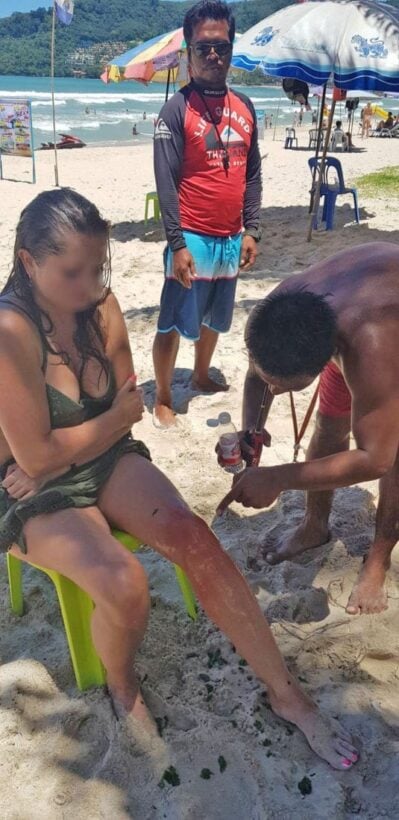 PHOTOS: Patong Lifeguards / Newshawk Phuket

A female Russian tourist has sustained a painful sting on her leg from a 'fire jellyfish' at Patong beach today (September 20).

Patong lifeguards are warning of jellyfish known locally as the 'fire jellyfish' at Patong Beach.

Fire Jellyfish or Morbakka fenneri can be discovered in tropical watersa. The physical appearance of this jellyfish is slightly larger than most jellyfish. The fire jellyfish can be seen from their pink coloured body, four inch body length and their bell is two-inches in diameter. Their stings are also painful but no worse than other jellyfish.

Patong lifeguards say, "We have provided first aid to a the Russian lady who refused to go to a hospital. If you are stung by one, pouring sea water or vinegar on the affected area can help relieve some of  the pain. Please don't use fresh water and don't scratch."

"Many tourists sustai...
Soi Dog congratulates the Hanoi people's committee ban on dog and cat meat trade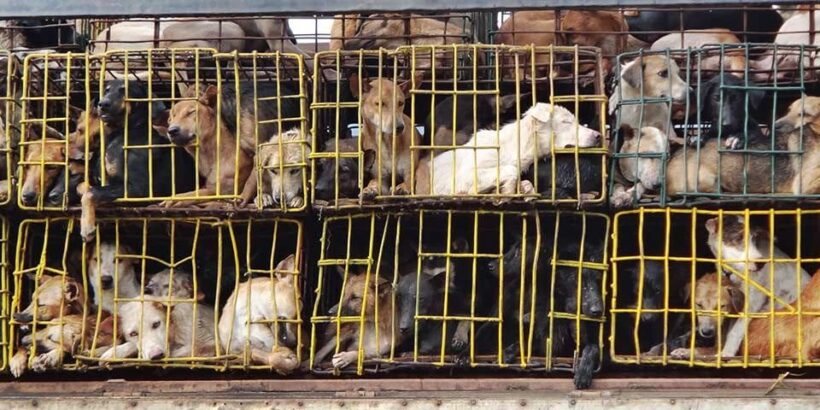 Barely 24 hours after urging citizens to stop eating dogs and cats, Hanoi's authorities have announced that the sale of dog meat will be banned from the central districts of the city from 2021.
The director of the city's Department of Animal Health, Nguyen Ngoc Son, told Lao Dong Newspaper on Wednesday (September 12)...
"Following a direction from the city's People's Committee that called on residents to ease off eating dog meat, we are building a plan to gradually phase out the slaughtering and trading of dog meat.
"By 2021 there will be no dog meat restaurants in the city centre."
The People's Committee had asked city residents the previous day to stop eating dog and cat meat, and urged local district authorities to launch campaigns to warn people about the risks of contracting diseases, includi...