Post-high-season autopsy on Phuket's luxury property market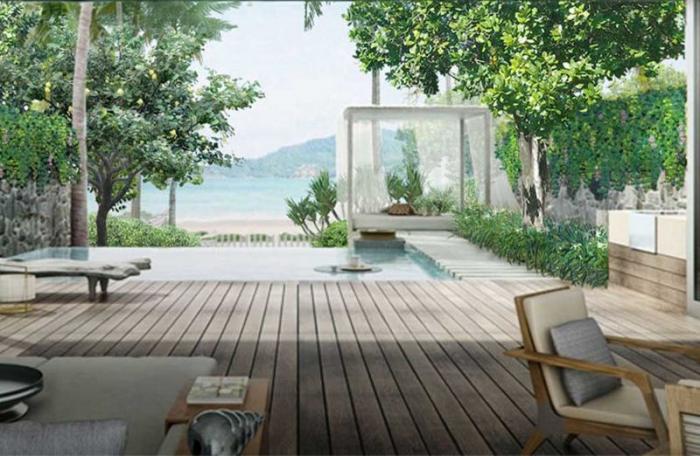 PHUKET: As I sit in my office on a faceless Saturday afternoon heading into low season, a song that flips up on Spotify grabs my attention – Ike and Tina Turner's 'River Deep, Mountain High'.
My heart nearly skips a beat as Tina grittily sings the lines "And it gets stronger, in every way. And it gets deeper, let me say. And it gets higher, day by day."
Sadly, the same can not be said about the state of Phuket's luxury real estate market.
Welcome to the post-high season autopsy on Phuket's pish posh uber luxury property market. The hills are not exactly 'alive with music' these days. Land issues, a crush of resale units on the market and heavy discounting is the current trend making the outlook somewhat gloomy. Predicting when that trend will end is hard to say.
Speaking to developers and real estate brokers in the luxury property sector, this year's high season was as flat as a pancake.
One key indicator of sentiment is that a number of villas in famed hospitality-led residential projects on the west coast are up for sale.
At one iconic hotel in particular, property resales have been few and far between, putting more villas back into the market. Turn back the pages a few years and it was a different story. Anxious investors were lining up just to get on the waiting list.
There is little doubt that a double negative has been the on-and-off saga over Sirinath National Park, which has affected a number of ultra villa estates and played out prominently in the press. It's been a public relations nightmare with the end result remaining unclear.
While Phuket arguably has the highest valued resort property market of any resort destination in Southeast Asia, ongoing land issues are having a certain impact on sentiment.
Another key rallying call has been Surin Beach and the swank strip of clubs and outlets that became social houses for the wealthy. The strip was undoubtedly a key demand driver for upscale properties in the area. Today though, the beach lies in ruins, as does much of Layan and Bang Tao. Half-tumbled fences, rubble and the skeletal remains of buildings make the place look like the scene of a bomb blast.
Although the government has acted in good faith to get rid of the illegal structures, one has to ask, 'where is Plan B?'
What about the restoration and promotion of quality versus quantity?
Will Surin Beach end up the same as Nai Thon with paved public parking that is tented by vendors and become a public market place instead of a haven for beach-goers?
There is little doubt that Surin's strip of trendy clubs added value to nearby properties, such as Surin Hill, Ayara Surin and Surin Heights, as well as other stand-alone properties.
For buyers of ultra villas, the incline of the property, elevated views and exclusive privacy win over flat, seafront land any day. However, with the Surin Beach strip now gone, the game has changed.
As we move through 2016 and look at the mounting million-dollar offerings at Anantara Layan, Avadina Hills, Point Yamu by Como and MontAzure, it may appear impressive but the competitive landscape has not changed.
As well as fewer buyers making fiercer competition, owners are now willing to negotiate back to favorable currency appreciation.
Luxury pipeline projects, such as Rosewood and a few other hotel-led offerings, are still in the planning stages so the outlook for the year remains largely unclear.
Getting to the gist of things, Phuket's luxury property stable remains strong and contains some of the most beautiful properties on earth. But, like a garden that goes untended, external factors are weighing in heavily and in the day and age of disruption, the sector has dwindled to a crawl instead of a sprint.
Yes, the determined crawl is taking the market forward at a much slower pace, but one can't help but wonder how sentiment will be regained in the present. For now, the industry needs to somehow come together, address the negative impact of the disruptions and hopefully restore confidence a little better than the sight of rubble littering many of Phuket's famed west coast beaches.

Bill Barnett is the founder and managing director of C9 Hotelworks (C9Hotelworks.com), a leading Thailand-based hospitality and real estate consulting firm.
— Bill Barnett
Keep in contact with The Thaiger by following our Facebook page.
Never miss out on future posts by following The Thaiger.


Interested in more property news or buying property in Thailand - check out FazWaz today!

The 'office' is SO last century. Say hello to the world of remote working.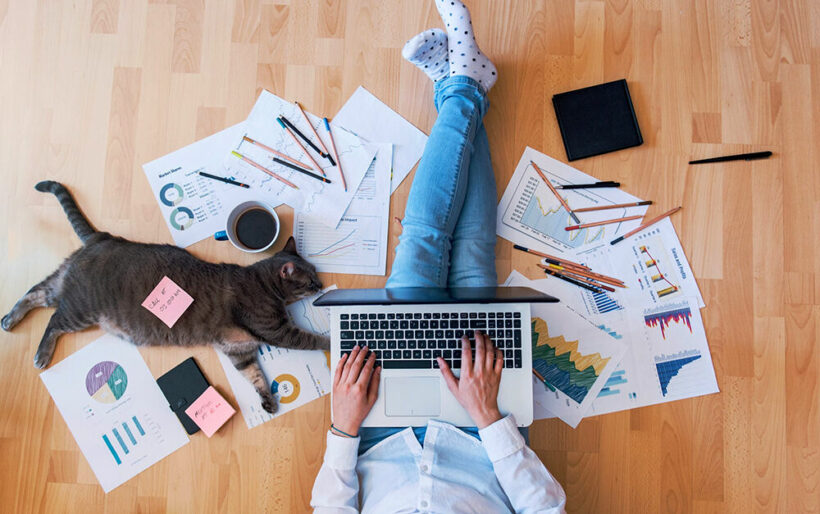 Do you work from home? Or can you work anywhere have a laptop and wi-fi? Are you a trader or selling stuff online? You're part of a growing trend in modern work practices as the fancy city office becomes an expensive relic of the 'old normal'.
2020 became the year of people working from home. In same case, it was the year of being told to stay home so there wasn't much option. During Thailand's lockdowns in April and May, offices were closed and employers had to scramble to find alternatives to the "office". With the rise of Zoom and other video conferencing software, ways of tracking time-on-keyboard and hundreds of other monitoring apps, employers suddenly discovered they could actually run their businesses without an office. There were certainly new dynamics and unforeseen challenges, but for the most part, it worked.
Companies had worked from central office locations for a hundred years. The remote/work-from-home option was a new test for everyone involved but many early wrinkles have been ironed out after an accelerated learning curve due to the Covid-19 situation.
In the early days, most companies weren't ready to close up the office and send their workers home claiming that some basic operations such as accounting and invoicing were not yet able to be done online (Thailand has a love of hard-copies and paperwork).
Team meetings were also more clumsy online. There were even companies that told their staff to keep coming in to the office as there was no legal barrier preventing them from doing so. But many smaller and less digitally-savvy firms required workers to come in and risk contracting the virus.
In the US, the Bureau of Labour Statistics found only 29% of jobs in the US could be completed from home, while in Thailand (a far less digitised and service-based economy) the percentage was probably lower.
But larger Thai firms, such as Unilever and True Digital allowed nearly 100% of their white-collar employees to work from home early during the lockdown phase. Other companies adapted quickly and found that working remotely, or from home, allowed their businesses additional flexibility. Many workers also say they enjoyed the lack of office interruptions too.
While Unilever was unable to send its factory workforce home, it was able to shift all sales and executive personnel fully online to avoid possible Covid exposure finding hitherto unknown improvements in the firm's e-commerce presence.
Thai startups such as Eko ("your complete employee experience platform") was able to capitalise on the rise of work-from-home with its "work anywhere" employee application. Eko experienced 200% year-on-year sales growth in the first half of 2020 as companies looked for solutions to connect employees from home.
Teleconferencing juggernaut Zoom was trading shares at US$88 at the start of 2020, to rise to $568 by mid-October, only to trail off to $337 by the end of the year – the fickle nature of a fast-rising tech start-up.
Employees, generally, prefer the shift to working from home and the flexible hours. It doesn't suit all businesses or all employees, but it suits many. A study by by recruitment specialists Robert Walters Thailand found 75% of workers want opportunities to work-from-home and only 25% want a return to full-time work at the office.
Last month the police and the Bangkok Metropolitan Organisation police urged businesses to allow employees to work from home at least once a week to cut down on traffic-induced pollution.
The Covid-19 pandemic also forced countries to rethink their supply chains and reliance on foreign goods. China, for example, responded to the outbreak by shutting down factories, some of which other countries relied on for medical equipment needed to fight the virus, and vital components needed for manufacturing of goods in China and other countries.
Whilst there was an initial push-back on China, the international supply chain has become so entwined with Chinese businesses and manufacturers, and China with other countries, that it would take decades to unwind.
One of the biggest winners this year has been the rise of the delivery services. Grab Bike, Food Panda, We Serve and Line Bike are the best known but there are start ups making inroads into the growing delivery space as well as many smaller and larger businesses that have their own deliveries.
These businesses have been able to thrive on the 'new normal' stay-at-home culture. Eat at home, work at home, shop from home, watch movies at home – the trend is growing as people realise that they can get almost everything delivered, timely, efficiently and at little additional cost, usually free.
The big test will be once the Covid situation settles down, whatever that means and whenever it happens, and companies look back at the successes and failures of their employees working from home. But there's no doubt the pandemic and the imposed restrictions ave accelerated the need to develop new ways of allowing employees to work safely, remotely or from home.
The successful transition of some office work to work-at-home will also put continued pressure on the commercial real estate market. Many employers are looking at their monthly office rental outgoings and starting to measure the return on their investment.
The rise of the work-at-home phenomenon and the digital nomad will be the main trends for office work in 2021.
This article was written laying on a couch, at home, at 6.15am in the morning… because we can.
Keep in contact with The Thaiger by following our Facebook page.
Never miss out on future posts by following The Thaiger.
Future of Thai department stores is being redefined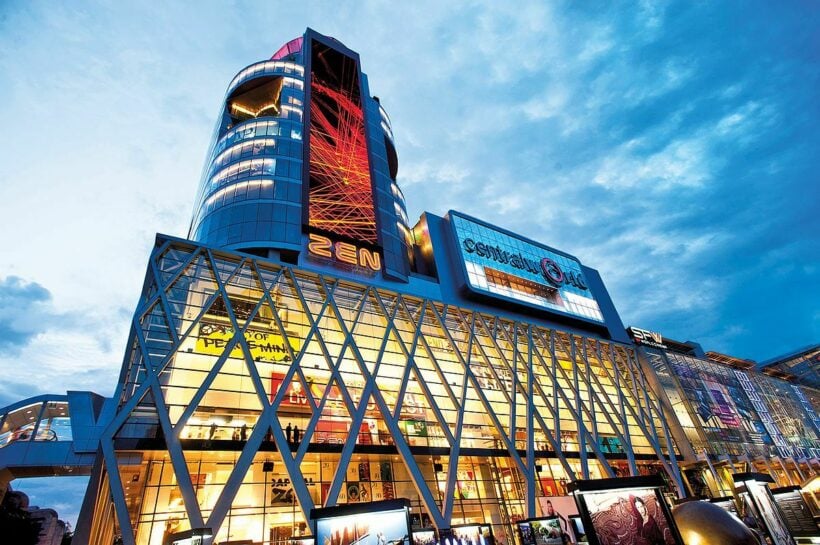 While department stores have been a familiar destination for Thai people for many decades, CBRE, an international property consultant, is witnessing a decline in popularity and stunted growth, particularly in 2020 when Covid-19 adversely impacted the sector. CBRE believes that to adapt to e-commerce disruption and the changing consumer behaviour, department stores in 2021 (and beyond) will have to fine-tune their business model in terms of customer shopping experience, inventive activities and value-added programmes to continue their status as the second home for Thai shoppers.
Jariya Thumtrongkitkul, Head of Advisory and Transaction Services – Retail, CBRE Thailand explained… "While department stores offer shoppers convenience, saving them time with many varieties of goods grouped in different departments and allowing the shoppers to find and compare products and choose what they want, the traditional department store model does not fit the needs, lifestyle and behaviour of its shoppers anymore, especially the new generations."
According to CBRE Research, the total retail supply in Bangkok as of Q4 2020 increased to 7.8 million square metres, a 1.16% increase year-on-year. Out of this, only approximately 3% was reported within the department store format. The department store market in Thailand is mainly dominated by two domestic retail giants, with Central Group and The Mall Group holding the largest market shares. They do not only concentrate in Bangkok, but have also opened department stores in many major cities throughout the country which allowed them to build bigger networks and grow their customer base.
In the past few decades, Japanese investors had also shown interest in entering the Thai market and offered local features that are well-known in Japanese department stores: simplicity, premium quality and services. However, with strong competition many Japanese department store operators have ceased their expansion plans. Some have exited the country due to the fierce competition against the local players, their performance in Thailand and the shrinking Japanese department store business, especially in overseas countries.
"The department store concept as a one stop shopping place is still in demand for certain groups of customers. However, with the e-commerce disruption and changing consumer behaviour, department store operators need to adapt their models, offerings and value-added services to their customers to cope with the challenging economic and market conditions."
Adaptability of department stores can be highlighted into 3 main parts: customer shopping experience, inventive sales and marketing activities, and value-added programmes. While more and more younger generations prefer to shop online to save time and money, the brick-and-mortar store is still believed to be the second home for Thai shoppers. Department stores should be more agile in the era of e-commerce and adopt some technological innovations such as in-store automation and mobile payment solutions to reach the younger crowds.
Design is another aspect that plays an important part in customer shopping experience. Department stores can be more creative in remodelling traditional department store space into some ingenious and interactive space with a great design and right product portfolio mix for their customers.
The Mall Group, for example, has launched its first "Lifestore" concept at The Mall Ngamwongwan at the end of 2020 by redesigning and renovating its traditional department store space to enhance customer shopping experience and enjoyment.
The second part to be considered for the adaptability comprises inventive activities related to sales and marketing. The prices of products being sold in a department store are normally set high to cover the higher establishment and operating costs by operators, narrowing their target to only upper- to high-income customers.
Brand offerings may also no longer meet fast-changing customer needs since today's shoppers have more choices in buying products online, not to mention the declining footfall due to the growth of e-commerce. CBRE Research has seen domestic players pushing hard to drive sales growth via numerous promotions, marketing campaigns and activities and collaboration with credit card companies during seasonal sales.
The third part consists of value-added programmes such as personal shopper, customer loyalty programme, on-demand solution and service personalisation, which have become a new trend as customers, including the aging population, are now more sophisticated and demanding.
The retail landscape has changed drastically in the past few years from various factors like technological advancement, consumer behaviour and preference as well as Covid-19. Cookie-cutter strategy will be a thing of the past, especially for department stores where the format and offerings have remained the same for decades.
Keep in contact with The Thaiger by following our Facebook page.
Never miss out on future posts by following The Thaiger.
Bangkok's commercial property market struggles through 2020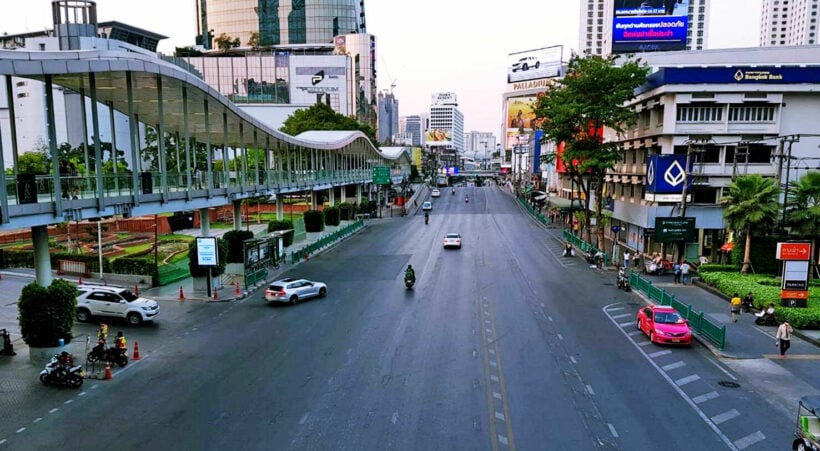 This year Thailand's developers had to work around the effects of government lockdowns and restrictions because of the Covid-19 pandemic. Indeed significant changes have occurred to the commercial property market in Thailand. CBRE Research reports that the Bangkok office market suffered a significant change in the net up-take, whilst the retail market consumer confidence index fell and the hotel market struggled to maintain the cash flow.
It wasn't a good year.
COMMERCIAL
During the initial lockdown, during April and May, adoption of work-from-home not only changed how we implement social distancing during the Covid-19 pandemic period, but showed businesses and employees that the workers could work remotely, and effectively. Many organisations have now revisited their workplace strategy, and some have started changing how and where each business unit operates.
Coupled with financial pressure on businesses, the situation resulted in a contraction in space sizes by many tenants, especially in Grade B Non-CBD locations where tenants are more sensitive to financial illiquidity. In addition, some tenants were unable to move into their office space as the office fit-out could not commence due to the lockdown. CBRE Research found that in the first nine months of 2020, the net take-up increased by 21,000 square metres compared to 128,000 square metres in the same period last year. However, CBRE Research also reported that office pre-leases were seen in the growing businesses such as e-commerce and technology platforms where the demand for workspace has doubled.
According to CBRE Research, the total office supply in Bangkok as of Q3 2020 was 9.17 million square metres, increasing by 2.1% year on year, with key completions being Spring Tower and The PARQ in Q1 2020. While this year has new office supply of 345,900 square metres, the negative take-up has resulted in the increase in vacancy rate from 6.9% at the end of last year to 8.9% as of Q3 2020.
While the overall occupancy in the Bangkok office market has slightly dropped to 91.1%, the best performer this year is in the Grade A Non-CBD segment where the total supply is only 674,000 square metres, representing 7.4% of the total supply in the market. The expansion of mass transit systems and urban development have increased the attractiveness of high-quality buildings in Non-CBD locations where rents are much lower compared to CBD locations.
RETAIL
Thailand's retail industry has slumped as shopper have experienced a drop in spending power. The consumer confidence index also fell to its lowest point in 20 years in April 2020 at 47.2. Even though the confidence has improved in the following months, it is still a long way from its pre-Covid-19 levels. Due to business disruptions and increasing financial burden, the household debt as of Q2 2020 was at 83.8% of the total GDP, increasing from 78.9% last year.
CBRE Research reports that the Bangkok retail supply totalled 7.8 million square metres as of Q3 2020, increasing by 2.4% year on year from the opening of 12 new retail developments with combined retail space of 100,000 square metres with Siam Premium Outlet near Suvarnabhumi Airport being the biggest development this year.
While the occupancy rate across the market remained high at 96%, CBRE Research has started seeing a drop in retail developments in downtown areas of Bangkok which are more dependent on demand from tourists rather than locals like those in the midtown and suburban locations.
How fast the retail industry can recover from Covid-19 will largely depend on how effective the stimuli from the government such as "Kon-La-Khrueng" (Let's Go Halves) and "Rao-Tiew-Duay-Gun" (We Travel Together) campaigns are as well as when international travel restrictions will be lifted. The amount of retail space in the market, especially in Bangkok, cannot be sustained only by domestic demand in the long run.
HOTELS
Tourism, one of the key sectors that drives the Thai economy, has suffered greatly this year as there were no inbound international tourists from Q2 onwards. The total tourist arrivals for the first nine months in 2020 stood at only 6.7 million compared to almost 30 million in the same period last year. Of those 6.7 million, the vast majority visited during Q1 before the border closures.
Bangkok hotels have seen the average occupancy drop to as low as 6.7% in April after the country went into lockdown but managed to recover slightly to 13.7% in Q3, solely relying on 'staycation' travel. Despite the lifting of the lockdown measures in June and hotels being allowed to resume operations, there was no significant sign of improvement in the market as international travel restrictions have been still in effect.
Some hotels have decided to open partially with heavily discounted pricing while some operate only their F&B outlets to generate some revenue to keep cash flow going. Some hotel owners are facing a situation that they have never planned for, a scenario where there have been no tourists for more than 9 months. This has put them under pressure and some have decided to put their properties on the market.
As of Q3 2020, the total hotel supply in Bangkok was at almost 50,000 keys, increasing from the previous year by only 2.8% as there were limited hotel openings this year. Based on what has been announced, CBRE Research has estimated that there will be 9,200 more keys that will be added into the Bangkok hotel market by 2023 which will further intensify competition.
SOURCE: CBRE
Keep in contact with The Thaiger by following our Facebook page.
Never miss out on future posts by following The Thaiger.