Building for sustainability – Phuket property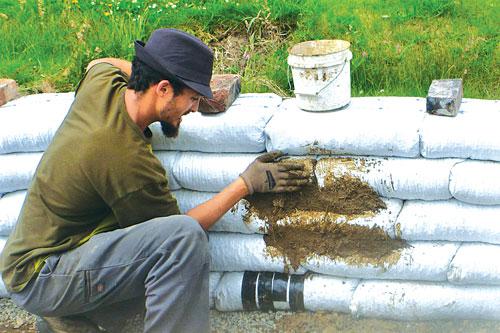 PHUKET: The earth possesses a finite amount of natural resources – ores, timber, oils, for example – but our demand for those resources is growing exponentially. It is time we start looking at serious alternatives to help reduce the amount of waste we produce in our quest for ever more buildings.
It doesn't take a great deal of imagination to visualize the amount of pollutants produced when turning oil into plastic or how much rock is dug up to extract a single steel bar or aluminum window casing.
I have recently allowed a mid-sized condo project being built locally to dump their waste materials on my property to be used as a land fill. I have already accumulated around 200 cubic meters of broken block, cement, packaging, tiles, plastic pipe off- cuts, wooden forms and so on, and their project is far from finished.
It's time we woke up and tried to educate ourselves to new methods of building that are more harmonious with nature, less wasteful and kinder to our environment. There are methods that exist right now that that if we can start to implement, would vastly reduce the amount of waste, and pollution, and thus free ourselves from our dependence on manufactured materials.
Eco-minded projects have been studied, and in a few isolated cases, designed as conceptual models that are far from cost effective. We have been shown that by spending "X" on a wind turbine we can save "Y" – a small amount of electricity. Yet people often scoff the minute an "eco-minded" project is suggested. Yes, yes they all say – but it will cost more than it will practically save.
What if it could be demonstrated that an attractive construction, an appealing and beautiful place to stay could be built that is not only harmonious with nature but could also be low-cost, save on waste, be kind to our environment, practical and could be shown to be a profitable and economically sensible option? Would people sit up and start to listen then? Would that start to influence how we think in the future?
Well obviously there will always be those who want concrete skyscrapers. But what about the smaller resort projects? Maybe we can start to offer alternatives to the concrete box rooms that most mid-priced hotels and resorts offer now.
This is my dream plan – to build a harmonious, Balinese- style resort – consisting of bungalows set in gardens with native plants and herbs around a lake-like-swimming pool. This dream project would be built predominantly from natural, long lasting, non-manufactured materials, or to put it another way… dirt!
The method I am talking about is a variation of the time-tested rammed-earth construction. As its name suggests, this literally means building from compacted reject soil. Building block by block as our ancestors did with traditional building methods know as "Cob", which have been used throughout the world for centuries.
This particular method is "Earth bag" construction, where grain sacks are filled with the reject soil – which is normally discarded or used in land fill – then compressed into blocks and stacked, rather like sand bags damming up a flooding river. Although in this case, the earth will harden into durable clay bricks. This method creates both a very strong structure that can in fact have far greater resistance to earthquakes than traditional methods of construction, but it also has fantastic thermal and sound insulation qualities as well, keeping the structure cooler and therefore more efficient in its usage of electricity.
Not only can these units be built with minimal manufactured materials and completely without all the waste and pollutants, but they also require very little skilled labor. Hence, this method can also be used to help disaster struck areas to rebuild, once global awareness of the method is achieved.
I am appealing for help to make this dream come true. I am currently looking for investors for the project or sponsors who can help donate materials or cash and possibly manual labor or design contributions as well. All will help towards the construction of this project on land secured in a hot spot close to Laguna, in the Bang Tao beach area, an ideal location for a resort project. I also plan to conduct workshops to teach these new skills to the public.
The goal of the project is to demonstrate that an eco-conscious resort can, using this construction method, be both harmonious to nature and pleasing to the eye, while maintaining functionality and at the same time, save costs and have an extremely low environmental footprint.
Contrary to most other appeals, where one-off projects are developed that then require even more donations to maintain them, this project aims to demonstrate a feasible economic model for future businesses to follow, by demonstrating that an eco-minded design is an attractive alternative to standard building methods and will not only save the investors money, but be equally profitable. This is the only way we will see any real changes in the commercial world.
It is only by demonstrating that these ideas can be translated into actual profits will these systems be taken up and implemented on a wider and globally beneficial scale by the industrialists and entrepreneurs of this planet. Well researched figures suggest that my proposed eco-resort project would offer investors returns exceeding 40 per cent per annum over a four year period, and even greater in the long term.
The resort itself will offer the public an opportunity to stay in a beautiful resort at a far lower cost than anything comparable in the area. It will generate awareness, create local knowledge of these designs and building methods. Much of the actual profits (outside of any business investments to the project) thereafter will be put towards expanding this awareness and developing future resorts of a similar nature and further promoting environmentally aware projects.

Richard Randall is a Phuket-based environmentalist and entrepreneur. If you would like to know more about his eco-resort plans or are interested in investing or donating to the project he can be contacted by email at chicphuket@gmail.com or by phone on 087 884 0644.
Keep checking our online Phuket Property pages, join our Facebook fan page or follow us on Twitter @PhuketGazette for the latest local, national and international property news updates.
— Richard Randall
Property

Join the conversation and have your say on Thailand news published on The Thaiger.
Thaiger Talk is our new Thaiger Community where you can join the discussion on everything happening in Thailand right now.
Please note that articles are not posted to the forum instantly and can take up to 20 min before being visible. Click for more information and the Thaiger Talk Guidelines.