Phuket History: From tin to tourism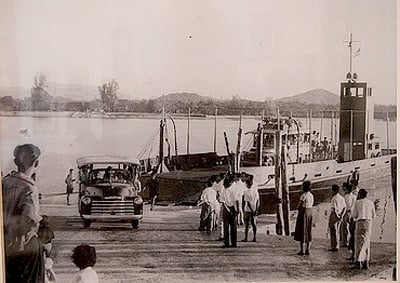 PHUKET: Compared to industries such as tin and rubber, tourism is relatively new in Phuket, although its growth over the past few decades has been phenomenal.
The island has come a long way from the backpacker's haven it once was and today has found its place amongst the world's leading tourist destinations. Its white sand beaches and top class hotels attract millions of visitors every year.
It was in the late 1960s that Phuket's tourism industry began its extraordinary growth. Sarasin Bridge was officially opened in July of 1967 and for the first time there was a road link between Phuket Island and the mainland. Until the mid 1960s, Phuket had been largely underdeveloped, but the opening of Sarasin Bridge effected changed for the better. It allowed foreign and domestic tourists the option to visit the island by bus, albeit a gruelling 17 hour journey from Bangkok. In that same year the Tourism Organization of Thailand, predecessor to the current Tourism Authority of Thailand, drew up a master plan to transform Phuket Island into a haven for tourists.
Fast forward 10 years from the opening of Sarasin Bridge when the Bangkok Post published a newspaper article in June 1977 about the hundreds of small bungalows, rooms and shelters that had at the time sprung up along Phuket's sandy beaches. According to the article, there were eight bungalows on Nai Harn Beach overlooking the shore in 1977.
An elderly lady and her daughter owned the eight bungalows and business was thriving. In their own words, not only were the rooms full, but for every room occupied, there were at least five couples waiting their turn. The beach-front bungalows were rented out to tourists for 20 baht a night.
Tony Wheeler's book South East Asia on a Shoestring, published in 1975 described Patong Beach as long, white, clean and lapped by picture postcard clear waters. Dozens of hotels and numerous restaurants had already been established along the beach. Although it was described as being very pleasant, it had already developed a reputation as a center for nightlife. According to Wheeler, Patong beach restaurants were offering patches of floor space to backpackers for as little as three baht a night. Tourists who wanted a mat to sleep on could rent one for an extra two to four baht per night.
According to research from David Kirk, bungalows with double beds on Kata Beach cost about 60 baht per night. Visitors also had a cheaper alternative. They could simply rent out some floor space for 10 baht a night provided they brought their own sleeping bag. According to Kirk, in the 1970s the nicer hotels were to be found in Phuket Town rather than near the beaches.
In the late 1970s, accommodation in Phuket was quite cheap and therefore it attracted mostly backpackers and low budget tourists. Back then, Phuket Governor Sribhong Saravarsi voiced his concerns at the type of tourists that the island was attracting. According to Governor Sribhong, a typical backpacker holidaying in Phuket would only budget for soap, toothpaste, a mat to sleep on, the room rent and perhaps a plate of fried rice or noodles for each day. These holidaymakers were actually spending very little in the tropical paradise. The local government and tourism businesses wanted to attract a higher class of tourist who would be willing to spend big money. However, the multitude of backpackers had done the island a huge and unexpected favor by spreading the good name of Phuket all over the world.
By 1982, the island's tourism accommodation sector was still growing. John's Bungalows, a group of 10 small huts on the beach were being rented for 35 baht a night. The bungalows had been set up by a local Phuket man named Pradit Sae Liew. The bungalows were just simple huts with sandy floors for tourists to shelter in. If rental prices are any indication in this case, it seems that accommodation prices increased rapidly during that time.
In June of 1986 however, Phuket's reputation as a tourist paradise was shattered after angry rioters set fire to a controversial tantalum plant and the Phuket Merlin Hotel. The tantalum plant was due to begin test runs in August. The locals feared that tantalum production could cause toxic wastes to emerge from the plant, which would destroy the environment and ruin Phuket's tourism industry. For weeks, some 50,000 people protested the opening of the tantalum plant. When the government failed to step up negotiations, the angry mob burned down the 1.2 billion baht plant. The Phuket Merlin hotel, then known as a five-star hotel in Phuket Town, suffered damages worth 50 million baht. The government declared a state of emergency in the province and forty-seven people were arrested.
Phuket's transition from a tin mining center to a world class tourism hot spot has taken place over these few decades. Since then Phuket locals have seen drastic changes to the industries that they once knew and worked. In 1985, tin prices fell drastically due to falling global demands which caused around 90 per cent of tin mines in southern Thailand to shut down. Through incidents like the tantalum riots, Phuket locals have shown that they did not favor polluting industries that may threaten or harm the environment and tourism. Ever since, Phuket's mining industries have become a thing of the past. Tourism is here to stay.
— Anand Singh

Join the conversation and have your say on Thailand news published on The Thaiger.
Thaiger Talk is our new Thaiger Community where you can join the discussion on everything happening in Thailand right now.
Please note that articles are not posted to the forum instantly and can take up to 20 min before being visible. Click for more information and the Thaiger Talk Guidelines.