Phuket Gardening: Having it both ways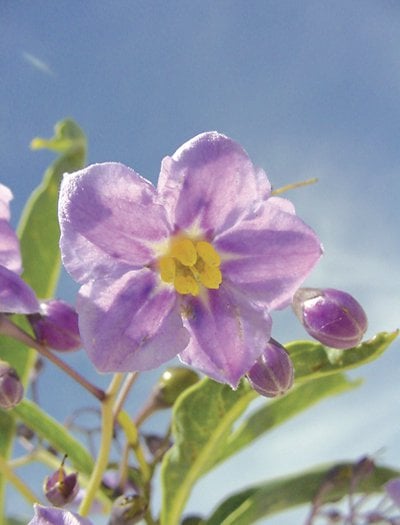 PHUKET: I am aware that it may sound heinous, but having given the matter some thought, I don't believe the tropical gardener should be too preoccupied with the hazards of poisonous plants.
After all, only a few, such as the lantana, have toxic berries or fruit.Take the allamanda cathartica or ban burii. One of the best of all tropical climbing shrubs, with its dazzling golden trumpets (there is also a less vigorous and dramatic purplish-pink variety), it does possess toxic sap.
But, who would want to munch the glossy but leathery and bitter tasting foliage? And in any case, although it can produce prickly, oval seed capsules as a second line of defense, cultivars rarely have them. Certainly, mine have never gone to seed.
Thetabernaemontana cumingiana is another culprit with poisonous parts. Unsurprisingly, and in common with the harmless looking desert rose, whose sap is used by Africans as an arrow poison, it is also a member of the apocynaceae clan.
It is increasingly popular in dwarf form, often grown in a container, where its neat, bushy habit, deep evergreen foliage and dainty, white pin-wheel-shaped flowers are a decorative and fragrant addition to any terrace or patio.
The solanum family is even larger – some 2,000 species strong – and includes such unlikely and edible bedfellows as the potato, the tomato and the eggplant.
However, many species are dangerous if ingested, especially the nightshades so familiar to most westerners.
Neither the red-berried woody nightshade nor the purple-black berried atropa belladonna – both contain tropane alkaloids – is found in South East Asia, but there are plenty of tribal members to take their place.
They tend, however, to be less toxic and more decorative: witness the Chilean potato tree (s.erianthum), which has beautiful blueish-purple flowers with large yellow stamens. Beware of the yellow berries as they are harmful.
My potted erianthum has not yet flowered; indeed it is much less vigorous than a twining variety known as the giant potato creeper.
On my Spanish patio, one of these vines outgrew everything else, save a purple bignonia.
Thus far, I have tried to balance out the visual delights of these plants against their known dangers. But, it's always worth remembering that most of these fellows have known medicinal properties.
Many have long been employed as folk treatments for ailments: the alkaloid solanine extracted from the potato tree has been widely used as a purgative and as treatment for skin diseases.
Allamandin, a chemical derived from the yellow allamanda, has known cathartic properties (hence the botanical name); tabernaemontana is proving to be an exciting pharmaceutical prospect – extremely rich in chemicals called ibogaines.
Long used by South American natives as a psychedelic substance as well as for eye injuries, it is now being developed as a new-style painkiller, a treatment for dementia, and even to fight heroin addiction.
But, things get ever more complex. As remarked before, most plants are either edible or not trustworthy as food. Some are both.
Cassava, a staple of Asian cuisine, contains poisonous glycosides which are only destroyed by cooking – as in the case with the humble kidney bean. And the toxic berries of the potato tree are harmless when cooked in curries.
The leaves of potatoes, tomatoes and rhubarb all contain harmful solanine; so too the green flesh of potatoes left in the sun. Even the avocado–one is now four meters high in my garden – has not only poisonous leaves, but toxic skin as well.
And the humble water lettuce, good at keeping your pond water clear, contains dangerous needles of calcium oxalate.
But I guess if you really want to finish things off, you might do best by taking a seed or two from the Indian "suicide tree" (cerbera odollam).
A couple will apparently do the trick, though you might have trouble finding it here.
Tip of the week
Any of the palms listed last week can be found indoors, gracing reception areas, offices, or drawing rooms.
But there are others, which are perhaps more suitable, mainly because they are understorey plants, capable of existing in areas of low humidity and indirect light.
One,the lady palm (rhapis), is perhaps best of all as an interior ornamental.
The two most common species are excelsa and humilis. Its multiple narrow, stems, covered with dark fibers, are surmounted by attractive and deeply divided leaves split into frond-like segments.
Slow-growing and sturdy, rhapis will, in time, produce suckers which will develop into additional slender stems.
It is thus ideal for a situation with limited light and space where, in a container, it will reach no more than six feet.
Some fine potted specimens are thriving outside the Wattana Hotel in Karon.
If you have a question or a garden that you would like featured, you can email the author here.
Keep checking our online Phuket Lifestyle pages or join our Facebook fan page for regular gardening features and tips.
— Patrick Campbell
Keep in contact with The Thaiger by following our
Facebook page
.
Guaranteed rental returns – Are they real?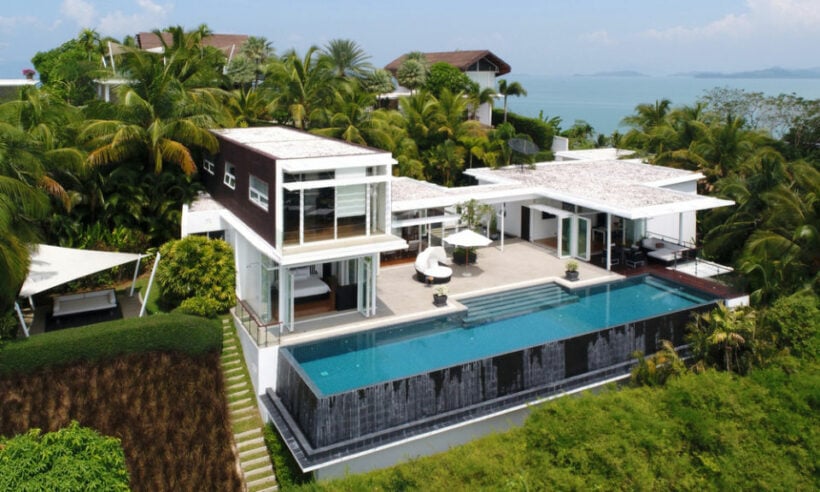 If you're looking to invest in overseas property, search the market and it's not unusual to find condos for sale with guaranteed rental returns of 40%, and some even higher. Yes, it DOES seems too good to be true, but the offers are out there and the packages often come with free legal fees and other such benefits. Clearly, before diving in, you need to seek some expert and professional advice.
So, what is the debate about? And what questions should you ask prior to investing?
Guaranteed rental returns are obviously enticing for investors and purchasers alike, with standard net returns usually being advertised below the 10% mark.
In the opinion of many, this is not a cheap marketing trick. Yes, it does have 'marketing power' and it might just be the additional financial package that helps developers and agents clinch the deal. But for the investors, they genuinely are guaranteed a minimum return on their investment. Surely that's positive. It eases the concerns of investors and keeps the market buoyant. And why wouldn't buyers prefer to go with the property that guarantees this return, over the property that does not?
Other experts are not so sure. While acknowledging that a rental guarantee clearly offers agents and developers an advantage in marketing and selling, there are voices within the industry that urge caution. There's a suspicion that developments that come with a guarantee may be overpriced and that the developers may have factored the cost of the guarantee into the actual price of the property that is being offered.
Those that hold this negative opinion about guarantees suggest that a better strategy for any investor might be to really understand the market in which the property is being offered, aim to get the lowest price possible, do the deal and then organise the letting independently.
Other cautious voices wonder if investors aren't being tantalised with a vision of unrealistic long-term returns. The question that is asked is what happens when the guaranteed period ends? It's not unknown for the guaranteed period to expire, and for the investor to suddenly realise that the true rental value of the property is much lower than they believed. Rental incomes suddenly drop, and they suddenly realise that they have overpaid into the wrong investment.
But still, many deny that developers overprice properties when offering guarantees. And no matter what, it's clear that a rental guarantee is important for certain investors who need the security that it offers. And genuinely, it appears that there are some good guarantees out there on the market. So what to do?
The trick is to apply common sense and due diligence to the situation and examine the legal, commercial and financial strength of the guarantee and the market in which it is being offered. Here are some questions worth considering:
Legally, how is the guarantee structured?
Is it underwritten with a contract in which legal recourse is an option, should you not receive the income that is guaranteed? This is clearly important.
Commercially, is the guaranteed rental figure in-line with the rental market in which the property is situated? Basically, are the developers offering you more rental income than is actually achievable in the current market? If they are offering you more, then once the guaranteed period expires, you'll probably see your returns on investment drop.
Financially, how does the guarantee work?
Is the guaranteed return dependent upon the commercial success of the project?
Some guarantees are based on projected annual revenues and are subject to these revenues being achieved. In other words, if the expected revenues aren't achieved, the full guaranteed amounts might not be paid to the purchaser.
In addition to this, some guarantees may also come with the proviso that the amount being 'guaranteed' is 'subject to the competency of' the management of the complex. This may seem vague, but it's possible that if the expected revenues aren't achieved, then the blame for this failure is going to be put solely on the management company.
The vagueness of such a 'competency' proviso might also be used to cover all manner of issues. For example, is it possible that forecasted rental revenues might fail to materialise, not because of the bad management of a complex, but because the original forecasts were set too high? It might be easy to blame all manner of poor results on the incompetence of how an apartment complex is managed and to do this with no liability.
With this in mind, once again, it's very important to look at the rental market in which the property is located, and then ask: are the projected annual revenues realistic in the current market? And of course, you will have to do some research on the developers.
Do the developers have a track record of successfully managing properties, renting them out and ensuring that incomes are generated?
If the answer to this is 'no', how then will they be able to generate the income that they are guaranteeing? This may be a sign that the property price has been 'artificially' increased to cover any foreseen shortfall in future income.
All-in-all, there's a lot to consider. Guaranteed rental returns do offer investors a level of security, and it is natural for people to feel compelled to buy into them, and yes, there are some good offers on the market. But it's worth remembering that in the right location, you'll always be able to rent out a property.
As we always recommend at The Thaiger, do your homework!
To find thousands of available rental properties in Thailand, click HERE.
Keep in contact with The Thaiger by following our
Facebook page
.
30 dolphins greet visitors to Similan Islands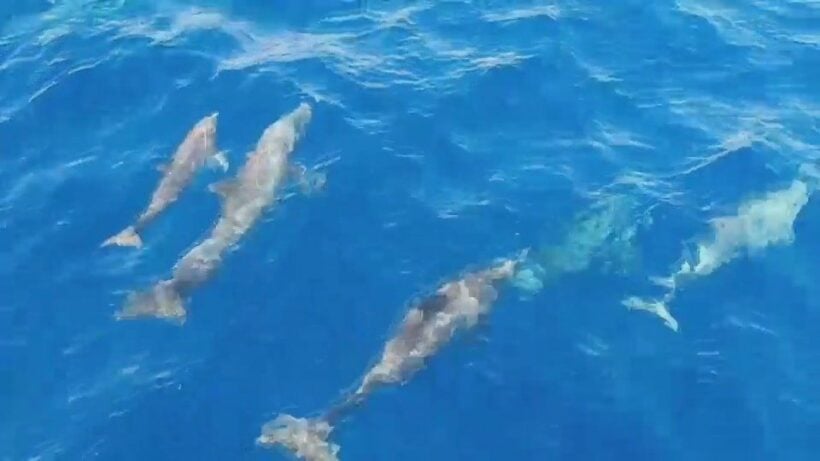 Tourists were treated to the sight of a school of dolphins in the Similan Islands off the Phang Nga coast on Sunday.
Tour organisers said that around 30 dolphins swam close to the boat six or seven miles offshore, creating excitement for passengers. It was the first time dolphins had been seen in the vicinity since October 15.
The Similan Islands National Park director said they were bottlenose dolphins and were among several species now returning to the area following a five-year closure of the park for environmental rehabilitation. Food is again plentiful there for them, he said.
Tourists are forbidden to feed wildlife lest the free handouts alter the animals' natural behaviour, and the park's waters are also very sensitive to contamination from human disease and marine debris, according to the director.
SOURCE: nationthailand.com
Keep in contact with The Thaiger by following our
Facebook page
.
500 people own 36% of equity in Thai companies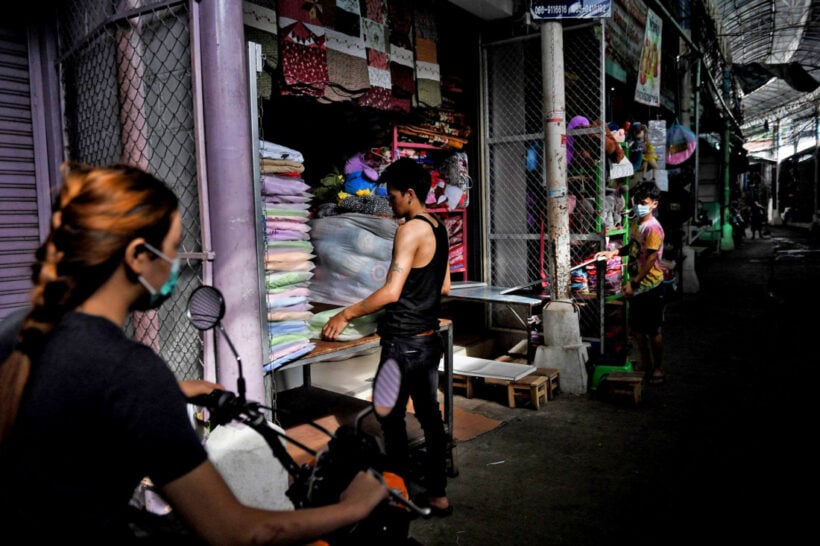 Roughly 36% of Thailand's corporate equity is held by just 500 people, highlighting wealth inequality in the Kingdom, according to a study released by the Bank of Thailand's research institute.
Each of these 500 amass some 3.1 billion baht (102 million USD) per year in company profits, according to the report from the Puey Ungphakorn Institute for Economic Research. In contrast, average yearly household income in Thailand is around 10,000 USD.
A report out this week from the Economic and Business Research Centre for Reform at Thailand's Rangsit University also pointed to divisive and polarised politics being another root cause of the economic divide.
Thailand's private sector is dominated by tycoons running sprawling conglomerates. According to the World Bank, the gap between the mega-wealthy and the rest of the Thai population of 69 million is among the many economic challenges for Thailand. According to Bloomberg, the perception of a divide, exacerbated by an economic slowdown, is a major political fault line.
"Magnates arise in Thailand from institutional factors that privilege certain businesses," said the executive director of PIER, author of the study.
The institute said Thailand needs to promote competitiveness to reduce profits from monopoly power and bolster entrepreneurship to create a more equitable distribution of corporate wealth.
The research is based on analysis of 2017 Commerce Ministry data on the 2.1 million shareholders in Thai firms, and was funded by the University of California San Diego.
SOURCE: Bangkok Post
Keep in contact with The Thaiger by following our
Facebook page
.