Phuket Gardening: Floaters and Stalkers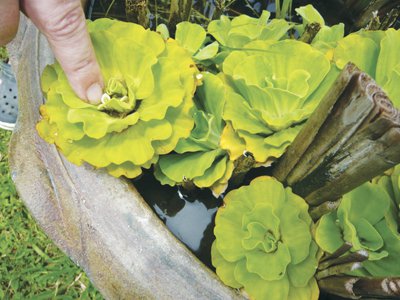 PHUKET: As readers of last week's column will have noted, there are, in essence, two kinds of aquatic plants: first, those that produce erect stems and flowers that keep only their roots in the watery element; and second, those with leaves and flowers that float, either with their foundations embedded in mud at the bottom, or, as in the case of the water lettuce, simply dangle their rootlets beneath buoyant leaves.
The water lettuce (pistia stratiotes) is very common in Thailand – some would say too common – but it produces rosettes of emerald green leaves, and it will usefully cover any fresh-water surface in a matter of weeks.
Sometimes known as the hell-flower, its leaves are deeply ribbed and scalloped, thus providing a textural contrast when mixed with free-standing plants. In common with the water lily, it not only provides excellent cover for small fish, but out-competes algae in obtaining soluble nutrients, thus helping to prevent the discoloration of the water in your pot.
The water chestnut (trapa bicornis) operates in a similar way – a low floater whose leaflets grow on the surface and form attractive diamond-shaped patterns. But unlike the water lettuce, these leaflets are attached to a submerged, brown, edible fruit. It is, moreover, less invasive than the shell-flower and does not grow quickly enough to overpower other species. Along with the much more substantial, fleshy leaved water hyacinth, which has the advantage of producing prominent clusters of hyacinth-like, mauve flowers, these "floaters" are all candidates for shallow, wide-rimmed pots. And as with nymphea, they look best if the container is positioned well below eye level.
If these low-lying fellows are hardly the aristocrats of your budding container gardens, then the reed-like typha angustifolia certainly is.
Formerly known the world over as the bulrush of Moses and then as the reedmace, this distinctive plant carries itself with an upright swagger. Like all these aquatic plants, its roots can be completely immersed in water, but because it is so substantial, it is more likely to suit a large, deep pot.
Typha grows on strong erect stems up to six feet in height, and has stiff narrow leaves at the base of the stalks. But its really unusual feature lies in its rich brown cylindrical spikes of densely packed florets up to twelve inches in length, which look like symmetrical sausages and feel velvety to the touch.
There is nothing in the plant world quite like typha. Surprisingly, since it grows all over the Northern Hemisphere, it will tolerate tropical sun.
A splendid column of these thriving in a friend's roof garden is evidence of that. These spikes can, furthermore, be dried and used in floral arrangements where they will last for years.
Finally another aquatic plant that stands tall. The cyperus, a native of Madagascar, is nonetheless widely available here in Phuket, and is often seen gracing slender containers outside spas and resorts. A dainty but vigorous foliage plant, it possesses green ramrod straight stalks three or four feet in height, at the tops of which are grass-like leaves which radiate out like the spokes of a wheel.
The variety usually found in plant nurseries is alternifolius, but there is a finer form which has feathery, slightly pendulous leaves. Known as Egyptian papyrus, and possibly the real ingredient in the biblical story, it is, in my experience, less hardy than its cousin. Both, however are perfect accompaniments to an elegant, ceramic pot.
As for conventional garden shrubs to go with giant ceramic pots, that is yet another story.
Tip of the week – Fan palm
A reader of Phuket Gazette whose fan palm is "sick", asks if the pruned outer fronds will re-grow.
She does not say what variety of livistonia is involved, but the answer is probably no.
However, provided the spear leaf is healthy, new fronds should spread out from this growth point, and ultimately give the plant a better shape. Fan palms are temperamental. The fronds sometimes dry out, die back at the outer margins, and take on an ugly brown appearance.
This can be the result of too little or too much water, even over-zealous applications of fertilizer. Fan palms can also suffer from fungal disease (fusarium) which blocks the water-carrying tissue.
These problems are much more likely to happen with potted specimens. At the summit of Rang Hill, plantings of magnificent, broad-leaved fan palms are flourishing in filtered sunlight. Some of the fronds are nearly two meters across. No sign of disease.
If you have a question or a garden that you would like featured, you can email the author here.
Keep checking our online Phuket Lifestyle pages or join our Facebook fan page for regular gardening features and tips.
— Patrick Campbell
Thai Airways charges British passenger 80,000 baht for extra luggage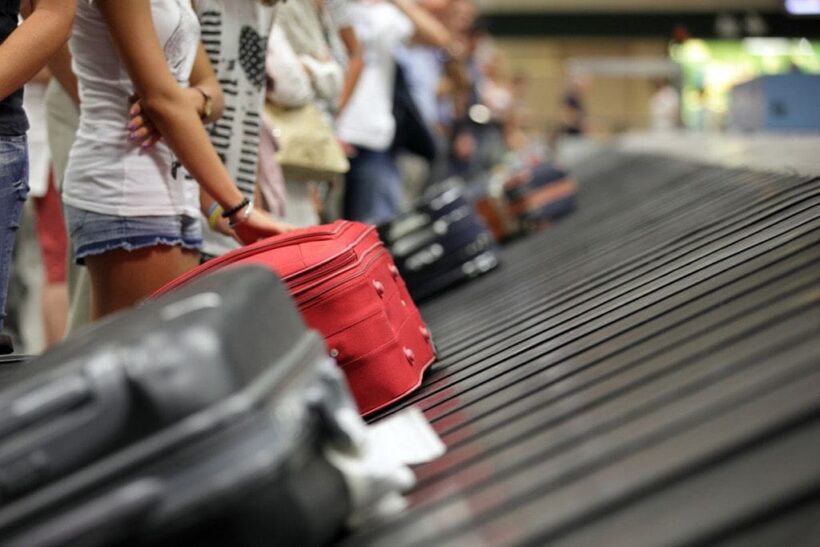 PHOTO: Thai Airways
A British expat has been charged a whopping 79,825.13 baht by Thai Airways for extra luggage on a flight to London from Bangkok.
The report was posted by Thai Visa.
The incident occurred when the man in question (who is not named) was on the Thai Airways website purchasing 20kg extra luggage each way, and was quoted 975.90 Thai baht, a reasonable price. But when the automatic receipt was generated and the man was shocked to find out that the transaction had been processed by Thai Airways in British pounds, not Thai Baht.
The cost of the original ticket was of 544 Pounds ( 22,234.08 baht) and now he had been charged 1,951.80 POUNDS (79,825.13 baht) for the luggage.
The 'victim' logged into his Barclays mobile banking App to find that the transaction was there and still pending. The situation was made worse when the man called customer service at Thai Airways, who he says 'did nothing to help him'.
On the phone with the airline, he says that they were 'absolutely awful', rude, dismissive, and even told him 'you have to pay'. When he asked the airline for a refund they weren't willing to acknowledge the problem or even investigate. He tried to explain to them that there must be a glitch in their system as the currency has changed without the price being adjusted.
With no help from Thai Airways it was the man's bank who were more rational and could see that this was a suspicious charge. Barclay's flagged the transaction as fraudulent, which triggered an instant insurance claim, and had the man refunded the full amount back to this account.
The insurance company will now pursue claims against Thai Airways to recover the amount.
"They've made it completely clear that they don't give a sh*t about their customers. 80,000 baht for one bag is just madness! A grain of common sense was all that was needed to resolve this amicably, but Thai Airways would rather steal from returning customers than help them. I will never use Thai Airways again, and I will warn everyone of their unethical practices and lack of integrity."
Over to you Thai Airways…
SOURCE: Thai Visa 
Thailand Tourism Festival 2019 showcasing Thailand to Thais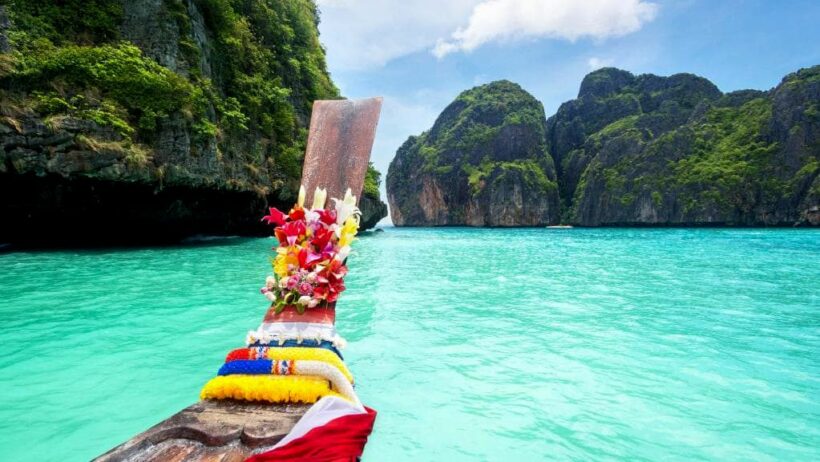 The Tourism Authority of Thailand will host the 39th edition of Thailand Tourism Festival at Bangkok's Lumpini Park from January 23-27. This year the festival features five 'tourism villages' representing different regions of Thailand plus two additional zones of activity.
Central Region Zone – presents the heritage of old Siam through a traditional Thai house and the former rural way of life back in the days through demonstrations, such as, traditional garland making.
Northern Zone – showcases the beautiful hand-woven cotton and silk textiles the region is famous for, presenting the intricate patterns. The zone reflects the artistic nature of the people of the North plus a range of contemporary arts inspired by the region.
Southern Zone – presenting new perspectives of the South that go beyond the beaches and islands including the secondary cities such as Surat Thani and Phatthalung, the hidden gems in major cities like Phuket's Peranakan and arts in the three southernmost provinces.
Northeastern (Isan) Zone – brings Thailand's more vibrant cuisine to life. Food is one major inspiration for travelling to this region, linking it with traditional festivals and cultural values while promoting its three main tourism clusters: North Isan, Central Isan and South Isan.
Eastern Zone – presenting new perspectives of the East under a 'more fun' concept through replicas of landmarks most synonymous with the region in combination with three dedicated corners for 3D photography backdrops reflecting the region's identity.
Perhaps most importantly, there is also a 'Reduce-Reuse-Recycle' waste initiative zone to help raise awareness and promote responsible and sustainable tourism through various activities, games and more.
And TAT Studio provides daily live broadcasts of the Thailand Tourism Festival2019 in all formats: news reports, special scoops, interviews plus activities and performances. It comprises a live digital TV studio, a 1672 traveller companion information centre, an 'Or Sor Tho' magazine section, and virtual reality games and lucky draws.
For more information, call the TAT contact centre on 1672.
'The Cave' due out mid year – First cave rescue film to reach cinemas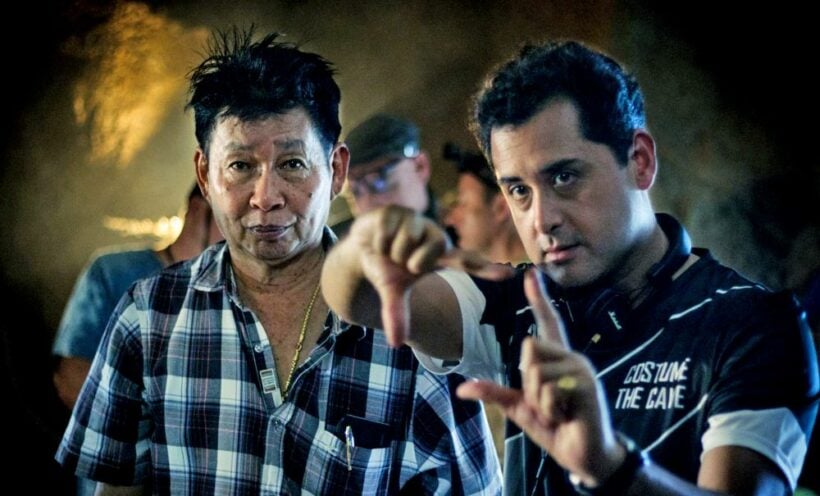 PHOTO: Thai-born director Tom Waller on location during the filming of "The Cave" in central Thailand – AFP
A Thai-born director, Tom Waller,  who reportedly took only a few weeks to shoot the first film about the dramatic Tham Luang cave rescue of the Mu Pa football team in Chiang Rai's Mae Sai district, says his focus was on authenticity and the mission's "unsung" heroes.
AFP reports that book publishers and Hollywood studios are still  jostling to make their versions of the saga that unfolded in the middle of last year.
Tom Waller says "The Cave", which is aiming for Thai release for the July anniversary of the operation, will be a "genuine" retelling of the gripping mission to extract the 12 boys and their coach from the waterlogged Tham Luang cave.
Its cast features more than a dozen of the real-life rescue heroes as well as extras such as the cooks who provided food round-the-clock food as officials and the world's media massed at the cave entrance.
The Mu Pa "Wild Boars" spent more than a fortnight trapped in the dark before divers rescued them in an mission of unprecedented complexity — diving the boys out through twisting passageways while they were heavily sedated.
Waller, a Thai citizen with an Irish father and whose work includes "The Last Executioner", said he did not immediately think he would take on the project despite its real-life dramatic arc.
Read the rest of the article HERE.