Phuket Gardening – don't be bamboozled by big bamboo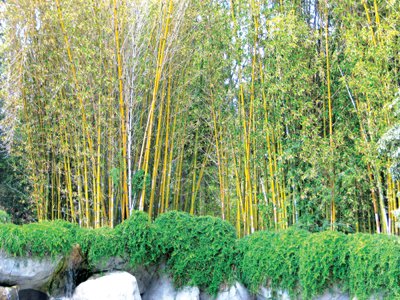 PHUKET: Like the coconut, bamboo is an indispensable part of Thai life. Essentially a lover of hot, monsoon climates, most of the genus Bambusa, or giant bamboos, come from the Asian region.
Giant bamboo is used as a building material, as scaffolding or ladders, as a source of mats, and as a key ingredient in Thai cuisine, especially the huge shoots that first appear above ground and are sold in every market. Sliced thin, this shoot, known as a culm, is a staple of many soups and curries.
There are more than a hundred different species of giant bamboo, and some of the smaller cultivars are often employed as attractive screens next to garden walls, or as free-standing barriers or hedges.
One species, Bambusa vulgaris, still grows wild in the rainforests of Thailand, though it's in danger of being over harvested, like so many other trees. Granted the right conditions, it is one of the world's fastest growing plants, and can manage an impressive 40 centimeters a day.
Bambusa vulgaris only branches and produces leaves once it has achieved its full height of up to 80 feet. Once cut, the huge green canes have to be drained of their starchy content if they are to be used for building materials, for all bamboo is susceptible to attacks from many kinds of predators – from termites to bamboo worms.
People love the neat, upright habit of bamboo canes, the plant's distinctive light green foliage, and its dense, clumpy growth pattern. When positioned in line to form a screen, it provides a most distinctive addition to any garden. Moreover, the foliage is evergreen, and the leaf shape – immortalized in so many Japanese prints – is aesthetically pleasing. Actually, they aren't real leaves: they are scale-leaves which sheathe the young stems and are cast off as each stem matures.
For any gardener in Phuket, it is perhaps the best of all options if you want to create a fast-growing and dense screen. For this, you will need one of the smaller varieties, such as Bambusa multiplex which has deep green stems that are no more than one and a half inches in diameter.
Bamboo also makes an excellent main feature, especially in a bed or grassy area where its tendency to form a neat clump can be shown to best advantage. For this, it's best to go for one of the dwarf cultivars that are being increasingly marketed by garden centers.
Ventricosa, known as Buddha's Belly, has distinctive, knobby canes, that are swollen at each node. There are also variegated forms and even one, nitida, with black canes.
All bamboos are vigorous growers, so give them fertile soil and plenty of water during the hot season. To propagate it, place a short length of stem in water with the node submerged, apply fertilizer and wait for shoots to appear.
Of course there are downsides to growing bamboo. All bamboos have a dense, tangled root system, a mass of rhizomes which effectively prevent other plants in the vicinity from thriving. Moreover, bamboos produce few, if any, flowers. And the leaves fall regularly, thus requiring a weekly sortie with a broom. But it's a small price to pay for such an exotic plant.
Phuket gardening tip of the week

Cultivating bulbs: Some gardens' showiest flowers come from true bulbs, corms, tubers, rhizomes, and tuberous roots. Gardeners often call all these underground features "bulbs".
What they share is a propensity to store food that keeps the plant alive through a dormant period, so it's ready to grow again once the period of 'hibernation' has ended.
In Thailand, the bulbs and tubers that enjoy tropical conditions include canna lilies, Allium, Hippeastrum, some oriental lily hybrids, Caladium and Begonia (which are both grown for foliage), varieties of ginger, and the Hymenocallis or spider lily. Most of these make excellent container plants.
A majority of the best known bulbs are traditionally grown in cooler conditions – for example Amaryllis, tulips, hyacinths, Gladiolus, and many lily species – but don't be afraid to try growing them here in Phuket in pots strategically sited in the cooler, shady parts of your garden.
Phuket Gardening is Phuket Gazette columnist Patrick Campbell's feature of all things flora.
If you have a garden that you would like featured on this page, please email Patrick by clicking here.
Keep checking our online Phuket Lifestyle pages for regular gardening features and tips.
— Patrick Campbell
Thai Life

Join the conversation and have your say on Thailand news published on The Thaiger.
Thaiger Talk is our new Thaiger Community where you can join the discussion on everything happening in Thailand right now.
Please note that articles are not posted to the forum instantly and can take up to 20 min before being visible. Click for more information and the Thaiger Talk Guidelines.