Profile: Watcharapong Saikaew – First professional CMP in Thailand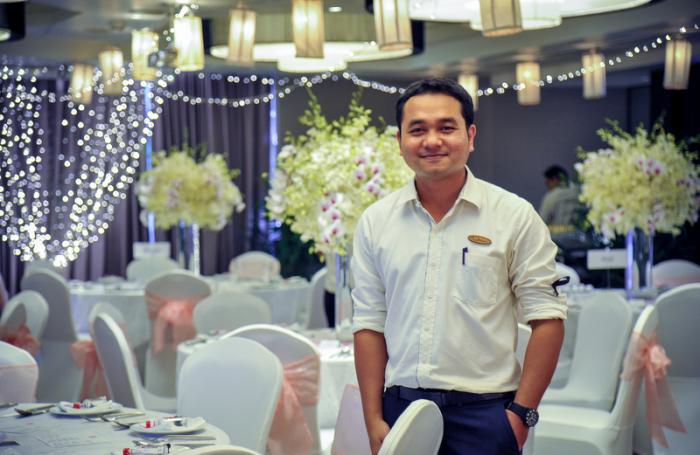 PHUKET: Watcharapong Saikaew, or Pom, as he is better known, is the Assistant Director of Events at Angsana Laguna Phuket and the first Certified Meeting Professional (CMP) in Thailand.
With a lucrative career and a four-year Hotel and Tourism Management degree from Prince of Songkla University under his belt, he is a proud flag bearer for the Banyan Tree group, which is also where he started his career years ago.
He became interested in the certification after he saw the letters 'CMP' in the signature of one of his American clients.
"I became curious to see what it meant and so I did a bit of research and found that it is one of the most respected certifications in this field worldwide. The requirements were at least 3 years of professional experience, a 25 hour certification course and an examination," says Mr Pom.
"No Thai body offered the course at the time, so I took it up with the TCEB (Thailand Convention and Exhibition Bureau) at every opportunity I got. The TCEB is a state enterprise, but managed independently. It seemed hopeless, and taking the exam in Singapore or the US was a very expensive option."
One of the goals of the TCEB is to develop human capital so as to have enough educated Thais in this field.
"An event management course was introduced a few years ago at some universities in Thailand. Even though it's a global field, the subject is less than 30 years old. Additionally, there is no standardization," he says.
In July last year, a department under TCEB, called the 'MICE Capability Development Department' offered the course for the first time.
"The TCEB formed a boot camp and flew in a trainer from the CIC (Convention Industry Council), a group of professional organizations and associations working in the field of meetings and event management. Most of the participants were industry experts, some with more than 30 years of experience, but they all had to go through the classes to get this credit in order to apply for the examination," says Mr Pom.
After attending a four-day course with 60 participants, Mr Pom waited for his 'clearance' to come through, before enrolling for the exam.
"After the course was done, they checked our resume and background. Once I was given the green light, I enrolled for the first sitting, which was being held on November 4. I studied all the material cover to cover, as we had been advised to do. The exam was very tricky – not only are you unaware of which questions count toward your final score, but each question has a different, and unknown, weight," he says.
Additionally, you cannot simply use your prior experience to answer the questions – you need to have a thorough knowledge of international standards, which you can only gain by studying the material," he adds.
Mr Pom says he chose CMP for his own development, but it will also help set a positive example for other professionals and improve the overall image and competitive advantage of Thailand.
"However, I also feel a little pressure because I have to make sure I maintain the standard of my work. It has given a good image to myself and to my company, but it has also pushed me into the spotlight," he says.
At Angsana, he handles all kinds of events, but specializes in Indian weddings. His loyalty to the Banyan Tree group, where he has held several positions throughout the course of his career, is easily understood.
"They invest a lot in developing the careers of their staff. At most workplaces it's just talk, but not here," he says.
Apart from work, Mr Pom enjoys travel and landscape photography.
"I would love to go to Japan if I had the chance, but there are many amazing locations to photograph in Thailand itself," he adds.
— Sahar Aftab Paliwala
- Legacy Phuket Gazette
Wai Khru – setting a bad example for the future. Thailand's demand for respect from its young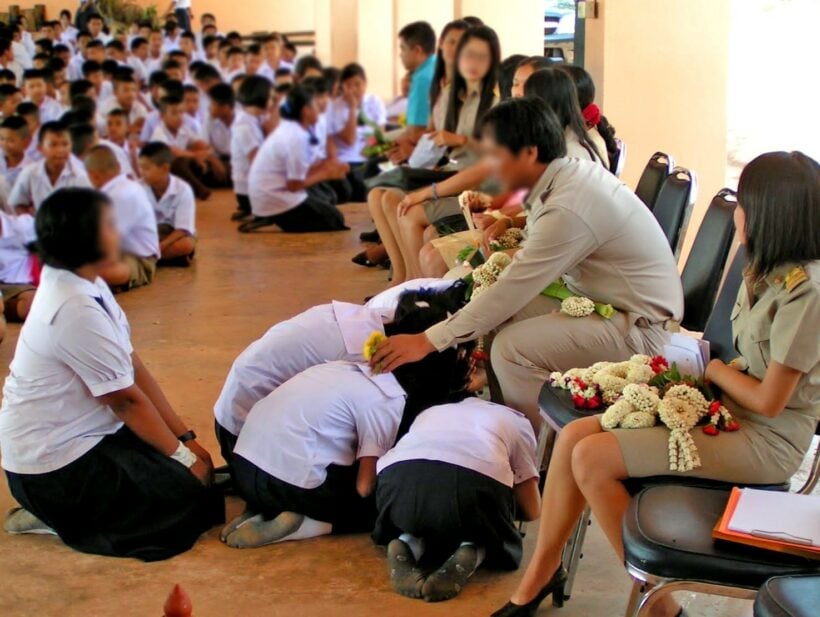 Hazing (US English), initiation ceremonies (British English), bastardisation (Australian English), ragging (South Asia), or deposition, refers to the practice of rituals, challenges, and other activities involving harassment, abuse or humiliation used as a way of initiating a person into a group including a new fraternity, sorority, team or club.
In Thailand, hazing is not only rife, it's seen as a rite of passage for young Thais as part of their cultural inculcation into the subservience they're expected to display elders or people with more money or higher positions than them. What's mistaken for 'respect' is actually a cultural party trick where children and young adults are 'trained' to be deferential from an early age.
In recent years there have a been a few high-profile deaths of army trainees, in the care of their Academy leaders, but allegedly subjected to initiations and bastardisation that is just 'par for the course' for the education of young Thais.
In a response to the recent death of Phakhapong Tanyakan at the Armed Forces Academies Preparatory School on October 17 last year, the Thai Deputy PM and Defence Minister Prawit Wongsuwan claimed that he "was not beaten to death, but just too weak to withstand tough training."
He went further saying "I was once beaten more than I could take and I fainted too. I didn't die. For this, before the school accepts kids for entry, they must give them a proper physical check-up."
When you get you get such official, public, responses from the top you can see how this hazing culture continues to thrive in the, otherwise, Land of Smiles.
We spoke to three foreign teachers in Thailand, all speaking on condition of anonymity, about the culture of hazing in their schools and the benign version of that in primary schools, 'wai khru'.
"Hazing is seen in many different types of social groups, including gangs, sports teams, schools, military units, fraternities and sororities. The initiation rites can range from relatively benign pranks and was khru, to protracted patterns of behavior that rise to the level of abuse or criminal misconduct."
For the families of hazing victims these ceremonies can be catastrophic, as in the tragic case of Phakhapong Tanyakan.
A 19-year-old armed forces cadet, previously subjected to harsh physical discipline, suddenly died a day after returning to school from a break. His parents were told he suffered from a sudden cardiac arrest but became suspicious of possible foul play after a detailed autopsy report never came. – Khaosod English
But he's not the only one. Hazing and cruel or unusual initiations are conducted every day around the Kingdom but with a growing concern about the practices, both from the young students themselves and concerned older Thais, who realise the dangers of 'persuading' youngsters to respect elders needs examination in a modern 21st century Thailand.
We spoke to a respected senior Thai businessperson, again on the condition of anonymity, who said he had seen too much hazing going on during his time at school and then whilst training in the military.
"I was a victim of this type of bullying. I was told to 'be a man' and that all Thai men have to go through this. I think it is degrading and breaks human spirits. It teaches fear of those we are meant to respect. It has to change."
It all starts when young Thais are subjected to the Wai Khru or 'Teacher Wai' where students are expected to prostrate themselves in front of their teachers in a show of respect. But a broad spectrum of foreign teachers not only feel uncomfortable with this faux-deference, some of them go out of their way to be away for that day or, sometimes, even speak out about their concern with this tradition.
"I made the mistake of speaking out about the Wai Khru in our school. I just found it demeaning for the poor students who had to rehearse all week for this totally meaningless show of respect. I didn't feel respected, I felt sick. I ended up being ostracised and had to leave that school."
Whilst many Thais continue to wonder why westerners might find all this kowtowing and prostrating could cause concern, you just need to examine the deaths in the Army preparatory schools as the end result of 'demanding' obedience and deference to elders. In western culture, I have learned, respect is something that is earned, not demanded.
"Hazing is undignified, humiliating and cruel… not my words, but the words of students who are made go through this horrible experience. It's meant to be a sign of showing respect to your seniors but it's nothing more than a shameful indulgence at the expense of the students," said a long-term foreign teacher.
"Making students crawl around on the ground acting like animals in front of their peers, does nothing for either senior or freshie students. I have stopped attending Wai Khru day as I find it terribly uncomfortable for myself and for the students. You can see the look in their eyes as they approach you and are ordered to bow before the teacher. Teachers, like everyone else, should learn how to earn the respect of their students."
A young female foreign teacher first thought that the Wai Khru was 'cute' but has changed her tune over the years.
"Wai khru was the highlight of my first year teaching in Thailand. I was, and still am, extremely humbled and deeply touched by this beautiful tradition intended to recognise a teachers' role in children's life and to give said children the opportunity to express their gratitude to their teachers.
"But throughout the years I have started to look at this event with a more critical eye and I wish it weren't as rehearsed and staged as it unfortunately is. At our school, rehearsals for Wai Kru start a week prior to the event. During this week, children are drilled incessantly until they have mastered the walk, the bow and the wai leading up to the offering of the flowers that they are eager to free their sweaty little palms of."
Wai Khru continues to be practiced in all Thai schools as a long standing tradition and show of respect for teachers.
"Although I understand and commend the wonderful intentions behind such practices, I feel that much like other sorts of drilling that these students endure, this sadly takes away from the true purpose of it all. For want of a picture perfect event, meaning is lost and a demonstration of gratitude is transformed into a dreaded labour," she said.
An investigation into the death of Army cadet Phakhapong Tanyakan, by military investigators, found no wrongdoing by the Preparatory School. The parents have consistently called for a probe into their son's death and are still pursuing legal action.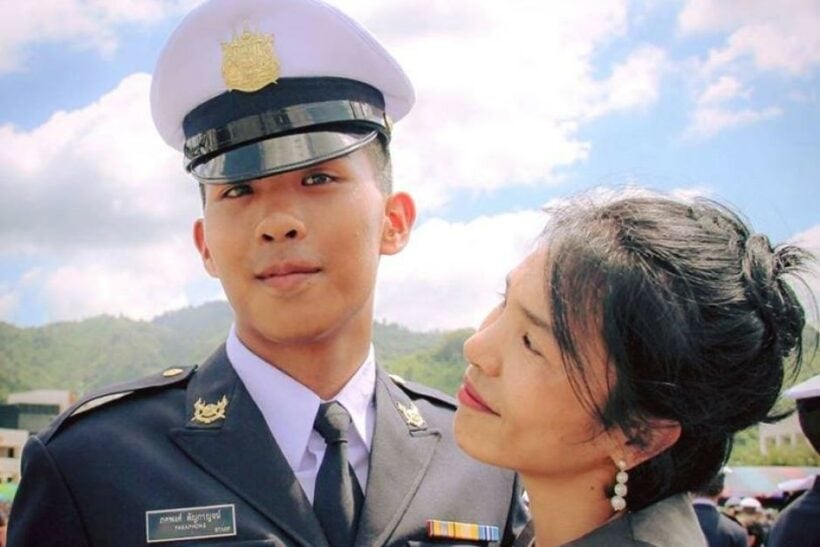 PHOTO: Army cadet Phakhapong Tanyakan, who died at the Armed Forces Academies Preparatory School on October 17 last year.
Profile: Georges Ciret – Tales from the wine cellar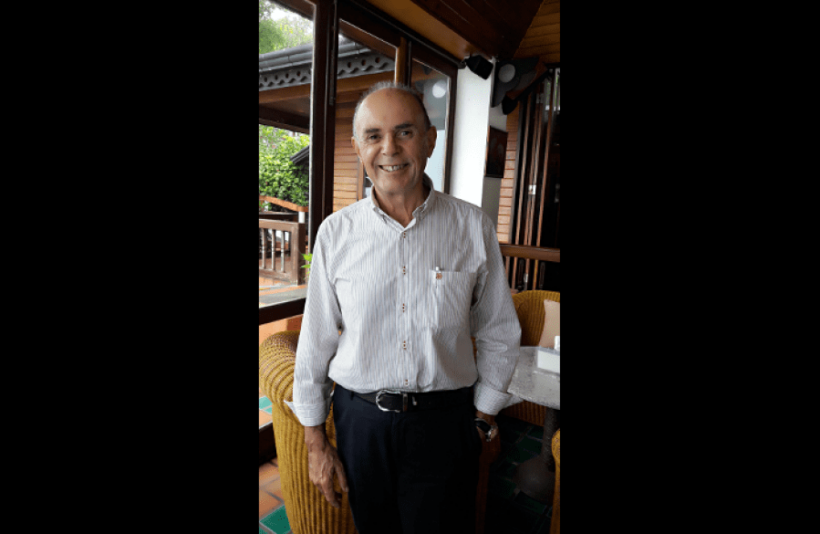 PHUKET: Georges Ciret is currently the Wine Director at Mom Tri's Villa Royale in Phuket. With more than 40 years of experience in wine making and hospitality, he brings unique skills to the craft that few others could boast of.
"We have a big collection at Villa Royale, with more than 300 labels from all over the world. We always keep people's preferences in mind though, so we offer options for everyone – organic, vegan and even wine with braille labels," says Mr Ciret.
"Some of them may be expensive, but there are also more affordable ones so everyone can enjoy what we have to offer. I'm not happy when people stay at Mom Tri's and order beer, for example. We now offer wine by the carafe, which is something we never did before. People's preferences have changed and I have changed with them," he adds.
Mr Ciret was born in Paris where he worked at his parents' wine shop.
"I had a very early start in the business. I worked in the wine cellar for three months and then moved to the restaurant. After a little while, I joined the navy. When I completed my service, around 1972, the Accor group opened up a Sofitel with more than 800 rooms in Paris. I joined the hotel and worked there in various capacities, including restaurant manager and general manager. The first seven or eight years I worked in Paris, and then at Accor hotels all over the world," he says.
During his 31 years with Accor, he met presidents, served many important guests and brought several new and innovative ideas to the company.
In 2003, he parted ways with them and moved to Phuket where he bought a guesthouse in Patong. Life had other plans for him, it seems, and in Phuket he met the general manager of The Boathouse Phuket, who recruited him for his wine expertise.
"At that time, they had more than 700 labels and I taught and trained the staff about the wine. During the tsunami, I lost 70 per cent of my inventory and we had to close down for four months. We then built a new wine cellar and, in 2006, won the 'Wine Spectator Best in Thailand' award, the only one in the country to win it. Since then, we have won multiple prestigious awards," he says.
"I've been with Mom Tri since 2006, taking care of a number of different properties and serving as the wine director. My job is to teach and train the staff as well as to host events. At least once a month, we try to organize wine dinners with different companies who come to Phuket and present their wine," he explains.
Mr Ciret meets with winemakers from all over the world – Tuscany, Italy, New Zealand and so on – and works closely with the chef to come up with a menu that perfectly complements the wine at each dinner.
"I always look for prestigious wineries. We have a reputation and I want the wine to meet our quality standards. There are various factors we use to judge the prestige of the wine – where it was grown, whether it is hand produced or factory produced, the history and tradition of the wine – all this determines whether we choose to work with the label or not."
— Sahar Aftab Paliwala
Profile: Pawadee Suwannakarn – Striving to keep Phuket culture alive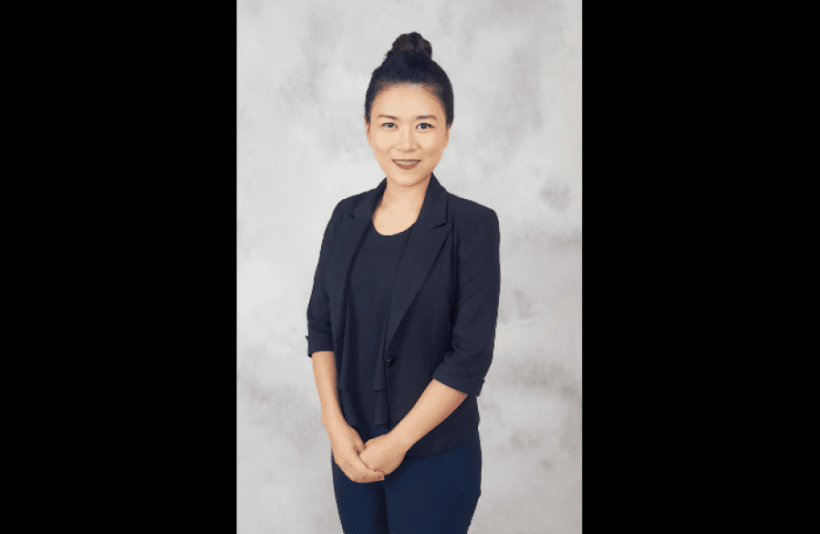 PHUKET: Pawadee Suwannakarn is a Phuket native who has worked in her family's business 'Taweesuwan' for years.
Taweesuwan was originally established as a local jewelry business, selling diamonds pendants, necklaces, rings, earrings, bangles and bracelets. It is also one of the oldest and most well-known jewelry businesses on the island.
A graduate from Exeter University in the United Kingdom, Ms Pawadee helped her family establish the Peranakan Museum in Thalang. She is currently the general manager of the museum, set up to reflect the uniqueness and charm of the ancient Baba culture in Phuket.
Taweesuwan opened its first branch on Montri Road in Phuket Town before expanding to a second one at Central festival. The business has been around for three decades and Ms Pawadee is the fourth generation to have served it.
"We have our own factory where we manufacture jewelry and accessories in the Peranakan style. We conducted a lot of research about different parts of Southeast Asia that share similarities in culture with Phuket. This led me to travel extensively in the region, including Singapore, Penang and Malacca, where I found out more about Peranakan history. I received a lot of support and information from my family, particularly my grandmother," says Ms Pawadee.
"First, we must acknowledge the difference between 'Baba Yaya' and 'Peranakan'. Peranakan means 'half-bred' and it covers the overall aspect of Chinese and local culture. In Phuket, we call it 'Baba-Peranakan' which refers to the bloodline of Chinese ancestors who married Phuket locals," she adds.
Ms Pawadee says that Phuketians have a very narrow view of Baba Yaya and Peranakan culture.
"We share many similarities in culture with people in different regions. You can see similar elements in Singapore or Penang, the differences due only to the influence of culture and language. Phuket cuisine is also influenced from nearby regions, but each area has it's unique taste as well," she says.
Some of the features of the museum include local Phuket food, a Peranakan boutique selling jewelry from Taweesuwan, and a studio where visitors can try on Baba dresses. There is also a 'mock-up' of Old Phuket Town buildings.
"The displays will cover various subjects of Phuket history and life. The 'Origin of Pernanakan' will have exhibits showing how our ancestors brought bark from China into Phuket. 'Building & Architecture' will present various models of famous buildings in Phuket and how Chinese architectural style merged with Western style," says Ms Pawadee.
"Additionally, 'Shophouse' will present the traditional style of Phuket shophouses. 'Goldsmith' will present antique Peranakan necklaces and traditional methods of housing decoration. 'Botan Room' will show the evolution of traditional dresses, and 'Culture Room' will show Phuket local culture and how it has merged with foreign culture over the years," she adds.
The Peranakan Museum was launched two months ago in coordination with the Tourism Authority of Thailand. Tickets cost 300 baht for adults and 150 baht for children aged 4-12. Children under four can enter for free.
"I believe this will be one of the best sources of knowledge regarding Phuket," says Ms Pawadee.
"We will take you back on a journey to the old era of Phuket and help you understand its roots. I want visitors to know that we have more than beaches to offer," she says .
— Sukawin Tanthavanich