Thai Life
On Deck: Small boats can be just as much fun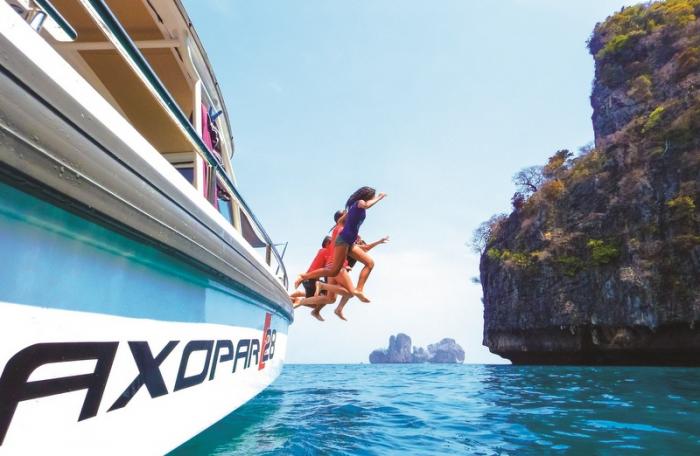 PHUKET: Size isn't everything in the boating world, although I'm sure some people would like to challenge me on that. The fun you can have on a boat isn't intrinsically linked to its size or price, it's more related to how you use the boat, with whom, and how often.
While the Thai government is rolling out the red carpet for foreign-flagged superyachts over 30 meters to charter in Thai waters, let's spare a thought for the small-boat sailor. Specifically, the small powerboat sailor.
We all know of Phuket's on-water beauty, or at least you should if you live here. It's easy to become indifferent to it and forget that beauty if you don't spend much time on the water. However, when you do get out and among the islands, it is easy to see why images of Phuket and its surroundings have been around the world more times than Sir Robin Knox-Johnston.
Many of us live on the island of Phuket, but it's the islands just off the coast and nearby in Phang Nga Bay and it's environs, that make Phuket such a fantastic boating destination. Phuket is the perfect stepping stone for some island-hopping, and speedboats or small powerboats are the ideal vessels with which to enjoy this fun.
Boating is seen as an expensive pastime, and to a point that's true. But peoples' imaginations do run wild and boating has been placed firmly in the luxury bracket (perhaps even super-luxury bracket by some) without much basis in reality. A shared-day charter of a 30-foot speedboat, for
example, by a group of 10 friends is likely to cost the same as a green fee at one of Phuket's top golf courses.
There are lots of charter opportunities in Phuket, and for those looking to buy there are plenty of options too. Most major international brands are represented here, from Beneteau, Monte Carlo, Riva and Wider, to the slightly larger models offered by Princess Yachts, Riviera and Sunseeker, and so choice is not a problem.
At the smaller end of the powerboat scale, Gulf Craft's 30-foot range has proved to be a popular island-hopping choice for individuals, families and hotels around the region for a number of years, and has been joined by two new brands this year who look set to capitalize on Phuket's small boat market.
The multi-award winning Axopar Yachts have made a bang since their launch in Thailand at the Phuket International Boat Show, with sole distributor Derani Yachts having sold eight of the Finnish-designed and-built boats, which offer a quality build and ride for a reasonable price, with lots of customizable options.
The futuristic-looking Premier Composites from Dubai use aerospace materials and carbon composite to deliver a diverse range, from the Premier 29 to the 38, 45 and beyond. Premier Composites are represented in Thailand by Lee Marine.
The increased interest in small boat ownership could be the result of several factors: lower maintenance and operation costs; convenient dry stack offerings at Phuket Boat Lagoon and Royal Phuket Marina; ease of use, and the overall fun factor of a boat full of family members or friends.
While the light is currently shining on superyachts, let's not lose sight of the needs of smaller boat owners and the need for the industry to encourage more people into boating locally. The best way to do that is to start small.
Duncan Worthington is a long time Phuket resident and through Infinity Communications (www.infinitycomms.com) consults to leading consumer brands, as well as hospitality and marine clients, in Thailand. In his 'spare time' he runs the marine portal www.MarineScene.asia. #OnDeckPhuket
— Duncan Worthington