Looking back: Prah Mongkol Visut of Phuket – a lifetime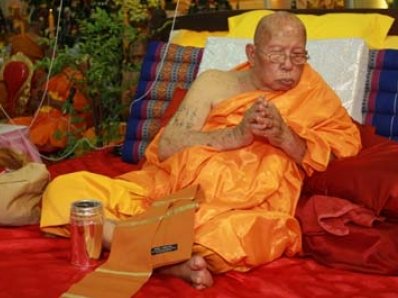 PHUKET: Prah Mongkol Visut is one of Phuket's most revered monks. Locals fondly refer to him as 'Luang Pu Supha'.
On September 17, Luang Pu Supha celebrated his 115th birthday, unofficially making him the oldest living man in the world.
Luang Pu Supha was born in 1896. Since then, the revered monk has seen drastic and unimaginable change in his century-long lifetime. He has seen five Chakri monarchs ascend the throne and he was 37 years old when a council of democratic reformers seized power from King Rama VII, ending the absolute monarchy that had ruled the country for centuries. For the first time in history, the reformers replaced the absolute rule of the king with a democratic system.
Luang Pu Supha was also there when this fragile democracy was taken away and replaced by a military dictatorship under Field Marshall Phibun Songkram. He was there when the country's name was changed from Siam to Thailand in 1936. Whereas there may be some people remaining today who were born during the turbulent period of the Second World War, Luang Pu Supha was already well into his forties when Thailand was forced to ally with the Japanese and give them free passage into the country.
As a monk, Luang Pu Supha is known all over the country for his dedication to fostering Buddhism throughout his long life. As a person who has had the rare opportunity to see three different centuries, the revered monk inspires imagination as to just what his wise eyes have seen.
Luang Pu Supha was born in the province of Sakon Nakhon, about 115 years ago. When he was seven years old, his father took him to a nearby temple to study with the monks. When he was nine years old, he was ordained as a novice monk in a temple in Ubon Ratchathani province.
It is said that one day a visiting monk who was on pilgrimage came to Luang Pu Supha's village when he was young. On meeting him, the monk predicted that Supha would devote his life to Buddhism and become a prominent figure in religion. He asked Supha not to forget him and to come back and visit him one day when he was ready.
Supha lived and studied at the temple until he was sixteen years old, learning Buddhism from a monk called Prah Ma Ha La. At the age of sixteen, Prah Maha La gave him a choice and asked him whether he wanted to study Pali and become a Buddhist theologian or whether he wanted to study meditation. Supha chose the latter.
When the time came, Supha decided to leave the temple to find the monk that had predicted his future. As fate would have it, Supha found the monk meditating under a tree. The monk, who was called Prah See Tat, tested and trained the young Supha's patience and tolerance, observed his table manners and worked him hard to see if he could endure. Prah See Tat also taught him about meditation.
Shortly after, the young novice undertook his first pilgrimage to 13 different temples. He crossed the Mekong River from Nakhon Phanom into Laos. The journey was arduous and tested his mettle. He had to trek through thick unpopulated forest where he could not ask for alms and had to live off leaves and the bare sustenance the jungle provided. Prah See Tat, realizing his endurance and commitment, decided it was time to ordain the novice into monkhood in 1917.
Supha journeyed with Prah See Tat, crossed the Mekong River back from Laos and traveled until they reached Pu Kwai mountain. The ordination ceremony took place in a nearby cave. Other monks that had been meditating in the area also participated in the ceremony. After he was ordained, Supha was given the name "Kantha Seelo".
Throughout his life, Luang Pu Supha undertook several pilgrimages through harsh terrains. He traveled north and crossed the border to Burma and encountered many dangerous adventures. Luang Pu Supha recalled it as his most exciting pilgrimage. He also traveled to India by boat, risking storms and violent seas for almost two months. Being in a non-Buddhist country, it was hard to ask for alms, which meant that some days he had to go hungry.
He eventually reached the foothills of the Himalayas where the icy chill of the mountains proved hard to bear for a monk who wore only thin orange robes suited for warmer climes. He had to brave the harsh climates, walking more than eight kilometers, three to seven days a week in the harsh cold, in order to ask for alms.
Luang Pu Supha traveled extensively during his lifetime in order to visit different sites of pilgrimage, during a time when traveling was dangerous and hard. His only motive was his faith and his love for Buddhism.
He returned to Phuket in his 60s and dedicated his time to helping the sea gypsies.
The world's oldest man now resides at the temple bearing his namesake.
— Anand Singh

Join the conversation and have your say on Thailand news published on The Thaiger.
Thaiger Talk is our new Thaiger Community where you can join the discussion on everything happening in Thailand right now.
Please note that articles are not posted to the forum instantly and can take up to 20 min before being visible. Click for more information and the Thaiger Talk Guidelines.