Looking Back: Friar fights way to Siam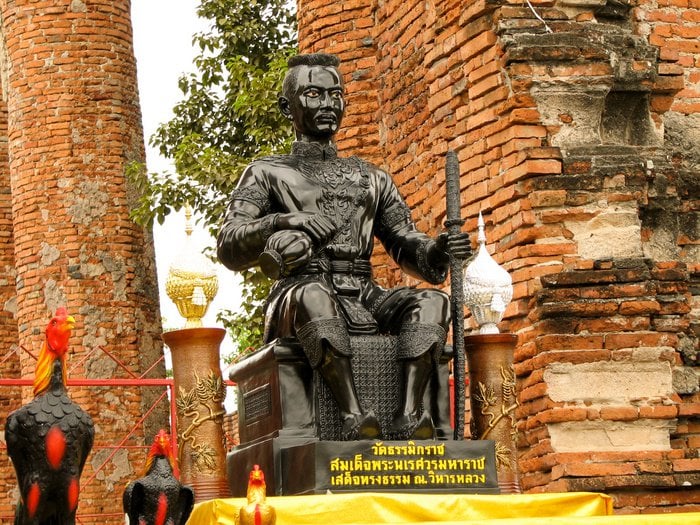 PHUKET: Throughout his life, King Naresuan fought many wars with the Burmese in order to liberate Siam from their control. Toward the end of his reign, in the year 1600, Siam had recovered its independence and peace was restored. During this time, the king worked to restore foreign trade for the Kingdom.
Due to ongoing wars between Burma and Cambodia, the Portuguese – the only western traders that frequented the Kingdom during that period – had left Ayutthaya. Around the year 1600, King Naresuan sent a letter to the captain of Malacca, Dom Fernao de Albuquerque, inviting the Portuguese to renew their trading activities in Siam.
The king wanted the Portuguese captain to send Franciscan priests to his capital, promising 'honors and favors' on any Catholic priests who came to live in Siam. The reason King Naresuan specifically asked for Franciscan priests was because he had heard of their order from Portuguese residents living in Ayutthaya.
The Portuguese had much to gain from reviving trade with Siam. Because Siam traded extensively with China, both the Spanish and Portuguese traders wanted to maintain good relations with the Kingdom as a means of trading indirectly with the far east.
The friar chosen to undertake this role was Frei Andre Do Espirito Santo, who prior to his journey to Siam had been in Macau. According to Portuguese historical records, the friar was 'very praise worthy' and led an exemplary life. Although he was virtuous, Frei Andre was old and weak. Many years spent fasting in penance had left him looking like nothing but skin and bones.
Albuquerque named Frei Andre as the secretary of the Portuguese embassy that was to travel from Malacca to Ayutthaya. He was instructed to conduct any business with the king that would be 'of service to God, the welfare of the Estado da India and the profit of Malacca'. Albuquerque also instructed the friar to obtain a commitment from King Naresuan that he would not form a pact with the Dutch, a western power who was becoming increasingly active in its business dealings.
Frei Andre then left Macau for Ayutthaya. A journey that should have only taken eight days became a journey that took seven months. Due to bad weather and incompetent navigation, the vessel hit a rocky shore and was damaged. The passengers and crew had to disembark onto a nearby beach.
The Portuguese were stranded on the beach for a fortnight and could not decide what to do next.
They were on the verge of abandoning their damaged ship and continuing on foot when they noticed ships sailing toward them.
Later it was discovered that the fleet was sent by the King of Siam and was sailing toward Cambodia to put down a rebellion. A Muslim captain commanded the fleet. When he learned that the Portuguese were sailing up to Ayutthaya to fulfill a request from King Naresuan, he gave the crew some rice and raw materials to fix their ship. He also offered to take Frei Andre and a few others to Ayutthaya.
The seven vessels sailed slowly for another four days. Unfortunately for the fleet, on the fifth day, a great storm broke out and six of the seven ships were sunk in the storm. Luckily Frei Andre was on board the only surviving ship. The surviving ship sailed to a small island near the coast, where the passengers and crew once again disembarked. After several days on the island, subsisting entirely on crabs, Frei Andre had enough of sailing and decided to continue the rest of his journey on land.
Travelling on land was equally dangerous. Much of Siam was covered in dense forest that was home to dangerous wild animals, including tigers, rhinoceroses, elephants and buffaloes. At night, the travellers had to sleep in trees, securing themselves by tying their bodies to tree branches with vines.
After four nights spent in this dangerous and uncomfortable environment, they came to a village where the headman was a Muslim. Frei Andre explained to him in Malay that he was on the way to Siam in response to King Naresuan's request for priests. The friar explained that his vessel had been shipwrecked off the coast of Cambodia and now his party was in need of food and a cart to take him and his sick companions to Ayutthaya.
At first, the headman refused and said that he did not know Frei Andre and could not believe that he was telling the truth. So Frei Andre, who at this point was suffering severely from swelling in his legs and groin, decided to stay at the village, where he began to compose a letter to the Portuguese in Ayutthaya, asking them to inform the king of his plight.
When the village headman heard of this, he relented and provided food and a cart to carry Frei Andre and three of his sick companions. From then on, Frei Andre was able to travel without much hindrance. Every village he came across, he was given food, water and shelter. Finally, the party arrived at the Chao Phraya River, where a boat was arranged for them to travel up-river to the city of Ayutthaya.
At last, after seven months, the party arrived in the capital city. All the Portuguese then living in the city gathered to welcome Frei Andre. They took him directly to their church, which was made of bamboo and straw-thatch. He rested there for a few days before going into the city to have an audience with King Naresuan.
— Anand Singh
Keep in contact with The Thaiger by following our
Facebook page
.
Thais go bananas over freak plants in pursuit of lottery numbers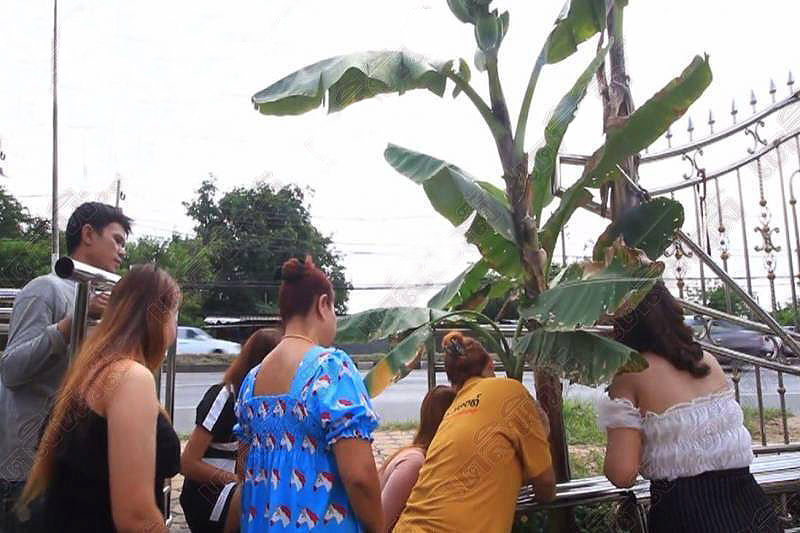 PHOTOS: Daily News
The answers are in the banana leaves.
Thai people LOVE playing the lottery (and gambling generally). In fact they're BANANAS about the twice-monthly lottery (it was drawn again today). Daily News has reported about two unusual banana trees growing in front of a shop in Klong 4 Pathum Thani, just north of Bangkok. The trees did not have blossom and on one plant two bananas were pointing skywards. On another there was a whole bunch pointing up into the sky.
There was a steady stream of the faithful lighting incense, praying and rubbing powder on the trees to get lottery numbers. One group thought '542' was the magic numbers and a path to riches (we're not sure how they came to this conclusion). 53 year old Surachai says the trees had been growing for a few months and that he'd never seen anything like it before.
An unnamed agricultural expert suggested that there was probably something wrong with the banana plants. Trees and malformed animals are a favourite source of inspiration to select numbers for the lottery, as are numbers of houses and vehicles involved in events where people experience "miracle" escapes from danger, or even bizarre accidents.
SOURCE: Daily News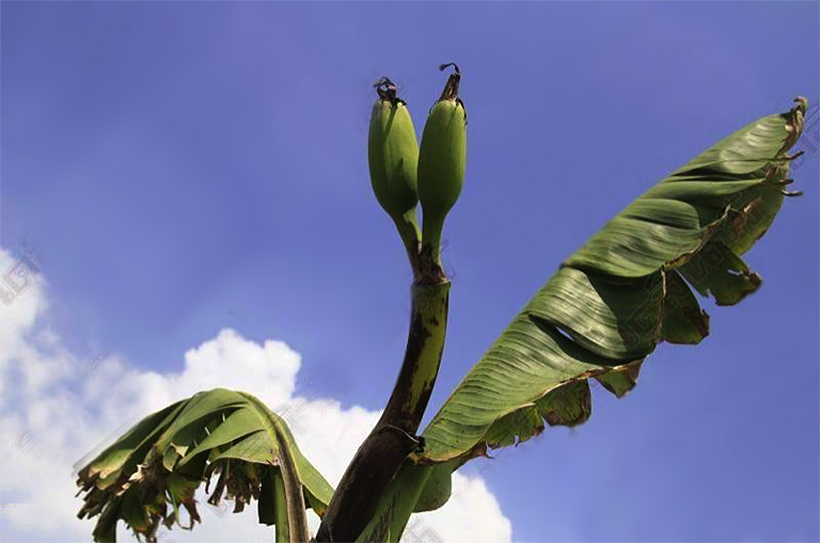 Keep in contact with The Thaiger by following our
Facebook page
.
The K-pop Olympics: performers battle in the K-pop festival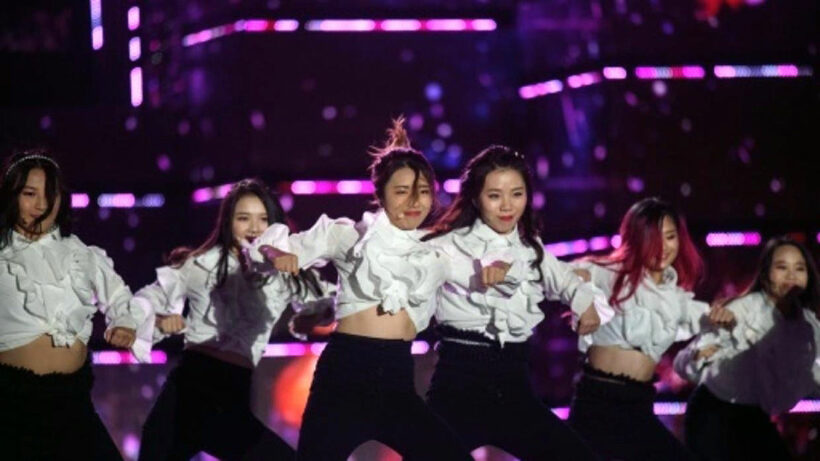 On the streets, in parks and garages, seven Cuban youngsters spent seven months practising K-pop moves to secure a spot on their dream stage: an appearance in South Korea to imitate their idols. 13 final teams from 80 countries are competing in the 2019 event.
At the grandly titled and government-funded Changwon K-pop World Festival contestants from around the globe perform imitation dances or sing cover versions of the genre's biggest hits, with thousands of fans cheering them on.
In terms of global heft, South Korea is overshadowed by its much larger neighbours China and Japan, but the event is a way for Seoul to derive soft power from one of the country's biggest cultural exports. In terms of pop-power, South Korea's K-Pop is now a recognised world-wide music phenomenon with bands like BTS and Blackpink figuring amongst the other big-hitters on the Billboard charts and outselling their western counterparts with millions of albums and downloads.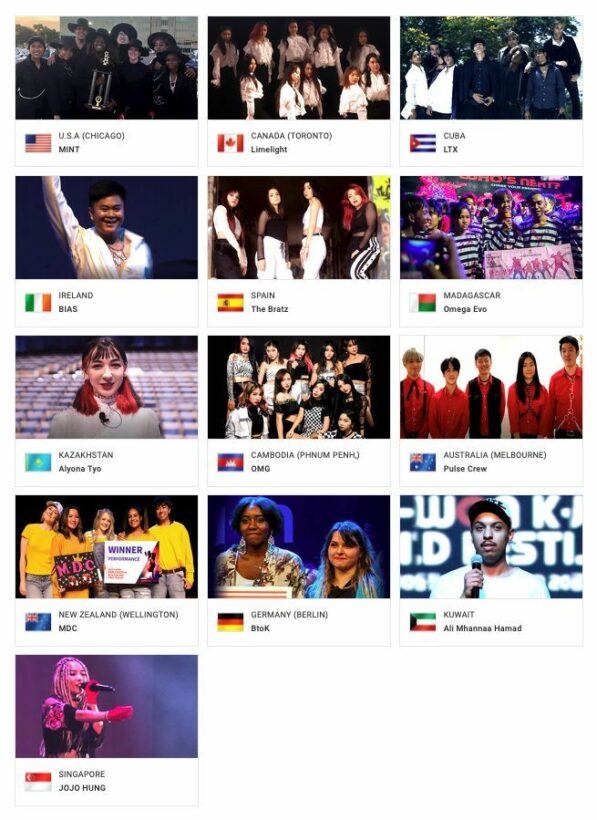 Finalists for this year
Cuba's Communist government is one of North Korea's few remaining allies: when President Miguel Diaz-Canel, successor to the Castro brothers Fidel and Raul, visited Pyongyang last November he was only the third foreign head of state to do so since leader Kim Jong Un inherited power in 2011.
But rather than geopolitics, Havana performer Karel Rodriguez Diaz – whose mannerisms and sleek hairstyle could easily be mistaken for those of a K-pop star – is more motivated by high-tempo beats and superslick dance moves.
"We never had a place with a mirror or a choreographer who could teach us the steps" but they kept on practising, he said.
His team-mate Elio Gonzalez added: "We are so excited to represent not just Cuba but also the whole of Latin America."
Some 6,400 teams from more than 80 countries entered the competition, according to organisers, with 13 groups from places as diverse as Kuwait and Madagascar winning through to the final in Changwon, where they appeared on stage waving their national flags.
"This is like watching the Olympics, a K-pop Olympics," said the event's host Lia, a member of K-pop group ITZY.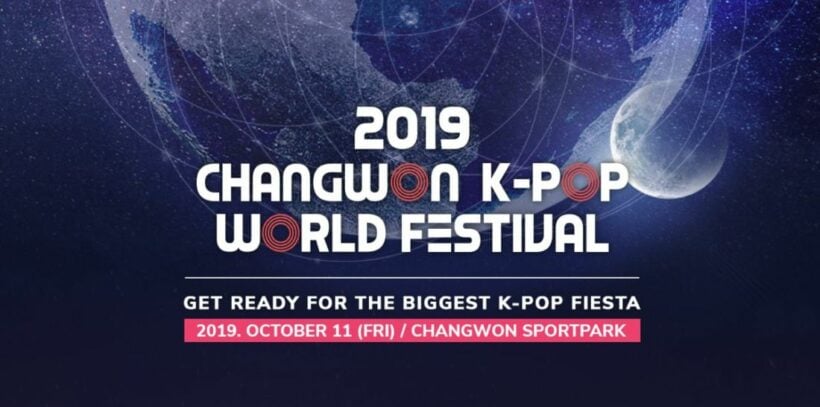 The Korean Wave
K-pop – along with K-drama soap operas – has been one of South Korea's most successful cultural exports to date. A key part of the "Korean Wave" which has swept Asia and beyond in the last 20 years, the K-pop industry is now estimated to be worth $5 billion, with boyband BTS its latest high-profile exponent, becoming the world's most successful band in the past 12 months, selling out stadium concerts within minutes, around the world.
The South Korean government has financed a variety of K-pop themed events in what CedarBough Saeji, a visiting professor at Indiana University Bloomington in the US, said was a form of long-term "soft power diplomacy".
"When you are covering you get to 'become' those idols for the three and a half minutes of the song," she said, adding that performers will go so far as matching their clothing, accessories and hairstyle to their heroes and heroines.
"The cover dancers of today will be diplomats, news reporters, and business leaders in forty years," she went on.
"And hopefully they'll still have a soft spot in their heart for Korea. Korea can't win the world through hard power – armies, economic bullying – but with soft power even a small country like Korea has a chance."
The music also provides an artistic alternative for overseas fans, especially those in developing countries, Saeji added.
"The West, especially the United States, has been so dominant culturally for so long, and having a different cultural pole to look to provides hope that one's own country can experience similar success in the future."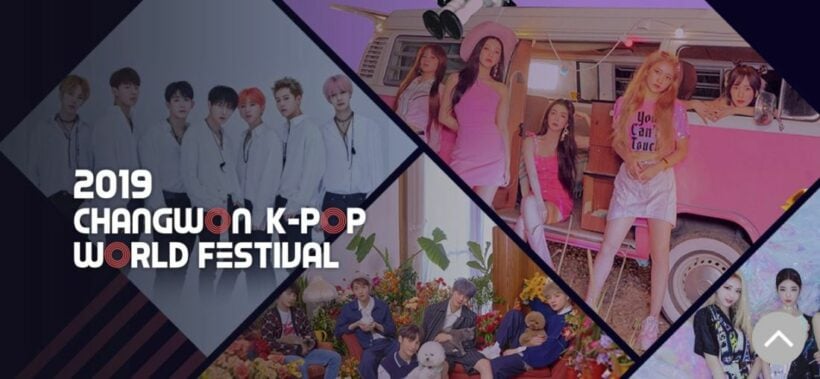 Be who you want
Beneath its glitz and glamour, the K-pop industry is also known for its cutthroat competition, a lack of privacy, online bullying and relentless public pressure to maintain a wholesome image at all times and at any cost.
Sulli, a popular K-pop star and former child actress who had long been the target of abusive online comments was found dead on Monday, with her death sending shockwaves through fans around the world.
"I think a day where (people) would be ashamed of the K-show business will surely come," a South Korean online user wrote in the wake of the star's death.
"I think an industry that makes money by (making people) sing, dance, undergo plastic surgeries and go on a diet to please the gaze of others since they are teenagers should really go bankcrupt."
But for Kenny Pham, a finalist from the US at last week's contest, K-pop's diversity – with some tunes having dark themes, while others were "cute" or sensual – is what gives him a sense of liberation.
"I like how expressive you could be," the 19 year old told AFP last week.
"I feel like it's a place where you could show the passion you have for music, dance or fashion. No one is bashing you for what your likes are."
SOURCE: Agence France-Presse
Keep in contact with The Thaiger by following our
Facebook page
.
Singha grabs a 90% stake in Thailand's Santa Fe restaurant chain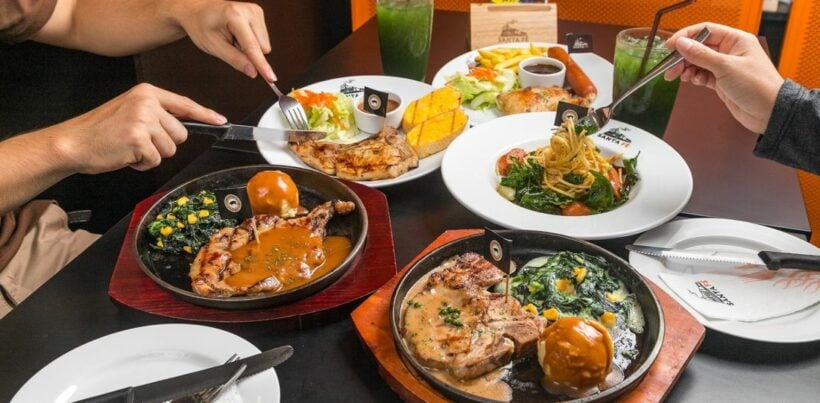 (…or is that a 90% 'steak'?)
PHOTOS: Wongnai
DealStreetAsia, an investor news site reporting on Asian business, confirms that Singha Corporation has purchased a majority stake in the Thai restaurant chain, Santa Fe. It's understood that Singha purchased the shares held by Lakeshore Capital for approximately US$50 million or 1.53 billion baht, giving it a 90% stake in the chain seen in most Thai shopping centres.
The Nation reports that Singha will now oversee over 110 restaurants across Thailand in one of the country's biggest food industry deals of the year. The company first turned its attention to the food industry two years ago, launching Food Factors Company under the Boon Rawd Brewery group.
WongnaiFood Factors aims to make 5 billion baht over 3 years under the stewardship of Piti Bhirombhakdi. The company has an ambitious long-term target of 10 billion baht a year, along with plans to be listed on the stock exchange.
The Santa Fe chain was established in 2003 by Surachai Charn-Anudet's KT Restaurant Company, with the aim of becoming a major competitor to Sizzler, the American chain brought to Thailand by Minor Food.
SOURCE: The Nation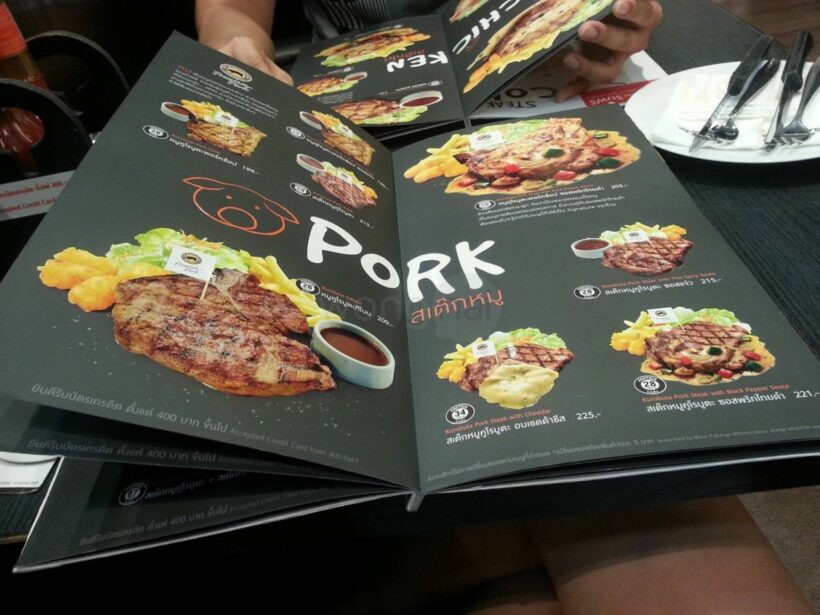 Keep in contact with The Thaiger by following our
Facebook page
.