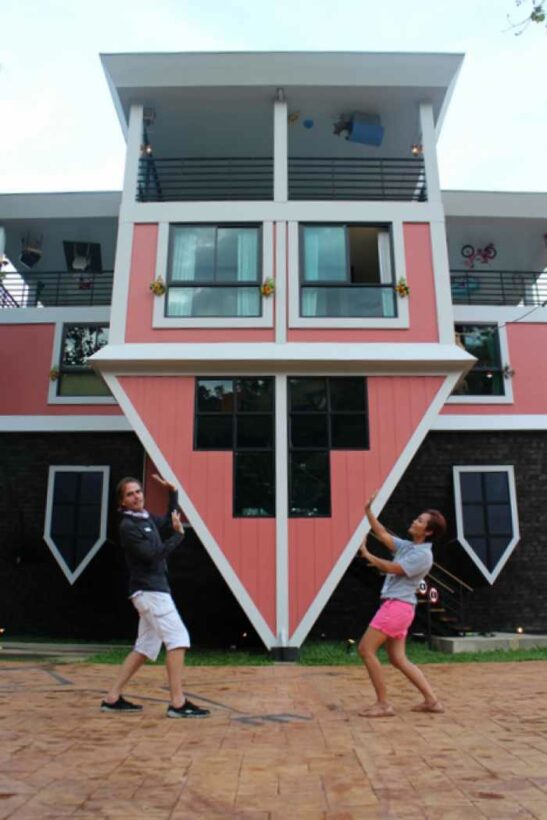 PHUKET: Beware, fellow ladies of Phuket: skirts are not advised at the island's newest tourist attraction, as you might feel compelled to strike some compromising poses once you walk into Baan Teelanka – otherwise known as the Upside Down House. So, be sure to plan ahead and throw on a pair of pants.
Baan Teelanka is a place of dizzying delight, a quirky yet fully functional house with just one catch – the floor you walk on is actually the ceiling, and everything that belongs on the floor in a normal house, is hanging above you.
Have you ever been wondering what Phuket has to offer that no other place in Thailand does? Maybe, you have been looking for something new to do on a rainy day? Well, look no further than Baan Teelanka and its backyard labyrinth – A-Maze-in-Phuket.
As you walk into the house – camera at the ready – you may just hear Alex Riva, one of the masterminds behind the house, saying, "Welcome to the Upside Down House, where even the fish swim upside down. After six months of training, they finally got it!"
Multiple attractions
"We are not an attraction – we are attractions. Two is better than one," Mr Riva told the Gazette, proudly boasting that Baan Teelanka and A-Maze-in-Phuket are two separate sights, and both the first of their kinds in Thailand.
"We are the first and only upside down house in Thailand. It is very simple; there is no magic in the house. Other places like this use magic or special effects, but that is not what we wanted to do. All we wanted to do was build a house – an upside down one," said Mr Riva.
"The maze is a nice activity that the kids love" he added, and although the hedges that line the maze are still growing, it has already seen kids and adults racing through its pathways trying to beat each other to the exit.
Mr Riva makes up just one half of the dynamic, driving force behind Baan Teelanka, with the other half being his wife, Tiwa Yodying.
"Teelanka means upside down – when kids do a flip we call it [in Thai] tee lanka. Nah lak dee – it is cute," said Ms Tiwa.
Baan Teelanka is fun for all ages, said Ms Tiwa, from tiny tots to grannies with canes.
"We have had people of all ages visit the house, even the elderly "omma" Chinese women. One woman told me, 'Thank you for building this here, so I don't have to go far away to see something like this.' She came with her grandchildren and had a lot of fun," Ms Tiwa said.
All about the pictures
Baan Teelanka was not originally designed with social media in mind, said Mr Riva, but the first wave of customers has proved that picture sharing is an integral part of most visitors' experiences.
"We thought that people would come and appreciate the architecture – the high ceilings, the high roof, the Asian-style design – but it turned out that for most of our guests at the moment, it is all about the pictures," said Mr Riva.
"People want to take pictures here, so they will ask me: 'What pose do I have to do?' My answer would be: 'It is a house, you do whatever you want!'
"They come with that in mind, so at every corner they are looking for a different pose, which is wonderful, because then they share the pictures through social media."
"Some just go up there and lay on the roof and act like spiders – it's great!"
The Facebook reaction to Baan Teelanka has been quick and very positive, said Mr Riva and Ms Tiwa. The homeowners also happily pointed out the creative picture-taking opportunities of the house's open spaces and nicely decorated rooms.
"I do hope that people appreciate the fact that this isn't just a two-dimensional painting on a wall, it is a house – you have to appreciate the spaces."
Not a restaurant
Baan Teelanka is new and colorful, and is starting to attract the attention of tour buses and cars as they drive down the Bypass road, and Mr Riva and Ms Tiwa told the Gazette that they can see tourists pointing at the house as they go by.
The biggest issue the upside down homeowners face right now is informing the public and tour guides about what the house actually is, Mr Riva added.
"Tourists are asking their guides what the house is, and we think their guides are telling them: 'Well, I think it is a restaurant,'" said Mr Riva.
"We have even had people come by in the evening, asking us, 'Are you open for dinner?'"
Some tour guides have been visiting the house to inspect it for customers, said Ms Tiwa, but most travel agencies have been slow to react.
"Tour guides and agencies are still offering the same packages as always, and we are trying to get Baan Teelanka into some of those packages," she said.
"It is going to take some time. We did a lot of groundwork on Facebook so that when we opened, we could hit the ground running," added Mr Riva.
A family affair
After eighteen months of preparation, ten months of construction, countless hours of brainstorming and personal touches from the hands and home of the Riva family, Baan Teelanka opened its doors to Phuket on April 23.
The logo is the product of some serious brainstorming by the two younger Riva daughters, while a few pieces of artwork featured throughout the house were created by the oldest. Some objects in the house came from the family home, like the golf clubs found on the top level of the house (which is actually the garage).
The hotelier husband and wife spent more than 20 years working in hotels and constantly moving their family around, said Ms Tiwa. So, after much deliberation, they decided to settle with their children in Phuket.
"We wanted this to be a Phuket family business," said Ms Tiwa. "We saw that Phuket had nothing like this, so we wanted to bring it here."
— Mauri Grant