Grieving husband on a mission to take his wife's ashes to all the places she longed to see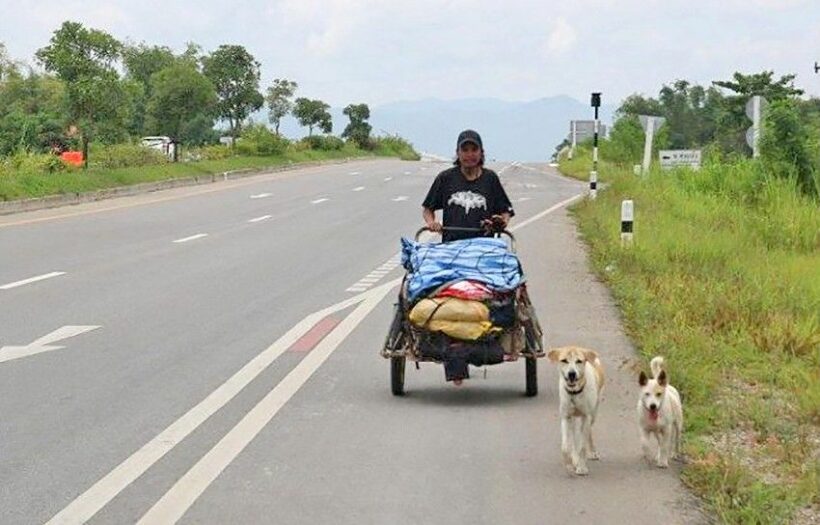 Every day, Sakchai Suphanthamat can be seen pushing his cart along the highway, in the company of three dogs, two of whom he has picked up along the way.
Sakchai carries his wife's ashes, on a pilgrimage to take her to all the places she longed to see while she was alive.
The Bangkok Post reports that the bereaved man started his journey three years ago. He left from Trang, the province where he married his wife, who died of tetanus in 2016.
She had always wanted to see Doi Inthanon in Chiang Mai, Thailand's tallest mountain, and so Sakchai decided to head there first. The journey of more than 1,500 kilometres took him over a year.
Sakchai, 40 years old and from Udon Thani, says his wife had also wanted to see the sea in Trat, south-east Thailand, and he decided to take her ashes there too.
The Bangkok Post reports that Sakchai has been left heartbroken. He says being left with nothing to look forward to after his wife's passing led to the decision to embark on this epic journey with her ashes.
"I am determined to take her bones around the country. She liked the sea and wanted to stay close to it. She used to tell me that she wanted to visit the sea in Trat province in the East. During my journey I stop every three kilometres or so, so the dogs can have a rest."
Sakchai and the dogs sleep under mosquito nets at night and local people who've heard about his journey bring food for him and the dogs. As Sakchai sleeps, his wife's ashes are always by his side.
"I still love her and have vivid memories of our time together, even though she left me three years and four days ago.''
See previous story HERE
SOURCE: bangkokpost.com
Keep in contact with The Thaiger by following our Facebook page.
Never miss out on future posts by following The Thaiger.
Government considering another registration round for co-payment scheme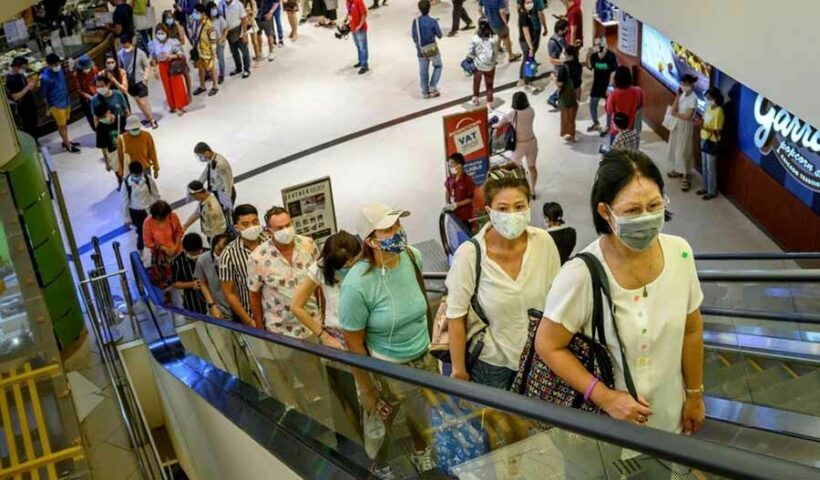 The Finance Ministery is considering adding another registration round to the Khon La Khrueng ("Let's Go Halves") co-payment scheme, as 1.34 million rights have not yet been taken up. The government introduced the scheme last October, in an effort to stimulate the Covid-battered economy. Under the scheme, Thai citizens get a 50% subsidy on the purchase of food, drink and general products, up to 150 baht per person per day, to a maximum of 3,000 baht for the duration of the scheme. Those who sign up need to make purchases within 14 days of their registration.
The first phase got under way on October 23 and finished on December 31, with the government setting aside 30 billion baht to cover 10 million people. The second phase began on January 1 and runs until March 31, covering an additional 5 million people. The cap has also been raised from 3,000 to 3,500 baht.
Kulaya Tantitemit from the Fiscal Policy Office says that of the combined 15 million rights, 13.66 have been taken up. The Bangkok Post reports that those who have not received subsidy rights can register for the 1.34 million that remain by the end of this month.
The Finance Ministry is also considering a third phase of the scheme, based on the success of the first 2 phases, according to Minister Arkhom Termpittayapaisith.
SOURCE: Bangkok Post
Keep in contact with The Thaiger by following our Facebook page.
Never miss out on future posts by following The Thaiger.
Bangkok's air quality is 'unhealthy' today | VIDEO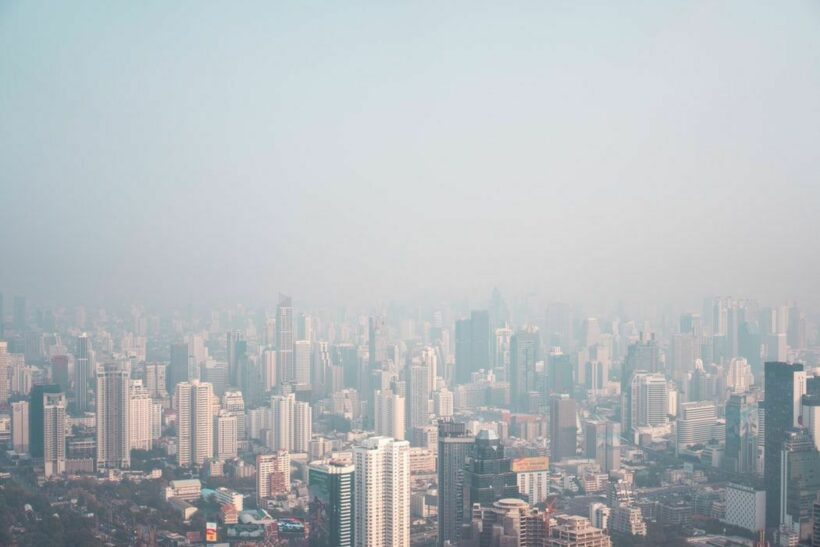 Air quality around Bangkok this morning is awful. Partly due to the lack of wind to blow the smog out of the area. To the south of Bangkok, Samut Prakan and Samut Sakhon, the air quality is even worse with visibility on the ground cut to less than a kilometre. You would be well advised to reduce you activities outside on a day of high air pollution in the capital. The rating by airvisual.com is 'unhealthy'.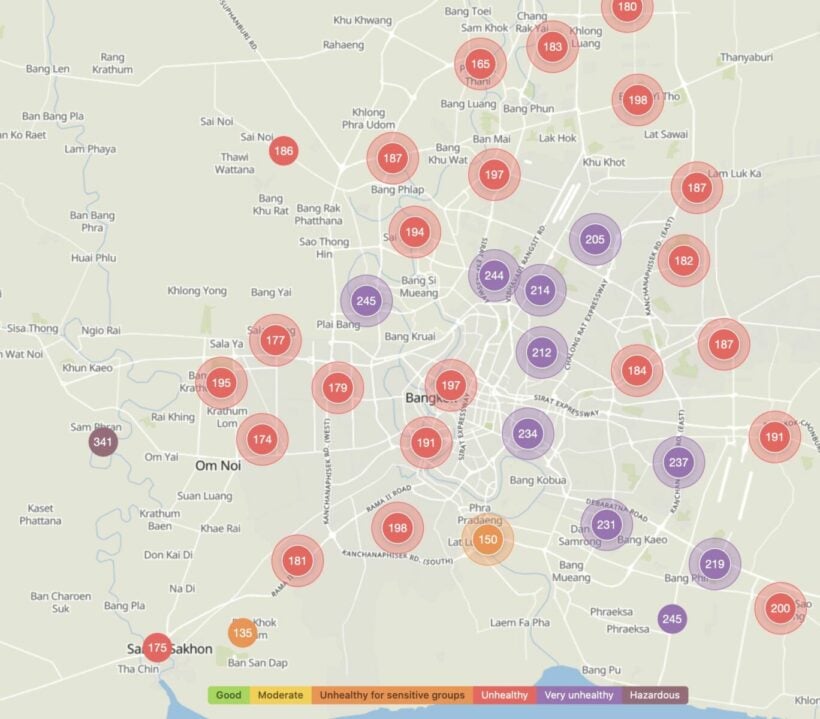 Readings around the inner city vary between 190 – 220. Areas to the east, including around Suvarnabhumi Airport, are higher.
A lot of the smog and smoke is flowing down from the north and north east where plantation fires rage, mostly unenforced, this time of the year, from December to May. Farmers have been told, repeatedly, to avoid buying off the waste after harvests of corn, rice and sugar cane but officials have been disinclined to enforce the laws. Many of the farmers have long-term contracts with some of Thailand's leading agri-business conglomerates.
Bangkok and the central region can expect many more months, especially as the temperatures rise throughout February, March and April and the winds remain low as the north-easterly monsoon weakens.
Keep in contact with The Thaiger by following our Facebook page.
Never miss out on future posts by following The Thaiger.
Arrest warrants sought for 8 civilians suspected of smuggling migrant workers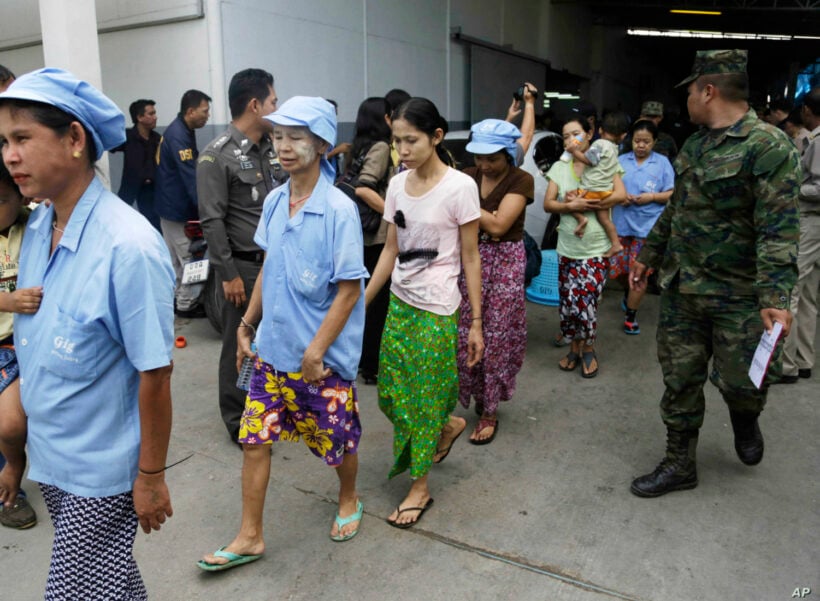 Deputy national police chief Damrongsak Kittiprapas has confirmed that arrest warrants are being sought for 8 civilians implicated in the illegal smuggling of migrant workers. The Bangkok Post reports that the 8 face charges of aiding and abetting illegal immigration. The workers were trafficked from Myanmar to the central Thai province of Samut Sakhon, where the latest outbreak of Covid-19 began last month. 20 police officers are also being investigated for their role in the smuggling operation. They have been suspended from duty pending a full investigation. It's thought there are up to 25 police officers suspected of involvement.
"After tracing the migrant workers' route into Samut Sakhon and then jobs at its shrimp market, we found that most received direct assistance from more than 20 police officials and eight civilians. They smuggled the workers across the border in Sangkhla Buri district of Kanchanaburi and then provided transport to get them to Samut Sakhon."
Damrongsak says an investigative committee is being set up prior to criminal prosecution and disciplinary action being taken against the police officers involved.
"A formal fact-finding procedure will be carried out before both disciplinary and legal action is pursued against them."
The committee, which is being chaired by the assistant national police chief, will work with a separate panel set up by the government to investigate the role of police officers in people smuggling. The committee is mostly made up of police officers. Damrongsak says PM Prayut Chan-o-cha insists that investigating officers carry out their duties in an honest and transparent manner.
SOURCE: Bangkok Post
Keep in contact with The Thaiger by following our Facebook page.
Never miss out on future posts by following The Thaiger.