The 5 Thai dishes most likely to harbour bacteria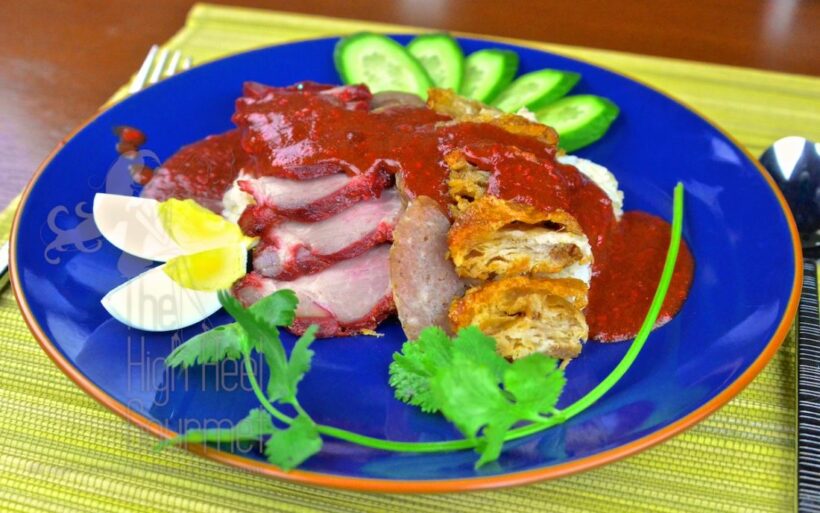 Research shared by Thai Residents reveals the 5 Thai dishes most likely to contain E-coli and other nasty bacteria.
They are Red Pork Rice, Crunchy Pork Rice, Chicken Rice, Pork Leg Rice, and Papaya Salad.
It's believed that the reason for this may be that while many of the individual ingredients in these dishes are pre-cooked, they are then left to sit, increasing the chance of bacteria multiplying. When a dish is ordered, ingredients are then mixed together without being heated.
Wooden chopping boards are usually used to prepare many of the ingredients and these boards may not always be properly cleaned, making them an ideal playground for all kinds of germs.
The latest research has been carried out by The Nutrition Association of Thailand, under the Patronage of Her Royal Highness Princess Maha Chakri Sirindhorn, using 50 street food samples.
42% of the samples tested had higher than acceptable levels of micro-organisms, and 19 of the 50 samples were found to have high levels of E-coli.
There's no doubt that street food can be delicious and safe and is an integral part of Thai life. It's cheap, usually fresh, and usually cooked right in front of you.
But safety is key when choosing where to get your street food and one recommendation is to re-heat it at home before eating, if that's an option.
Either way, it's not something we plan to give up anytime soon – as with many situations in life, a little bit of common sense goes a long way.
SOURCE: Thai Residents
Keep in contact with The Thaiger by following our
Facebook page
.
Pattaya police chief battles Thailand's Iron Chef in cook-off for the needy – VIDEO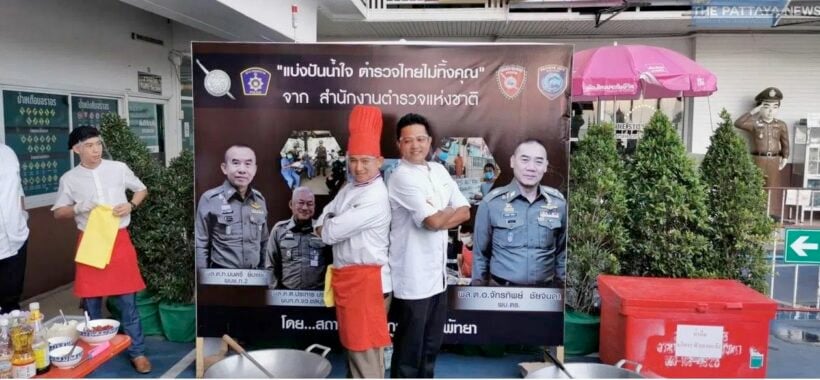 Police in Pattaya are doing more than continue their project to cook food for the needy and unemployed: yesterday they had an upbeat cook-off between the police chief and a famous Thai TV chef. The project is designed for locals who are unemployed or furloughed due to the current Covid-19 crisis. Read more about that HERE.
The Pattaya City police chief took on Thai celebrity chef Kengraratwat Wichianrat, from the show Iron Chef Thailand. The chief is wearing the red hat in the video below:
They cooked around a hundred meals for some of the locals deeply affected by the lockdowns ad closure measures, while officers provided proper physical distancing, hygiene standards and a queue system for diners, all of whom ate for free.
SOURCE: The Pattaya News
Keep in contact with The Thaiger by following our
Facebook page
.
Social distancing pandas fill empty seats at Bangkok restaurant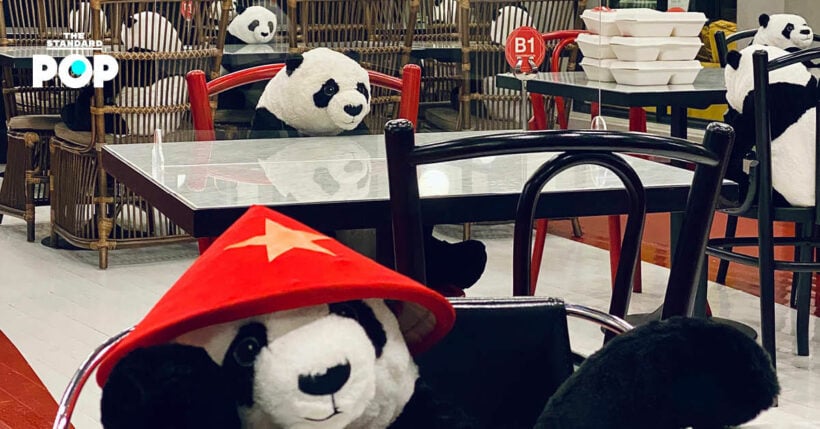 An "X" usually marks the seats in restaurants and other establishments to make sure people are social distancing to prevent spread of the coronavirus. Sometimes the "X" on the empty is marked with red tape, unintentionally sending a negative message. Now one Vietnamese restaurant in Bangkok has found a more fun way to make sure people are sitting apart but still marking the seat spacing.
Big, stuffed panda bear toys are placed in the vacant seats instead. (So far publishers have resisted to use the term 'food panda' in the headline).
Natthwut Rodchanapanthkul, owner of Maison Saigon, near Lumphini Park, told Reuters that he thought the red crosses looked a bit strange.
"Earlier we had only one chair for the tables where the customers would sit alone. But for me, it felt strange, so I thought I'd give them some company."
Thailand has recently lifted restrictions, on restaurants and for some it might be the first time eating at a restaurant since the lockdown. With strict rules and various seats marked with "Xs," going out for a meal has been a bit daunting.
Photos of people eating next to and across from the pandas look a lot happier. One customer told Reuters the pandas made her feel less lonely while she ate a meal by herself.
The next step in easing restrictions around Thailand is set for this Sunday.
Shopping centres and retail shops plan to reopen but a full confirmation on precisely what will open is yet to emerge from the CSSA… hopefully today.
SOURCE:Reuters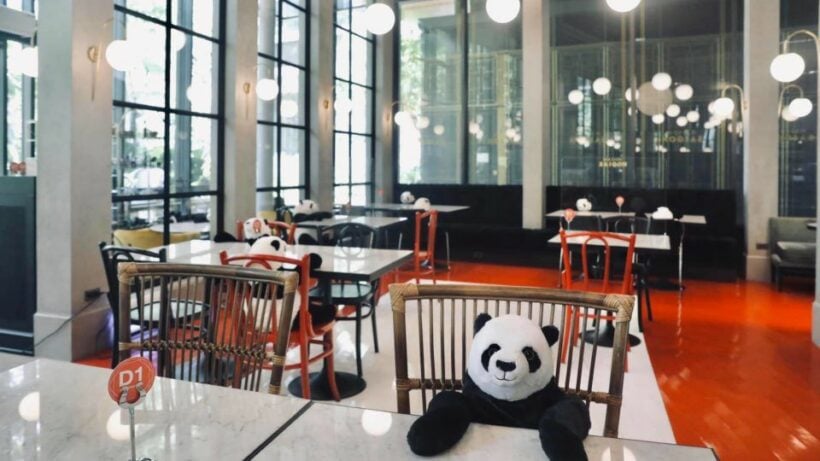 Keep in contact with The Thaiger by following our
Facebook page
.
Cooking with Bibi – let's make papaya salad (somtam)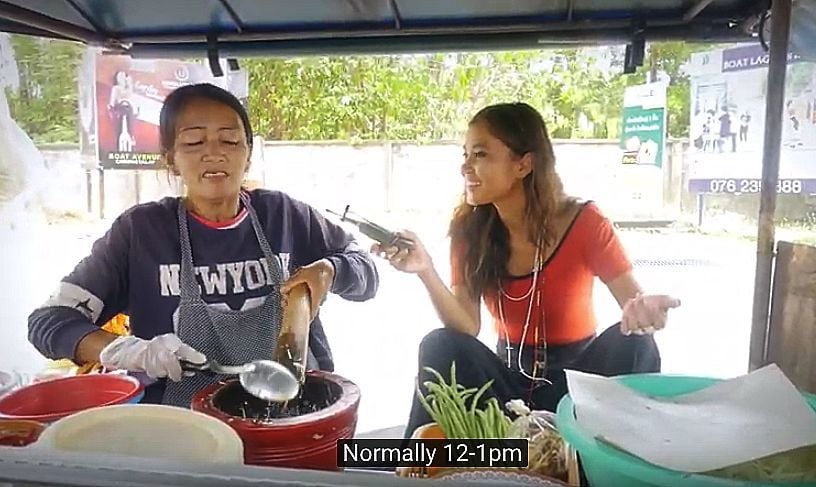 Bibi heads out onto the streets to try some home-made Somtam, that spicy Papaya Salad that makes the eyes water of even the most chilli-loving farang. Then she puts on the chef hat and tries for herself. Let's go cooking on Thailand's streets with Bibi.
Keep in contact with The Thaiger by following our
Facebook page
.