Phuket's Best Burger Competition 2018 – The Winner
The winner of Phuket Best Burger Competition 2018
Thavorn Beach Village Resort


Find restaurant and food listings around Phuket at Thaiger Bites.

New additions to the Thailand Michelin foodie guide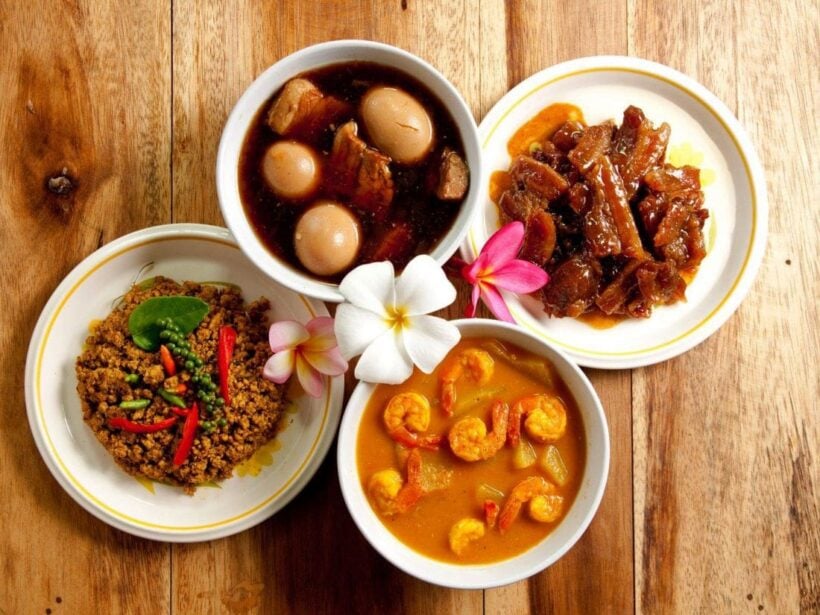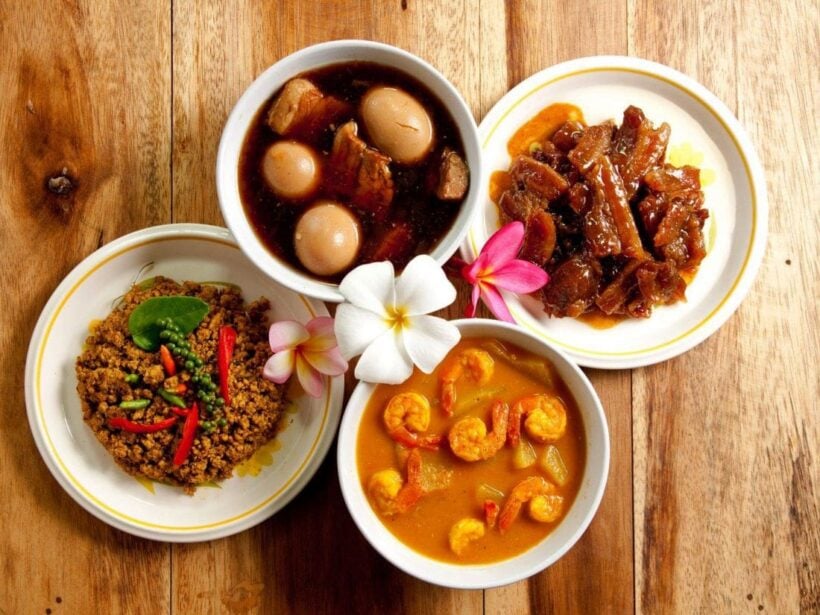 by Khetsirin Pholdhampalit
Thai street food eatery Jay Fai has retained its one Michelin star for the second consecutive year and the legendary Thai restaurant Methavalai Sorndaeng is among the new 10 additions to have been awarded one star, according to the announcement of eateries making it the second edition of Michelin Guide Bangkok.
No restaurant has achieved the coveted highest three-star rating.All three two-starred restaurants in the inaugural edition, namely Gaggan, Le Normandie and Mezzaluna have retained their stars, while Suhring has been upgraded from one to two stars.

The little red guide has been extended to cover the best dining venues in the Southern provinces of Phuket and Phang Nga for its 2019 edition.

However, Pru restaurant in Phuket is the only restaurant in the two Southern provinces to have been awarded one star.

The other 14 restaurants in both cities, such as the famous venues of Raya and Chomchan received Bib Gourmand awards for being 'good value for money'.

In addition to Methavalai Sorndaeng and Pru, other new one-starred additions include Le Du, Gaa, Canvas, R.Haan, Saawan, Sorn, Ruen Panya, and Suan Thip.

Dining venues in Bangkok's neighbouring provinces of Nonthaburi, Pathum Thani, Nakhon Pathom, Samut Sakhon and Samut Prakan are also covered in this new edition.

ORIGINAL STORY: The Nation
New rooftop dining experience overlooking the Andaman at The Nai Harn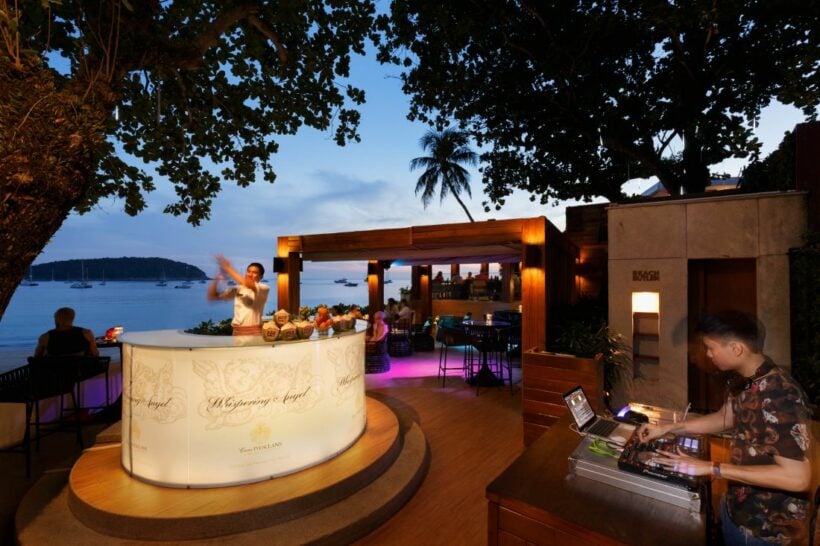 Red alert Phuket foodies.
The Nai Harn is once again raising the bar on island gastronomy with the launch of Prime @ Rock Salt, a new rooftop venue that promises exclusive dining experiences with spectacular views of the beach and sea. The new restaurant will begin welcoming diners from the end of November 2018.
Perched on top of Rock Salt, The Nai Harn's popular beachfront restaurant, 'Prime' is an exclusive eatery with just 20 seats. This intimate size allows the chefs to create highly personalised dining experiences, including serene sunset dinners and private events for small groups.
"Diners will be dazzled by dramatic live cooking experiences, with an open kitchen that features a custom-built wood-fired oven and Santa Maria-style barbecue grill. This allows Executive Chef Mark Jones and his team to roast, smoke or chargrill at temperatures of up to 700 degrees Celsius."
"Prime @ Rock Salt is a new dining destination for Phuket and you could not ask for a better setting. The rooftop at Rock Salt affords spectacular sea views, especially at sunset and later when the stars fill the night sky," said Frank Grassmann, General Manager of  The Nai Harn.
"Combining this stunning setting with an exceptional menu, Prime is set to become the ultimate setting for unforgettable evenings, including romantic dinners and exclusive events."
From custom-built kitchens to premium produce, everything about [email protected] is focused on creating fantastic flavours. The appetizers feature some of the finest imported ingredients from around the world, including Spanish octopus, French goat's cheese, Scottish salmon and Cornish mackerel, all expertly prepared in innovative ways that showcase the sublime flavours. Diners can also indulge in an assortment of house-cured signature cold cuts presented with a choice of pickles, condiments and freshly-baked breads.
'Prime' also serves a selection of world-class steaks from Australia's Rangers Valley, which is famous for producing the most incredible marbled Black Angus and wagyu beef from grain-fed cattle in New South Wales. Diners can choose from 400-day grain-fed Diamantina wagyu flank steak or 360-day wagyu rib-eye steak, perfectly chargrilled and served with a bone marrow and confit onion bread pudding, asparagus and red wine jus.
For an intimate yet extravagant feast, couples can share an exquisite 270-day Black Onyx Angus côte de boeuf, cooked over flames and oak chips, or indulge in barbecued glazed short ribs, slow-cooked for 48 hours then finished in the wood-fired oven. An extensive selection of fine wines – all of them hand-picked by global wine critic James Suckling – provides the ideal accompaniment to every meal.
With its modest size, stunning sea views and mouth-watering menu, [email protected] is set to elevate Phuket's culinary scene to impressive new heights.
Savoury staples with a touch of the finest Swiss chocolate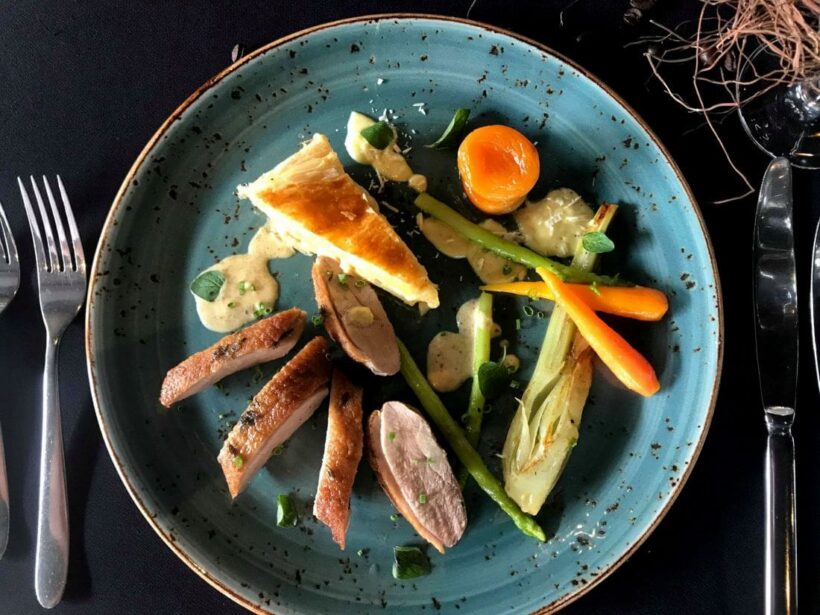 Chocolate… mmmmm. But did you consider it as part of a broader savory menu? I enjoyed an evening of chocolate-infused cuisine and, well, it really works!
Mövenpick Resort & Spa Karon Beach Phuket is treating guests to a new menu of savoury dishes with a sweet twist as Mövenpick Hotels & Resorts launches its 'Chocolate on the Salty Side' promotion.
In celebration of Swiss cuisine and the wonderful versatility of chocolate, the brand's talented 'food artisans' have made Mövenpick chocolate the hero of seven dishes in its latest global campaign, which runs to 20 November, 2018.
From salmon fillets enlivened with dark chocolate to a savoury tarte tartin with a white chocolate flourish, each new creation offers up something distinctively flavourful and showcases chocolate in new exciting ways to guests dining at Movenpick Karon Beach El Gaucho Restaurant.


The seven chocolate-inspired creations include: marinated 'beetroot salmon' with root vegetables and 72% dark chocolate to enhance the meal's rich earthiness; 'tomato tarte tartin' where 'white lemon' chocolate complements the goat's cheese, pine nuts and coffee beans; 'sea bass and green tea' – a light foam of green tea, almonds, nuts and Mövenpick 'Maple Walnut' is the star; 'minute beef goulash', with a traditionally-made Hungarian goulash sauce, enriched with dark chocolate; 'lamb shank and pesto', slow-roasted and then refined with pistachio and hazelnut chocolate pesto; and 'duck breast and potato pie', with white chocolate, lime and pepper giving the pink-roasted meat a delicate yet spicy freshness.
Whilst the dishes have been infused with chocolate, it's barely noticeable in most cases but makes for some subtle new tastes on European classics.
Less subtle are the exquisite desserts which are a blatant celebration of all things chocolate. Guests can finish their meal with a tempting 'chocolate pavés au chocolat', combining milk chocolate, crispy cocoa bean fragments, sizzling pecan nuts and slightly bitter matcha powder, all with a hint of green tea and paired with an espresso.
The quality of Swiss craftsmanship is world-famous and even the country's chocolate is produced with legendary precision. Mövenpick chocolate is made in keeping with the tradition, as well as its own culinary values that date back 70 years, and is produced in Switzerland using 100% cocoa butter.
Make a booking HERE or find out more about the El Gaucho Restaurant HERE.



Tim Newton was a guest of the management of Mövenpick Resort & Spa Karon Beach Phuket