Food: You say Kobe, I say Saga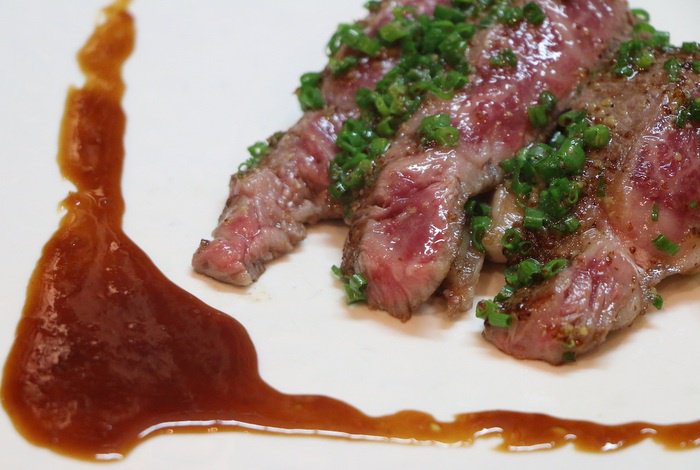 PHUKET: Have you ever heard of Saga beef? Most of us haven't. Many of us, though, are familiar with Kobe beef – if not with its fabled flavor, than at least with its lore, which tells of pampered cows enjoying lives filled with Beethoven's symphonies, gentle massages and buckets of sake before they meet their fate at the slaughter house.
"Everybody knows Kobe beef as the best beef in the world, but if you ask what my favorite beef is, I say Saga," says chef Norio Nomoto of JW Marriott Bangkok.
Chef Nomoto recently visited JW Marriott Phuket to join forces with chef Hiromi Nakabaru, from Saga Prefecture in Japan, to present a special Saga Beef Promotion Menu at Kabuki restaurant.
"Saga beef is no less delicious than Kobe beef, it's just less well known. Kobe has a brand, but Saga tastes very similar and is less expensive," explains chef Nomoto.
This last characteristic of Saga beef, its attractive price tag – at least when compared to the skyrocketing prices of Kobe – is a flavor to savor.
Saga beef is characterized by the same wonderful flavor and texture as Kobe. All thanks to Japanese cattlemen who take great care to keep their cows in good spirits, as well as feed them the best available food and drink. Such well-nourished, relaxed and happy cows produce meet of unrivaled quality, explains chef Nomoto.
If there is a beef that melts in ones mouth, it has to be wagyu, which composes several breeds of Japanese cow that are genetically predisposed to intense marbling.
Saga beef proves itself a good cut of wagyu at the Kabuki restaurant, as it comes straight off a simmering hot Japanese teppan grill before being served with a hint of mustard sauce.
"Saga beef has a very nice flavor that opens up in your mouth. I recommend not using too much seasoning; salt and pepper is enough," chef Nomoto explains, when asked about the best way to prepare a Saga steak.
In fact, the same can be said about Japanese cuisine in general. Of course it has its tricks and advanced techniques, but what's at its heart are quality ingredients. If you have the best beef, the best pork or the best seafood at your disposal, there isn't much left for the chef to do but to serve it fresh and clean.
And that's exactly what chefs at Kabuki do. While they are no strangers to showmanship at the teppan, which involves sharp blades and seemingly out-of-control flames, what ends up on the guests' plates is an ode to unadulterated food.
Saga Beef Promotion Menu priced at 3800 ++ baht is available until the end of January at JW Marriot Phuket's Kabuki restaurant. For bookings call 076 338-000 ext. 3748.
— Maciek Klimowicz
Keep in contact with The Thaiger by following our
Facebook page
.
Chon Buri coffee shop in a converted aircraft ordered to close temporarily – VIDEO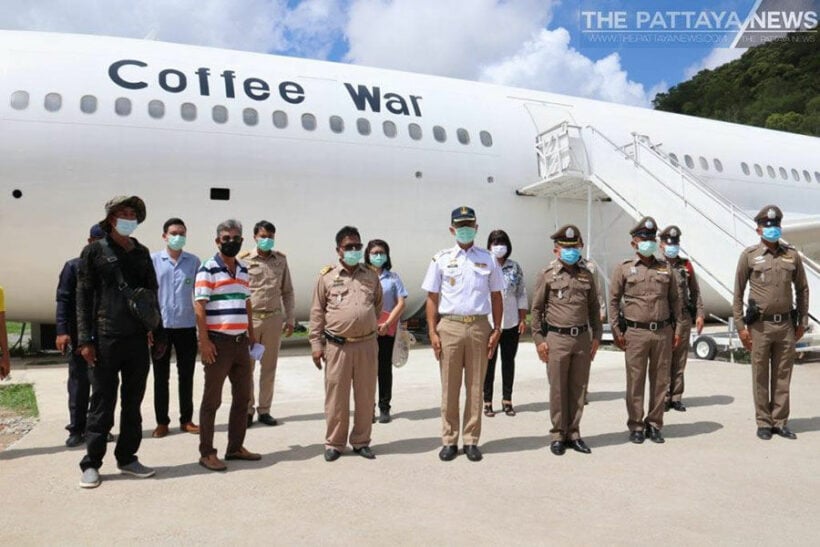 A novel coffee shop set up in a decommissioned Airbus 330 has been ordered to close temporarily after the business simply became too popular after going viral on social media. It's understood thousands of customers a day were arriving for a latte or cappuccino from "Coffee War" in Sattahip, a district in the south of Chon Buri province.
Manager Suttipong Boonloi says the aircraft cost 10 million baht and was converted into a quirky cafe selling coffee for between 60 and 80 baht a cup. He adds that strict Covid-19 hygiene measures are already in place, including temperature checks, the wearing of masks, regular disinfection of surfaces, and hand sanitiser being made available for customers. Furthermore, only 60 customers are permitted "on board" at any one time, with each customer limited to 40 minutes inside.
Public Health officials, accompanied by Sattahip District Chief Anucha Intasorn, have asked the coffee shop to close for a week, in an attempt to alleviate the daily overcrowding and dissipate the enthusiasm. Officials say Covid-19 remains a risk and such large numbers increase the chance of a resurgence in the virus. The province of Chon Buri, including Pattaya, has now gone more than 60 days without any new cases of community transmission.
The unusual coffee shop is similar to a venture in Korat, north-east Thailand, where another entrepreneurial spirit has created a restaurant inside a retired Airbus A330. Both aircraft were formerly part of the Thai Airways fleet. There might be some more unused aircraft available soon…
SOURCE: The Pattaya News
Keep in contact with The Thaiger by following our
Facebook page
.
Thailand disease expert says salmon cannot be infected with Covid-19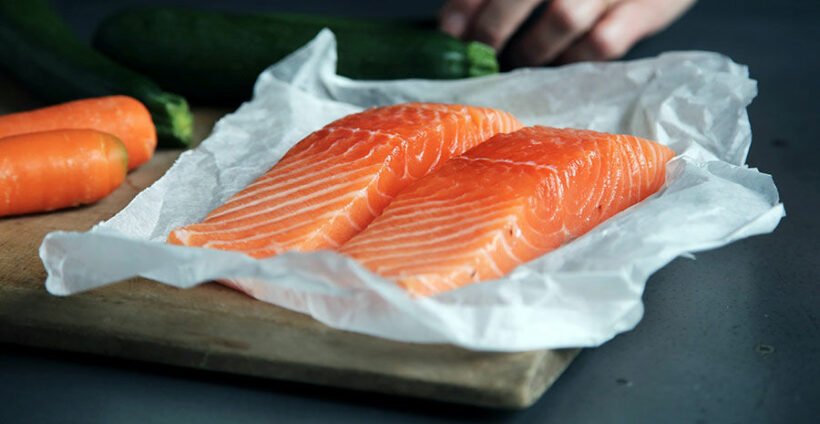 Fish lovers can relax, says the deputy director-general of Thailand's Disease Control Department. "It is not possible for salmon to be contaminated with Covid-19.: Dr. Thanarak Palipat's reassurance comes amid reports that chopping boards used for imported salmon at a market in China could carry the virus.
Beijing's Xinfadi Market is at the centre of a new Covid-19 outbreak, with the Chinese capital recording 106 new cases since last Thursday. However, Dr. Thanarak says he doesn't believe it's possible for the salmon itself to be contaminated with the virus.
"We have not studied the case in detail, but we believe salmon cannot be contaminated with the Covid-19 virus. We believe that the sellers contracted Covid-19 from their cutting boards."
However, a report in Nation Thailand quotes Dr. Thanarak as saying the Disease Control Department has always cautioned against eating raw meat or fish, warning that it could carry other germs.
"We always emphasised that people eat hot, cooked food and use a serving spoon while eating. We also advise that vegetables and fruits be washed before they are eaten."
SOURCE: Nation Thailand
Keep in contact with The Thaiger by following our
Facebook page
.
Pattaya police chief battles Thailand's Iron Chef in cook-off for the needy – VIDEO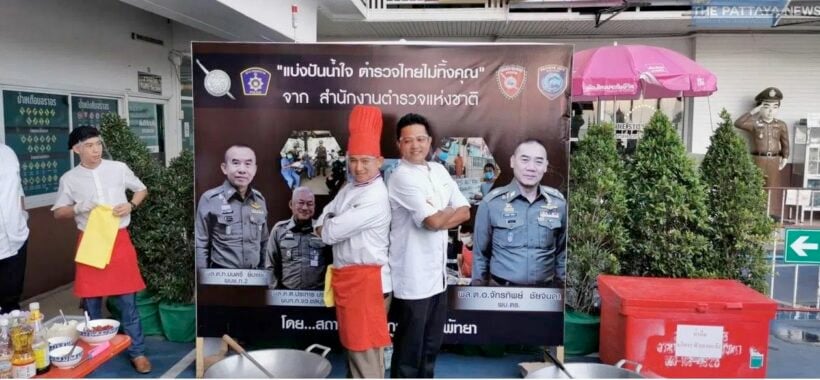 Police in Pattaya are doing more than continue their project to cook food for the needy and unemployed: yesterday they had an upbeat cook-off between the police chief and a famous Thai TV chef. The project is designed for locals who are unemployed or furloughed due to the current Covid-19 crisis. Read more about that HERE.
The Pattaya City police chief took on Thai celebrity chef Kengraratwat Wichianrat, from the show Iron Chef Thailand. The chief is wearing the red hat in the video below:
They cooked around a hundred meals for some of the locals deeply affected by the lockdowns ad closure measures, while officers provided proper physical distancing, hygiene standards and a queue system for diners, all of whom ate for free.
SOURCE: The Pattaya News
Keep in contact with The Thaiger by following our
Facebook page
.