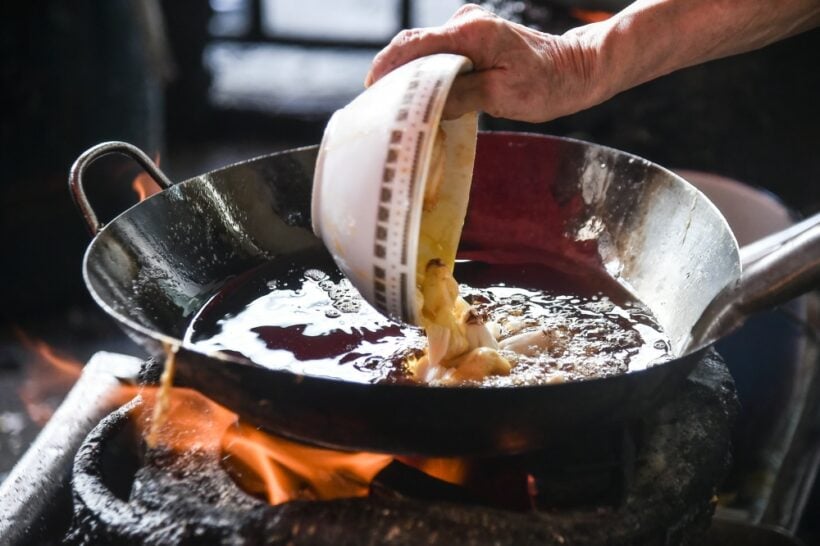 By Khetsirin Pholdhampalit
…Michelin stars, that is, as 17 Bangkok restaurants are named in the first Thailand edition of the little red guide
A day after being-awarded one Michelin star in the first Michelin Guide Bangkok, 72 year old Supinya Junsuta, better known as Jay Fai to her customers, is hard at work, expertly wielding her wok over the hot charcoal brazier and wearing the oversized goggles she favours to protect her eyes from spurts of hot oil.
She occasionally glances up at the crowd of hungry diners queuing to try her signature dishes and the large group of reporters who have invaded her small shophouse in the Pratu Phee area, next to the Golden Mount.
While Bangkok is known the world over for its incredible street food, Jay Fai is the only street venue to have earned a Michelin star, bringing it on par with such fine-dining establishments like Nahm by David Thompson, L'Atelier de Joel Robuchon, J'aime by Jean-Michel Lorain, and Sra Bua by Kiin Kiin. "I have just this one branch here at Pratu Phee and I'm the only cook. I work 12 hours a day, from 1.30pm until 1.30am every day except Sunday," she tells The Sunday Nation.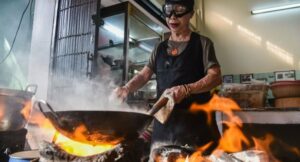 Jay Fai – the "Jay" a familiar term for older sister and the "Fai" a reference to the mole on her neck – inherited the business from her father, a stir-fried noodle chef – 40 years ago and quickly made her ordinary eatery extraordinary. Thirty years ago, when a dish of rad naa (stir-fried noodles topped with gravy) cost 20 baht, Jay Fai dressed up her dish with a giant-sized portion of seafood and sold it for 120 baht. The price didn't turn diners off and the eatery's reputation for top-quality meals quickly spread.
Known for premium local seafood dishes, the best-selling dish is crabmeat omelette that varies in price from 800 baht to 2,000 baht, while the most expensive is a rad naa made with Mexican abalone that can go as high as 10,000 baht a pop. The cheapest items on the menu are guay tiew kua gai (wok-fried noodles with chicken) and pork rad naa, each 200 baht.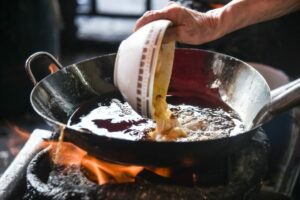 "I carefully select only the best local ingredients. The fresh crabmeat is from Nakhon Si Thammarat and, for my omelette, I use only the meat from the crab-paddle legs. There is no frozen meat and seafood here. My eatery is always welcomes high-profile figures and international chefs. Several chefs have flown in from New York to learn how to cook Thai-style omelette, crab curries and dried congee," Jay Fai says. "I didn't expect to get a star because we're just a small eatery so it's an enormous honour."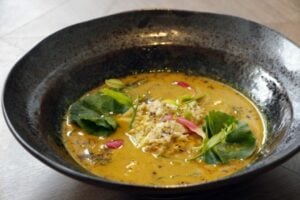 Though Jay Fai is the only roadside venue to earn one star, the debut edition of Michelin Guide Bangkok has highlighted 28 street food locations with "Bib Gourmand", a rating that recognises restaurants offering exceptionally good food at moderate prices, in Thailand's case for a maximum of 1,000 baht. The newly minted eateries include Go-Ang Kao Mun Gai Pratunam for its aromatic and flavourful chicken with rice, Jay Gee's garlic fried chicken on Soi Polo, celebrated pad thai outlet Thipsamai Pratu Phee, Jay Daeng's tasty som tam on Chula Soi 42, and crispy patongo (deep-fried Chinese dough) served at Pa Tong Go Savoey in China Town. Michelin's full-time food inspectors have been busy over the last eight months, making anonymous visits to restaurants to gauge their food. Restaurants are rated on such criteria as the quality of ingredients, consistency, cooking technique and flavour, the chef's personality and value for money. "The first edition of the Michelin Guide dedicated to Bangkok highlights the rich gastronomic diversity," says Michael Ellis, international director of Michelin Guides. "Thai food is recognised around the world. Everyone knows tom yam, pad thai and satay. Bangkok's food scene is varied, diverse and intense. The spices and intense seasoning are unique to Thai cuisine, as it mixes all tastes to the palate – salty, sweet, bitter, sour and umami. Thailand also has incredible street food that should be included in the selection."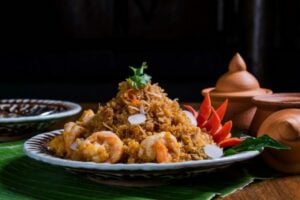 A star goes to Thai restaurant Chim by Siam Wisdom for its exceptional traditional fare.
The inaugural edition awarded 14 restaurants one star, highlighting the quality of local cuisine with seven of them – Bo.lan, Nahm, Saneh Jaan, Chim by Siam Wisdom, Sra Bua by Kiin Kiin, Paste and Jay Fai – offering Thai food both prepared to traditional recipes and with a contemporary twist. The other one-starred restaurants are Japanese eatery Ginza Sushi Ichi, three French establishments – L'Atelier de Joel Robuchon, J'aime by Jean-Michel Lorain and Savelberg – as well as two European contemporary venues – Suhring and Elements – and the 12-seat Upstairs at Mikkeller that pairs innovative cuisine with craft beer. Chef Phatchara Pirapak might be only 27, but her refined Thai cuisine drawn from age-old recipes and the elegant ambience she has created in new restaurant Saneh Jaan on Wireless Road were enough to win the hearts of Michelin's food inspectors.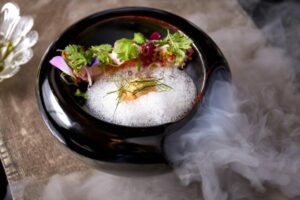 A single star goes to Sra Bua by Kiin Kiin, a place that changes diners' perceptions of Thai food.
"We try to offer traditional and authentic Thai tastes and pay attention to every detail. We insist on only the best ingredients. The glass noodles, dried rice noodles and black bean curd come from Kanchanaburi, the shrimp paste from Klong Kone in Samut Songkhram, the palm sugar from Phetchaburi, and the dried salted fish from Tak Bai in Narathiwat," says Phatchara, a graduate of Suan Dusit University's School of Culinary Arts who honed her formidable skills with Chumphol Jangprai. Among the best-selling delights are khai palow (five-spice egg with pork), a mix of hard-boiled eggs and tiny chunks of caramelised pork belly braised for three days with Chinese spices, black soy sauce and palm sugar, as well as stir-fried long bean with aromatic shrimp paste. "I think the Michelin Guide will benefit our gastronomic scene. It will guide foreigners to experience the many different aspects of Thai cuisine," Phatchara says.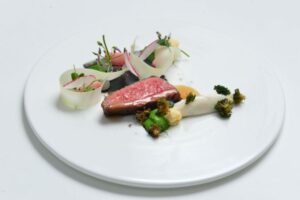 The small Upstairs at Mikkeller gets one star for its innovative cuisine.
Ancient royal Thai recipes are brought back to life with a contemporary approach by experienced chef Bee Satongun in the one-starred Thai restaurant Paste at Gaysorn Village. Paste offers a range of signature dishes inspired by the Snidwongse family cookbook and a few other private sources. They include roasted duck with nutmeg, curry paste and saw tooth coriander served on rice crackers; watermelon and ground salmon with crispy shallots and roasted galangal powder; and southern-style yellow curry with crabmeat seasoned with black pepper, pennyworth leaves and hummingbird flowers. Three big names on the city's food scene – Gaggan on Soi Langsuan, Le Normandie of the Mandarin Oriental, and Mezzaluna on the 65th floor of Lebua – won two stars. No restaurant has as yet achieved the coveted three-star rating. That comes as a little bit of a surprise even though it is not easy to attain with the extremely high standards required to merit three Michelin stars. For example, in France, which has published the Michelin Guide for over a century, there are only 27 three-starred restaurants out of 4,500 establishments rated in the guide. Overall, there are 22,000 restaurants all over the world listed in the Michelin Guide and out of those, only 116 have three stars and just 450 two stars.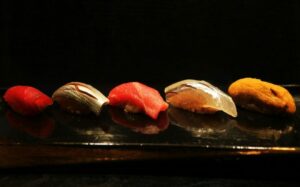 "Evaluations are carried out every year and the restaurants can win or lose stars," says Claire Dorland Clauzel of Michelin Group. But not everyone is satisfied with Wednesday's announcement. "Fewer Bangkok restaurants received stars than I would have expected. I think our city has more restaurants qualified for one star," commented food connoisseur and gourmet Litti Kewkacha, who operates dessert cafes Sfree, Parferio and Kyo Roll En. "I'm disappointed that no restaurant earned a three-star rating and that no Chinese or Italian establishments were included on the list. The three two-starred restaurants serve their food course by course, which is probably more familiar to the inspectors than the Thai culture of sharing dishes that complement each other. It's a good chance for Michelin to learn more about our culture and at the same time, we must improve our level to the internationally-recognised standard, particularly on service and consistency."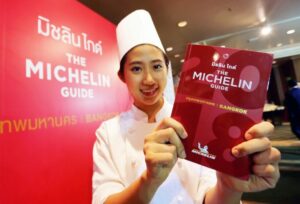 The Michelin Guide Bangkok makes Thailand the second country in Southeast Asia after Singapore and the sixth in Asia to have its own culinary reference. The red guide in both Thai and English costs 650 baht and will be available at leading bookstores from tomorrow. A digital version will follow soon.
STORY: The Nation
Find Phuket's best dining at Thaiger Bites. 2,400+ restaurants, cars, clubs and cafes, all in one place.
Keep in contact with The Thaiger by following our
Facebook page
.
Never miss out on future posts by
following The Thaiger
.
Top 10 tips to avoid food poisoning in Thailand, and how to recover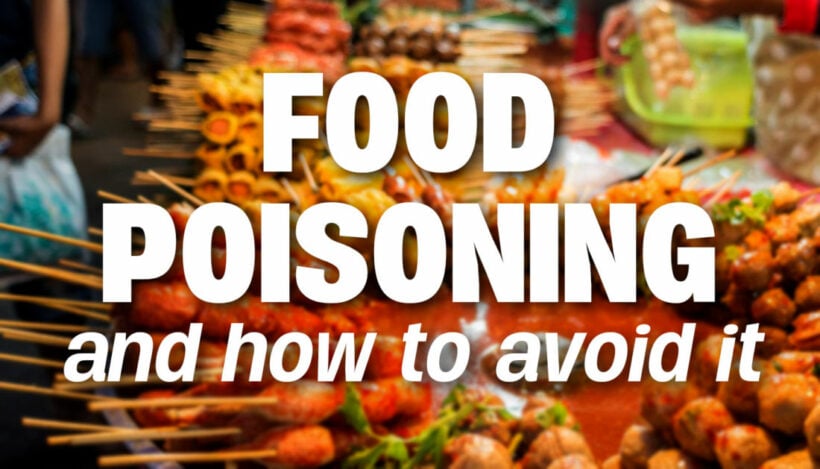 NOTICE: The Thaiger are experienced travellers but we're not doctors. This information is provided as a general guideline if you are confronted with food poisoning. In all cases consider seeking medical attention.
Travelling in foreign locations and trying out the local dishes will always risk a bout of the dreaded food poisoning – Bali belly, Thailand tummy. Thailand has some of the world's tastiest food but also the potential to put you flat on your back for a few days.
Travelling around Thailand you face a double whammy of exotic new spices along with an equally exotic list of new microbes and bacteria working hard to make your day a bad one. One bit of bad luck and you'll disrupt the delicate balance found within your digestive system.
Contaminated water? Spoiled meat? Food left out in the open for too long? Whilst the vast majority of Thai food, even the street food, is unlikely to upset your digestive system, the more adventurous your eating, the more likely you are to confront a bout of food poisoning along your journey.
It will start with stomach cramps, nausea and sweating. It will usually kick in in the first four hours after your meal, probably earlier. You'll know it!
Projectile vomiting and diarrhea are usually the result and the next 10-12 hours of your life will be spent in close proximity to a toilet. You will feel like death-warmed-up… chills, cramps, maybe a fever and lots of sweating. But you WILL get over it.
Here is The Thaiger's Top Ten ways to avoid, and recover from, a bout of food poisoning.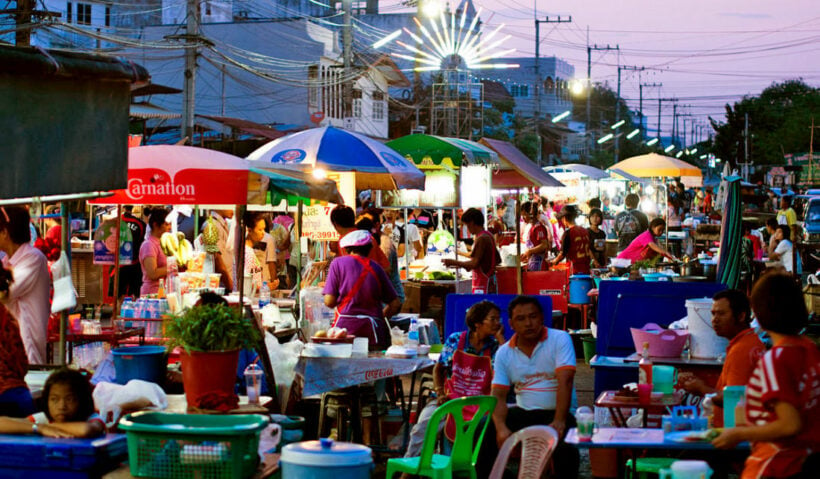 Don't get food poisoning!
The best way to avoid food poisoning, or its lesser partner traveller's diarrhea, is to not get it in the first place. But even the most cautious tourist can consume something they think is safe… but isn't.
Avoiding food poisoning is everyone's obvious aim, but if it does happens it's not the end of the world. But it is going to put a dent in your plans for a few days. Be cautious, read up about potential problems and turn you brain on before you go 'full commando' on food you've never experienced.
No fresh leafy greens
Unless you are absolutely sure they have been copiously washed with filtered water it is best to avoid eating anything in this category. Cooked greens are usually ok, especially in boiled soups. Try to also avoid raw unpeeled fruit or vegetables as well.
Salads in a street restaurant, somewhere off the beaten track? Probably not.
Street food
Street food, literally food you can buy on the kerbside or footpaths anywhere in Thailand, often looks and smells amazing, and is usually safe to eat. But avoid anything that looks like it's been sitting around in the sun and humidity. Stick with bubbling boiling soups, freshly fried Pad Thai, and meat that has been grilled right in front of you.
Ice ice baby
The vast majority of restaurants and bars in tourist areas use ice that comes from frozen purified water and have it delivered daily. Off the beaten track it's best to ask first if the ice (nam kang) is made from tap water or is fresh that day. When in doubt, leave it out – better a warm beer than half a day leaning over the toilet 🙂
Drinking water
It's best to observe the golden rule about drinking water in Thailand – never drink the tap water. The down-side is that most of the potable water is going to come to you in a single-use plastic water bottle which we're all trying to avoid these days. Most hotels, and some restaurants, will have drinking stations where you can top up your water safely.
Drinking water is very cheap in Thailand and is available everywhere, like EVERYWHERE!
All that said, we suspect that in places like Phuket, Chiang Mai, most of inner Bangkok, Pattaya and Hua Hin, the water out of the tap IS safe to drink these days. But don't take our word for it! As a traveller, you need to err on the side of caution.
The Thaiger has lived in Thailand for a decade and brushes teeth and uses the local supply (in Phuket and Bangkok) and has never had any 'tummy-rumbles' from interacting with the local potable water supply. But that's not a scientific study, just our own experience.
Leftovers
"Mmmm, that pizza was great last night. I'll have the rest tomorrow."
Maybe, but you need to refrigerate it before it gets cold and then eat it quickly the next day before it has time to 'warm up'. If it's more than a day old, throw it out or feed it to the dog or cat who have cast-iron stomachs compared to humans.
Ditto for any other leftover you think you'd like to save for the next day.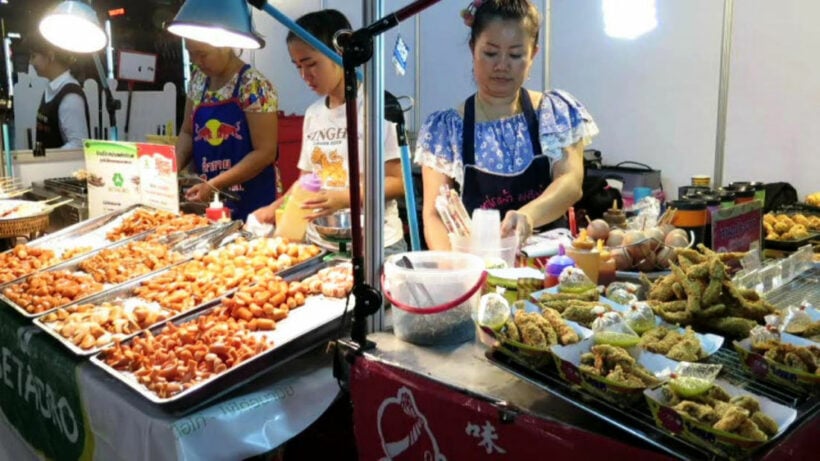 Rehydration
If you are experiencing diarrhea or vomiting you need to make sure you rehydrate properly. If you are not doing a great job holding water in, go to the nearest pharmacy and pick up Oral Rehydration packets.
If you are suffering from food poisoning in Thailand you will do well to grab some of these packets. They should cost you no more than 5 baht. Use up to 5 a day.
Seek Medical Treatment
If it's a mild case you are probably going to be able to self-medicate your way back to perfect health. If it's serious and you're just flat on your back (between rushing to the toilet) for more than a day, then you'd be advised to seek medical attention. If you have blood in your vomit or stools, or high fever lasting more than an hour or so, seek medical attention quickly.
Thai doctors usually go down the medication route whereas some western doctors would now specify a more natural approach to recovery. If you have medical and travel insurance (you're insane travelling without both!), and are in places like Bangkok, Chiang Mai, Phuket, Pattaya, Samui, Hua Hin or Khon Kaen, then head to a private international hospital, rather than a local hospital.
There's nothing really wrong with the local hospitals – you will be charged less but you will be charged – but you're going to have to battle language barriers and waits at a time when you're not really focussed on anything except how sick you feel.
A better choice would be a local clinic – Google is your best friend here or ask you hotel or someone with some local knowledge.
CAUTION: A lot of people use to take Loperamide aka. 'Imodium' when they had diarrhea in the past. Generally medical advice these days is NOT to take these drugs unless you consult a doctor first. Read more HERE.
Rest and time
Your body will use a lot of energy trying to evacuate whatever is making you sick. Sometimes you will wonder where everything coming out of you, is coming from! It's just a never-ending source of hell. At some stage though it will calm down and your poor body will be exhausted. So rest.
Don't be afraid to miss out on a couple of days of activities as a result – put your body and recovery ahead of anything. For now you need lots of sleep and rest.
Be a BRAT
For a few days stay off the exotic foods that put you here in the first place. Go bland, go BRAT. The BRAT diet is tried and tested and, whilst not very exciting, will hep the flora of your stomach recover quickly while getting enough nutrients to keep you going.
BRAT stands for bananas, rice, applesauce and toast. Yeah, bland indeed.
You can add to this fairly palette with other gentle foods… plain biscuits, oatmeal, weak tea, apple juice or flat carbonated drinks (just open them and let them sit for a few hours to lose their 'fizz'), bland 'broth' soups, boiled potatoes.
Here are foods to avoid during your recovery… milk and dairy, anything fried, greasy, fatty, or spicy, steak, pork, salmon, and sardines, raw veggies, including salad greens, carrot sticks, broccoli, and cauliflower, fruits, such as pineapple, orange, grapefruit, apple, and tomato, very hot or cold drinks, alcohol, coffee, or other drinks containing caffeine. Or Thai food generally!
After a few days on BRAT you can start trying things like soft-cooked eggs, cooked fruits and vegetables, and white meat, like chicken or turkey.
Importantly, until your body has finished getting rid of 'whatever is ailing you', don't eat anything. It will just end up, along with everything else, making a quick journey from one end of your body to the other.
Start drinking flat soda (lemonade) or carbonated drinks, or 'Gatorade'-style electrolyte drinks (you can powders from any Pharmacy) as soon as you can to keep the body hydrated, even fresh coconut water, (although make sure it is fresh, otherwise you're going to end up in the toilet).
Dehydration is a big problem following a bout of vomiting and diarrhea so focus on getting some fluids back into your system as soon as you can tolerate it.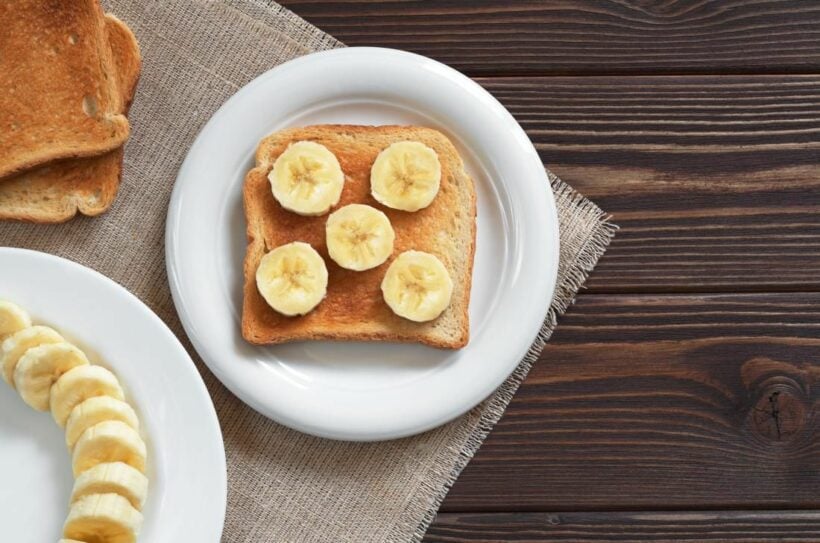 Keep in contact with The Thaiger by following our
Facebook page
.
Never miss out on future posts by
following The Thaiger
.
Miss airplane travel? Here's some flight experiences that don't leave the ground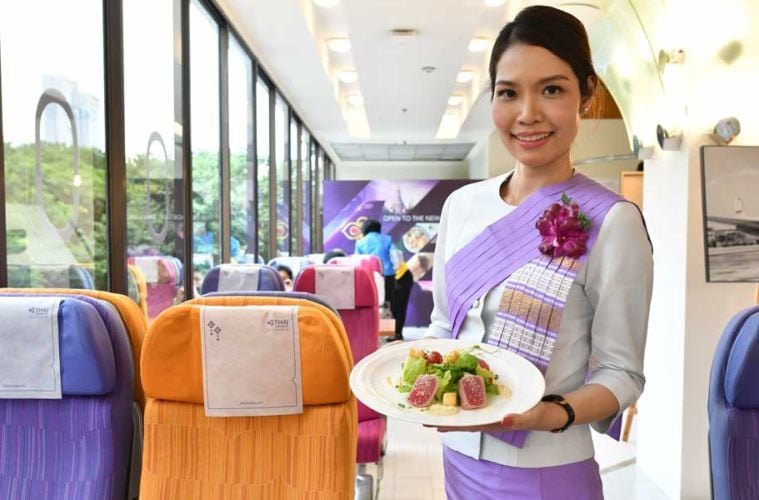 Since international travel is still on pause, some are getting their flight experience on the ground. Airplane cafes and flight experiences are becoming more and more popular. Thai Airways has not only opened a pop-up café to sell airplane food, but they are also offering flight simulations to the public.
The stimulator flying experiences start at 12,000 baht for 30 minutes and go up to 36,000 baht for 90 minutes. It's apparently the most realistic flight simulation in Thailand and is normally only used for training the pilots, according to the airline's executive vice president of operations Soradech Namruangsri. He adds that the deal will also generate some additional income.
The airline's café has also "taken off." The café at the Thai Airways headquarters in Bangkok gives the travel experience without being in the air. Customers pose with luggage at the door and sit in airplane seats. They offer dishes like pasta carbonara, Caesar salad with smoked salmon, and mango cheese cake.
Since the lockdown forced many to stay at home, the café gives the travel experience without the actual travel. A customer says the café "relieves what's missing."
"Normally I'm a person who travels very often, and when we are forced to stay at home… it's kind of depressing."
In Chon Buri, a coffee shop in a decommissioned Airbus 330 became so popular that it had to temporarily close down last June. Thousands of daily customers crowded the airplane café Coffee War, making social distancing difficult.
Many pose for photos in the first class seats. The "passengers" even get boarding passes. A customer says experience is a lot of fun.
"With this café I can sit in first class and also mess around in the cockpit pretending to be the captain of the plane."
Another customer says she also likes to sit in the first class section, adding that it feels like she's "cruising through the air."
SOURCES: Bangkok Post | Nation Thailand
Keep in contact with The Thaiger by following our
Facebook page
.
Never miss out on future posts by
following The Thaiger
.
Missing airline food? Thai Airways has a solution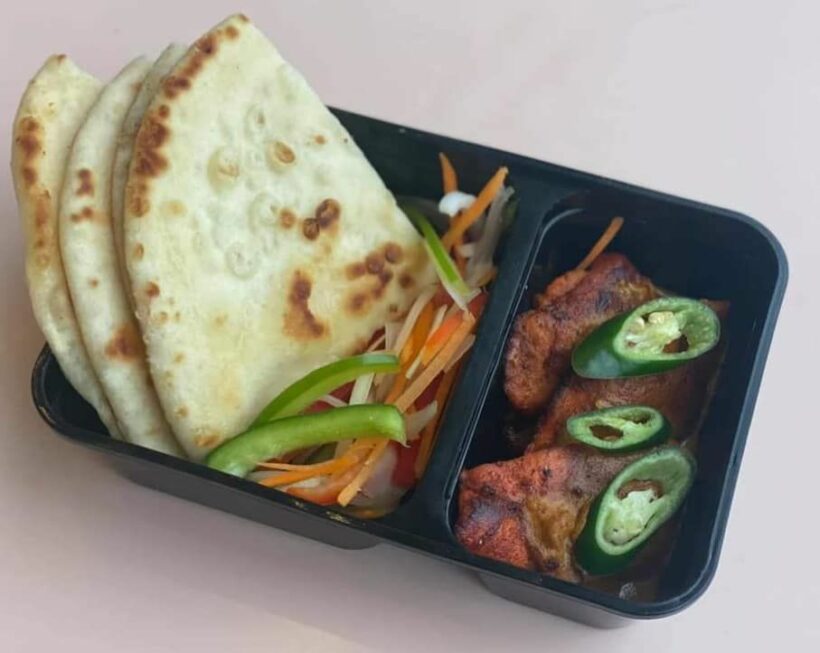 What's the deal with airline food? Some people think it's actually good. Really good. Thai Airways is selling their "high quality" airline meals on land since many flights are grounded due to the coronavirus pandemic travel restrictions. They've had such a great response over the past 2 months that they're extending their weekly lunch special.
From 9am to 2pm today until Friday, the airline will be selling their in-flight meals from their headquarters on Vibhavadi Rangsit Road in Bangkok. Get there fast because the food is known to sell out by the afternoon.
The airline made their in-flight meals available for delivery in April. They sold box-meals like stir fried tiger prawn and beef cheek with cumin sauce. The airline started serving their in-flight meals from the company's office in July.
A Facebook post shared on the airline's page says customers should get to the event before 10am because many people arrive around lunch time and the food is usually sold out by the afternoon. The menu changes every week and has a variety of options like sushi, lobster buns, smoked salmon Caesar salad and chocolate cheesecake.
Other airlines and in-flight catering companies have also sold their meals to people on land. The Hong Kong airline Cathay Pacific sells their meals to airport staff. Aerofood ACS, a catering company for the Indonesia's national airline Garuda, has been offering their meals as takeaway dinners.
An Indonesian resident, Rubi Haliman, says he's ordered 4 meals from Aerofood . He even said the meals taste better from the ground, but says it's not the same as the "sensation of eating in the sky."
"My favorite was nasi daun jeruk: rice with lemon flavour," adding that his meal was served with a side of egg tofu and jongkong, an Indonesian sticky rice pudding, for dessert.
With travel restrictions across the world, fewer flights are taking off and some airlines can't serve food at all due to coronavirus prevention measures. The company that supplies American Airlines with nuts now has so many nuts they're selling them online. GNS Foods just opened a retail store at its factory to help sell their more than 50,000 pounds of "first class" nuts.
Australia's Qantas airline has a problem other than food. They now have so many business class pajamas, tea bags and hand cream that the airline is now selling them as "care packs."
Hungry for airline food? Here's a sample menu from last week's Thai Airways catering event:
Salad
Tuna salad
Caesar salad with smoked salmon
Lobster Bun
Pasta
Carbonara pasta
Ravioli pasta, ketchup
Middle Eastern food
Arabic style baked rice (Prawn Kabsa with Kabsa rice)
Indian food
Chicken Tikka (Chicken Tikka)
Chinese food
Kung Pao chicken rice
Sichuan soup
Japanese food
Chicken rice (Chicken Teriyaki)
Beef rice (Gyu Don)
Thai food
Chicken rice
Daily food specials
Dessert
Macarons black currant
A variety of Thai desserts
Keep in contact with The Thaiger by following our
Facebook page
.
Never miss out on future posts by
following The Thaiger
.