Knocked out by Beatles in the Boat Lagoon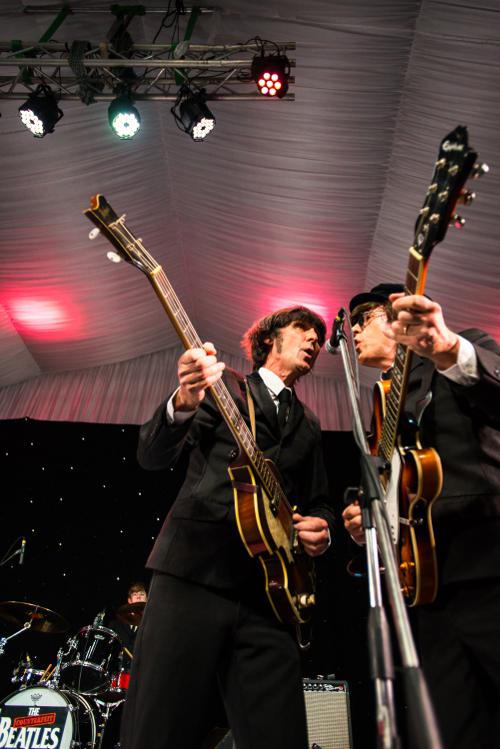 PHUKET: "We all live in a yellow submarine, a yellow submarine, a yellow submarine"… There are songs that make your head rock, your fingers click and your feet stomp. There are days when you can't get a tune out of your head; it follows you around, you keep whistling it, you catch yourself singing it out loud under the shower or in the car on your way to work.

If you've recently met someone showing these symptoms, chances are that he or she was at one of the two Fab Beatles concerts at the Boat Lagoon over the weekend – featuring the renowned cover band the Counterfeit Beatles, direct from Liverpool.

The Beatles may have been counterfeit but the music was for real. And so was the fun. It's been a while since Phuket has seen and heard so many people singing and dancing their hearts out. Partly it was the songs. With tunes like Help, Drive my car or Please Mr Postman in their catalog, the Counterfeit Beatles task seemed easy.

After all, we know the lyrics and few of us can stop ourselves from singing and moving in rhythm at the very first notes of Love me do or Ob-La-Di, Ob-La-Da, but there is something magical in seeing and hearing these songs performed live – and boy did the Counterfeit Beatles deliver!

All the harmonics were there, all sung in tune and with plenty of passion. The combination of the band's fabulous stagecraft and musical talents, served up with knockout costumes and authentic instruments, resulted in a lethal and unforgettable show.

If you were lucky enough to have been there, you know what I'm talking about. And if you weren't – well, you missed one of the greatest nights of entertainment this island has seen in a long time!

As was the case with ABBA Forever and Alice and Wonderland, the Beatles' gigs were organized by Events International, which is rapidly becoming synonymous with world-class, imported entertainment for Phuket, an important slice of life that has long been missing here.
— Maciek Klimowicz
Keep in contact with The Thaiger by following our
Facebook page
.
Never miss out on future posts by
following The Thaiger
.
K-Pop fans show their support for the young Thai protesters, donate 3 million+ baht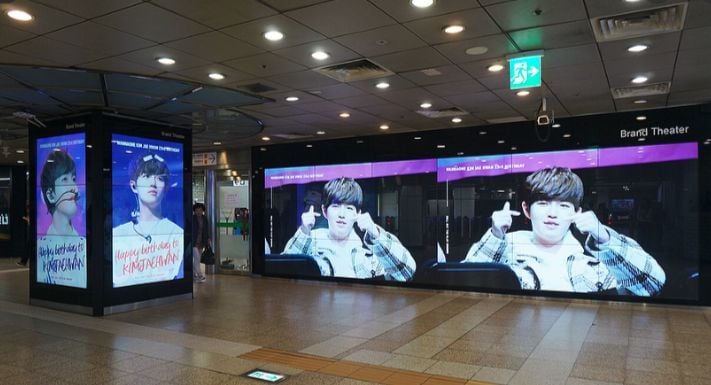 Art meets politics again, this time with hundreds of thousands of K-Pop fans raising funds in support of the growing student protest movement in Thailand. So far they've raised more than 3 million baht (as of 10am this morning) but the amount is rising quickly as Thai and overseas K-Pop fans respond. The most popular band in Thailand at the moment is BTS, the South Korean septet which is currently the most popular band in the world (as of today BTS commands the Number 1 and Number 2 positions on the US Billboard singles chart).
BTS fans have so far been the largest contributors donating funds to the protest cause.
The BTS Thailand page, not to be confused with the BTS Skytrain, is urging K-pop fans to stop the practice of paying for billboards in support of their favourite idols and to celebrate the birthdays of the 7 members. RM, Jin, Suga, J-Hope, Jimin, V and Jungkook issued a statement on their fanpage asking fans to stop funding the BTS and MRT "inconvenienced protesters and normal citizens from getting home and putting them in danger".
Bangkok's two main rail systems were closed down over the weekend as police and protesters played a cat and mouse game. The protesters were withholding the announcement of protest locations to the last minute whilst police second-guessed their moves, ending up in mass inconvenience for the wider public in shutting down the entire network, including the Airport link.
"We're calling Armys and other fans to stop buying ad projects with the BTS and MRT." ("Army" is the name of BTS fans.
Fans of K-pop groups as well as other "idol" groups often pool their resources to purchase display ads in the MRT and BTS stations wishing their stars happy birthday or on other significant anniversaries.
It's thought that many more millions of baht will be raised by the K-Pop fans in the next few days.
The young Thai protesters are tapping into a strong social media network, and have "weaponised" the social media and messaging platforms. The main App they are now using, to communicate their intentions, is "Telegram", developed by a young Russian couple but now operating out of Germany. The App features encypted messages, impossible to track, and has 400 million monthly active users.
Telegram is a cloud-based instant messaging, video telephony and voice over IP service with end-to-end encryption for secret chat only, whereas Cloud chat uses client-server/server-client encryption and its messages are stored encrypted in the Telegram Cloud – Wikipedia
Meanwhile, other K-Pop acts that have mobilised their fans win support include Girls' Generation, GOT7, NCT, WannaOne, Nu'est, X1, Day 6, Red Velvet, MonstaC, Woodz, Shinee, Super Junior and R1se. We're sure the fans of Black Pink are also contributing but didn't have their figures available at the time of publishing. Fans of popular Thai actors and celebrities are also donating to the pool.
Keep in contact with The Thaiger by following our
Facebook page
.
Never miss out on future posts by
following The Thaiger
.
Rock star Eddie Van Halen loses cancer battle – VIDEO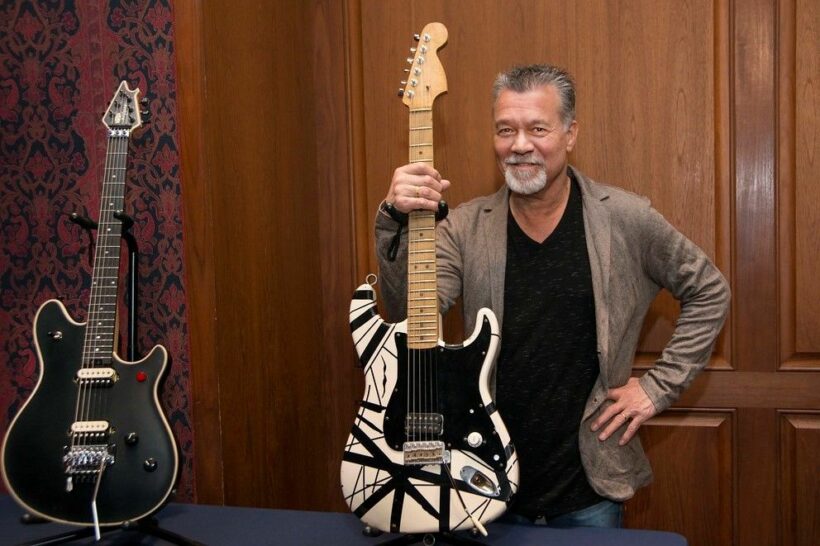 Rock icon Eddie Van Halen has died, after losing a long battle with cancer. His son, Wolfgang Van Halen, took to Twitter to announce the death of his 65 year old musician father.
"I can't believe I'm having to write this, but my father, Edward Lodewijk Van Halen, has lost his long and arduous battle with cancer this morning. He was the best father I could ever ask for. Every moment I've shared with him on and off stage was a gift. My heart is broken, and I don't think I'll ever fully recover from this loss. I love you so much, Pop."
Born Edward Lodewijk Van Halen in the Netherlands, Eddie Van Halen's family moved to California when he was 6 years old. Eddie took piano lessons from a young age and went on to become one of the world's biggest rock stars, forming the band Van Halen with his brother Alex and singer David Lee Roth. The band had numerous hits, including their most successful single, Jump, released in 1983.
Tension between Van Halen and singer Roth saw the latter leave the band in 1985, but he returned for a 2007 reunion tour. A 2012 tour had to be cancelled due to Eddie Van Halen's health problems, but a 2015 tour of North America was able to go ahead.
Eddie Van Halen had a well-documented history of alcohol and drug abuse and several health problems that impacted negatively on his work. The alcoholism and drug addiction were major contributors to his divorce in 2007 after a 16 year marriage to actress Valerie Bertinelli. In 2015, he spoke out about his addictions and the effect they had had on him personally and professionally.
"I was an alcoholic, and I needed alcohol to function. I didn't drink to party. Alcohol and cocaine were private things to me. I would use them for work. The blow keeps you awake, and the alcohol lowers your inhibitions. I'm sure there were musical things I would not have attempted were I not in that mental state."
In 2000, a year after undergoing hip surgery, he was diagnosed with tongue cancer following years of smoking. The diagnosis led to him having part of his tongue removed. In 2002, he was declared cancer-free, but the illness subsequently re-surfaced and he was reported to be receiving treatment again last year.
Tributes from some of the biggest names in the music world poured in Tuesday following news of his death.
From Black Sabbath's Tony Iommi…
"I'm just devastated to hear the news of the passing of my dear friend Eddie Van Halen. He fought a long and hard battle with his cancer right to the very end. Eddie was one of a very special kind of person, a really great friend. Rest In Peace my dear friend till we meet again."
From Yusuf/Cat Stevens…
"Sad to hear Eddie Van Halen has passed away. A guitar innovator with a fierce spirit of musical and technical exploration. Prayers and thoughts with his family and friends."
US songwriter Diane Warren said in a tweet that "guitars are gently weeping everywhere. Shred In Power Eddie Van Halen."
The rocker is survived by his second wife Janie Liszewski and his son, as well as his first wife Bertinelli.
SOURCE: Bangkok Post
Keep in contact with The Thaiger by following our
Facebook page
.
Never miss out on future posts by
following The Thaiger
.
Khao San Road to reopen for Halloween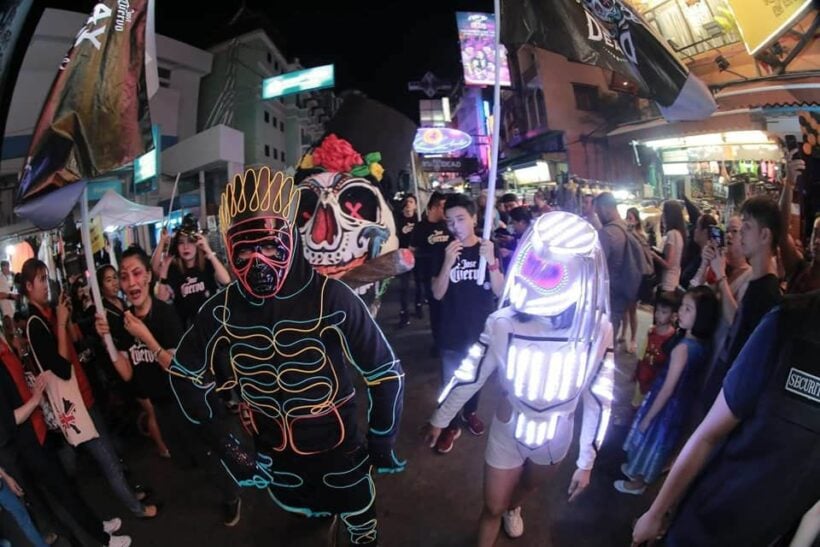 The party is coming back to Khao San Road this Halloween. The once booming backpacker district went through a renovation during the lockdown period and now the Bangkok governor says they're ready to reopen the street.
Khao San Road has long been a district frequented by foreign backpackers. It's known for it's grungy and lively bar scene as well as its eccentric mix of street food, like scorpion on a stick. During the lockdown, 48.4 million baht was put into the streets for major renovations like leveling out the road and footpaths, adding some gutters and designating space for emergency vehicles.
Bangkok governor Aswin Kwanmuang says a Khao San Road Halloween party to help stimulate travel. There was talk about removing street vendors from Khao San Road, but the idea got a lot of backlash. Luckily, street food will stay put and 240 food vendors will be set up along the street from 9am to midnight for the Halloween weekend.
Khao San Road will also run a street market and set a stage for performances on the November 28 and 29 as well as News Years weekend, according to Nation Thailand.
Aswin says events are also planned for Loy Krathong and New Years. The area around the street was so packed during last year's New Years, that streets and alleyways were more like mosh pits. Phones were stolen, fights broke out. It was a mess.
Loy Krathong happens every year on the 12th month of the Thai lunar calendar. People make offerings for the water goddess and ask for forgiveness. A krathong is usually made of banana stems, leaves, flowers, candles and incense sticks. It's then floated down a river.
Khao San Road isn't known as a place where people ask for forgiveness, but apparently Loy Krathong will be celebrated along with other cultural events, according to Coconuts Bangkok. Loy Krathong happens to fall on Halloween this year.
SOURCES: Coconuts Bangkok | Nation Thailand | Bangkok Post
Catch up with the latest daily "Thailand News Today" here on The Thaiger.
Keep in contact with The Thaiger by following our
Facebook page
.
Never miss out on future posts by
following The Thaiger
.