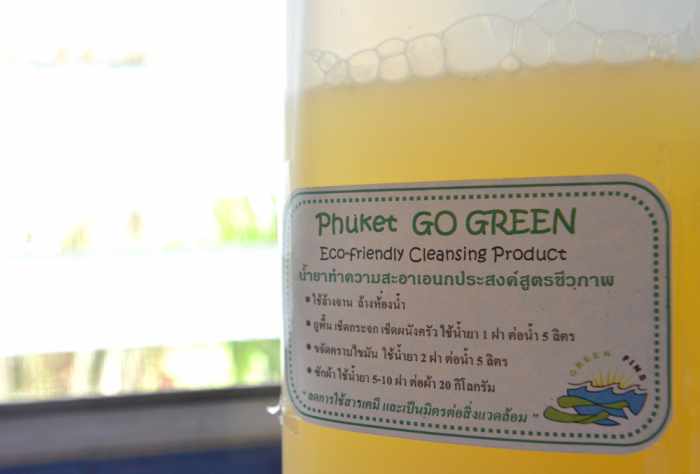 PHUKET: Phuket Town's first co-working initiative –The SEA Co-working Space and Marine Cafe – hosted a make-your-own home cleaner workshop at their space on Phang Nga Road on June 5.
Led by Green Fins Project Coordinator and environmental health advocate Petchrung "Aey" Sukpong, the workshop covered the process of producing an all natural, all purpose and inexpensive cleaning solution.
The procedure is surprisingly simple and enables anyone to create a vast stockpile of the cleaner in a short amount of time with minimal effort and money. The solution can then be used to clean dishes, counters, floors, bathrooms, laundry and has a variety of marine applications.
The cleaner utilizes the natural benefits of effective microorganisms (EM) which consists of a proprietary blend of beneficial microbes such as yeast, lactobacillus and phototrophic bacteria.
The process of creating the natural cleaner begins with the use of EM to react with and break down food waste – especially fruit by-products such as pineapple rind and orange and lime peels. Aey says that she sources the leftover fruit waste from shops that sell juices and smoothies. In a large container, the fruit waste is mixed with clean water, brown sugar and the EM which can be purchased through Best Care International (BCI) Thailand. The mixture is then covered and left for four to six weeks to allow the EM to react with the sugars in the fruit. When a white layer of what looks like mold forms on top of the mixture, it is ready to be used. EM has a variety of applications including fertilizer and soil conditioner.
The other main ingredient needed to create the cleaner is a product called Texapon N-70 which is derived from natural fatty alcohols found in coconut or palm oil. Texapon N-70 is the commercial name with which it will be labeled and it can be found at the Super Cheap across from the new bus station.
Once the EM have worked their magic and the fruit matter has been strained out, it's time to gather up the ingredients that will formulate the final product. To make about 10 liters of the cleaner, it will require 10 liters of the EM solution, one kilogram of Texapon N-70 and one kilogram of salt.
In a 12-15 liter container, the Texapon N-70 and the salt are mixed together, stirred slowly by hand in one direction. The EM solution is then added slowly while the mixture is continuously being stirred. Once all 10 liters of the EM solution have been added, stirring must continue until all of the granules of salt have been dissolved which should take 10-20 minutes depending on the temperature of the other ingredients.
Once the salt has been dissolved, the mixture should be covered and left overnight to settle at which point it can be bottled and is ready for use.
To further simplify the process of making the do-it-yourself cleaner, Aey says she will be making the EM product as well as the Texapon N-70 available for purchase at the SEA Co-working Space next month.
For more information on the SEA Co-working Space and Marine Cafe, visit: facebook.com/theseacoworkingspace or greenfins-thailand.org
— Jeremie Schatz
Keep in contact with The Thaiger by following our
Facebook page
.
Tax on salt content being considered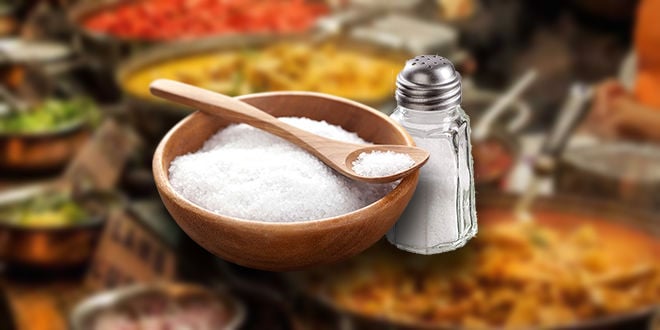 The Excise Department is considering imposing a tax on the salt content of food to encourage food producers to reduce the sodium content of snacks, instant noodles and seasoning cubes.
The director of the Office of Tax Planning said that the department is discussing a limit on the amount of sodium food can contain, in line with the standard set by the World Health Organization (WHO), which is 2,000 milligrams of salt per day.
In reality, Thai people consume an average of 1,000 milligrams per meal, making their daily intake well above WHO guidelines, according to the director.
He said any tax imposed would be at a level which would encourage food producers to reduce the sodium in their processed food without being punitive, adding that the proposal isn't intended to generate more tax revenue, but to help protect the health of consumers. Excessive sodium in the diet can lead to high blood pressure and kidney disease.
Fish sauce, soy sauce and salt would not be taxed.
SOURCE: thaipbsworld.com
Keep in contact with The Thaiger by following our
Facebook page
.
Water shortage warnings in 22 provinces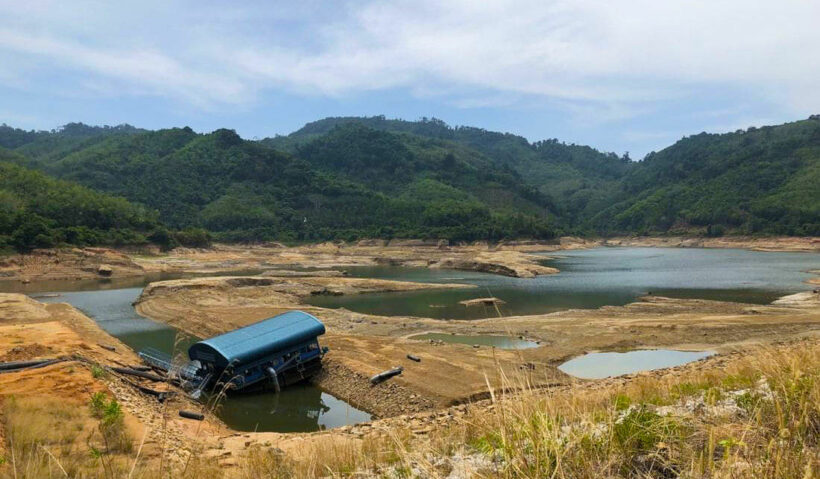 People living in 22 Thai provinces are being warned to prepare for shortages of drinking water during the upcoming dry season, due to start on November 1st.
The warning was issued by the National Water Resources Office, citing low levels in reservoirs, which are the main sources for tap water production waterworks in 22 provinces.
Areas at risk identified by the office are in northern, north-eastern, eastern and southern provinces.
Measures have been adopted by agencies charged with dealing with water shortages. including dredging water channels to allow greater volumes of water to flow into reservoirs, drilling underground wells, enlarging storage ponds and the purchase of water to supply to those in urgent need.
The Royal Irrigation Department has announced that people should use water sparingly.
There are currently about 6 billion cubic metres of usable water in reservoirs in the affected provinces, with 5 billion cubic metres reserved for consumption and ecological preservation, leaving only 1 billion cubic metres for use in agriculture.
This means farmers in the Chao Phraya river basin may not be able to grow a second crop of rice this year.
SOURCE: thaipbsworld.com
Keep in contact with The Thaiger by following our
Facebook page
.
Green Day heading back to BKK in 2020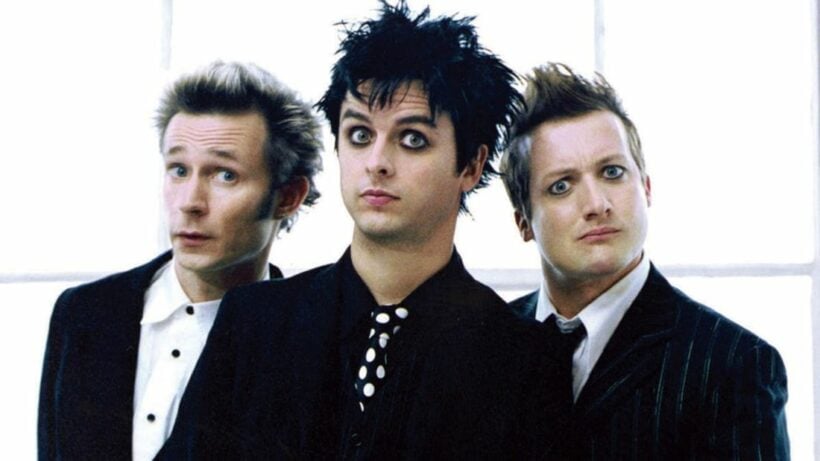 Green Day, five-time Grammy Award winners, are embarking on a global tour in 2020, including a stop-over in Bangkok during March. The rock 'n' roll Hall of Fame inductees will perform a series of concerts throughout Europe, UK, North America and Asia.
"Green Day Live in Bangkok" takes place on March 11, 2020 at Impact Arena, Muang Thong Thani. But it's not their first time. Green Day sold out concerts in their last Thai live gigs in 1996 and 2010.
Formed in 1986 in Berkeley, California, Green Day is one of the world's best-selling bands of all time, with more than 70 million records sold worldwide and 10 billion cumulative online streams of their music and performances. Their 1994 breakout album "Dookie" is widely credited with popularising and reviving mainstream interest in punk rock, catapulting a career-long run of No 1 hit singles.
In 2004, Green Day released the rock opera "American Idiot", selling more than 7 million copies in the US alone and taking home the Grammy Award for Best Rock Album. In 2010, a stage adaptation of "American Idiot" debuted on Broadway to critical and commercial acclaim. Entertainment Weekly called Green Day, "The most influential band of their generation," while Rolling Stone said, "Green Day have inspired more young bands to start than any act this side of KISS, and that doesn't seem to be changing."
Green Day Live in Bangkok 2020 is on March 11, 2020 at Impact Arena, Muang Thong Thani.
Ticket prices start at 2,000 baht and tickets go on sale on November 2 at all ThaiTicketMajor outlets via www.livenation.co.th or www.thaiticketmajor.com or call: 02 262 3838 for more information.
SOURCE: The Nation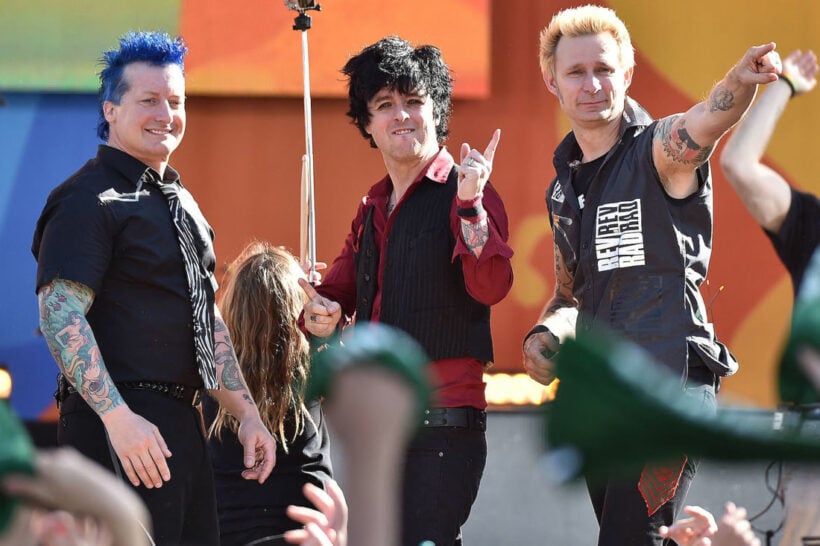 Keep in contact with The Thaiger by following our
Facebook page
.