Asia News Today | Japan looks for oil alternatives, floods in Malaysia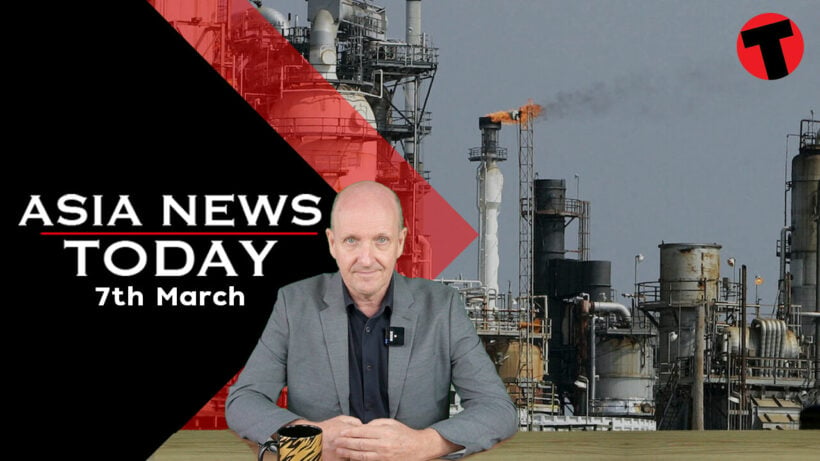 Japan's imports of Russian crude would not be able to be replaced immediately, as discussions continue globally about the possibility of cutting Moscow's oil from overseas markets. Russia is Japan's fifth-biggest supplier of crude oil and liquefied natural gas, but Japan is now actively looking for alternatives as the sanctions bite and the pressure is on countries to cut economic ties with Russia. The US Secretary of State Antony Blinken said on Sunday the US and European allies were exploring the possibility of halting imports of Russian crude oil as part of its ongoing sanctions on Russia.Japan is also in talks with the US and EU over a potential embargo on Russian oil. But the chairman of the Japan Business Federation told a media conference yesterday that it would be difficult for Japan to replace Russian crude right away, noting that the war in Ukraine and sanctions on Moscow were driving prices higher. He also noted that European countries were still importing Russian gas, despite imposing selective sanctions on Moscow. Japanese companies are now facing deepening pressure over their ties to Russia and are scrambling to re-assess their supply chains after Western rivals halted businesses and condemned Moscow for invading Ukraine. The Japanese government and many petrochemical companies also own stakes in oil and liquefied natural gas projects in Russia, making it almost impossible to quickly cut off its relationship with Russia.
---
The nasty presidential race in South Korea has been mired in unprecedented levels of toxic rhetoric, mud-slinging and lawsuits. Some of the words been hurled around has underscored what some South Koreans are now call the "The Squid Game Election", referencing Netflix's megahit drama where people are killed if they lose simple children's games."Hitler," "beast," and "parasite" are just some of the insults levelled by the presidential candidates against their opponents. There's been frequent attacks on the wives of the two candidates, who have variously been forced to apologise for past scandals. And there's also widespread speculation that the loser of the election will end up arrested. One senior opposition politician Hong Joon-pyo wrote on his Facebook page…."It's a dreadful presidential election when the losing contender faces prison. Please survive this dogfight in the mire!" .With the presidential election set for tomorrow, Lee Jae-myung from the liberal governing Democratic Party and Yoon Suk Yeol from the main conservative opposition People Power Party are locked in an extremely tight race. Apologies for massacring their names….Netizens in South Korea have commented that they've not enjoyed the vicious campaign whilst they're seeking solutions to help the country's battered economy. The presidential election has also focussed attention on the competition between South Korea's main ally, Washington, and its top trading partner, China, and the long history of threats and weapons tests from North Korea.
---
China is again refusing to condemn Russia's actions in Ukraine, as Russian banks have now announced they will look into issuing credit cards that operate on a Chinese payment system. This follows both Visa and Mastercard announcing they would cut their services in Russia. Yesterday Chinese Foreign Minister Wang Yi labelled Russia "Beijing's most important strategic partner". He noted that Russia and China's friendship is "iron clad" and said that Russian banks have been in discussions to use China's UnionPay system to circumvent the Visa and Mastercard withdrawal.Mr Wang told reporters that China's alliance with Moscow constituted "one of the most crucial bilateral relationships in the world". China is out of step with the US, Europe and their allies that have imposed economic sanctions on Russia following its invasion of Ukraine. Both Sberbank and Tinkoff Banks in Russia have announced that they are considering the possibility of payment cards issued by China's UnionPay system. The banks told customers that they will be able to use Visa and Mastercard for transactions within Russia but they will stop working for payments outside of the country from today or tomorrow.
---
An elderly Thai man, who was hit in the head by a rubber bullet at an anti-government protest in Bangkok on August 15 last year, has died in his apartment over the weekend.
The 64 year old, not that old, whose name was Mana Hongthong was hit by a rubber bullet, reported to have been fired by riot police, as he was innocently walking back to his apartment while protesters were battling with the police.
He suffered serious head injuries and was rushed to hospital at the time. He was eventually discharged but was bedridden ever since.
His death is the second fatal shooting by Thailand's riot police during anti-government protests in 2021.
The other fatality was 15 year old teenager who was shot by a bullet, and after 3 months in intensive care, died of his injuries.
---
44 Indonesians have been rescued by Cambodian police after they were trafficked and traded like cattle within a syndicate of Chinese companies. The syndicates then forced them into scamming people through illegal online gambling scams. The Khmer Times reports that the release of the Indonesians followed days of negotiations and careful planning between Cambodian officials and the Indonesian embassy in Phnom Penh. Out of the 44 Indonesians, more than 30 said they were herded around like cattle between online gambling syndicates between Sihanoukville on Cambodia's south west coast and Chrey Thum on the border with Vietnam. Sihanoukville has become a hive of legal and illegal gambling for Chinese investors and earned a reputation for organised crime amongst mostly Chinese syndicates.The report said the Indonesians were forced to work at least 12 hours a day and often faced threats from the company unless they reached a daily quota of scammed victims. They were ordered to create fake profiles on Tinder, WhatsApp and Facebook to entice people into fraudulent investment schemes involving cryptocurrencies, foreign exchange and shares. The Cambodian government originally banned online gambling in December 2019, sparking a mass exodus from Sihanoukville.
---
Flash floods hit Malaysia's capital Kuala Lumpur, the wider Klang Valley, and the Selangor state yesterday, just three months after deadly flooding claimed dozens of lives around the country. The flash floods were the result of an intense 2 hours of rainfall and the existing drainage was unable to cope with the unseasonal downpour.More than a hundred houses were affected around the capital. Heavy rains lashed the Klang Valley from 2.30pm yesterday with up to 155mm recorded at measuring stations… In just 2 hours. Drivers were forced to climb on top of their submerged vehicles and emergency responders reported that 12 cars ended up fully submerged and a number of people had to be rescued.
---
Thailand is scrambling to find ways of encourage citizens to have more babies. The potential campaigns are as a result of Thailand's slumping birth rate.Government officials are looking at offering parents free access to childcare and fertility centres, and have enlisted the support of social media influencers to showcase the joys of family life and doing their part to provide a new generation of working Thais. The number of births has dropped by nearly a third since 2013. Last year saw only 544,000 Thai babies born, the lowest in at least six decades and well below the 563,000 deaths.Now this phenomenon is not too different from, say, Japan or Singapore, but as an emerging market relying on cheap labour and one of the fastest growing middle classes in the region, the economic implications for Southeast Asia's second-biggest economy are far more profound.Other plans to improve Thailand's birth rate include opening fertility centres, currently only in Bangkok and other major cities, across all 77 provinces.
World News

Join the conversation and have your say on Thailand news published on The Thaiger.
Thaiger Talk is our new Thaiger Community where you can join the discussion on everything happening in Thailand right now.
Please note that articles are not posted to the forum instantly and can take up to 20 min before being visible. Click for more information and the Thaiger Talk Guidelines.