Turkey in mourning after 274 die in mine disaster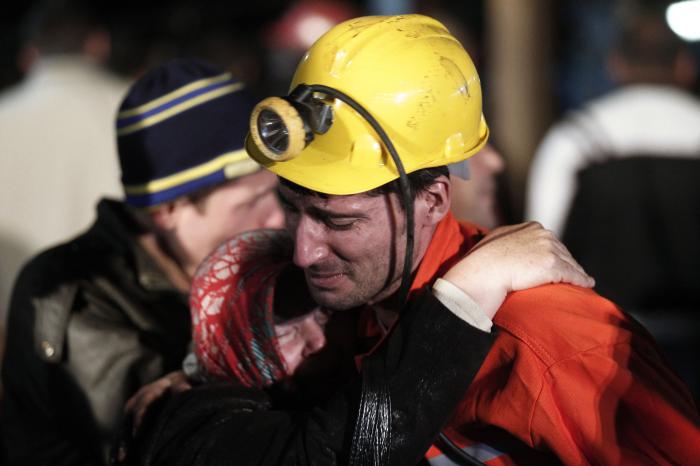 PHUKET MEDIA WATCH
– World news selected by Gazette editors for Phuket's international community
Furious Turks heckle Erdogan after at least 274 die in mine disaster
Reuters / Phuket Gazette
PHUKET: Furious Turks heckled Prime Minister Tayyip Erdogan and jostled his entourage on Wednesday as protests erupted in several cities over a coal mine disaster in which at least 274 people died, making it the worst industrial accident in the nation's history.
With rescuers still pulling bodies from the site in western Turkey, anger swept a country that has seen a decade of rapid economic growth but still suffers from one of the world's worst workplace safety records.
Erdogan expressed his regret after visiting the site in Soma, about 480 km (300 miles) southwest of Istanbul, where around 100 miners are thought to be still trapped underground following Tuesday's fire. "We as a nation of 77 million are experiencing a very great pain," he told a news conference.
But he appeared to turn defensive when asked whether sufficient precautions had been in place. "Explosions like this in these mines happen all the time. It's not like these don't happen elsewhere in the world," he said, reeling off a list of global mining accidents since 1862.
Angry residents broke windows at the local government offices in Soma, some chanting "Erdogan resign", while parts of the crowd lining the street booed as the prime minister walked through the town, jostling with members of his entourage.
Protesters later kicked Erdogan's car as it left the area.
Opponents of Erdogan – who has already faced mass protests against his rule in the past year – have attacked his government for leasing mines to parts of the private sector cosy with the ruling party, and accuse it of ignoring repeated warnings about their safety.
In Istanbul, police fired tear gas and water cannon to disperse several thousand people, some wearing miners' hard hats and headlamps. Police also clashed with demonstrators in the capital Ankara and there were protests in other cities.
Many took to social media to express their outrage at the government's handling of the crisis. "Beyond ridiculous. Turkish PM cites 19th century Britain to prove mining accidents are 'typical'," one user wrote on Twitter.
MOURNERS WEEP
Fire knocked out power at the mine and shut down ventilation shafts and elevators on Tuesday afternoon. Emergency workers pumped oxygen into the mine to try to keep those trapped alive during a rescue effort that lasted through the night. Thousands of family members and co-workers gathered outside the town's hospital searching for information on their loved ones.
"We haven't heard anything from any of them, not among the injured, not among the list of dead," said one elderly woman, Sengul, whose two nephews worked in the mine along with the sons of two of her neighbours.
"It's what people do here, risking their lives for two cents … They say one gallery in the mine has not been reached, but it's almost been a day," she said.
A mechanical digger opened a row of fresh graves at Soma's main cemetery. An imam presided over the funeral of six miners as a few hundred mourners wept in silence.
The fire broke out during a shift change, leading to uncertainty over the exact number of miners trapped. Energy Minister Taner Yildiz said the death toll as of 8.30 p.m. BST on Wednesday was 274, making it Turkey's deadliest accident. Late on Tuesday he said 787 workers had been in the mine.
Yildiz warned that "hopes were dimming" of finding many more survivors.
Turkey's safety record in coal mining has been poor for decades, with its previous worst accident in 1992, when a gas blast killed 263 workers in the Black Sea province of Zonguldak.
The mine operator Soma Komur Isletmeleri said nearly 450 miners had been rescued and that the deaths were caused by carbon monoxide. It said the cause was not yet clear.
Initial reports suggested an electrical fault caused the blaze but Mehmet Torun, a board member and former head of the Chamber of Mining Engineers who was at the scene, said a disused coal seam had heated up, expelling carbon monoxide through the mine's tunnels and galleries.
"They are ventilating the shafts but carbon monoxide kills in 3 or 5 minutes," he told Reuters by telephone.
"Unless we have a major miracle, we shouldn't expect anyone to emerge alive at this point," he said, pointing to an outside chance that workers may have found air pockets to survive.

EXHAUSTED RESCUERS
The disaster highlighted Turkey's poor record on worker safety and drew renewed opposition calls for an inquiry into a drop in safety standards at previously state-run mines. The International Labour Organization ranked the EU candidate nation third worst in the world for worker deaths in 2012.
Erdogan earlier declared three days of national mourning and cancelled an official visit to Albania. President Abdullah Gul also cancelled a trip to China scheduled for Thursday in order to travel to Soma.
A pall of smoke hung above the area of the mine and Yildiz said the fire was still burning underground, hampering the rescue operation, which was halted for several hours as the evening wore on to allow exhausted rescuers to recover.
Turkey's disaster management agency AFAD said in an email 85 people had been treated for their injuries.
Freezer trucks and a cold storage warehouse usually used for food served as makeshift morgues as hospital facilities overflowed. Medical staff intermittently emerged from the hospital to read the names of survivors being treated inside, with families and fellow workers clamouring for information.
"This isn't a huge city. Everyone has neighbours, relatives or friends injured, dead or still trapped. I am trying to prepare my family for the worst," said Hasan Dogan, 27, watching TV news reports from a canteen set up outside the hospital.
Some 16,000 people from a population of 105,000 in the district of Soma work in the mining industry, according to Erkan Akcay, a local opposition politician. The district is no stranger to tragedies, but never before on this scale.
The words "For those who give a life for a handful of coal" are engraved on the entrance wall to the emergency clinic.
Teams of psychiatrists were being pulled together to counsel the families of victims. Paramilitary police guarded the entrance to the mine to keep distressed relatives at a safe distance, as residents offered soup, water and bread.
"They haven't brought any ambulances in such a long time that we've started to lose hope," said Hatice Ersoy, 43, a woman in a headscarf sitting on a pavement outside the hospital.
POOR RECORD
Turkey's rapid growth over the past decade has seen a construction boom and a scramble to meet soaring energy demand, with worker safety standards often failing to keep pace. It is a net importer of coal.
The Labour Ministry said late on Tuesday its officials had carried out regular inspections at the Soma mine, most recently in March, and that no irregularities had been detected.
But Hursit Gunes, a deputy from the main opposition Republican People's Party, said a previous request for a parliamentary inquiry into safety and working conditions at mines around Soma had been rejected by the ruling AK Party.
"I'm going to renew that parliamentary investigation demand today. If (the government) has been warned about this and they did nothing, then people will be angry, naturally. The
— Phuket Gazette Editors
📱 Download our app on Android or iOS for instant updates on your mobile
📧 Subscribe to our daily email newsletter
👍 Like/Follow us on Facebook
🔔 Subscribe to or Join our YouTube channel for daily video updates


Find more SE Asian News courtesy of Thaiger.

Broke? Find employment in Southeast Asia with JobCute Thailand. Rich? Invest in real estate across Asia with FazWaz Property Group. Even book medical procedures worldwide with MyMediTravel, all powered by DB Ventures.

Most travel-friendly passport list 2021 revealed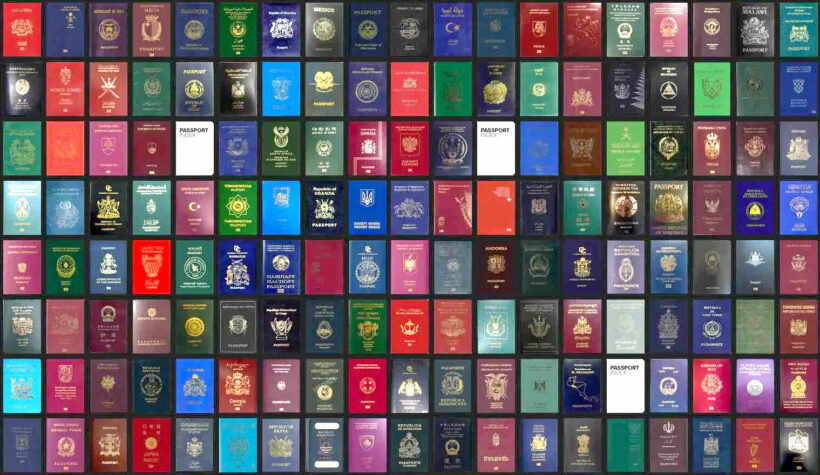 The Henley Passport Index, which rates what passports are the most travel-friendly, has just released the list for 2021, with Japan once again topping the list. The Index commented that this international travel freedom comparison is mostly theoretical since Covid-19 has severely limited most travel worldwide. With a Japanese passport, travellers can enter 193 countries without a visa or with a visa-on-arrival. On the other end of the list, Afghanistan can only get into 26 countries. The gap of 167 countries is the widest gap since the Henley Passport Index began tracking this data 15 years ago in 2006.
Singapore kept its second-place standing with just one less destination than Japan, followed by Germany and South Korea tied for 3rd place with 191 destinations. The rest of the top 10 are mainly European countries, with the exception of New Zealand and the US as part of the 5-way tie for 7th place with 187 destinations, and Australia and Canada tied for 9th place with 185 destinations.
The United States and the United Kingdom took a tumble, once tied for the most travel-friendly passport in 2014, now losing ground slipping to 7th. On the other hand, United Arab Emirates strengthened diplomatic ties worldwide and jumped 50 spots this year from 65th all the way to 15th. Over the decade, the climb is even more dramatic, with the Emirates exploding from 67 destinations 10 years ago up 107 destinations to 174 this year. China did well also, climbing 22 places since 2011, up to number 68 on the list.
Thailand's passport is tied with Saudi Arabia at 66th with 79 destinations available without an advance visa.
The full 2021 top 10 list:
1. Japan (193 destinations)
2. Singapore (192)
3. Germany, South Korea (191)
4. Finland, Italy, Luxembourg, Spain (190)
5. Austria, Denmark (189)
6. France, Ireland, Netherlands, Portugal, Sweden (188)
7. Belgium, New Zealand, Switzerland, United Kingdom, United States (187)
8. Czech Republic, Greece, Malta, Norway (186)
9. Australia, Canada (185)
10. Hungary, Lithuania, Poland, Slovakia (183)
Henley and Partners predict that the spread in passport access will mirror Covid-19 affected travel. Rich and mobile regions like the US, UK, EU and UAE are getting access to vaccination, hastening their ability to travel, while poorer and developing economies are experiencing a much slower vaccine roll-out. Experts from Syracuse University, the University of Pittsburgh, and the Migration Policy Centre predict this trend will continue with potentially devastating long-term effects.
Countries that can afford and facilitate vaccination for their citizens quickly will be able to welcome travellers in for tourism and business and be able to travel more themselves. Conversely, countries that can't afford the storage and distribution of vaccines will be less able to travel or welcome tourism income, widening a global wealth gap. Remote working and the digital nomad lifestyle has been booming in recent years and with Covid-19 forcing businesses to adapt to telecommuting, the post-pandemic world will see more remote working, and countries falling behind with vaccinations will suffer the long-term loss in tourism dollars too.
SOURCE: CNN
📱 Download our app on Android or iOS for instant updates on your mobile
📧 Subscribe to our daily email newsletter
👍 Like/Follow us on Facebook
🔔 Subscribe to or Join our YouTube channel for daily video updates
The Queen sits as a lonely figure as she bids farewell to her husband Prince Philip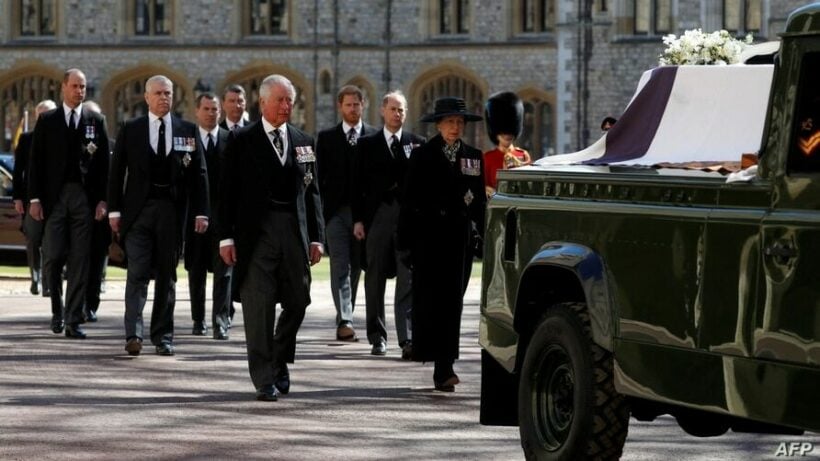 Prince Philip was laid to rest Saturday afternoon, UK time, in a simple but soulful funeral ceremony honouring his lifetime of service to the UK, the Commonwealth and his wife of 73 years, Queen Elizabeth II.
Clad in black, her head bowed in prayer, the elderly monarch set an example for the UK community during the Covid pandemic, socially distancing herself from the rest of her family.
Prince Philip died just 2 months short of his 100th birthday – some reflected that he was just 2 months away from receiving a telegram from his wife.
The service at Windsor Castle was light on pageantry but steeped in military and royal traditions. The whole pre-funeral procession and service was held away from the public eye, entirely within the grounds of Windsor Castle, but a full live stream of the proceedings was shown on UK TV and internet services.
Instead of the expected nearly 1,000 mourners, there was a mere 30 allowed inside the grounds of the castle to take part in the procession and service, although there was a larger entourage of socially-distanced musicians, camera-people, guards and organisers on site.
Attending were Prince Charles his wife Camilla, Prince Andrew, Prince William and his wife Kate, and Prince Harry, who had returned from the US without his pregnant wife Meghan. The Queen and Prince Philip's other children, and grandchildren, were also in attendance.
The most poignant image from the entire ceremony was the lone figure of Queen Elizabeth, entirely in black with a black face mask and hat, a very human and frail figure who spent the entire service buried in deep contemplation, rarely raising her head to watch the proceedings. Whilst the service was all about remembering the service and duty of her consort, Prince Philip, there were few who wouldn't have been thinking of the 94 year old woman sitting all alone, grieving the loss of her husband.
Britain officially observed 1 minute of silence in honour of Prince Philip just before the funeral started.
The Duke of Edinburgh's coffin arrived at the chapel in a modified Land Rover conceived by the prince. Known for his sense of humour and off-the-cuff one-liners (that often got him into hot water), the arrival of his own coffin in an army-green pick-up truck was his final poke at the outrageous pageantry he often shied away from.
His coffin was draped in his personal standard with his Royal Navy cap, sword and a wreath of flowers sitting atop.
Prince Philip was placed in the vault along with the remains of 24 other royals, including 3 kings of England. But following the Queen's death, the pair are expected to be buried in the Royal Burial Ground on the Frogmore Estate close to Windsor Castle.
Along with Philip's children and grandchildren, the 30 funeral guests included other senior royals and several of his German relatives. Philip was born a prince of Greece and Denmark and, like the queen, is related to mash-up of European royal families.
The two sons of Price Charles and Princess Diana, William and Harry, were seen walking together after the service and chatting as mourners were leaving the chapel.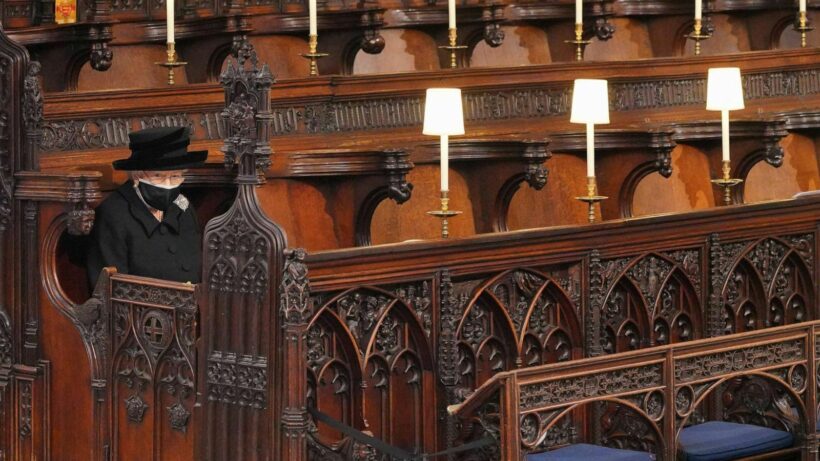 📱 Download our app on Android or iOS for instant updates on your mobile
📧 Subscribe to our daily email newsletter
👍 Like/Follow us on Facebook
🔔 Subscribe to or Join our YouTube channel for daily video updates
Grim milestone: 3 million Covid-19 deaths worldwide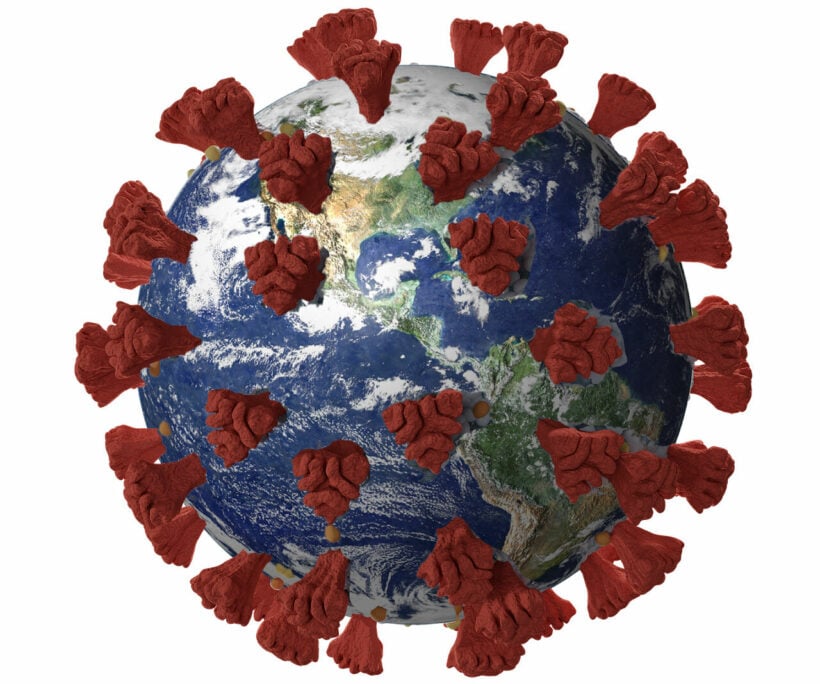 Today marks a grim milestone as the Covid-19 pandemic officially crosses 3 million deaths around the world, with outbreaks still surging in various parts of the world. Over a year into the pandemic, and we are currently seeing over 700,000 new infections and 12,000 deaths per day, with Brazil, India, and France facing growing crises.
The 3 million figure reflects official numbers, though many suspect that real totals could be much higher, pointing at government conspiracies and early deaths that were not attributed to Covid-19 when little was known about the novel coronavirus in the early days.
Still, the official number is overwhelming enough – equal to the population of Kyiv, Ukraine, or the state of Arkansas in the US, and larger than world cities like Lisbon, Caracas, Dubai, Manchester or Chicago. Imagine nearly one-third of the people in Bangkok wiped out, or the entire nation of Armenia or Jamaica.
Following a steep decline in both new infections and deaths at the start of this year, the graph is again in an upward trajectory, both in terms of new cases and deaths from Covid.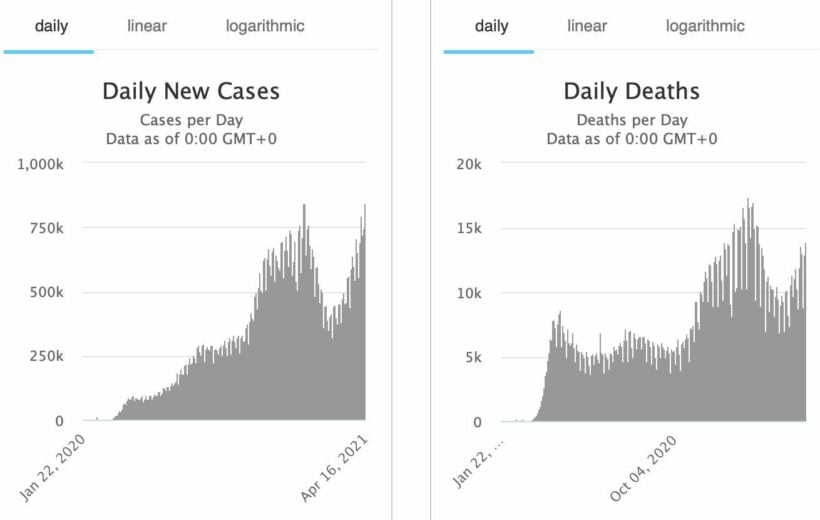 The World Health Organisation laments the dire condition of the world dealing with the pandemic after 16 months and so many opportunities to prevent the spread with basic safety precautions. Brazil has spiralled out of control, racking up 3,000 deaths a day, nearly 25% of all the Covid-19 deaths in the world in the past few weeks. New variants have been spreading like wildfire throughout Brazil as more dangerous strains have wriggled their way into countries around the world.
In India, the distribution of vaccines has been thwarted by swelling Covid-19 outbreaks and deaths. In New Dehli, 13,000 infections were reported in a day amongst the 29 million residents, but the city only has 178 ventilators available as of Wednesday.
Only 1.1% of the Indian populations has been vaccinated, and officials faced criticism of their vaccine exports while so many need jabs domestically. In Thailand, the percentage of people vaccinated is even lower.
700 million vaccines have been distributed worldwide, but they have been shipped disproportionately to the wealthier populations throughout the world. In rich countries, 1 in 4 people have been vaccinated, while in poor countries that number is less than 1 in 500. In fact, 87% of the vaccines distributed worldwide have been to wealthy nations, and the delays in India due to increasing Covid-19 deaths will not help close that gap for many months to come.
SOURCE: Sky
📱 Download our app on Android or iOS for instant updates on your mobile
📧 Subscribe to our daily email newsletter
👍 Like/Follow us on Facebook
🔔 Subscribe to or Join our YouTube channel for daily video updates