Sisi set to take presidency as Egyptians back stability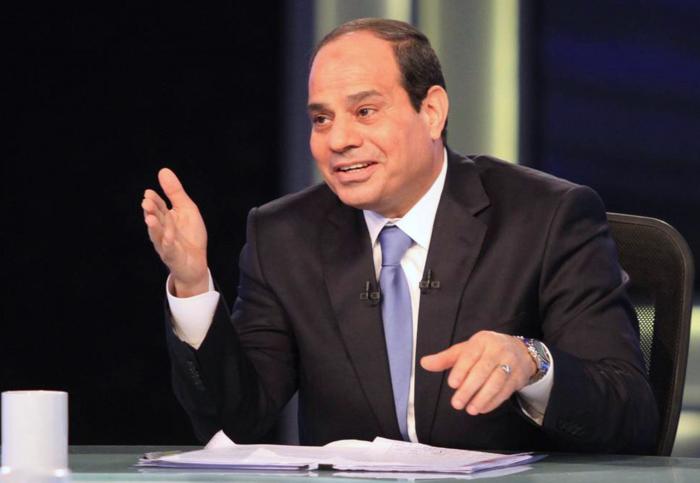 PHUKET MEDIA WATCH
– World news selected by Gazette editors for Phuket's international community
Sisi closes on presidency on final day of Egypt vote
Reuters / Phuket Gazette
PHUKET: Former army chief Abdel Fatah al-Sisi is expected to emerge from a second and final day of voting on Tuesday as Egypt's next president, with supporters seeing him as the man who can pull the Arab world's most populous nation back from the brink.
Since the overthrow of Hosni Mubarak in 2011 raised hopes of new freedoms, the country of 85 million, where one in four Egyptians lives in poverty, has been convulsed by political, security and economic turmoil.
The vote – with initial results expected hours after polls close at 9 p.m. (7 p.m. BST) on Tuesday evening – means Egypt will likely revert to rule by men from the military after Sisi toppled the country's first freely elected leader, Mohamed Mursi of the Muslim Brotherhood.
Former army chief Sisi faces only one challenger: the leftist politician Hamdeen Sabahi. Other candidates who contested the 2012 election won by Mursi did not run, saying the climate was not conducive to democracy.
Despite calls for a big turnout by Sisi and media loyal to the army, the turnout on Monday appeared lower than in previous elections. With Sisi seemingly assured of victory, he needs a good turnout to shore up his legitimacy.
Lines at 20 Cairo polling stations visited by Reuters consistently over the past three years appeared shorter than in previous elections. The interior minister said turnout was good.
As polls were about to close after the first day of voting on Monday, there was no sign of a late rush. The supervisor of a polling station in a working-class district of Cairo told Reuters fewer than 30 percent of registered voters had shown up.
Earlier on Monday, it was hard to find anyone who planned to vote for Sabahi in lines of voters where young Egyptians – the generation that drove the "Arab Spring" uprising – were conspicuous by their absence.
MANIFOLD CHALLENGES
Many of Sisi's supporters said they voted for stability rather than Western-style democracy, which they felt had brought chaos and hardship into their lives.
"The Egyptian people and democracy, it doesn't work like it does in Europe," said Ahlam Ali Mohamed, a 47-year-old housewife in Alexandria, who voted for Sisi. "I voted today because I want to feel safe."
Although he enjoys the adulation of many Egyptians, Sisi, 59, faces serious challenges including an economy in crisis and a campaign of Islamist violence that has spiralled since he overthrew Mursi.
To the Islamists, he is the author of a coup followed by a bloody crackdown that killed hundreds of Mursi supporters and landed thousands more in jail. Secular dissidents who led the Jan. 25 uprising against Mubarak have also been imprisoned.
Human Rights Watch estimates the number of political dissidents and Islamists in detention at more than 20,000.
At the same time, several hundred members of the security forces have been killed in a campaign of violence by radical Islamists since last July. The last year has been the bloodiest period of internal strife in Egypt's modern history.
The Brotherhood and its allies, which had declared it "the election of the presidency of blood", issued a statement saying their call for a boycott had been widely observed. The group has been declared a terrorist organisation by the state, which accuses it of turning to violence – a charge it denies.
VOTER QUEUES SHORT
In the rural province of Fayoum, south of Cairo, and in the city of Alexandria, both places where Islamists have strong support, voter queues were short throughout Monday.
Many of those who opposed Sisi said the election lacked democratic credibility.
"These elections are a theatre play. I won't give them legitimacy with my vote," said Ahmed Hassan, a 37-year-old doctor. "We didn't come out in a revolution against Mubarak's regime to get it back after all those people died."
Sisi won 95 percent of votes cast in advance by Egyptians abroad, but an opinion poll by the Washington-based Pew Research Center suggests a more mixed picture, with Sisi viewed favourably by 54 percent and unfavourably by 45 percent.
As Sisi voted in Cairo on Monday, he waved to supporters, who shouted "President, President!"
"Today Egyptians are going to write their history," said Sisi.
It is the second time Egyptians are electing a president in two years. And it is the seventh vote or referendum since 2011.
Once president, Sisi will nonetheless have to meet the high expectations of those who backed him so enthusiastically in the hope that he can tackle poverty, unemployment and other social problems.
He will also be expected to address the corruption, cronyism and inequality between rich and poor that caused the 2011 revolution that overthrew Mubarak.
Sabahi's campaign team complained of violations including the arrest of one of its members.
Since the army overthrew the king in 1952, Egypt has been ruled by a succession of military men – Gamal Abdel Nasser, Anwar Sadat and Mubarak. That pattern was briefly interrupted by Mursi's divisive year in office, during which important institutions of state resisted his authority.
The 2012 election won by Mursi was a tightly contested race fought by around a dozen candidates.
Sisi, quietly spoken former head of military intelligence, has in turn mobilised religion against the Islamists, presenting himself as a God-fearing defender of Islam.
— Phuket Gazette Editors
Keep in contact with The Thaiger by following our
Facebook page
.


Find more SE Asian News courtesy of The Thaiger.

Broke? Find employment in Southeast Asia with JobCute Thailand and SmartJob Indonesia. Rich? Invest in real estate across Asia with FazWaz Property Group or get out on a yacht anywhere with Boatcrowd. Even book medical procedures worldwide with MyMediTravel, all powered by DB Ventures.

Burmese surfing team head to SEAsia Games, a first for Myanmar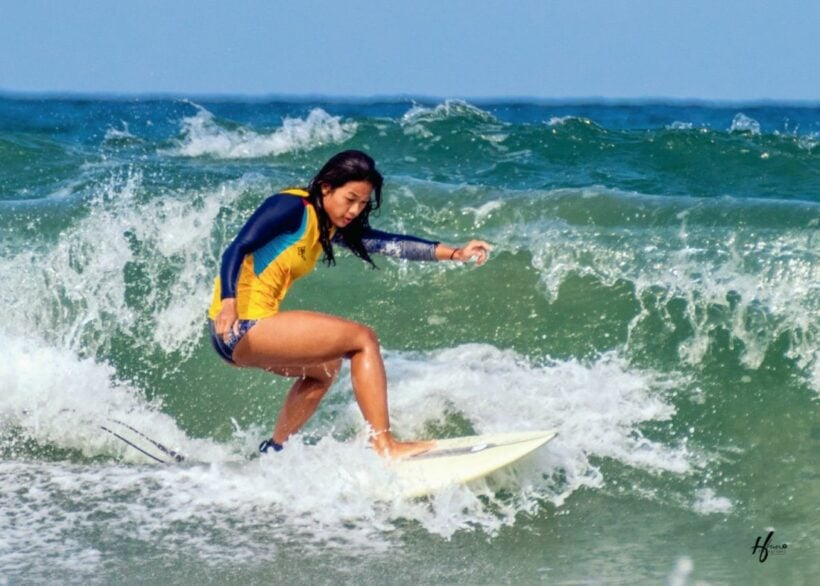 PHOTO: Burmese surfer Thwe Thwe Soe practicing off the coast of Ngwe Saung – Myanmore
Paddling hard and smiling, Thwe Thwe Soe flung herself up on the board just as a wave was breaking, spreading her arms out for balance before getting knocked off.
"I can't live without surfing. I did not expect to be chosen for the national team but I'm thrilled at the opportunity."
Thwe Thwe Soe was speaking after a day in the blue waters off the small coastal resort town of Ngwe Saung. Competitive surfing was barely known in Myanmar a few years ago but one local beach town is riding a wave of enthusiasm to the Southeast Asia Games for the first time ever.
The Southeast Asian country is flanked by surf-ready coasts to the west and south, but decades of military rule, lack of equipment and poverty kept aspiring athletes from testing the waters. The 25 year old encountered the sport while studying in southern California and has been hooked since, saying she "always feels happy" on the water.
Now she is going up against the region's giants at the December games in the Philippines. Thwe Thwe Soe has one of the best chances to medal among the handful of surfers going, but all are training hard.
"We surf for at least four to six hours a day," said American coach Robert Brickell, a 26 year old originally from New York.
The mild waves at Ngwe Saung present a paradox for competitive surfers – they are good to learn on but much tamer than the conditions in surfing hotspots. The team went to Bali in Indonesia for two months to get used to some "big wave surfing" and have made enormous strides in a short amount of time, Brickell said.
"My hope is that we can show everybody that people from Myanmar, we know how to surf, we know how to respect the ocean. And of course our hope is to win some meets."
The Surf Association of Myanmar was established only this year. The sport is slowly gaining prominence thanks to the impassioned surfers, most from a village near the beach and newcomers themselves. Ngwe Saung is the heartland of the growing craze and has now hosted several competitions.
"We hadn't heard of surfing before 2017. It will be a difficult competition but we will do our best for sure." said 19 year old Aung Min Naing.
SOURCE: Agence France-Presse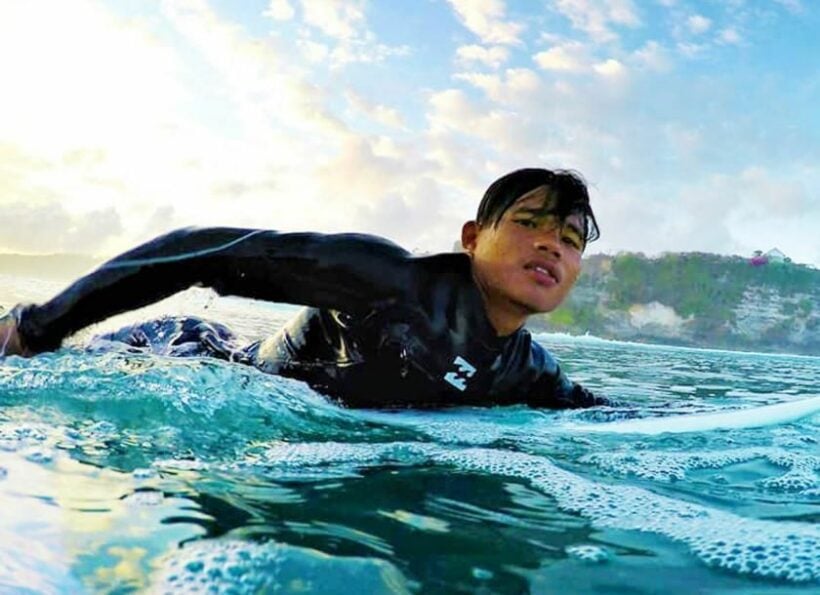 PHOTO: Aspiring new Burmese surfer, Aung Min Naing – MMTimes.com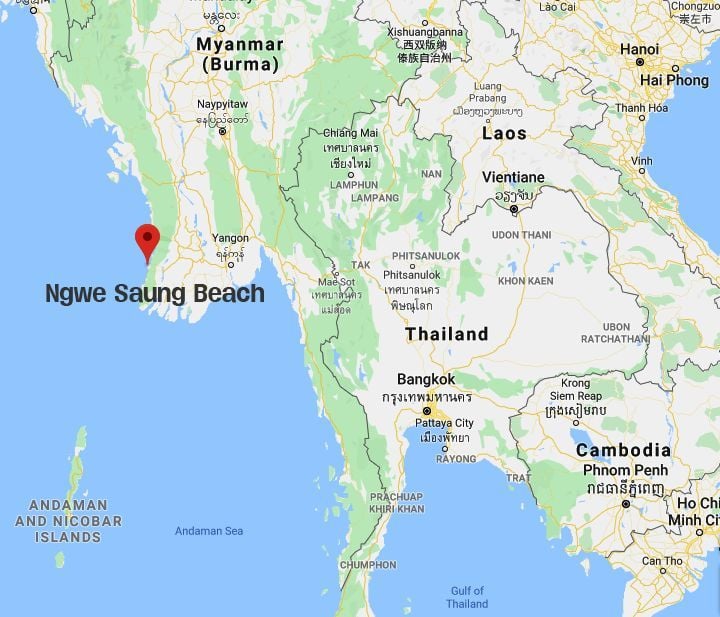 Keep in contact with The Thaiger by following our
Facebook page
.
The K-pop Olympics: performers battle in the K-pop festival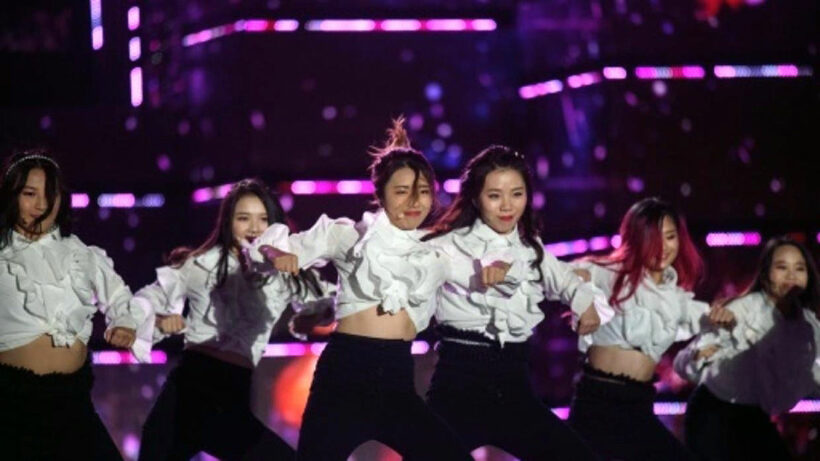 On the streets, in parks and garages, seven Cuban youngsters spent seven months practising K-pop moves to secure a spot on their dream stage: an appearance in South Korea to imitate their idols. 13 final teams from 80 countries are competing in the 2019 event.
At the grandly titled and government-funded Changwon K-pop World Festival contestants from around the globe perform imitation dances or sing cover versions of the genre's biggest hits, with thousands of fans cheering them on.
In terms of global heft, South Korea is overshadowed by its much larger neighbours China and Japan, but the event is a way for Seoul to derive soft power from one of the country's biggest cultural exports. In terms of pop-power, South Korea's K-Pop is now a recognised world-wide music phenomenon with bands like BTS and Blackpink figuring amongst the other big-hitters on the Billboard charts and outselling their western counterparts with millions of albums and downloads.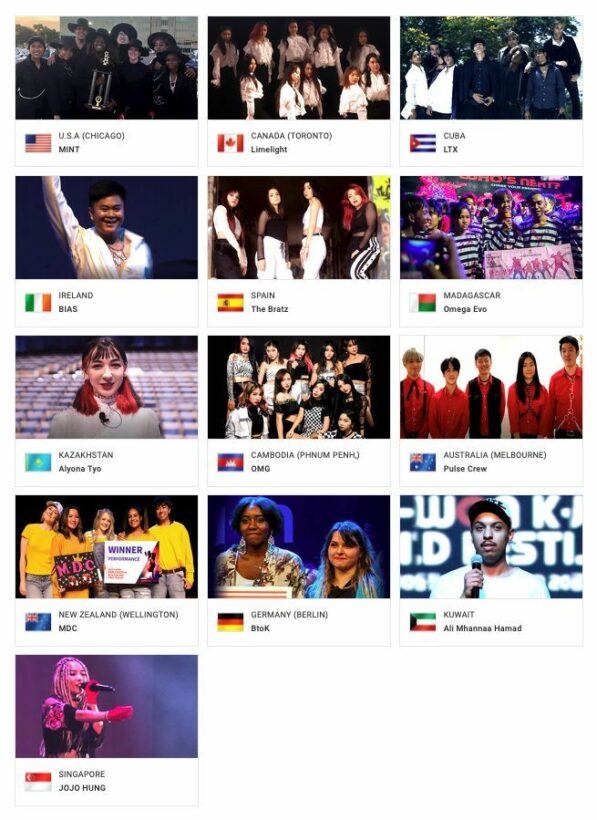 Finalists for this year
Cuba's Communist government is one of North Korea's few remaining allies: when President Miguel Diaz-Canel, successor to the Castro brothers Fidel and Raul, visited Pyongyang last November he was only the third foreign head of state to do so since leader Kim Jong Un inherited power in 2011.
But rather than geopolitics, Havana performer Karel Rodriguez Diaz – whose mannerisms and sleek hairstyle could easily be mistaken for those of a K-pop star – is more motivated by high-tempo beats and superslick dance moves.
"We never had a place with a mirror or a choreographer who could teach us the steps" but they kept on practising, he said.
His team-mate Elio Gonzalez added: "We are so excited to represent not just Cuba but also the whole of Latin America."
Some 6,400 teams from more than 80 countries entered the competition, according to organisers, with 13 groups from places as diverse as Kuwait and Madagascar winning through to the final in Changwon, where they appeared on stage waving their national flags.
"This is like watching the Olympics, a K-pop Olympics," said the event's host Lia, a member of K-pop group ITZY.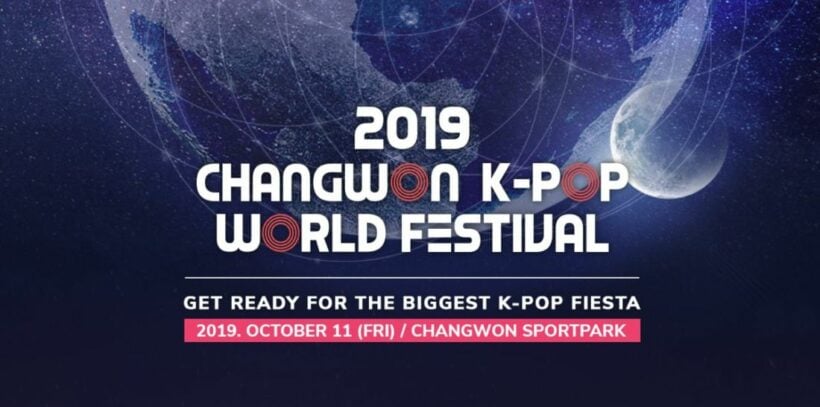 The Korean Wave
K-pop – along with K-drama soap operas – has been one of South Korea's most successful cultural exports to date. A key part of the "Korean Wave" which has swept Asia and beyond in the last 20 years, the K-pop industry is now estimated to be worth $5 billion, with boyband BTS its latest high-profile exponent, becoming the world's most successful band in the past 12 months, selling out stadium concerts within minutes, around the world.
The South Korean government has financed a variety of K-pop themed events in what CedarBough Saeji, a visiting professor at Indiana University Bloomington in the US, said was a form of long-term "soft power diplomacy".
"When you are covering you get to 'become' those idols for the three and a half minutes of the song," she said, adding that performers will go so far as matching their clothing, accessories and hairstyle to their heroes and heroines.
"The cover dancers of today will be diplomats, news reporters, and business leaders in forty years," she went on.
"And hopefully they'll still have a soft spot in their heart for Korea. Korea can't win the world through hard power – armies, economic bullying – but with soft power even a small country like Korea has a chance."
The music also provides an artistic alternative for overseas fans, especially those in developing countries, Saeji added.
"The West, especially the United States, has been so dominant culturally for so long, and having a different cultural pole to look to provides hope that one's own country can experience similar success in the future."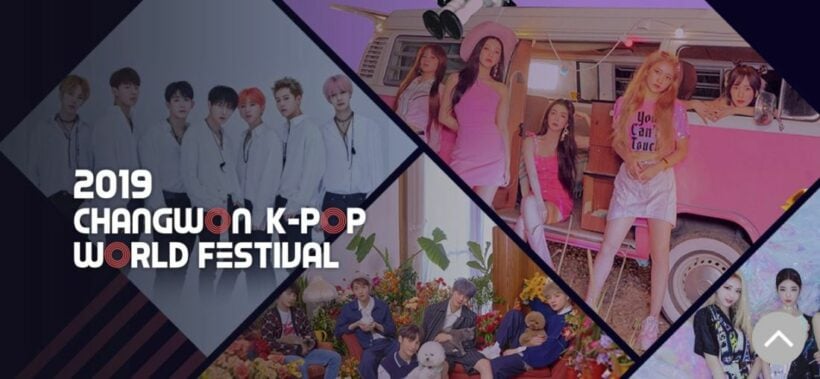 Be who you want
Beneath its glitz and glamour, the K-pop industry is also known for its cutthroat competition, a lack of privacy, online bullying and relentless public pressure to maintain a wholesome image at all times and at any cost.
Sulli, a popular K-pop star and former child actress who had long been the target of abusive online comments was found dead on Monday, with her death sending shockwaves through fans around the world.
"I think a day where (people) would be ashamed of the K-show business will surely come," a South Korean online user wrote in the wake of the star's death.
"I think an industry that makes money by (making people) sing, dance, undergo plastic surgeries and go on a diet to please the gaze of others since they are teenagers should really go bankcrupt."
But for Kenny Pham, a finalist from the US at last week's contest, K-pop's diversity – with some tunes having dark themes, while others were "cute" or sensual – is what gives him a sense of liberation.
"I like how expressive you could be," the 19 year old told AFP last week.
"I feel like it's a place where you could show the passion you have for music, dance or fashion. No one is bashing you for what your likes are."
SOURCE: Agence France-Presse
Keep in contact with The Thaiger by following our
Facebook page
.
Saudi Arabia eases visa restrictions for US and European visitors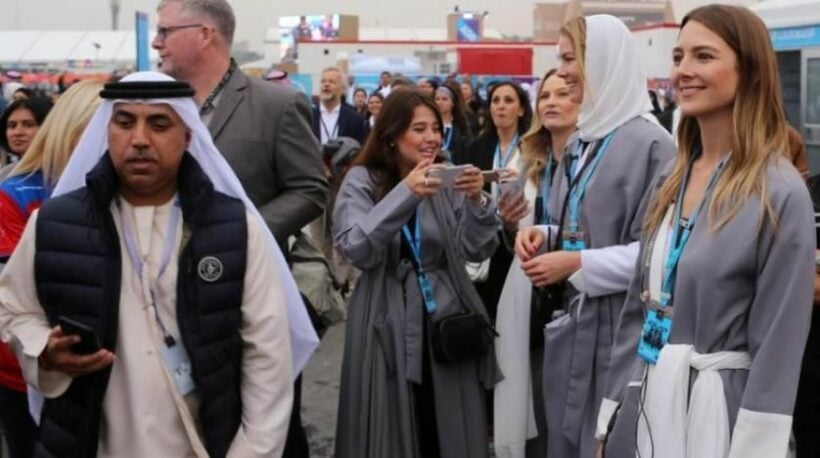 PHOTO: aawsat.com
American and European passport holders, along with those from most Asian countries, can now apply for Saudi Arabian tourist visas either online or on arrival, provided they meet certain criteria.
Prior to this, the only foreigners allowed to visit Saudi Arabia were usually those travelling on business, resident workers and their family members, or Muslim pilgrims on pilgrimage to Mecca and Medina.
In an attempt to boost tourism and diversify the economy's reliance on oil, the Kingdom has expanded the availability of tourist visas beyond what was initially 49 countries. Visitors from eligible countries no longer need to apply for a visa at an overseas Saudi embassy but can do so online or on arrival.
The multiple-entry visa costs approximately US$120, is valid for a year, and permits a stay of up to 3 months on each entry.
However, authorities in the Kingdom were quick to implement a public decency code following the visa announcement.
"Immodest dress and public displays of affection are banned, but foreign men and women may rent hotel rooms together without having to prove they are married."
A strict ban on alcohol remains in place.
Last weekend the South Korean band BTS became the first foreigners to hold a solo concert in the Kingdom, allowing teenage and older woman to attend without a male escort and allowing them to dance and sing along (in Korean of course). The band, in turn, turned down some of their 'ab flashing' and physicality during their record-breaking "Love Yourself" stadium concert in Riyadh.
The septet were invited to perform in Saudi Arabia as part of the Kingdom's attempts to become more open to foreigners and diversify their income away from oil production.
SOURCE: Reuters
Keep in contact with The Thaiger by following our
Facebook page
.