Phuket Gazette World News: NATO troop deaths reach 100; Kidnapped Dutch couple plead in video; Freed Guantanamo inmate killed in drone attack; 'Gaddafi land'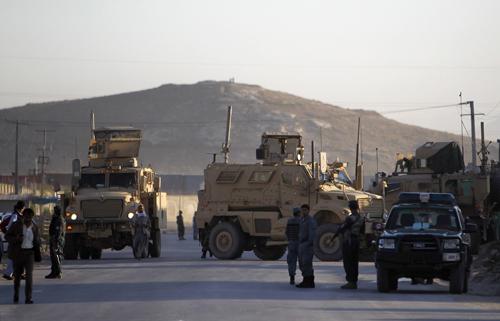 PHUKET MEDIA WATCH
– World news compiled by Gazette editors for Phuket's international community
Insurgents kill NATO soldier in Afghanistan, raising year's toll to 100
Phuket Gazette / News Wires
PHUKET: A coalition service member was killed yesterday when insurgents opened fire at foreign troops in eastern Afghanistan, the NATO led International Security Assistance Force (ISAF) said. It raises the number of foreign troops killed in Afghanistan so far this year to 100.
ISAF said one of its service members was killed as a result of a "direct fire attack" in Afghanistan's eastern region, which is home to the country's capital. But because the multinational force defers the release of specific details to national authorities, no other details about the incident were available, including the exact location.
The nationality of the service member involved was also not immediately disclosed by ISAF, again per its policy. "It is ISAF policy to defer casualty identification procedures to the relevant national authorities," ISAF said in a brief statement, giving no specific details. The alliance does also not disclose whether other service members were injured.
An ISAF spokesperson did not elaborate on the meaning of the term "direct fire attack," but confirmed it does not refer to a rocket or mortar attack. "ISAF and ANSF are currently assessing [the] attack in eastern Afghanistan," the spokesperson said. "It is ISAF's policy not to discuss operational security information during an ongoing investigation."
The death raises the number of coalition troops killed in Afghanistan so far this year to 100, according to official figures. A total of 402 ISAF troops were killed in Afghanistan in 2012, down from 566 fatalities in 2011 and 711 in 2010. A majority of the fallen troops were American and were killed in the country's south, which is plagued by IED attacks on troops and civilians.
There are currently more than 100,000 foreign troops in Afghanistan, including some 68,000 U.S. troops and 9,000 British soldiers. Approximately 3,800 British soldiers are expected to withdraw from Afghanistan by the end of 2013, with all foreign combat troops due to leave by the end of 2014.
Last month, Afghan President Hamid Karzai announced the fifth and final phase of security transition in which coalition forces hand over control of the remaining 95 districts – including Taliban stronghold areas in the south and east – to Afghan security forces. ISAF will still be responsible for military air support as well as support in combat operations until the end of 2014.
Dutch couple abducted in Yemen pleads for help in video
Phuket Gazette / News Wires
PHUKET: A Dutch couple kidnapped in Yemen last month have made an emotional appeal in a video posted online on Monday, saying their captors have threatened to kill them within 10 days unless the Dutch government meets unspecified demands.
Journalist Judith Spiegel and her husband, Boudewijn Berendsen, were abducted from their home in the Yemeni capital of Sana'a on June 15. The couple was taken by a group of unidentified gunmen from their house in a district which houses many diplomatic missions and is regarded as one of the most secure places in the country.
In a video posted online on Monday, the couple pleads for help to prevent their execution.
"In the beginning we spoke with the ambassador and we explained to him the conditions to get out of this, and until now nothing has happened, there has been no progress," Spiegel said.
The journalist, sitting next to her husband, said their captors had previously offered the Dutch government 10 days to find a solution but they received no response.
"Now there are again 10 days to do something. These people are armed. If there is no solution in 10 days, they will shoot us," Spiegel warned.
Berendsen, who is employed in the insurance industry, called on people to urge the Dutch government to agree to the demands of their captors. "We are very, very afraid and there really has to be a solution and we call on everyone in the Netherlands to get the government and the embassy to agree with the demands," he said.
The demands for the couple's release have not been made public and no group has claimed responsibility for the kidnapping.
"Family, media, Dutch people: do something," Spiegel said, becoming visibly emotional while her husband holds her hand.
"We need to find a way because in this way we won't be able to get out of this. Then we'll be here forever if we aren't dead in 10 days. Do something everyone. Do something."
The Dutch Foreign Affairs Ministry said it had seen the video, but provided few other details.
"The case has our full attention. We are in contact with the families, and in the interest of Mrs Spiegel and Mr Berendsen we don't make any additional announcements [other] than asking the media to exercise restraint," ministry spokesman Aad Meijer said.
Arabian al Qaeda's number two confirmed dead – AQAP statement
Reuters / Phuket Gazette
PHUKET: A Saudi who was freed by US authorities from detention at Guantanamo Bay, Cuba, only to become second-in-command of Al Qaeda in the Arabian Peninsula (AQAP), has been confirmed dead, AQAP said on Wednesday.
Said al-Shehri was killed in a US.-led drone strike in Yemen, senior AQAP official Ibrahim al Rubaish said in a video statement posted online.
He did not say when the strike occurred.
Gaddafi's old Tripoli fortress to be turned into park
Reuters / Phuket Gazette
PHUKET: Muammar Gaddafi's Tripoli compound, the city within a city from which he orchestrated eccentric defiance of Western powers and disdain for his own people for four decades, is to be turned into a public park, Tourism Minister Ikram Abdusalam Bash Imam said yesterday.
The sprawling 6 sq km (2.5 sq mile) Bab al-Aziziya complex once housed a swimming pool, sports pitches, senior officials' villas and gardens as well as an underground bunker, government offices and buildings belonging to the feared and pervasive security apparatus.
Some residents recall how they were too scared to look at it when they drove past to avoid harassment by security agents. But the revolution that toppled Gaddafi reduced it to rubble.
"We will soon start moving the debris from Bab al-Aziziya as well as conducting a security scan of the area," Imam told a news conference.
"Bab al-Aziziya will be an area of greenery and we hope to start seeing the first signs of this project in two months."
The complex was first bombed by US jets in 1986 in retaliation for the Libyan bombing of a discotheque in Berlin – but finally pulverised in August 2011 when NATO warplanes bombed it to help rebels to seize control of the capital.
Rebel fighters poured in, smashing statues, burning Gaddafi's Bedouin-style tents and seizing weapons; the names of the brigades who captured the compound are still commemorated in graffiti sprayed all over the walls.
Within hours, ordinary Libyans also flooded through the once forbidding high concrete walls to inspect the villas, loot flat-screen televisions or simply gloat over Gaddafi's fall.— Phuket Gazette Editors

Join the conversation and have your say on Thailand news published on The Thaiger.
Thaiger Talk is our new Thaiger Community where you can join the discussion on everything happening in Thailand right now.
Please note that articles are not posted to the forum instantly and can take up to 20 min before being visible. Click for more information and the Thaiger Talk Guidelines.