Phuket Gazette World News: Israel blocks EU aid; Snowden won't be tortured, executed – US; Strauss-Kahn on pimp charges; Pink Panther jailbreak; Tunisia, Syria sectarian divide deepens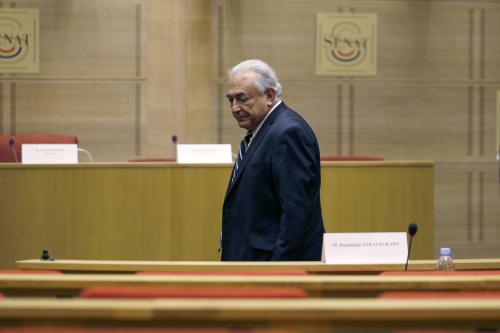 PHUKET MEDIA WATCH
– World news compiled by Gazette editors for Phuket's international community
Israel blocks EU aid in West Bank
Reuters / Phuket Gazette
PHUKET: Israel has blocked the European Union from aiding tens of thousands of Palestinians in the West Bank in retaliation for Brussels' ban on financial assistance to Israeli organisations in the occupied territories.
An Israeli official said on Friday the move was a result of the EU decision "to sanction or boycott the settlements".
"From our standpoint we cannot just ignore this or treat spitting in our face as though it is rain," the official said.
The EU imposed restrictions last week citing its frustration over the continued expansion of Jewish settlements in territory captured by Israeli forces in the 1967 Middle East War.
The guidelines render Israeli entities operating there ineligible for EU grants, prizes or loans, beginning next year.
Settler leaders say the aid they receive from Europe is minimal. But many in Israel worry about possible knock-on effects the EU steps may have on individuals or companies based in Israel that might be involved in business in the settlements, deemed illegal by the international community.
The Israeli official, speaking on condition of anonymity, said Defence Minister Moshe Yaalon had decided to suspend contacts with the EU in the West Bank.
Yaalon, a former army chief and hardliner in Prime Minister Benjamin Netanyahu's Likud party, has "frozen projects, cancelled meetings, curtailed coordination and permits for Europe's operations" for Palestinians living in what is known as Area C, a West Bank area fully administered by Israel, he said.
The EU expressed concern about the Israeli steps, which may hurt its humanitarian work for Palestinians, an EU source in Israel told Reuters.
The organisation had not been formally notified of the Israeli measures and was seeking clarification, he said.
A Western diplomat, speaking on condition of anonymity, said several European humanitarian aid staff had had difficulty obtaining permits and some requests had gone unanswered.
Under the terms of a 1993 interim peace accord, some 150,000 Palestinians, many of then poor farmers and shepherds living in Area C, a West Bank zone where many settlements have been built, are fully under Israeli military control,
The Palestinians have limited self-rule over other parts of the West Bank, and share joint custody with Israel over yet other areas.
Some of Europe's assistance in the West Bank goes to Palestinians whose homes built with EU funding are demolished by Israel, often maintaining the structures were built illegally.
The Association of International Development Agencies, a coalition of 80 aid groups, said in a report in May that 600 settler houses had been built since mid-2012 while Israel demolished 535 Palestinian-owned homes and structures.
The United States, Israel's main backer, has been trying to revive peace talks that have been deadlocked for three years and aimed at reaching an agreement for the Palestinians to establish a state alongside Israel.
Ex-IMF chief Strauss-Kahn to be tried for pimping
Reuters / Phuket Gazette
PHUKET: Former IMF head Dominique Strauss-Kahn will be tried on charges of pimping, prosecutors said on Friday, capping an inquiry into sex parties attended by a man whose French presidential hopes were dashed by a separate 2011 U.S. sex scandal.
Prosecutors in the northern city of Lille said investigating judges had determined that Strauss-Kahn, 64, who has been under investigation in the case since 2012, should be judged by a criminal court.
The decision came as a surprise after a public prosecutor had recommended in June that the inquiry be dropped without trial.
"We're not in the realm of the law, we're in ideology. We're sending someone to court for nothing," said Henri Leclerc, one of Strauss-Kahn's lawyers.
The so-called Carlton affair, named after a hotel in Lille, involves sex parties that Strauss-Kahn has acknowledged attending. He says he was unaware that the women who participated were prostitutes.
Strauss-Kahn is charged with "aggravated pimping." Pimping under French law is a broad crime that can encompass aiding or encouraging the act of prostitution. Strauss-Kahn was charged with the more serious form because it allegedly involved more than one prostitute.
The crime carries a maximum term of 10 years in prison and a fine of 1.5 million euros (1.2 million pounds).
The former French finance minister quit his post as head of the International Monetary Fund in 2011 after being accused of raping a maid in New York, a charge that was later dropped.
U.S. assures Russia Snowden won't be tortured or executed
Reuters / Phuket Gazette
PHUKET: Former U.S. security contractor Edward Snowden would not face the death penalty or be tortured and would have all the protections of the U.S. civilian court system if he were sent home, the chief U.S. prosecutor wrote in a letter to his Russian counterpart this week.
In the letter dated Tuesday July 23 and released on Friday, U.S. Attorney General Eric Holder wrote that he sought to dispel claims about what would happen to Snowden if Russia handed him over to face charges of illegally disclosing government secrets about surveillance programs.
Snowden, 30, has been stuck at a Moscow airport for more than a month while he searches for a country that will grant him asylum and avoid the criminal charges.
Russia has refused to hand over Snowden, who leaked details of secret U.S. electronic surveillance programs to British and U.S. media, to the United States, and is considering a temporary asylum request.
"We believe that these assurances eliminate these asserted grounds for Mr. Snowden's claim that he should be treated as a refugee or granted asylum, temporary or otherwise," Holder wrote in the two-page letter to Russian Justice Minister Alexander Konovalov.
Holder, the head of the U.S. Justice Department and an appointee of President Barack Obama, also promised that Snowden could have a lawyer with him for any questioning.
Citing media reports, Holder wrote that "Mr. Snowden has filed papers seeking temporary asylum in Russia on the grounds that if he were returned to the United States, he would be tortured and would face the death penalty. These claims are entirely without merit."
Snowden's supporters have worried he could face the same fate as Private First Class Bradley Manning, the U.S. soldier accused of providing documents to WikiLeaks, the anti-secrecy group. Upon his arrest, Manning was placed in solitary confinement for up to 23 hours a day with guards checking on him every few minutes.
"Torture is unlawful in the United States," Holder wrote, without explicit reference to Manning. "If he returns to the United States, Mr. Snowden would promptly be brought before a civilian court.".
Pink Panther gang in daring jailbreak
Reuters / Phuket Gazette
PHUKET: Armed men have broken a member of the so-called Pink Panther gang of jewel thieves out of a Swiss prison, police said on Friday.
Bosni
— Phuket Gazette Editors

Join the conversation and have your say on Thailand news published on The Thaiger.
Thaiger Talk is our new Thaiger Community where you can join the discussion on everything happening in Thailand right now.
Please note that articles are not posted to the forum instantly and can take up to 20 min before being visible. Click for more information and the Thaiger Talk Guidelines.