WEDNESDAY MORNING BRIEFING – All your local news in 3 minutes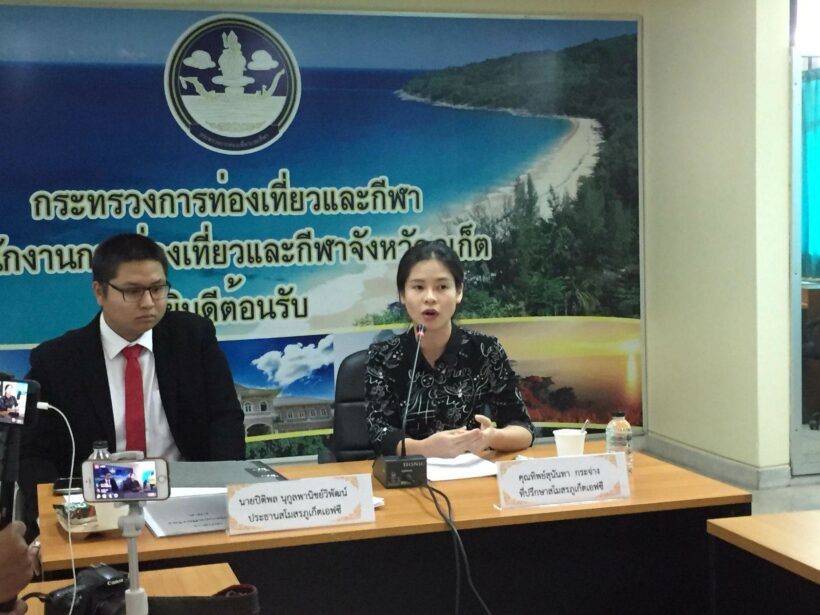 PHUKET FC hangs up its boots
Phuket Football Club has hung up its football boots for the last time and announced its dissolution after getting sued by 3 foreign players for a total of 83 million Baht.
The President of Phuket FC held a press conference yesterday announcing the club is being forced to disband.
The 3 players, including Roland, Alonso and Santos, filed the lawsuit asking for 83 million Baht claiming that their contracts had been revoked unfairly and includes a FIFA fine.
Both the outgoing President and a consultant were scathing about previous administrations and have accused past staff of thefts and incompetence, leading to the current woes.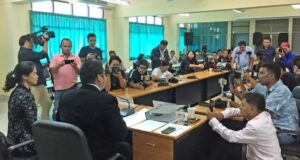 General caught in slanging matches
If General Prayut's field trip to Pattani and Songkhla was meant to boost his popularity, the organisers failed on that count. The General appeared surprised by the locals when they welcomed him with yells and confrontation instead of polite applause and cheers.
While the junta might be popular among some Southern people, the government's policies on the fishing and rubber tree industries are a major problem for local workers. Fishing workers are now being told to curb their fishing to bring Thailand into line with international standards, restricting the number of days that can set out to sea. For rubber plantation owners and workers, the rubber price keeps plunging.
The PM ended up in a few local slanging matches during his public appearances, firing back a few insults at hecklers who were trying to raise points with General Prayut. The Thai PM has since apologised for his outbursts.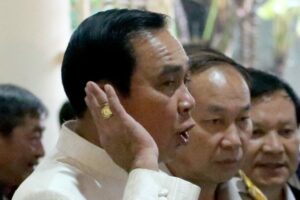 Whoops!
A ship carrying wind turbine poles heading to Ayutthaya sank in the Chao Praya in Nonthaburi province yesterday after its captain took on water in an attempt to pass under a bridge.
The captain says that when the boat neared the Nonthaburi Bridge, the poles were too high for the boat to go under, so he decided to pump water into the boat to lower it into the river. However, too much water was pumped into the boat and it kept sinking. Salvage efforts are expected to start tomorrow.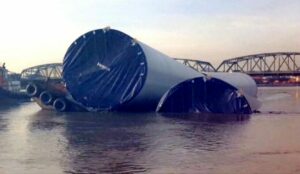 Super Moon on the way Sunday
The biggest Super Full Moon for the year will this Sunday.
The director of the National Astronomical Research Institute says next week's phenomenon occurs when the moon's orbit is closest to the earth, and will be a mere 357,973 kilometres away. The distance is about 14 per cent closer than when the moon is farthest from earth.
The moon on Sunday will be brighter than normal, that's if you get to see it. Forward forecast for Sunday says there will be a 90% chance of rain.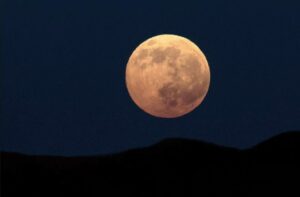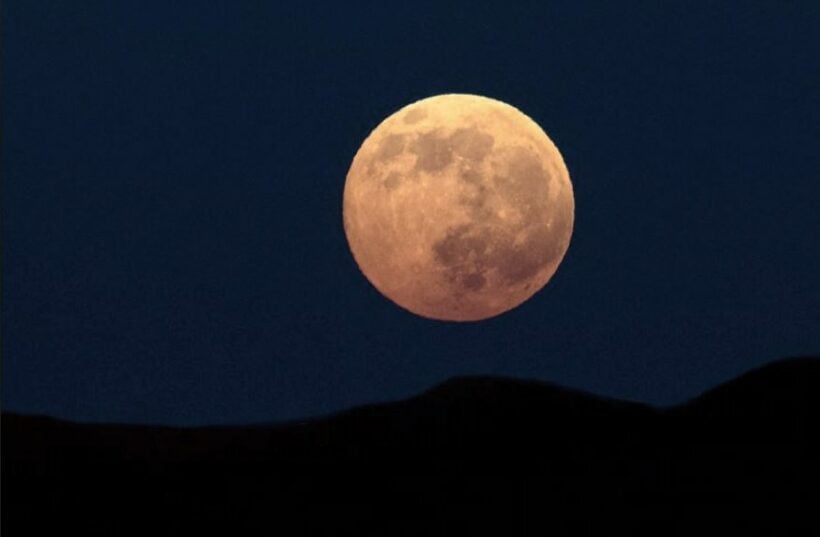 Thai Embassy helping Thai tourists in Bali
The Thai Embassy in Jakarta says it's helping 46 Thai tourists return from Bali via Surabaya airport as flight services remain suspended at the International Airport in Bali with flights cancelled due to the Mount Agung eruptions.
Hotels in Bali are offering free stays for one extra night and then 50 percent discount for the next day for tourists whose flights have been canceled or for those who are forced to extend their stay. For international tourists, the Immigration Office is granting one-month visa extensions to those who are affected.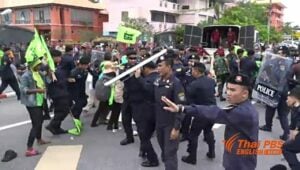 Photo from Thai PBS
Arrest warrants for Songkhla protesters
Songkhla provincial police are seeking court warrants for the arrest of over 100 protesters against the Thepha coal-fired power plant project on charges of traffic disruption and obstruction of police.
Police yesterday arrested 16 protest leaders after over 100 protesters tried to breach police cordon to submit their petition to PM Prayut Chan-o-cha who was scheduled to visit Kao Seng fishing community in Songkhla yesterday during a mobile cabinet meeting.
The court approved detention of the 16 protesters, but one of them, who is a 16-year-old youth, was released on 9,000-baht bail. The other fifteen protesters have been sent to Songkhla Central Prison.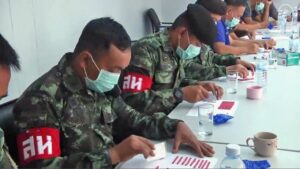 And on the list of things you are unlikely to find on the side of a road… add this one to your list. A total of 84,000 "yaba" amphetamine pills were found on a roadside in Kalasin.
The drugs were found inside a fertiliser bag under a roadside tree in Tambon Nong Waeng.
Police believe the drugs were smuggled in from the border by a drug trafficking gang that managed to escape in a car. Police speculate the gang might have dropped the drugs there during their escape. We'd like to see the gang's faces when they return to find their missing booty.
Morning Briefs are compiled in conjunction with The Nation, Phuket Gazette and VOA.
Keep in contact with The Thaiger by following our
Facebook page
.
Man arrested for triple fatal shooting in Nakhon Phanom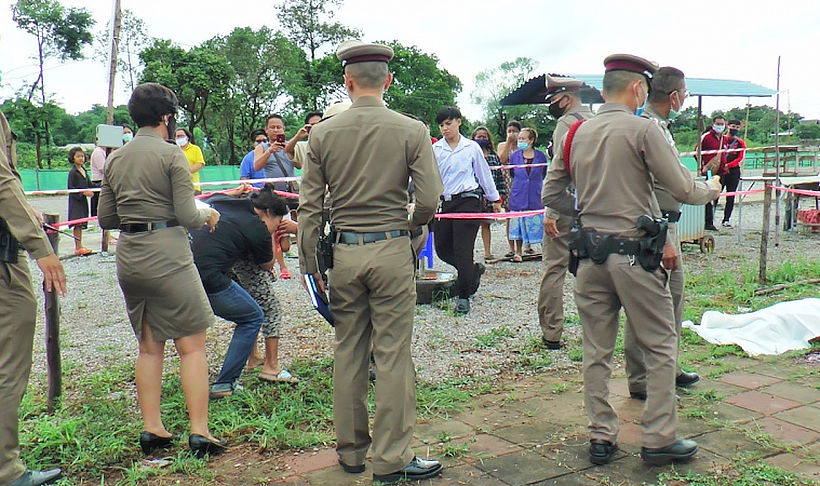 Police in the Isaan's Nakhon Phanom have arrested a man for the shooting death of his wife and 2 of her family members. The suspect reportedly confessed he acted out of jealousy after learning his wife wanted to return to her ex-husband.
41 year old Noppadol Nuamsamlee was arrested shortly after the fatal shooting of his wife, 23 year old Sujittra Chiangbai, her sister, 25 year old Jittra Chiangbai, and their mother, 45 year old "Lawan," in Muang district yesterday afternoon. Police conducted a re-enactment this morning, a standard procedure in Thai police investigations.
Authorities say the incident began after Noppadol and his wife left their house to go shopping. While driving his pickup truck, Noppadol demanded to know why his wife was still in touch with her ex-husband, with whom she had a 5 year old son.
After stopping on the roadside, he allegedly assaulted his wife, who phoned her sister for help. When Jittra and her mother arrived, Noppadol allegedly fired at them as they tried to intervene. He then fired 2 shots at his wife before fleeing. All 3 women died at the scene. Police later arrested the suspect on the road.
During questioning, the suspect reportedly admitted he shot the women "in a fit of jealousy". He told police he became angry after finding records of chats between his wife and her ex-husband on her mobile phone.
Noppadol, a resident of Bang Lamung district in Chon Buri, was due to appear in Nakhon Phanom provincial court today to face charges of murder and carrying a firearm in public. Police say they will oppose bail.
60 year old Paijit Chiangbai, who lost his two daughters and his wife, says he never imagined Noppadol, who had lived with his younger daughter for a year, could have shot his family. He says he arrived at the scene shortly after the shootings and Noppadol pointed the gun at him and threatened to fire if he tried to intervene. He says he will never forgive the suspect and doesn't want him released on bail.
Paijit also says he never thought his daughter would return to her former husband, as they had been separated for a long time and he already had a new family. Noppadol also has an 8 year old daughter from a previous marriage.
25 year old Ratchadaporn Thongkhlee, a friend of Jittra, claims the suspect had earlier threatened to shoot her and Jittra.
SOURCE: Bangkok Post
Keep in contact with The Thaiger by following our
Facebook page
.
Poll shows most Bangkok residents dissatisfied with public bus service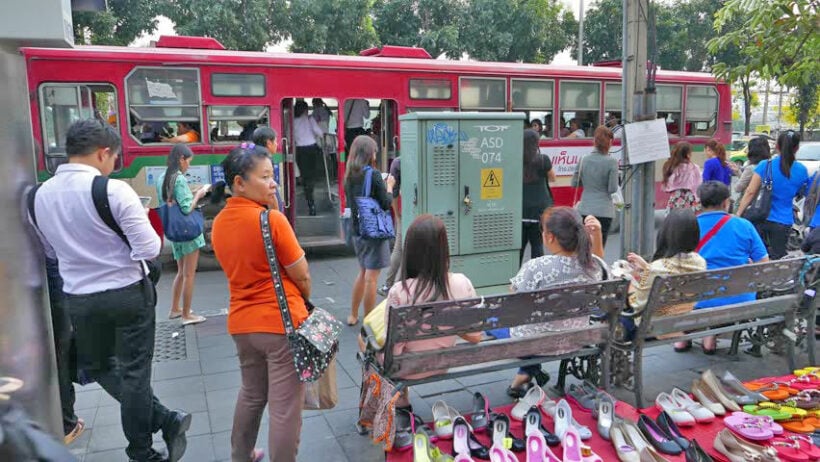 A recent survey by Bangkok Poll showed most of the city's residents aren't satisfied with the capital's bus services, citing long waiting times, shabby conditions and thick black exhaust. The poll, conducted June 25-29 by the Bangkok University Research Centre, surveyed 1,299 people aged over 18 to gauge public satisfaction with city buses.
The largest group, 46.7%, said they were unsatisfied with buses operating on Bangkok streets; 33% were partly satisfied and 20.3% were mostly satisfied.
Asked to identify the problems with the capital's public buses, 61.1% complained of long waiting and inadequate numbers of buses. Another 51.7% said most of the buses are old, while 41.2% complained of black smoke.
Asked to suggest improvements they'd like to see, 61.6% said they want buses to arrive on time to shorten commuting times. Some 53.1% wanted all city buses to be air conditioned. About 51.9% wanted them to be less crowded by adding frequencies and seats, in line with "new normal'' and social distancing measures to prevent the spread of Covid-19, according to the poll.
SOURCE: Bangkok Post
Keep in contact with The Thaiger by following our
Facebook page
.
Alcohol bans tomorrow and Monday in Thailand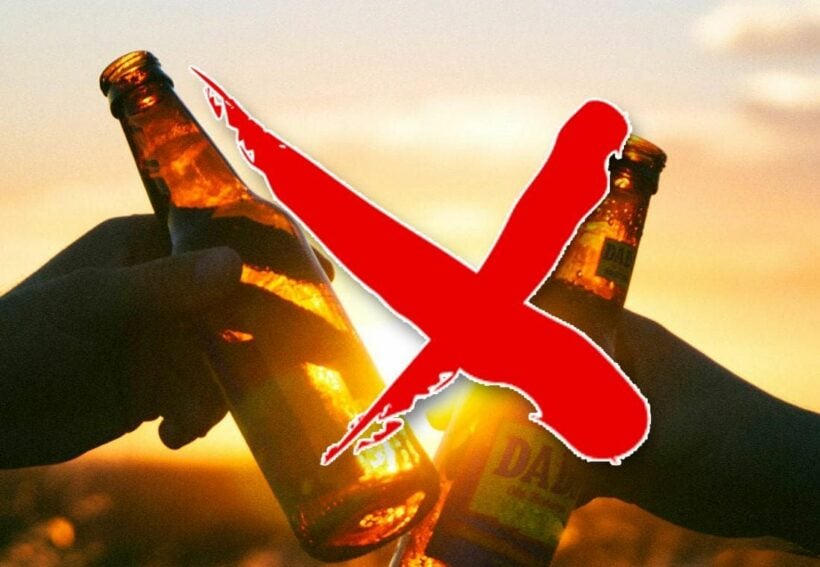 2 Buddhist holidays, Asahna Bucha Day, and the start of Buddhist Lent, fall on this weekend. As a result the government has added Monday, July 6, as a national holiday.
There will be an alcohol ban tomorrow, Sunday (July 5) and Monday (July 6). No alcohol will be sold or served on these days.
The dates of these important Buddhist holidays, and the ensuing long weekend and alcohol ban, falls just days after pubs, bars and entertainment venues have been allowed to re-open. The alcohol bans will put a dint in the re-opening plans for many small businesses who have been hit hard by the enforced closures and the ban on tourists coming into Thailand.
Various news outlets around the country have published a variety of confusing headlines on the matter. Because of the confusion you may have to 'roll with the punches' as the ban is applied in your particular area and is managed by the local police. For now, you have at least a day or so to stock up.
Asanha Bucha Day is a public holiday in Thailand marking the day when the Lord Buddha delivered his first sermon at Benares in India over 2,500 years ago. The exact date of the holiday is determined by the waxing moon and the lunar months, but is usually held in July or August.
The Buddha preached his first sermon at a deer park and from this sermon the Dharma (doctrine) of the Buddha was symbolised as a wheel. The Dharmachakra is also known as the Wheel of Life, Wheel of Law or Wheel of Doctrine and can be seen on flags in temples and buildings all across Thailand. Similarly, pictures or models of deer can often be seen at temples or in depictions of the Buddha.
Keep in contact with The Thaiger by following our
Facebook page
.