By Another Ngandee
Tourists are still visiting the tsunami memorial monument and museum at Khao Lak beach in Phang Nga's Takua Pa district 13 years after the event, but there is no toilet facilities to serve them, a tourist guide has complained.
The guide posted on her Facebook wall that she took 11 Japanese tourists to visit the monument, which is situated near where patrol boat 813 was washed ashore by the tsunami. The guide said she walked around and checked with museum officials and they all said there was no toilet for tourists. She said her group had to use the toilet at a food shop where the owner was impolite and charged her 50 baht. The post was widely shared among Facebook users.
The Phang Nga provincial administration received a large budget to build the museum. But when The Nation visited the museum this morning (Tuesday), the only buildings with toilet facilities were found to have been abandoned since a police station moved away.
The deserted buildings have become a living place for homeless people and stray dogs. The Nation also found a deserted building south of the boat monument, but it was unattended and there was a dog carcass inside. Signs had been put up saying that the toilet had broken down.
A nearby park displaying a tsuanmi-inspired artwork titled "Stabile" had been left uncared for, with the grass surrounding it overgrown.
The Thai navy boat 813 (Tor 813) lies beached almost 2 kilometres inland from Bang Niang Beach at Khao Lak. It was on patrol, guarding Bhumi Jensen, a grandson of the King Rama 9, as he was jet skiing in front of La Flora Resort.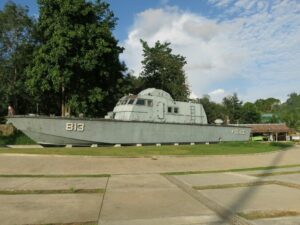 SOURCES: The Nation, Phuket Gazette